☑︎ This guide has been last updated in November 2023
Right now, Surfshark is one of the fastest-growing Virtual Private Network (VPN) services on the planet.
So, if you're reading this, you must also be wondering:
is Surfshark just another cocky but small fish in the digital sea – or is it a new apex predator that is worth your money?
Glad you asked.
In this detailed review, we will try not to waste too much of your time describing Surfshark's user interface or showing you screenshots of individual speed tests.
Instead, our analysis will focus on answering the most important questions you might have about this VPN, including:
Is Surfshark different

from other VPNs?

How secure is your private data

with Surfshark?

How good (=fast)

are its servers?

What is the best deal

you can get at Surfshark?
Speaking of the latter – at the end of our review we provide a step-by-step guide on getting the absolute best price for a Surfshark subscription (if you do decide to get one).
But first, let's see if Surfshark is worth considering at all:
How Is Surfshark Different from Other VPNs?
Most VPNs these days have beautiful interfaces, allow you to pay in cryptocurrency, and offer hundreds of servers around the world.
Surfshark is no exception.
So, in order to help you make a more informed choice, we've compiled the most important distinctive features of Surfshark – the competitive advantages, so to speak:
Super-low prices: while their base 1-month plan is actually a bit more expensive than some other large VPNs, Surfshark's 2-year plan comes at a 80%+ discount, offering unbeatable value for money.
Unlimited devices: in contrast with most other VPNs, Surfshark allows you to use its service not on 5, not on 7, but on any number of devices, simultaneously.
Warrant canary: Surfshark is one of the very few VPNs that maintains a page explicitly stating that they have not received any official security letters or disclosure orders.
That last one is an interesting little feature that deserves a couple more words: warrant canary exists because in some countries (most notably the United States) companies are not allowed to talk openly about any disclosure orders they receive from the government.
As a response to that, some smarter companies maintain public statements saying they have NOT received any such orders – which is not explicitly prohibited.
In other words, if you see zeroes on Surfshark's warrant canary page, you can be sure there have been no governmental meddling in their operations.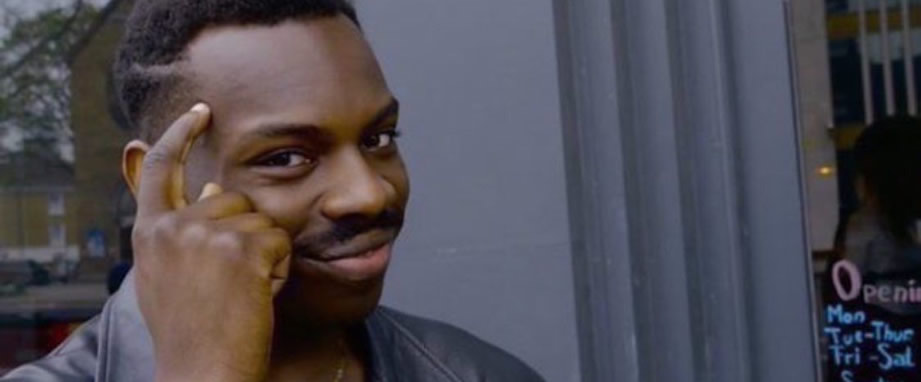 While we're on the topic, let's dig deeper and see if we can trust Surfshark to protect our personal data:
Security and Privacy at Surfshark
Surfshark seems to be taking their users' security seriously, given the number of features they implement:
MultiHop function for even better masking of your IP – that's when your connection is handled by a chain of VPN servers, dispersing any residual trace of your digital footprint.
Camouflage mode for making sure even your Internet Service Provider can't tell you're using a VPN.
Kill switch that automatically turns off the internet if your VPN connection is interrupted. This ensures that your personal data is never exposed.
By the way, don't pay much attention when a VPN advertises encryption standards on its website:
almost all serious systems nowadays use the AES-256-GCM cipher (256-bit Advanced Encryption Standard with Galois/Counter Mode) – so it's not a big deal for any self-respecting VPN
Instead, the really important bits are hidden deep inside a VPNs Privacy Policy – that's where you can look for information about how they actually treat your data.
Or, rather, you don't really have to –
Because we've already examined Surfshark's Privacy Policy under the microscope 🔬 – and here's the gist:
Section 1 is arguably the most important part because it deals with data collection; in short, your real IP address and any other personally identifiable information is never stored by Surfshark.
No identity verification is necessary in order to create an account at Surfshark – you only need an email address. Anonymous email services such as ProtonMail are allowed, if you really want to get freaky about it.
According to section 10, Surfshark's privacy practices fall under the laws of the British Virgin Islands, a jurisdiction famous for its favorable approach to confidentiality.
The most important takeaway is that Surfshark maintains a strict no-logs policy, which means they do not store information about how you browse the web through their service.
This includes IP addresses, connection identifiers, browsing history, etc. In other words – anything that can be traced back to your identity.
Even if Surfshark is ever forced to disclose any information by the government of the British Virgin Islands (which in itself is highly unlikely), they will not have much to disclose as no records of client traffic are being held.
So, privacy: ✔️
How about performance?
Speed and Locations
According to their website, Surfshark operates 1000+ servers in more than 60 countries. It should be noted that while all of the servers are physical, some of the locations are virtual –
for example, if you wish to connect via Albania or Chile, you will get a local IP, but the actual server which handles your connection might be located in Germany or Colombia, respectively.
This does not influence your speed or privacy, but you might see online content in an unexpected language if you use such virtual locations.
Anyway, while there's nothing remarkable for a modern VPN to offer thousands of servers in dozens of countries, we still need to investigate if Surfshark is up to standard.
So, how's the speed?
In order to answer this seemingly simple question, it's not nearly enough to just turn on the VPN and run a speed test on a random location.
When we test VPN connectivity, we measure the speed from every available location, in each case using 2 independent tools (SpeedTest and Fast.com), with up to 5 attempts each.
Our base connection speed (without the VPN) is on average 50 Mb/s using SpeedTest and 40 Mb/s using Fast.com.
Here are select results for the most popular locations using Surfshark: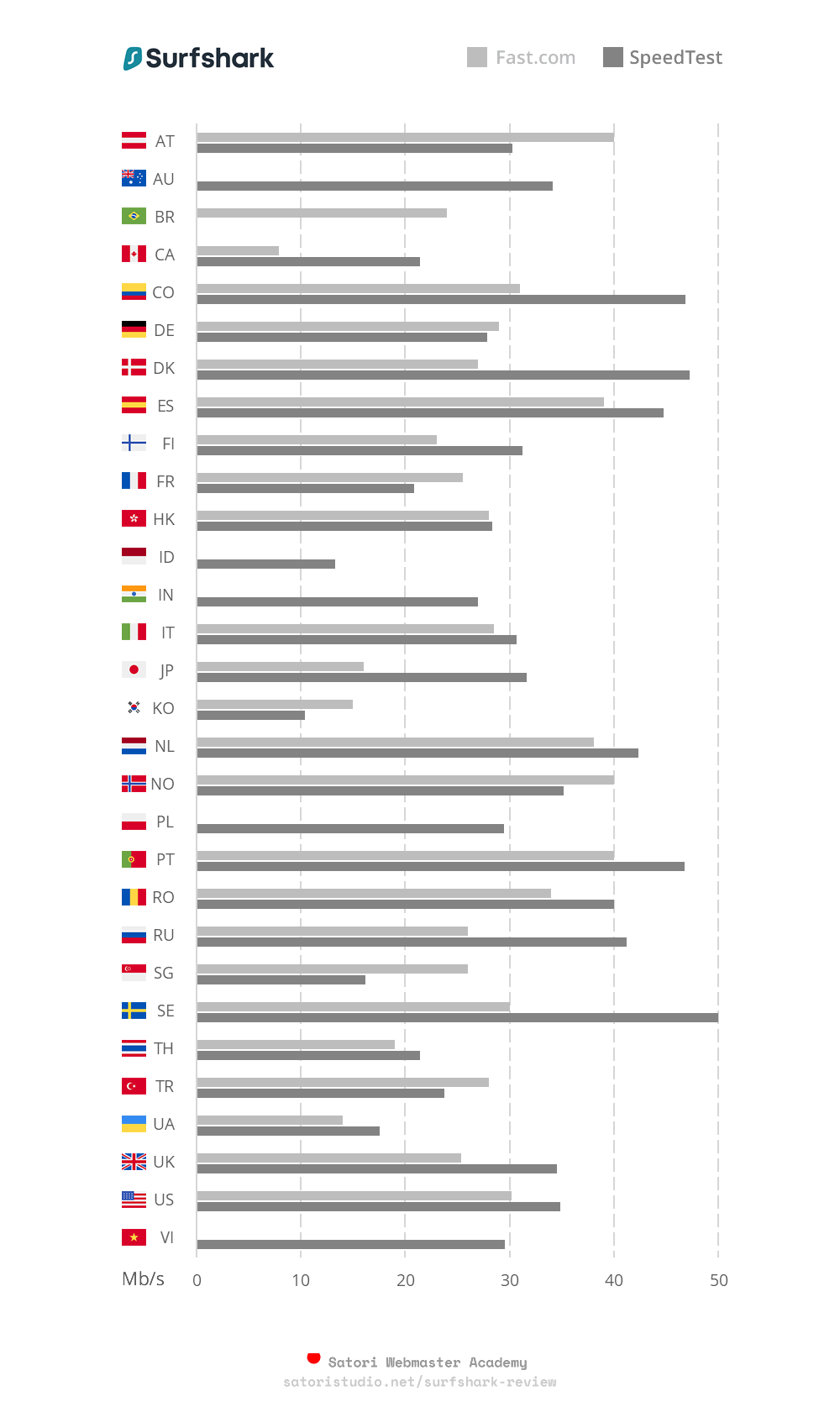 According to our tests, connection speeds around the world average to about 30 Mb/s for SpeedTest and 20 Mb/s for Fast.com – which is a solid result for a large VPN.
In most locations Surfshark's speed was so close to our "without-VPN" figures, that we couldn't tell the difference even using specialized testing software.
Keep in mind that your specific speed will vary depending on many parameters, including your location, your internet provider, as well as time of day and day of the week –
Yet in any case, tests like these still provide a rough benchmark as well as the possibility to compare between locations 📋
2P2 and Torrents
There's one area where both speed and privacy are quite important for a VPN user: peer-to-peer networks (P2P) and torrenting in particular.
Now, before we proceed, let's set the record straight:
Torrents and the rest of P2P tech are legal in every country of the world. Some governments do impose restrictions on downloading copyrighted content via peer-to-peer networks – but in others, like Spain and Switzerland, it's perfectly fine as long as you're doing it for personal consumption.
With its advanced security and privacy features we discussed earlier, Surfshark comes in handy for torrent users for two main reasons:
Firstly, thanks to the encrypted connection and anonymous IP, your personal download history becomes inaccessible to the prying eyes of any third party.
Secondly, Surfshark has P2P-optimized servers in almost all of its locations, which means shorter torrent download times.
Quite counter-intuitively, the second point also implies that Surfshark can actually make your internet connection faster when downloading torrents, since your Internet Service Provider cannot limit your speed based on your activity anymore.
For even better protection, use the Kill Switch feature that automatically pauses your internet connection if your Surfshark VPN connection gets interrupted:
Torrent like a pro with Surfshark VPN
And yes, it goes without saying – but let's still spell it out:
Regardless of whether your decide to use a VPN, we recommend downloading and seeding only non-copyright-infringing torrents from trusted sources to avoid harm to your computer (and potentially wallet).
Next up: how good is Surfshark at bypassing location-based restrictions?
Unblocking and Streaming
In addition to extensive speed tests, we also manually check whether a VPN enables you to use popular streaming services like Netflix from each of its server locations.
Our tests indicate that, following the tighter filtering implemented by Netflix since January 2020, the streaming service is available through major Surfshark locations, including the US, the UK, Singapore, and the European Union: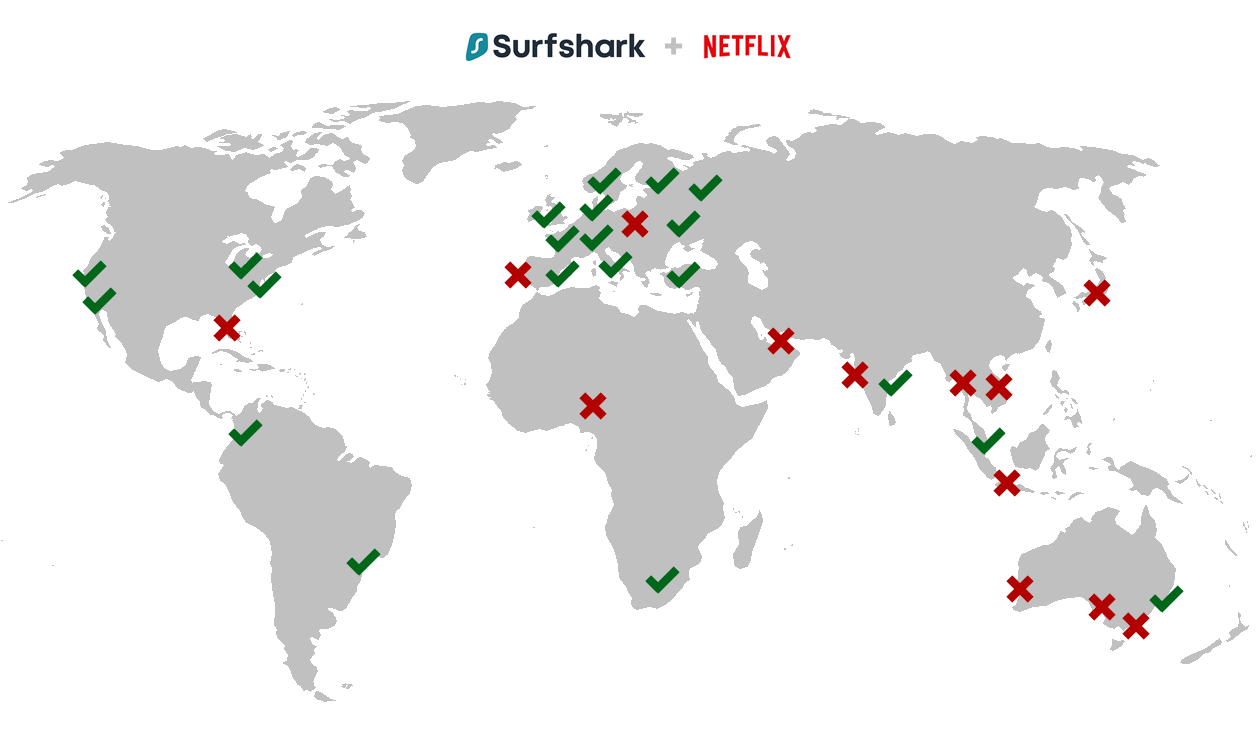 In most other locations via Surfshark VPN, you can open the Netflix app or website, but you won't be able to reliably stream any video content.
In most cases, though, you will only need the US version of Netflix as it contains the widest selection of movies and series.
***
As for restrictive countries (foremost China, but also places like Turkey, Russia, and Singapore), Surfshark has several cards up its sleeve:
No Borders mode, available as a switch in the application settings; what it does is automatically activate a special list of servers specifically designed to operate under government blocks.
OpenVPN interface (Windows) or IKEv2 (MacOS) that allow connecting via Surfshark's servers in countries with internet censorship.
Shadowsocks protocol for bypassing China's Great Firewall, specifically; Shadowsocks is a proxy, so it does not encrypt your traffic – but if accessing content is all you need, this is a viable option to try in case nothing else works.
Overall, while it's not really possible to predict whether a VPN will work in all locations across a country like China 🥡 – even if it does work a specific city – Surfshark gives you an extensive toolkit to maximize your chances of success.
In any case, we recommend setting up all of the above options before actually flying to China, as even the official websites of many VPN providers are blocked in the Middle Kingdom.
What if something doesn't work though? Is it easy to get your problem solved with Surfshark? Let's have a look at client support:
Surfshark Customer Support
There are 3 ways you can get help with your VPN issues as a client of Surfshark (or even if you're just considering a subscription):
Live chat with a representative of Surfshark support team, which we'll discuss in more detail below
Contact form for non-urgent questions; you will receive a reply to your query via email
Self-help knowledgebase for cases when you feel that your problem/question is a fairly standard one
Since chatting with a human in real time is usually the preferred way for the vast majority of users, let's look at this support channel in more detail.
The live chat is available from the bottom right corner of any page of VPN's official website, or through the app's "Settings" section.
At first the chat system will ask you to describe your problem and provide Knowledgebase articles that might help; if there's nothing useful there, click on the blue "Live chat" button at the bottom: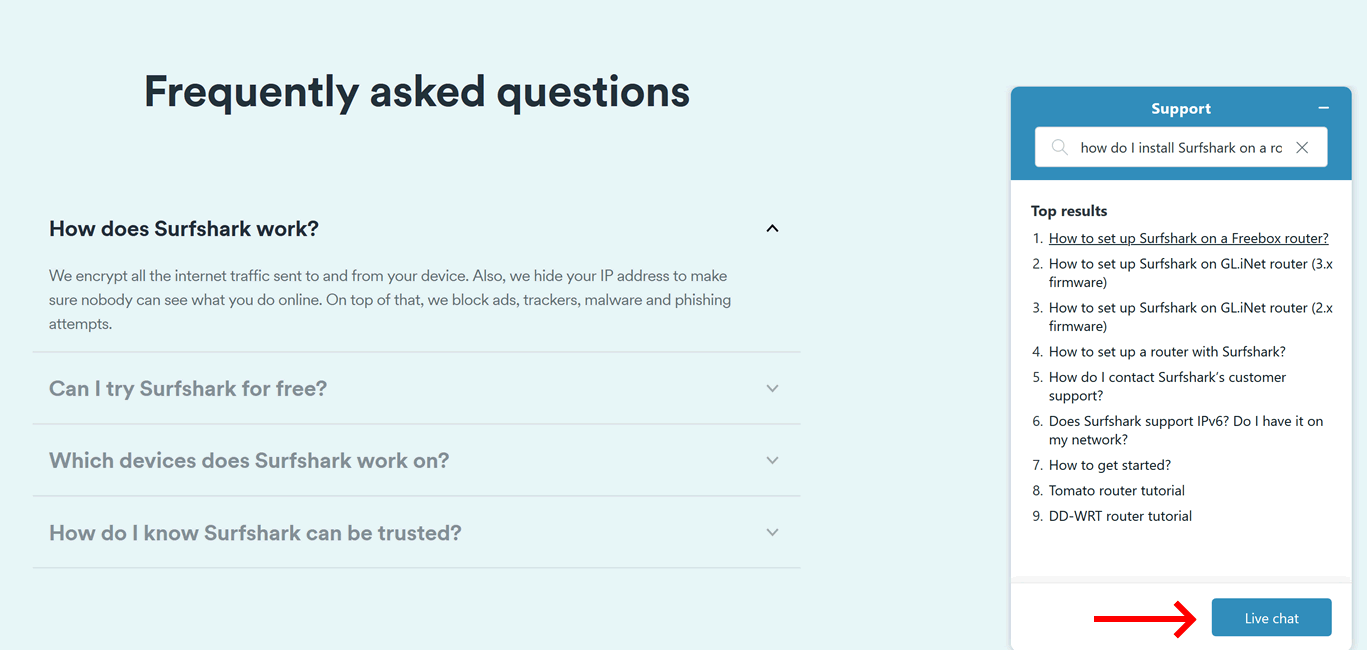 After that you will need to fill out a short form with your details and click on "Start chat" to be connected to a live representative.
During our tests, the wait times were 10-20 seconds in the vast majority of cases, even on Sunday evenings (which is probably the most popular time for VPN problems to pop up).
The representatives we talked to were polite and quick – sometimes even too quick 💨 which might be explained by the rapid growth in this VPN's client base in the recent months.
Overall, even our silliest and vaguest questions were treated patiently and got successfully resolved.
***
Alright, now that we've made sure Surfshark ticks all the boxes when it comes to speed, security, privacy, and reliability, the final dimension to consider is the money:
Pricing and Refunds
While Surfshark seems to work hard to deliver on all fronts that are important for a VPN service, their strongest card in this game is undoubtedly the price.
How do we know that?
Easy – we constantly watch VPN prices across the market. A picture is worth a lot of words, so here's a little chart we've compiled, showing the prices of the cheapest plans for the most popular VPN services: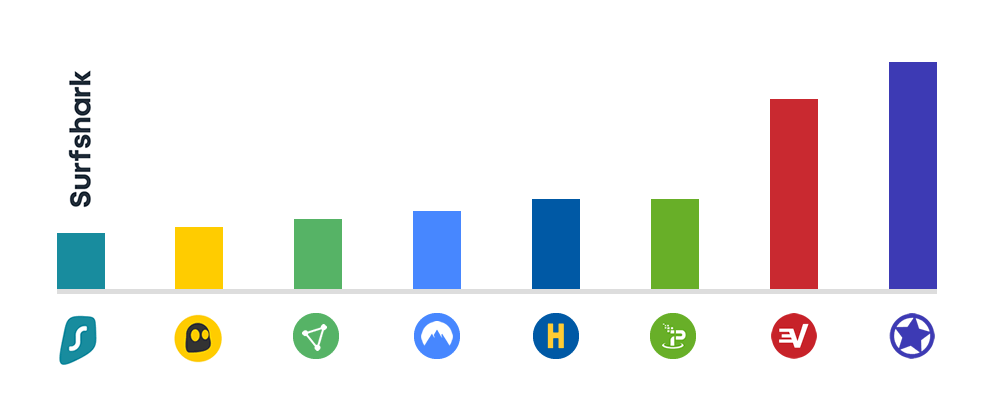 Indeed, Surfshark seems to "swallow its competitors whole" when it comes to pricing…
It outperforms even those competitors which offer a 3-year plan, while its own cheapest offer is for a 2-year billing cycle, meaning you need to pay even less upfront, for a lower per-month price.
***
At this point you might be wondering:
Does it make sense to pay for 2 or 3 years in advance for a service which I haven't even tried yet?!
Fair point. Unfortunately, VPNs typically don't offer free trials – but you can still try a service like Surfshark without any risk.
Here's how their 30-day money-back guarantee works:
Log in to your account on Surfshark's official website and click on the blue chat button in the bottom right corner.
Type anything and hit "Enter" – you will see some suggestions from their knowledgebase as well as a "Live chat" button. Click on it.
Write a message to the support team saying that you'd like to cancel your account based on their 30-day money-back guarantee.
(and yes, we've successfully obtained a full refund for a cancelled account as part of our tests)
Regardless of whether you provide a specific reason for leaving Surfshark, the support team representative will probably try to persuade you to stay – it's their job, after all 🦸‍♀‍
Just reiterate that you'd like your account closed and refunded – and as long as it's less than a month old the support team will eventually grant your request.
Expect 5-7 business days for the money to reach your account. Done!
Given what we've found about Surfshark so far, it's unlikely that you'll ever need to use the money-back guarantee – but it's nice to know that you have this option, right?
Speaking of options: here's neat little trick for those who do decide to try Surfshark.
BONUS: Surfshark coupon
Did you know that it's possible to unlock an even better deal at Surfshark using a special code?
Remember we said earlier that Surfshark's 2-year plan is cheaper than 3-year options from other VPN providers?
Well, it's not very well known that Surfshark actually has a 27-month (2.25-year) plan as well, and yes, it's even cheaper!
Follow these steps to unlock it:
To start, visit the official Surfshark order page by clicking the button below (the direct link will open in a new window):
Just below the three pricing plans, click on the small green tab which says "coupon applied".
A coupon field will open, showing you the current active coupon (most probably the 81% discount). Clear the coupon field and paste this code into it:

satori

Click "Apply", and you should see the pricing table change: the 24-month plan will become a 27-month plan with an even better price.
Admittedly, the extra price decrease is not that huge, but hey, any discount is better than no discount 💸
Alright, that's done – it's time for the final conclusion:
Our Verdict + User Reviews
Security breaches, malicious agents, regional content filters, governmental restrictions, hyper-targeted ads based on your private information…
Is Surfshark VPN a worthy ally in navigating the murky waters of the modern Internet?
Based on our research presented in this guide, Surfshark is certainly a high-quality VPN service that's at least as good as the alternatives:
High-grade security using the latest encryption technologies and tools such as MultiHop and the Camouflage mode,
Privacy protection based on a strict no-logging policy, reinforced by the company being incorporated on the British Virgin Islands, a jurisdiction famous for its confidentiality rules,
A wide choice of locations (60+) with mostly impressive connection speeds to make sure you don't feel any discomfort from browsing or streaming via the VPN,
Decent unblocking capabilities for streaming services such as Netflix as well as for regions with Internet censorship.
But that's not the entire picture:
– most importantly, Surfshark costs 2-3x less than what other popular VPNs would charge you for using their services.
A working 30-day refund policy (verified by us, on a real account) makes the entire package even more attractive, effectively removing any risks from trying Surfshark.
Conclusion?
Surfshark offers all the benefits of a great VPN at a fraction of the cost. If there's no real difference with respect to other large VPNs – why overpay when you can get a lower price at Surfshark?
🤷‍♂‍
(If you do decide to try Surfshark, be sure to check out our step-by-step instructions on unlocking an even better deal in the previous section)
…still unsure about Surfshark? Have suggestions for improving our analysis? Or maybe you've already tried this VPN and would like to share your experience?
In any case, leave a review or take part in the discussion below – let's help each other make reasonable decisions!