☑︎ This review was last updated in: November 2023
Since its founding in 2012, NordVPN has grown to become by far the largest VPN service in the world – in fact, twice as popular as the second largest brand, as illustrated by Google's global search interest metric: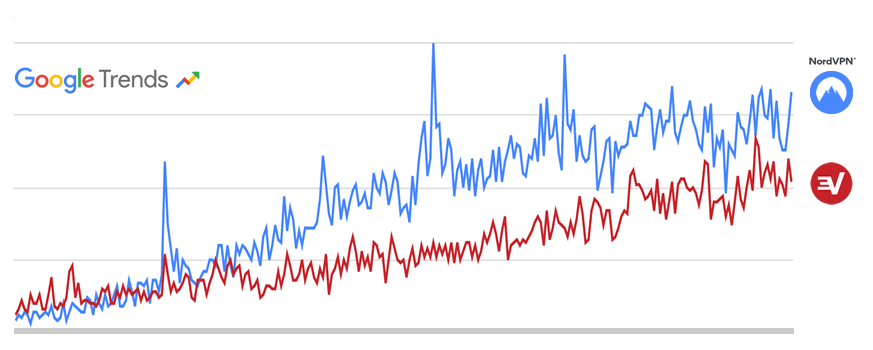 This impressive growth has made Nord VPN the market leader, but does it come from genuine quality and trustworthiness – or just a fat marketing budget?
In other words: should you choose NordVPN to improve your online security and privacy?
Let's find out!
In this detailed review we are going to analyze Nord from every possible angle in order to end up with an informed opinion. Among other things, we will cover the following popular questions:
How is Nord different

from other VPNs?

Is your data really secure

with NordVPN?

Can it slow down

your Internet connection?

30-day refund guarantee

– how does it work?

Should you choose NordVPN

over other providers?
(by the way, in case you do decide to try Nord, we include a coupon code at the end of this article that lets you save some extra 2% off the 2-year subscription)
…But first, let's find out whether Nord is really all that different from any other VPN service:
Unique Features of NordVPN
A VPN (=Virtual Private Network) is a special system that redirects your incoming and outgoing internet traffic through an encrypted connection called a "tunnel".
This makes your connection much more secure against attackers who want to steal your sensitive information, as well as improving your privacy from anyone who might want to spy on you – from governments and friendly mega-corporations, to your internet service provider.
Since your internet address gets masked in the process, as a "bonus" you also get access to any content around the world, even if it's restricted in your country due to copyright or state censorship 🚧
Almost every decent VPN on the market currently offers all of the above, on any conceivable device – from laptops to smartphones, TVs, and routers – so is there anything special about NordVPN?
Well, actually a lot:
NordVPN has by far the largest number of servers (5000+ in 59 countries) of any existing VPN provider – that's more than 1.5x more than the second largest VPN!
This implies almost unlimited choice of locations and guarantees that no single server will get overloaded by too many simultaneous connections.
Here's the list of all countries with NordVPN servers (each pin represents a region, not a single server):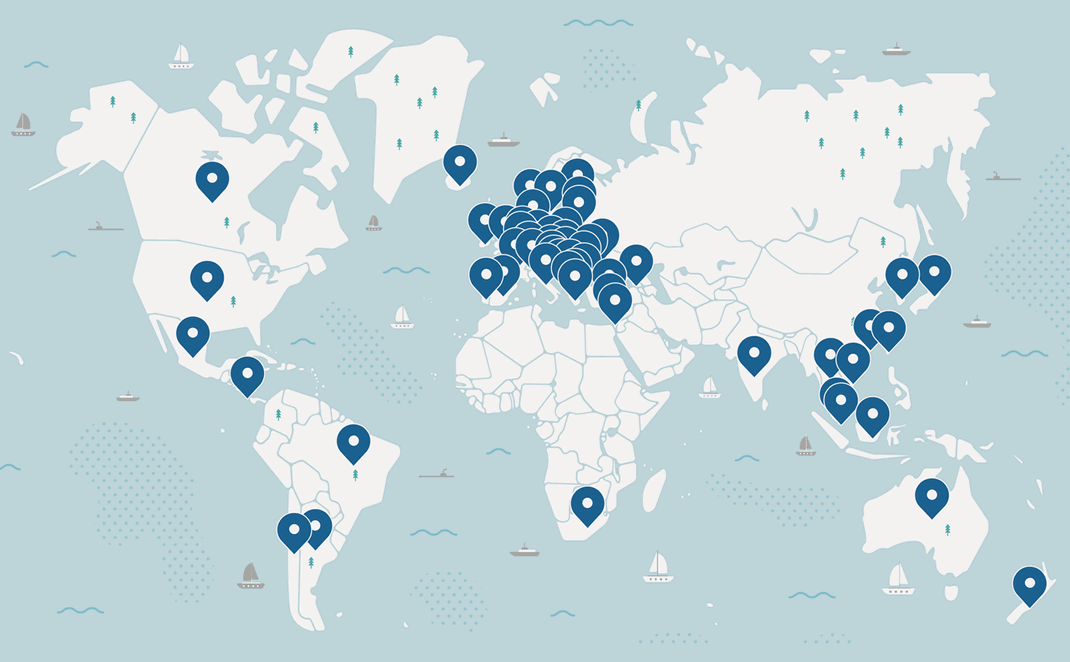 You might notice that the choice of countries is relatively modest in Nord, compared to 150+ in some other VPNs – that's because Nord only uses physical servers, as opposed to virtual servers that only imitate locations.
Higher speed with NordLynx, a new VPN protocol developed by NordVPN on the basis of Wireguard open source technology.
While most other providers only use existing protocols, NordVPN has decided to create a custom version for a better fit with their specific network architecture; why does it matter?
…higher speed!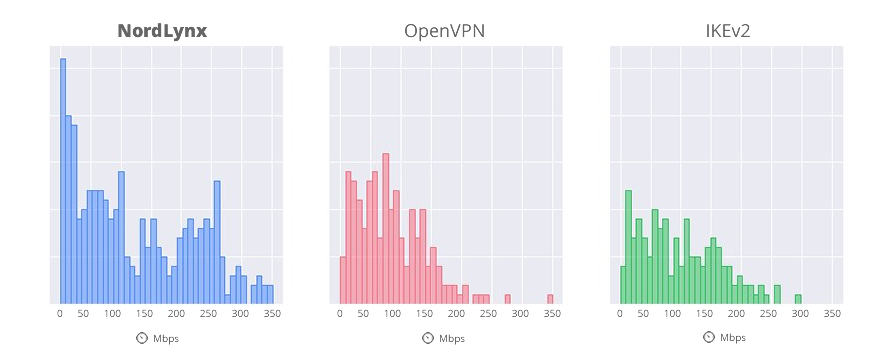 (the diagram above shows the distribution of connection speeds for NordLynx versus other widely used VPN protocols, based on 250,000 tests ran by Nord)
Strict no-logs policy reinforced by Panama's Data Protection Law and regularly audited by the Zurich branch of PWC.
Tefincom S.A., the corporate entity that operates NordVPN, is registered in the Republic of Panama, known for its favorable attitude towards anonymity and data protection.
Even in the (very unlikely) event a third party succeeds in forcing Tefincom to hand over their data, there won't be much to hand over, since Nord doesn't keep logs of client activity on their servers.
In addition to that, NordVPN has another clever little trick up their sleeve:
On their "About Us" page they publish a so-called "warrant canary" – a statement confirming that they have NOT received any requests for disclosing customer data.
Why is this useful? You see, many countries prohibit companies from telling the public about disclosure orders they received – but no law explicitly prohibits telling the public about the absence of such orders 😉
CyberSec blocks malicious websites and prevents hackers from forcing your devices into participating in distributed attacks.
Nord's unique CyberSec system is like an additional firewall-plus-adblocker built right into your VPN – at no additional cost.
It helps you avoid unsafe sites and enjoy an ad-free (i.e. faster) web without installing any additional software.
NordVPN supports nonprofits such as Amnesty International and the Internet Freedom Festival.
Yes, it's not a feature that benefits you directly – but for many people it's important to know whether the brand you choose for everyday use does something for the society in addition to simply earning money.
Without Nord's active support of human rights organizations and cybersecurity projects, its claims about "valuing the free and open web" would sound a bit more superficial, don't you think?
How to Use NordVPN Efficiently?
Apart from understanding what a VPN does and how Nord is different from other providers, it's also important to know how to use it with maximum benefit for your online life.
The first steps are fairly straightforward:
Go to the official website and create an account. If you want to maximize your discount, take a look at the bonus section below for the best current deal.
When that's done, download and install the official NordVPN software from your account dashboard.
Connect to a VPN server in your preferred location or use the auto-connect feature that will choose the best nearby server for you.
This is all nice and easy, but –
…unlike many other, less sophisticated alternatives, NordVPN can be a much more powerful security and privacy tool if you use it right 👍
Here are some essential tips to get you started:
First and foremost, it's worth installing your chosen VPN on every device you use regularly – for example, Nord has dedicated apps for Windows, Mac, Linux, Android, and iOS. Let's be consistent in our quest for better privacy and security!
In order to protect your entire home Wi-Fi network, you can install NordVPN on your router. Check out their knowledge base for specific instructions for each router model.
Adjust the settings so that your NordVPN app automatically launches in the background as soon as you turn on your device and connects your VPN ("General" and "Auto-connect" tabs).
Want to reduce any risks to an absolute minimum? Turn on the Kill Switch in NordVPN's settings – this option automatically disables your internet connection in case your VPN connection is interrupted.
It is also worth keeping in mind that NordVPN has several types of specialized servers for those who need extra privacy and security:
for example, the P2P servers are ideal for torrent downloads, while Double VPN offers maximum anonymity for bypassing censorship, tracking, and surveillance.
Simply having NordVPN is a leap forward in your level of online security and privacy – the above recommendations are meant to help you get 100% out of your subscription!
Pricing, Refunds, and Cancellations
When it comes to pricing, NordVPN offers three options: 1-year and 2-year plans, as well as a monthly plan.
If we compare per-month prices, by far the cheapest option is the 3-year plan, offering a 73% discount relative to the monthly price (see below for a method of obtaining an even higher discount using a coupon).
As with most other VPNs, the monthly option is priced way higher (3-4 times higher!) than the other plans – which means it has little practical value, especially since there's a 30-day money-back guarantee on all plans.
…speaking of which:
NordVPN has a fairly standard money-back policy which implies that you can cancel your account and receive a full refund during the first month of your new subscription 💸
Two things you should know about NordVPN refunds:
Take note of the word "new"! Only accounts created during the last 30 days are eligible for the 100% refund via the money-back guarantee.
Since Apple likes to do things its own way, it is not possible to receive a refund for a NordVPN account created via its iOS app. You will need to get the refund from the App Store directly.
If your account is not new, i.e. if it was created more than 30 days ago, you can still cancel at any time, but the remaining amount will not be reimbursed.
Overall, if you value flexibility, a 1-year subscription might be better for a new account; if, on the other hand, you're looking for the best price, a 3-year plan is the most suitable option. Which brings us to the next topic –
BONUS: NordVPN Coupon Code
In case you do decide to give NordVPN a try, why not do it at the best possible price?
Nord's 2-year plan already comes with a 68% discount relative to the monthly price, but we can do even better.
Here's how you can increase your savings by another 2 percent:
Click the link below to automatically apply a coupon code that provides a 73% discount for the 2-year plan:
On the page that opens in a new tab, click on the red registration button; don't mind the fact that the button mentions a standard 68-percent discount 🤓
Clicking the button will bring you to the checkout page – look below the pricing plans to make sure the coupon has indeed been applied:

If it wasn't for some reason, remove the existing coupon and copy this one into the input field:

satori
And there you go, a better deal for NordVPN, with a 30-day money-back guarantee! You can now proceed with the checkout process, the new price will be applied to your account.
Pros and Cons of NordVPN
Alright, before we continue to our final verdict, let's take a minute to sum up the stronger and weaker sides of NordVPN:
With more than 5000 access points around the world (all of which are physical locations), Nord can boast the largest server network out of all VPNs on the market.
The custom-built NordLynx technology, based on the popular Wireguard standard, ensures stable connections and high speed for any chosen location.
NordVPN makes no compromise when it comes to anonymity: their strict no-logging policy and its legal domicile in the privacy-friendly Republic of Panama help protect users from prying eyes of malicious actors and overly zealous governments alike.
Specialized servers for avoiding governmental restrictions, P2P networking (torrents), and video streaming allow you to pick the access point that is most suitable for your specific needs.
The 30-day money-back policy guarantees a full refund within a month of subscribing if you're not satisfied with NordVPN's services; the refund is easy to obtain by messaging the customer support.
Several pricing plans, offering some serious value for money for long-term subscriptions (2- and 3-year plans) while leaving more wiggle room for 1-year and 1-month subscribers.
Doesn't work all too well in China: you'll have to jump through a couple of hoops if you want Nord to help your browsing from behind the Great Firewall. The support team is quick to help, but you'll be better off pre-installing the apps before your trip.
Refunds on NordVPN subscriptions purchased through the iOS app will have to be handled separately via the App Store, which is not the most obvious option for first-time users.
Now that we've analyzed pretty much everything there is to analyze about Nord, let's wrap things up shall we:
Conclusion: Should You Use NordVPN?
Now that we have a better understanding of what exactly NordVPN has to offer, it's time to answer our final question –
Is Nord worth your money?
The answer is a resounding "yes":
NordVPN seems to have found a sweet spot between premium quality and affordable prices, providing a combination of both that is almost impossible to beat.
There are certain cases when a company's size really does make a difference for its customers.
Being the largest VPN in the world allows Nord to invest heavily in its infrastructure and features – and it also guarantees that maintaining a reputation is important for this brand.
Out of all Virtual Private Networks we've tested over the years, NordVPN can easily be recommended as a value-for-money solution for dramatically better online security and privacy:
…from day to day browsing, online shopping, P2P/torrents, and streaming – to bypassing government censorship and advanced anonymity, NordVPN is a choice worth considering.
***
Still have questions about Nord? Or maybe you've already used this VPN and would like to share your opinion? Share your review in the comments section below, let's help each other make informed decisions!