I know the situation: you want your own website, but there are SO MANY hosting providers with so many options out there that it seems impossible to finally decide: which one to choose?!
If you're reading this you've probably heard of Hostinger, a domain and hosting company that offers significantly lower prices than most competitors. In this detailed review, we will look at Hostinger through a magnifying glass and answer the following questions:
Should you choose Hostinger

over its competitors?

Which of their hosting plans

is the best for you?

How about their site builder

– is it worth trying?

Can you get a discount

on Hostinger services?
First, we will briefly examine the company's background and history to understand if they can be trusted, after that we will go into more details about their services, and finally we will conclude with a verdict and provide answers to the questions we formulated above.
By the way, when Hostinger were deciding on how their brand should be named, they probably did not foresee the many different ways it can be misspelled.. so if you're here as a result of searching for hostenger or hosinger or even hostiger – just know that yes, that's the same company we're talking about here, so you're in the right place :)
Oh, yes, and at the end of this review I will reveal an exclusive promo code which will allow you to save 15% from your Hostinger order, on top of all the existing discounts and special deals you can find on their website. Nice!
The Story of Hostinger
To give you an idea of just how large Hostinger is, here are some figures: the company currently has almost 30 million customers not only in the US, UK, India and Indonesia, but also in 170+ other countries (this is almost every single country of the world!).
And there are no signs of slowing down – according to their data, Hostinger is still expanding at a rate of 1 client every 5 seconds.
However, as you might expect, Hostinger hasn't always been the international giant it is today. It started back in 2004 as humble "Hosting Media" in a small but rapidly growing country of Lithuania, located in the north-eastern part of the European Union.
The founders of Hostinger did not intend to follow the crowd and create just another hosting service – they based the new company on an innovative idea:
People don't want to pay for our marketing – just the hosting: simple, reliable, and as cheap as possible.
After many years, this principle still remains at the core of what Hostinger aims for, namely high-quality services for a close to zero price.
But how does Hostinger achieve such competitiveness? – you might rightfully ask – In other words, how does it manage to keep its prices low while keeping the quality high? I will explain soon – but first, let's look at the product itself:
Which Hosting Plan Is Right for You?
There are several different types of hosting on the official website of Hostinger, each with multiple pricing plans. This makes it a challenge to choose just one, considering that there are also various additional services and features included free of charge depending on the plan.
Let's roll up our sleeves and try to understand the essential components of hosting – this will enable us to narrow down our choice and arrive at the final conclusion.
We'll examine each of the three types of Hostinger's hosting services, but first, take a look at this little table. It summarizes the most important differences between hosting types and provides the most common use cases:
| | Shared hosting | Business hosting | VPS hosting |
| --- | --- | --- | --- |
| Ease of use | Easy | Easy/medium | Medium/hard |
| For whom? | Individuals and small businesses | Medium and large businesses | Developers and programmers |
| Degree of control | Standard features via standard control panel | Extended features via custom control panel | Full control – almost like having your own server |
| Performance | Sufficient for small and medium websites | High performance for larger websites and online projects | Medium to high depending on the plan |
| Room for growth | Rigid – need to upgrade to another hosting plan | Flexible – can add more resources "on the fly" | Very flexible – granular control over resources |
| Price level | Low | Medium | Flexible |
I think that even from this table, the difference between the three hosting types that are offered by Hostinger is quite clear, but we will also give slightly more detailed explanations below.
Before we go into details, though, we need to understand one key concept: the server. Simply put, it's a specialized computer that stores websites and displays them to your online visitors:
Any hosting is a collection of servers, powerful computers which are optimized to stay online 24/7/365 and show your website to anyone who types in its address into their browser.
So, servers are essentially the main component of any hosting service, and they can be used in different ways depending on the client's requirements and budget. This is where the three hosting types come in:
Shared hosting is a basic version for those who are just starting or want to test their online projects with minimum expenditures. It's called "shared" because each server holds hundreds or even thousands of websites from various clients.

This implies that a single server's resources are used simultaneously by many sites – fine for websites which have moderate traffic, but can drastically affect performance for larger websites.

On the positive side, shared hosting is extremely cheap and very easy to use. This makes it ideal for private persons and small enterprises which are just starting their way into the online world.

Business hosting is a more advanced type, suitable for larger websites which are expected to have medium to high daily traffic (thousands of users per day and more).

Hostinger's business hosting uses what's called cloud technologies – your computing resources are not tied to a specific physical server, but are spread across multiple machines, which guarantees better stability and resilience.

This also means that your hosting resources are isolated from all other websites in this case, which leads to overall higher performance, compared to shared hosting.

All these benefits come at a cost, of course – business hosting is significantly more expensive, with the cheapest plan ("Startup" at $15.90 per month) costing twice as much as the most expensive shared plan ("Business" at $7.95 per month). By the way, the latter naming is quite confusing in my opinion – but now we know what to expect :)

VPS hosting is the most flexible and the least user-friendly hosting type offered by Hostinger. It stands for "Virtual Private Server", because in this case a single physical server runs several individual environments which do not intercept with each other at all. It's like having your own server, except that it's a so-called "virtual" machine.

Such setup allows for maximum flexibility – you can do almost anything you want with your virtual server, because you have administrator-level control over the entire system.

Which sounds like fun, until you realize that you won't get a convenient control panel with a VPS hosting plan. In other words, it's up to you to set up every part of your virtual server.

This is why this type of hosting is simultaneously very useful for professionals who know exactly what they're doing (i.e. programmers and web developers) and next to useless for anyone else.
Given the specific features of each hosting type, I can make a reasonable suggestion that you should probably choose the shared type. Why? Because if you were representing a large business or a web development company, you would already know everything I mentioned in the previous sections.
That case aside, let's assume you need the basic hosting – and see which of the three Hostinger Shared plans is the most reasonable choice.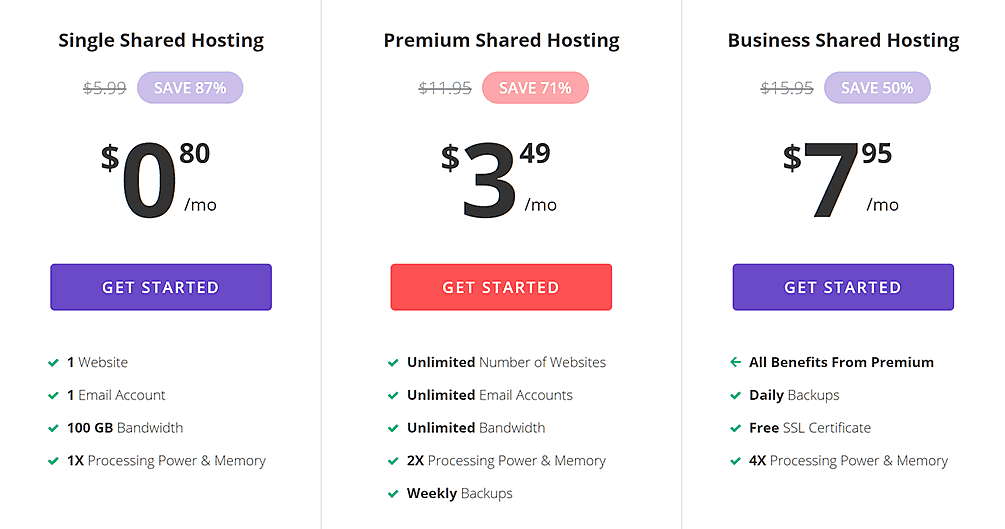 On Hostinger's shared hosting page you can see three offers: the Single plan, priced at $0.88 per month, the Premium plan, priced at $3.49 per month, and the Business plan, priced at $7.95 per month. I believe it is important to understand that these are special promotions:
You can get these prices if you order a 48-month package, smaller periods cost slightly more (if you ask me, a 12-month package is usually more than enough to understand if you really need a website, and test your online project).
Such prices are valid for the duration of the package you order, after that your hosting will get prolonged at a normal rate.
Just to be clear – these are both common practices among hosting provides, so nothing sneaky about Hostinger in this regard.
All three shared plans are equipped with everything that is necessary for an easy start, including optimized software and hardware, so we will just focus on the differences:
| | Single | Premium | Business |
| --- | --- | --- | --- |
| Number of domains | 1 | ∞ | ∞ |
| Email accounts | 1 | ∞ | ∞ |
| Free SSL included? | – | – | yes |
| Backups | – | weekly | daily |
| Processing power | 1x | 2x | 4x |
| Free domain? | – | yes | yes |
The Single plan has too few features and computing power that is enough only for the smallest of websites, while the Business plan adds very few benefits compared to the Premium plan while being twice as expensive.
In other words, the Premium plan is the most balanced in terms of features, most importantly it is the cheapest plan with a free domain included.
Moreover, it is the cheapest plan to offer automatic backups – and you will definitely feel the usefulness of this feature the first time something happens to your website :)
To conclude, for most individuals and small-medium organizations the Premium Shared Hostinger plan is the most reasonable choice. In the last part of our review I will provide an exclusive promo code for an additional 15% discount for this plan, stay tuned!
Free and Discounted Domains at Hostinger
As we mentioned above, Hostinger allows registering domain names for free – however, it's worth keeping in mind that there are special terms to this deal and several conditions that need to be met:
The free domain offer is only valid for initial purchases of Premium or Business hosting plans.
You will need to choose at least a yearly billing plan for the promotion to kick in during the checkout.
The domain name will automatically renew at normal price (around $10 for most domain zones) after the initial free period.
If you already have a hosting account at Hostinger, you can purchase many popular domain extensions for a close to zero price ($0.99) separately. Domain zones that are currently included in this pricing tier include .online, .website, .store, .tech, and .xyz – a rather decent choice for the value-seekers among us.
Our Impressions from Using Hostinger
For the purpose of this review we have purchased the Premium hosting plan from Hostinger and tested it extensively. Now, we are sharing our experiences with the readers of this guide.
When you complete your order, you get access to the hosting admin panel – this is the place where you will manage your hosting account: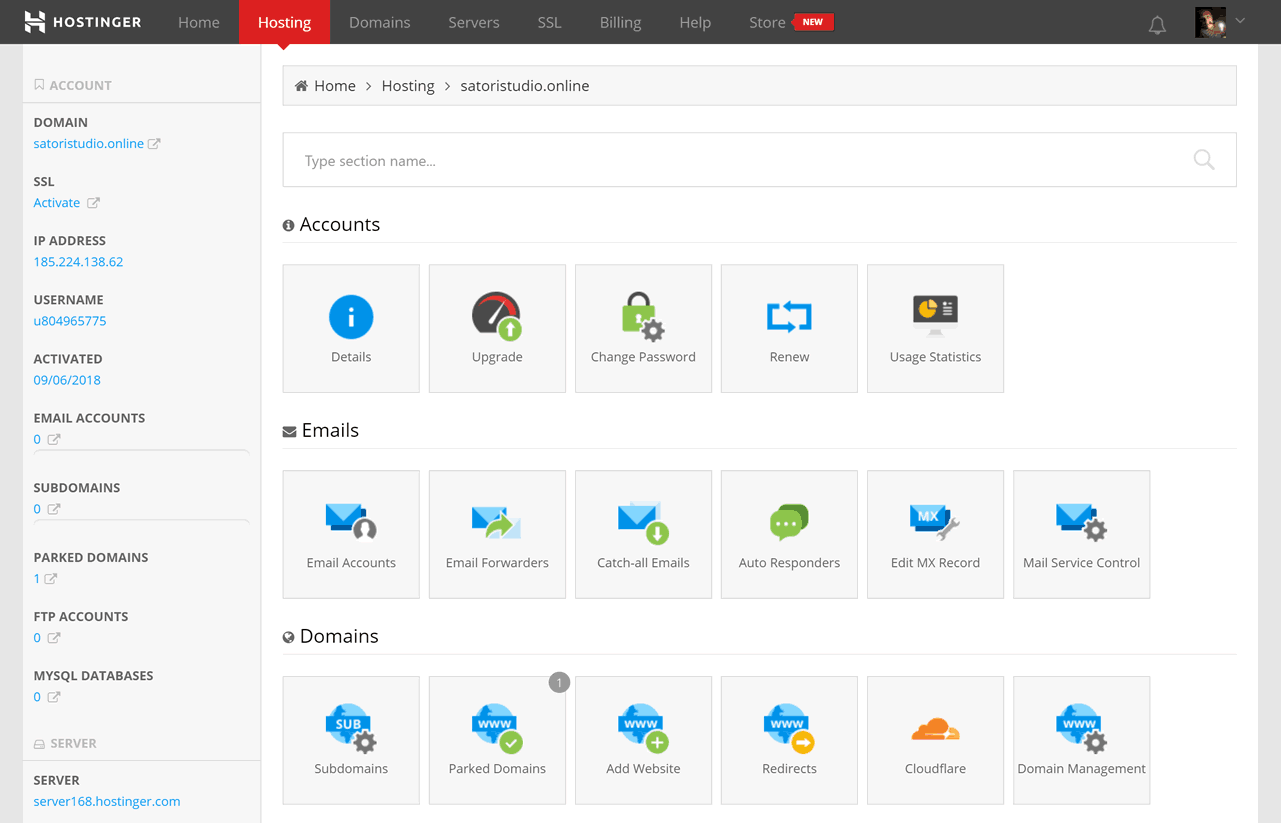 Hostinger offers a custom admin panel, built by the company's internal developers. We found it quite user-friendly and easy to understand, compared with widely used alternatives such as cPanel or Plesk.
Everything you need is represented by tiles with pictures, and organized neatly into groups to help you find services quicker. You can also use the search bar at the top for easier access to desired items.
If you purchase a domain with your hosting (below I will show you how to get it for free), it will automatically activate after a short while, and you will be able to start creating your website.
For that, you can either use the Auto Installer to set up a content management system such as WordPress – or use Hostinger's drag-and-drop website builder. Both options can be accessed from the Website section of the hosting admin panel.
After trying out the drag-and-drop builder (which they call Zyro) we can conclude that it's not worth your time: the templates look outdated and sometimes get messed up when you use them, for example this is what I got right after activating:
Instead, we recommend installing WordPress (also called WP) using the Auto Installer feature mentioned above. Here are just some of the reasons why you should choose WP for your first website:
WordPress is the most popular website engine in the world, so there are tons of free tutorials, guides and tips about using it – all over the Internet!
You can get thousands of templates for free from their official catalog (try Bento, for example – it's multi-functional and easy to personalize).
There are also thousands of free extensions for WordPress which allow you to add almost any conceivable functionality to your website, from social sharing buttons and contact forms to drag-and-drop layout builders.
Apart from the product itself, another very important part of any offer is the customer support you get. Let's take a look at how Hostinger performed in this area:
Hostinger Customer Support
You can ask Hostinger team for help at any time of day, 24/7 via the chat that is located in the bottom right corner of the hosting admin panel.
To test the quality of support we have asked them questions via live chat: the response time was super-fast (usually just several seconds), and the Hostinger representative was always friendly, polite and helpful. They sometimes even use cat pictures to brighten your mood while you wait for them to type the reply :)
Apart from live chat, there is a free library of useful articles about all Hostinger products and services. You can find it by clicking the "Help" link in the top menu of the hosting admin panel. It also contains a list of most frequently asked questions – there's a big chance that your issue can already be fixed there.
Overall, Hostinger has managed to exceed our expectations when it comes to quality of support – especially given that their hosting is very inexpensive. We've seen much worse even from competing companies with higher prices.
Pros and Cons of Hostinger
Now that we've examined Hostinger's products and services, as well as customer support – let's summarize the positive and negative sides. We'll try to be as objective as possible:
Great value for money: very competitive prices for all hosting packages – as Hostinger puts it, "you only pay for the hosting, not for the marketing"
Flexible offers for any kind of client – from individuals and small businesses (shared hosting) to large companies (business hosting) and professional programmers (VPS hosting)
99.9% uptime guarantee – in essence, Hostinger promises that your website will be available online all the time. The figure translates into a maximum of 44 minutes of downtime per month, which in practice is close to 0 minutes of downtime according to our tests.
You can get a free domain name with your hosting purchase if you choose at least a 12-month package
Easy to use, unique hosting admin panel developed by Hostinger team specifically for the company's clients
You can install WordPress in just several clicks using the Auto Installer feature from the hosting admin panel
Large library of educational resources about using Hostinger's products, available for free to all clients
Top-notch support from a friendly, fast, and helpful team that are always ready to solve your problems 24/7
Mediocre website builder with outdated template designs and occasional errors when switching from one template to another – we recommend using WordPress instead
No possibility to get support by phone – you will need to use either live chat, email, or contact form instead
Before we finish this review with a conclusion and a verdict (should you use Hostinger?), here's a step-by-step guide for getting an additional 15% off your Hostinger purchase:
Bonus: Hostinger Promo Code -15%
We're very excited to show you how to save even more money by using our exclusive 15% off coupon code. Follow the simple steps below to get a nice additional discount on your Hostinger purchase.
Since we concluded earlier that the 12-month Premium shared plan is the most reasonable choice for most cases, we will be using it as an example for our guide.
Go to the shared hosting page on Hostinger official website by clicking the button below (it will open in a new window automatically):
Under the Premium Shared Hosting (i.e. the middle option), click on the large red "Get started" button. This will bring you to the configuration page.
Click to choose the 12-month package (this is the cheapest plan which gives you a free domain name, so it's not worth choosing the 3-month plan).
In the domain section below, input the domain name you want. You might need to try several times before you find one that is available.
Although this is optional, we also highly recommend ticking the "SSL certificate" checkbox – it doesn't cost much, but will make your website safer and more trustworthy. Your website will also display a green safety lock in the browser's address bar if you have SSL.
All other things on that page are not essential – you can of course include them as well but you can do just fine without them. At this point this is how your configuration page should look like:

Now look at the right side of the page and find the light grey text which says "Have a coupon Code?". It should be located right above the total order sum. When you click on the link next to it, at new field will appear in its place. Type in the following code:

SPECIAL15

After inputting the code, click on the plus icon to the right (it should become violet in color). You will see a message saying that the coupon code has been successfully applied, and a new discount will appear in your order!
Congratulations! You've just saved an additional 15% from your Hostinger purchase, making the final price even more attractive.
Our Verdict and User Reviews
After examining Hostinger from all possible angles and using its services for some time, we can conclude that it is a hosting company worth trusting: value for money, simplicity, ease of use and helpful support is everything that you need to successfully create and manage your website.
We've also shown above how to save 15% more on your Hostinger order, using our exclusive promo code. It's not much, considering that Hostinger is already quite inexpensive – but still a nice bonus, right?
Affiliate disclosure: we believe it is fair to let you know that some links in this review are affiliate links, meaning that we get a small commission whenever someone purchases a Hostinger plan through them. This does not affect the price you get on your Hostinger offer, of course.
Are you planning to use Hostinger but still not sure if you should do it, or which plan to choose? Or are you already using Hostinger and would like to share your experience? In any case, join the discussion in the comments section below, let's be helpful to each other!