Most digital services nowadays offer either a free version or a trial period, allowing to actually use the product for a while before deciding whether it's right for you.
One of the very few exceptions? 🛑 Web hosting.
Not only are there no test versions (i.e. you always pay up-front) – even buying the service is notoriously difficult and time-consuming!
Not to mention the various tricks and dark patterns hosting companies use to lure you in, like conspicuously "promo" prices which later increase dramatically, often x2 or x3-fold.
Apparently, hosting users are not the only ones who are frustrated with these trends – a curious company called Warpgate seems set on re-inventing what it means to be a web host in 2023.
But do they deliver?
In other words, is it actually worth your time and money?
In this detailed review, we will examine Warpgate from all angles and answer the most important questions about this hosting provider:
What is Warpgate

and how does it work?

Is there anything special

about this host?

Is it really cheaper

than other providers?

Who should use Warpgate

and who shouldn't?
We'll start by looking at the "non-standard" features and ideas implemented by the service, as well as the philosophy behind it all:
What's Unique About Warpgate?
Warpgate calls itself a "human- and planet-friendly hosting". Rather ambitious, yes! What can they offer to back this up?
Here are some of the things about Warpgate that are hard to find in the web hosting industry:
A novel onboarding experience which focuses on speed and simplicity: you can create a WordPress website in 15 seconds and start working on it straight away – because…
Warpgate is free for the first 30 days, and requires no card details to complete the set-up of your staging website.
After the free month is over, you are offered flat, predictable pricing with no hidden fees or subsequent price hikes.
Apart from the functionality, it's refreshing to see a company paying as much attention to social responsibility: Warpgate keep their operations carbon-neutral – while also supporting non-profit causes such as child education and the fight against COVID.
The last item is always a good idea, if you ask us…
But as for the other three, we'll need a closer look to form an objective opinion. Let's start with creating your own website on Warpgate:
The Onboarding Experience
While Warpgate is still technically a web host (a managed-WordPress host, to be specific), the process of creating a new website here looks more like a site builder – maximum simplicity, no upfront commitments ⚡
In order to get started, you'll need to input the desired subdomain and your email address in the form on the official homepage:
After you click the big purple "warp in!" button, you'll get an email with the activation link (check the spam if you haven't got anything in your mailbox). Click on the link and enjoy 10-15 seconds of nerdy status updates:

When the new WordPress site is ready (~ quarter of a minute), you will see the link to your new staging (i.e. temporary) address, which will look like yourhandle.warpgate.site. Click on the link and complete the standard WP install routines – and you're done!
Once inside your new WordPress admin, you will find a welcome screen to guide you through the first couple of steps as you set up your website and explore the available features: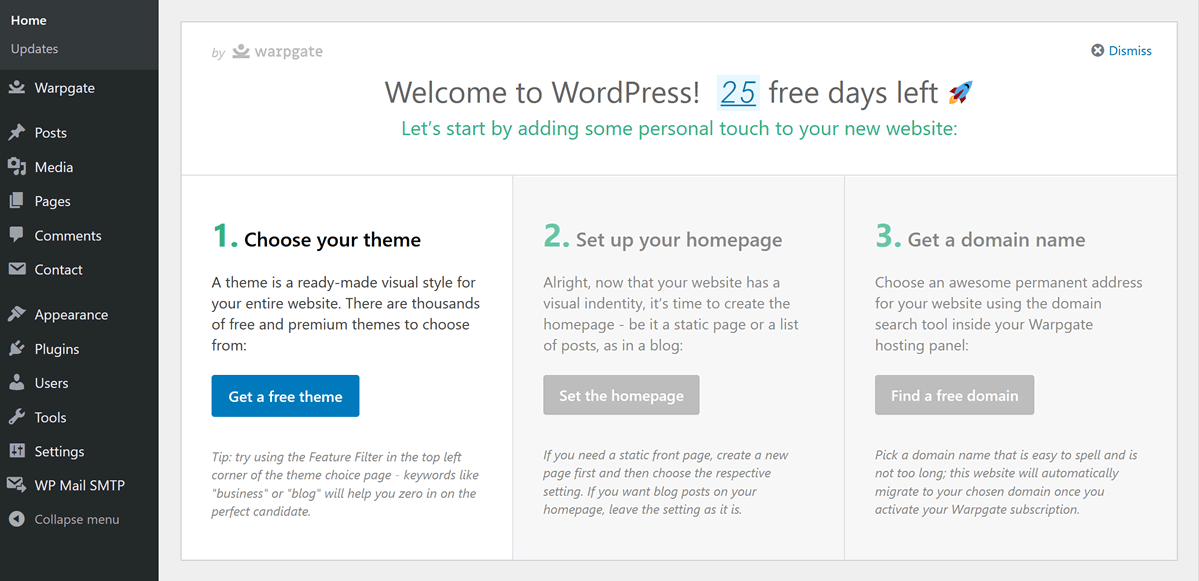 This WordPress introduction was custom-made by the Warpgate team, and is a serious improvement over the (rather drab) standard WP screen shown below:

Have you noticed the "Warpgate" item in the left-hand-side admin menu? That's the hosting panel! And yes, it is a conscious decision –
Warpgate got rid of the complicated hosting admin environment and incorporated their own, greatly simplified and streamlined version right inside your WordPress admin.
For the sake of visual comparison, this is how standard, old-school hosting dashboards like cPanel look:
…and this is how Warpgate's built-in hosting control center looks for an activated account (you'll see a domain search tool in a staging website's panel):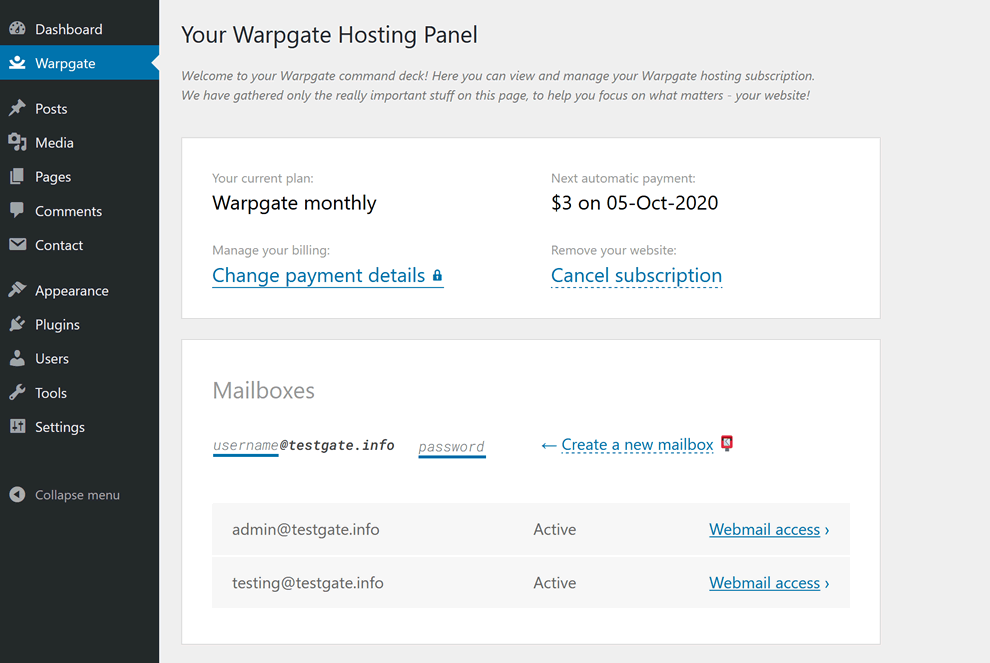 There are many more options, settings, and features in a cPanel dashboard – but the growing popularity of hosts like Warpgate makes you wonder:
…how often do most hosting users really need any of them? (if at all)
And yes, full-time developers do tend to need more nooks and crannies for managing large websites; however, in such cases a professional-grade cloud platform like Amazon AWS is a much more natural choice.
Large retail hosts of the yesteryear, like GoDaddy or Bluehost, are geared towards smaller websites that are often managed by beginner webmasters – but they are still using those huge, incomprehensible hosting panels you saw above.
"Most ordinary people don't ever use 99% of the hosting panel items, so why keep the clutter?" – ask the creators of Warpgate.
Following through on this minimalist idea, Warpgate declutters the hosting admin experience – but that's not the entire story. The pricing is also suitably ascetic:
How Much Does Warpgate Cost?
Well, it probably couldn't get any simpler: Warpgate offers a single hosting plan with monthly ($3 per month) and yearly ($30 per year) billing options.
This includes a free domain name and automatic SSL certificates for added security, which are often charged separately by hosting providers.
The most important difference, though, is the fact that the prices do not change after your first billing period:
You pay the same $3 per month or $30 per year for as long as your Warpgate account is active – no hikes, no hidden fees.
This interactive table on Warpgate's website really brings home the long-term price advantages vis-à-vis popular classic hosting services: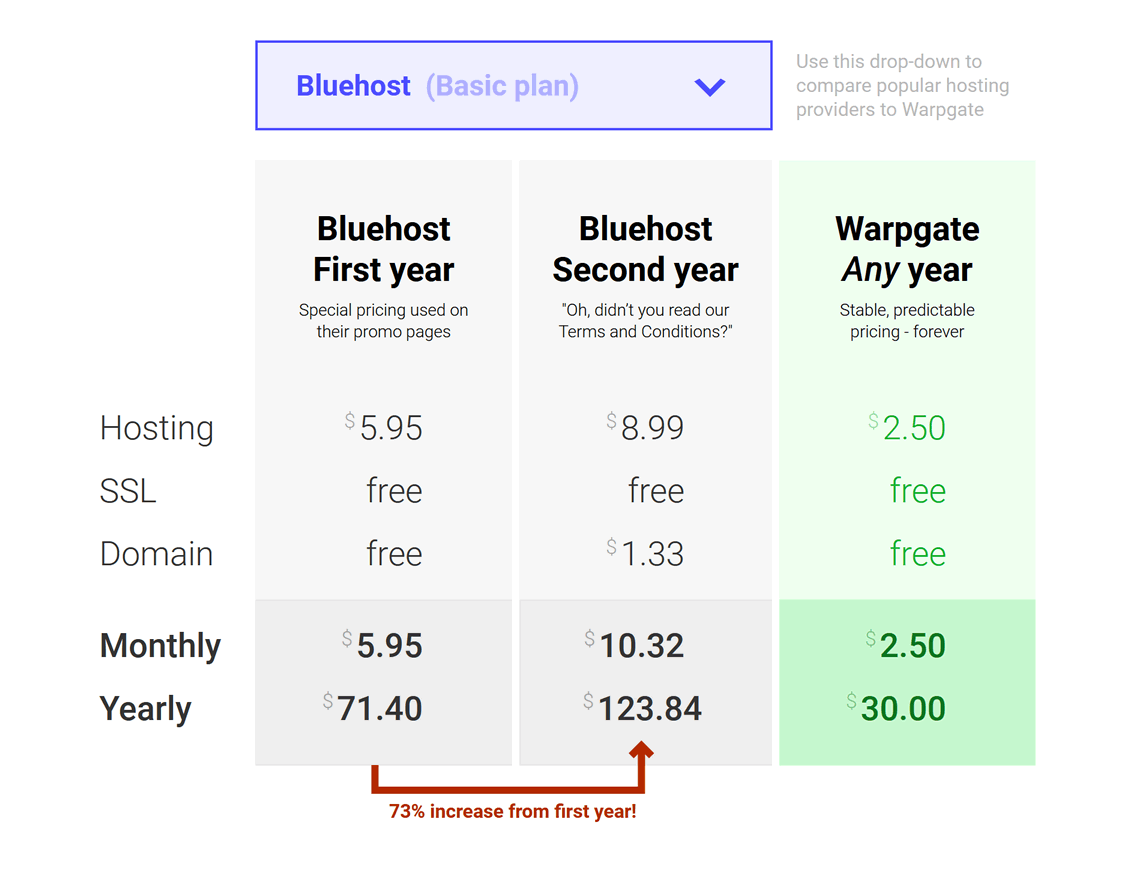 While certain classic hosts do offer ~$2/month prices on some occasions like Black Friday, you will inevitably see your invoice increase by 200-300% after the first billing cycle.
Not on Warpgate, though 💵
It's up to everyone to decide whether they still prefer paying a bit less initially and then being charged several times more indefinitely – but a promise of a clear, transparent, fixed payment schedule is sure to find its own admirers.
Pros and Cons of Warpgate
Let's sum up what we've learned about this hosting provider by listing all the strong and not-so-strong points:
Creating a new website at Warpgate takes less than a minute and requires only a valid email address to activate.
Warpgate is free of charge for the first 30 days, without requiring you to leave your card details.
You get a fully managed WordPress website with automatic core updates and a custom-made welcome screen for easier onboarding.
The hosting management dashboard avoids the clutter of traditional panels, and is located right inside the WordPress admin.
All sites are located on SSD-only servers optimized for WordPress, which results in top-notch loading speed.
You get a free domain with every subscription, and it doesn't accrue any hidden charges after your first billing period, unlike with most other hosts.
The pricing structure is simple and transparent, without any hidden fees or subsequent price hikes.
Warpgate's support team leaves a positive impression, all replies we got were friendly and to the point.
The company actively pursues social causes, including being carbon-neutral, contributing to charity, and hosting non-profits for free.
Warpgate offers exclusively WordPress websites (fully-managed), so there's no possibility to install other CMS like Joomla, Drupal, or Ghost.
The range of features is more basic compared to large hosts like GoDaddy or Bluehost, following Warpgate's "no-distractions" approach.
Support is only available by email, there's no phone or live-chat; expect to get replies within 1-2 days from your initial message.
So, is Warpgate worth using, and if yes – who should use it? Summing up below:
Our Verdict: Is Warpgate Worth It?
There are hosting providers that try to be everything for everyone, and then there are more focused companies like Warpgate.
Consider giving it a try if:
You need a WordPress website as quickly as possible, fully ready for your customizations and content,
You like simplicity and transparency when it comes to user interfaces, customer support, and especially pricing,
You prefer brands that actively direct effort and resources towards noble goals – social causes, environmental protection and charity.
On the other hand, Warpgate is definitely NOT for you if:
You need something other than WordPress – a different content management system or a completely custom-coded website,
You have prior experience of managing servers and prefer full control over your server's parameters and the entire software stack.
One thing about Warpgate that will definitely appeal to everyone is the fact that you can try it free of charge, with zero commitments:
Let us know what you think about Warpgate in the comments below; if you already have experience with this provider, do share your thoughts – let's help each other make informed choices!