There are old, time-tested hosting providers; there are popular ones, with millions of clients; there are those which constantly evolve and reinvent themselves…
And then there's a small group of hosting companies at the intersection of all three categories –
SiteGround is firmly in that cohort.
In this detailed review, we will examine this host under a magnifying glass to uncover answers to the most popular questions:
What's special

about SiteGround?

How to choose

a suitable hosting plan?

Are there any drawbacks

to using SiteGround?

Who should use

SiteGround and Why?
Let's start by looking at the things that you probably won't find anywhere else – things that make SiteGround unique:
What's Special About SiteGround
Seriously, though?
SiteGround focuses on WordPress as well as other popular content management systems and site builders, there are several pricing plans depending on your needs, 24/7 support…
Sounds familiar.
What really sets SiteGround apart are its technological solutions, custom-built by its technical team; more specifically:
A set of measures to maximize your website's ⚡ speed, which we will discuss separately in the next chapter,
State-of-the-art 🔐 security features to prevent and mitigate any potential attacks, analyzed in detail in this section,
Some of the best 💵 prices among hosting providers of its caliber, especially when we factor in the large first-period discounts,
Powerful 🛠️ client tools for convenient collaboration, testing, and migrations, built in-house by the SiteGround team (we'll talk about this one right here!).
As we just mentioned, SiteGround users get more than just a server – there's an entire array of administrative tools to make your life easier:
The flexible user system allows access to other team members, clients, or third-party experts to help you run your web projects,
You can create test copies of your live website in one click, and transfer any changes back to the original – again, in a single click,
Freelancers and agencies will like the white label feature, which allows you to provide hosting services to clients under your own brand.
All the tools above function on top of a solid hardware and software infrastructure for maximum performance and stability:
Infrastructure and Speed
Here's a surprising fact: SiteGround, one of the largest hosts in the world, doesn't own any actual physical servers!
Instead, it uses Google Cloud for its key infrastructure…
Yes, you understood correctly – when you're hosting with SiteGround, your website is stored on Google's servers.
This is not something unusual in our day and age –
– in fact, most modern hosting providers, both big and small, focus on the value-adding services 🚀 and outsource the actual hardware to the few companies like Google and Amazon that have huge scale advantages but don't provide user-friendly interfaces.
SiteGround clients can choose between several regions when creating a new website, including Europe, United States, Asia, and Australia: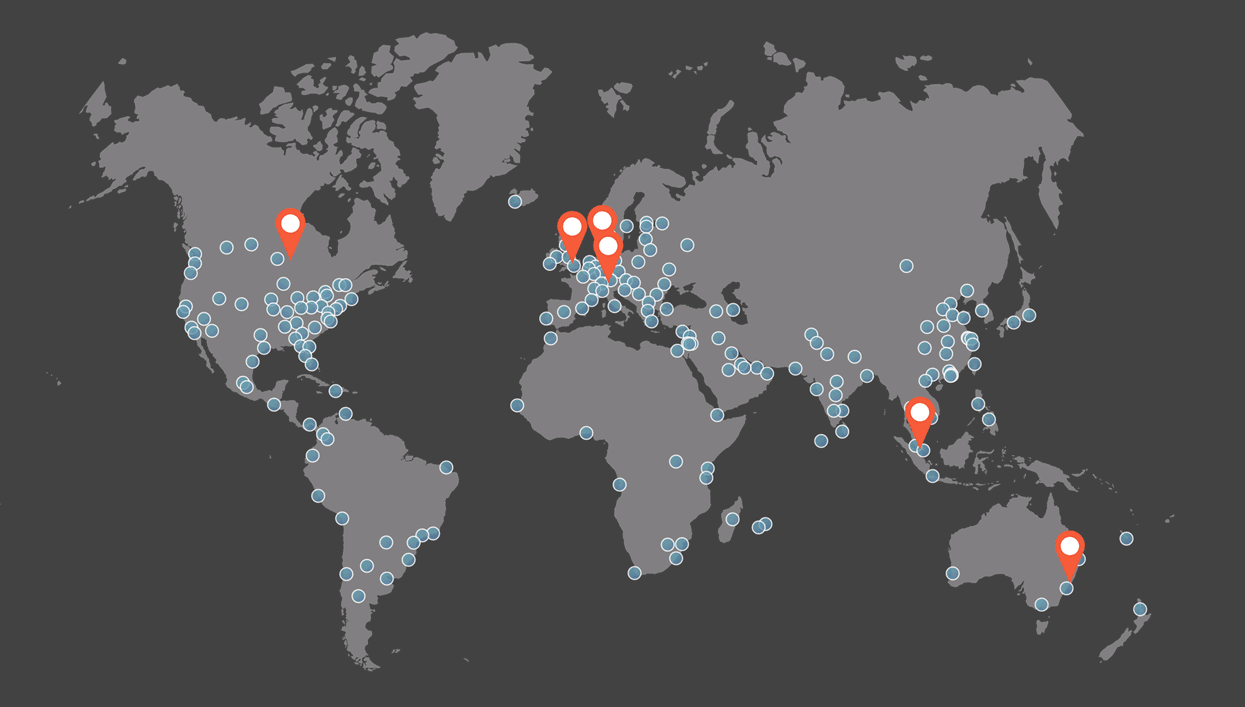 The blue dots on the map represent the 150+ locations of the Cloudflare CDN network, included on every SiteGround plan –
Your website automatically loads from the CDN node that is the closest to each particular visitor, bringing serious improvements in speed.
To further improve page loading, SiteGround websites run on uniquely optimized software (PHP, MySQL, Brotli compression, etc.), which results in some of the fastest response times in the industry: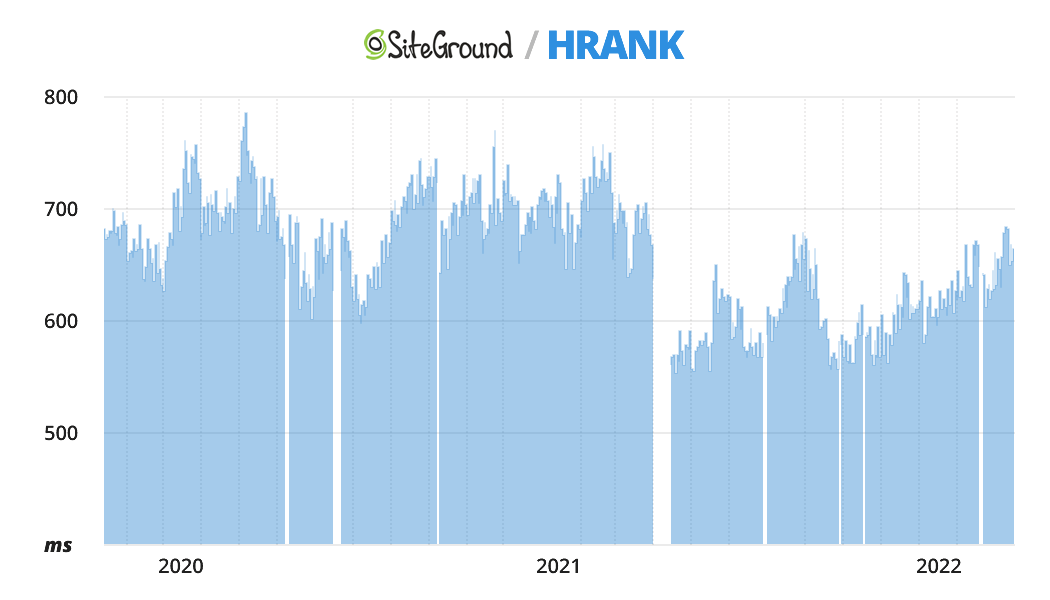 – this is the main reason why SiteGround has held top positions in HRank ratings for years ⚡
Finally, each website comes with a unique, pre-installed WordPress plugin, that allows you to easily control the server settings and adjust the caching parameters.
Speaking of WP plugins…
Security at SiteGround
There is another WordPress plugin made by the SiteGround team to work specifically with client sites:
SiteGround Security helps prevent the most common threats and attacks on your website, as well as react quickly in case of an attack, e.g. by logging out all users and resetting passwords.
It's not the only WP security plugin in existence, of course – but it's still nice to have all the various features in a single place, fully integrated with your hosting provider.
On the server level, three key measures help ensure maximum security for every SiteGround client:
Firewall and an AI-based filter for automatically protecting against attacks and hacks 🦺
Daily backups in several independent server centers in different geographical locations ensure that your website can be restored after any disaster 💽
Monitoring systems that check each server's status and performance every 0.5 seconds, 24/7 🔍
At this point, you might argue that every premium web host has these features – and you'd be right.
There's just one nuance:
SiteGround manages to offer all that goodness for a price that is closer to "mainstream" hosting providers:
SiteGround Plans and Pricing
At first glance, it looks a bit confusing: four different types of hosting, each having several pricing plans…
But take a closer look, and you'll notice that the plans in the Web, Shared, and WooCommerce hosting types are actually identical!
That's because all of them are essentially the same kind of shared hosting, with three pricing tiers for different client needs.
With that in mind, let's forget about hosting types and focus on discussing each pricing plan in more detail:
StartUp is quite straightforward – you get one website and enough server resources to handle decent traffic. Unless you are migrating with a large project, it's always worth starting with this plan and then deciding if you need to upgrade.
The GrowBig plan allows you to create unlimited websites, which means it's suitable for those who run several projects or have high visitor traffic (over 20,000 per month).
Finally, on the cheekily named GoGeek plan you get even more computing resources, as well as the white label solution that allows you to offer web hosting to your own clients – great for agencies and freelancers.
As we mentioned earlier, the best part of SiteGround's offer is the fact that all the professional-grade features are available at very reasonable prices –
For example, here's a price comparison for premium hosting providers which use Google Cloud as their infrastructure platform: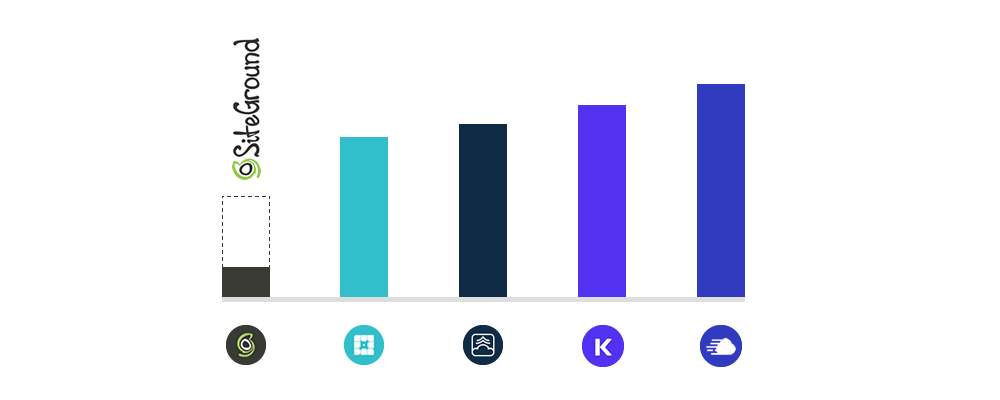 The dashed line indicates the full price that applies after the first billing period at SiteGround – even that is way below the alternatives, and we're not even considering the heavily discounted introductory pricing (i.e. the solid dark column).
There are four billing cycles available at SiteGround, with monthly being the most expensive and hence the least useful –
You can always opt for a (discounted) longer billing cycle and use the 30-day money-back guarantee if needed.
While you will end up paying less per month on average with the 3-year option, the largest first-period discount 🤑 is available for the 1-year billing cycle, where the amount spent right now is much lower:
Get a 69% discount on SiteGround
One more thing worth mentioning is cancellation: with SiteGround, it's as easy as clicking on a button in your hosting admin panel, no need to contact support.
When you cancel, you can choose to continue using your websites until the end of the current billing period or to remove everything right away.
Pros and Cons of SiteGround
Before we move on to the final verdict on SiteGround, let's summarize this hosting provider's stronger and weaker sides:
You get premium-grade features and tools at a much lower price than most other managed WordPress hosts
Optimized software stack built on top of the Google Cloud infrastructure ensures consistently smooth and speedy functioning of your websites
Every account gets a slew of security features for threat prevention and mitigation, including firewall, live monitoring, and automatic backups
Cloudflare CDN is included at no additional cost with every SiteGround account, improving both speed and security
There are no visitor limits on any of the plans, as opposed to most other premium hosting providers
Powerful tools for collaboration and client management, making life easier for freelancers and agencies
Security, optimization, and migration plugins for WordPress built by the SiteGround team to work seamlessly with the hosting
24/7 customer support via live chat, both for potential and existing clients
The cloud hosting offer at SiteGround is less attractive than its managed WordPress solutions, being up to 2x more expensive than e.g. comparable Digital Ocean machines
Resource availability may be limited for websites or accounts that regularly use up too much of a server's computing power
The tool for creating a test/development copy of your website is not available on the StartUp plan
And now for the bottom line:
Verdict: Is SiteGround Worth It?
20 years in business and millions of clients – can a hosting provider get any more credible than that? 👓 Let's see:
Throughout its existence SiteGround has clearly tried to maintain its status as the "affordable premium" host, combining professional quality with competitive prices.
As a matter of fact, it's somewhat easier to define who should NOT use SiteGround as opposed to everyone else (who should) –
If your budget is substantial and you're looking for the most advanced Google Cloud based hosting for a large project, take a look at Kinsta instead,
If you are part of a developer team that needs scalable cloud hosting with full control over all server settings, a self-service solution like Digital Ocean is probably best for you.
Apart from that –
Whether you just need a website for your organization or you make websites for your own clients, SiteGround has everything you need and more, built on a rock-solid technical foundation 💎 as well as years of expertise 🏆 and reputation.
Get a 69% discount on SiteGround
Have an opinion on SiteGround or a personal experience you'd like to share? Head over to the comments section – let's help each other make better decisions!