Warning
: Undefined array key "r" in
/var/www/html/wp-content/themes/satoristudio/functions.php
on line
1237
Warning
: Undefined array key "r" in
/var/www/html/wp-content/themes/satoristudio/functions.php
on line
1237
Warning
: Undefined array key "r" in
/var/www/html/wp-content/themes/satoristudio/functions.php
on line
1237
Warning
: Undefined array key "r" in
/var/www/html/wp-content/themes/satoristudio/functions.php
on line
1237
Warning
: Undefined array key "r" in
/var/www/html/wp-content/themes/satoristudio/functions.php
on line
1237
Warning
: Undefined array key "r" in
/var/www/html/wp-content/themes/satoristudio/functions.php
on line
1237
Warning
: Undefined array key "r" in
/var/www/html/wp-content/themes/satoristudio/functions.php
on line
1237
Warning
: Undefined array key "r" in
/var/www/html/wp-content/themes/satoristudio/functions.php
on line
1237
Warning
: Undefined array key "r" in
/var/www/html/wp-content/themes/satoristudio/functions.php
on line
1237
Warning
: Undefined array key "r" in
/var/www/html/wp-content/themes/satoristudio/functions.php
on line
1237
Warning
: Undefined array key "r" in
/var/www/html/wp-content/themes/satoristudio/functions.php
on line
1237
Warning
: Undefined array key "r" in
/var/www/html/wp-content/themes/satoristudio/functions.php
on line
1237
Warning
: Undefined array key "r" in
/var/www/html/wp-content/themes/satoristudio/functions.php
on line
1237
Warning
: Undefined array key "r" in
/var/www/html/wp-content/themes/satoristudio/functions.php
on line
1237
Warning
: Undefined array key "r" in
/var/www/html/wp-content/themes/satoristudio/functions.php
on line
1237
Warning
: Undefined array key "r" in
/var/www/html/wp-content/themes/satoristudio/functions.php
on line
1237
Warning
: Undefined array key "r" in
/var/www/html/wp-content/themes/satoristudio/functions.php
on line
1237
Hostinger is one of the most affordable options among the hosting giants today. But "big and cheap" doesn't necessarily mean anything by itself –
⚓ Titanic was also big, and some of the tickets were quite affordable…
So, instead of extrapolations, in this in-depth review we will analyze facts and data to find out whether Hostinger is worth your money.
Verdict summary: the key advantages of Hostinger are simplicity and low costs, which make it a great choice for small and medium web projects. Both developers and website owners can find a suitable option from Hostinger's range of offers.
By the way, when Hostinger were deciding on their brand name, they probably did not foresee the many different ways it can be misspelled..
So if you're here as a result of searching for hostenger or hosinger or even hostiger – just know that yes, that's precisely the same company we're talking about here :)
How Big Is Hostinger?
To give you an idea of just how big Hostinger is, here are some figures: the company currently has over 30 million customers in 170+ countries (this is almost every single country of the world!).
And there are no signs of slowing down – according to their data, Hostinger is still expanding at a rate of 1 client every 5 seconds.

However, as you might expect, Hostinger hasn't always been the international giant it is today. When it all started back in 2004, Hostinger grew out of a single idea:
People don't want to pay for our marketing – just the hosting: simple, reliable, and as cheap as possible.
After many years, this principle still remains at the core of Hostinger, namely high-quality services for the lowest possible price.
Let's take a look at the offer:
Choosing the Right Hostinger Plan
Being a huge international provider, Hostinger offers a multitude of solutions for all types of private and business needs.
Shared hosting, cloud hosting, WordPress, VPS – it can get really confusing really quickly! 🤯
Don't panic, here's a simple guide:
…Wait, but should I be choosing Hostinger at all? Ah, good, you're still paying attention! In order to answer this question, we'll need more data:
– in the following parts of this review we will analyze Hostinger's technical characteristics 🤓 as well as our own impressions from using this provider.
Let's dive in!
Hostinger Uptime and Speed: How Reliable Is This Provider?
Apart from features and pricing, another extremely important criterion for choosing hosting is its stability – in other words, server uptime and speed.
To measure the uptime, or the proportion of time Hostinger's servers are up and running, we can look at both self-reported and third-party figures.
The former are freely available on their server monitor page. It lists daily, weekly, and monthly statistics for all of Hostinger's 150+ servers, which looks something like this: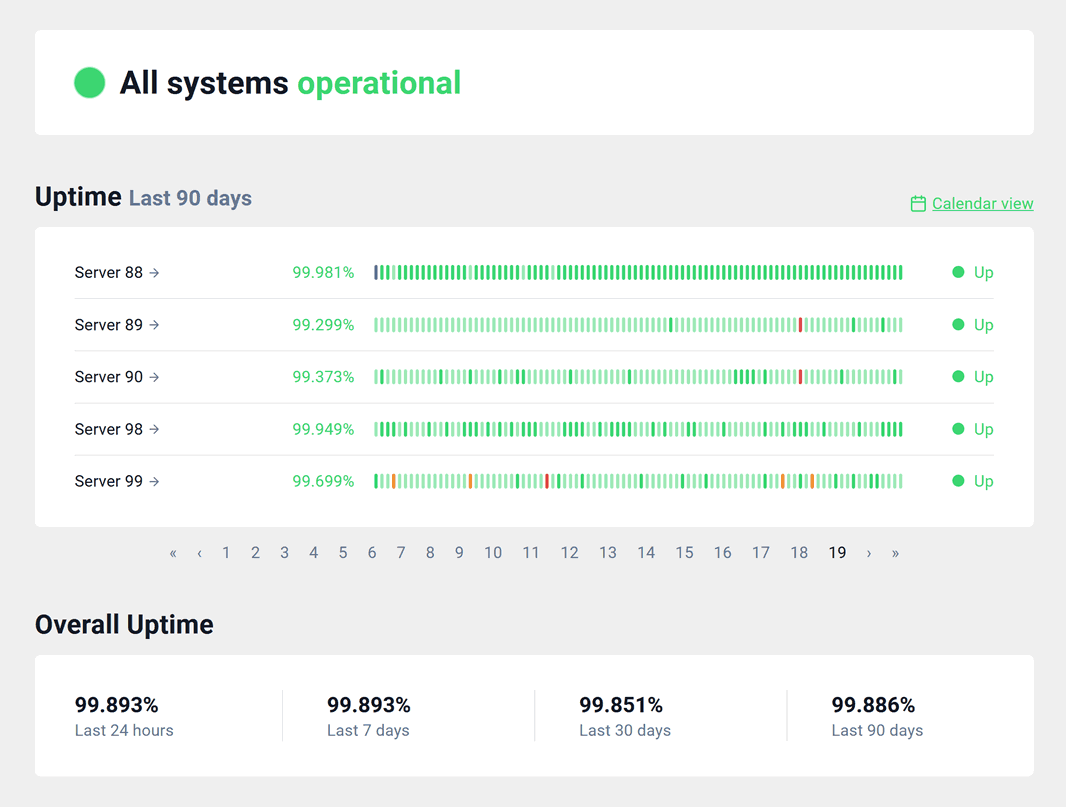 At the bottom of the table you can find the combined figures for all servers, which is what we're interested in:
Look at the 30-day average to get the idea of how much time your website can be expected to stay offline within any given month.
As of December 2023 this figure is close to 99.9% – which implies that a hosted website should only experience about 42 minutes of downtime per month, which is a fairly normal result for most modern hosting providers.
This is also in line with 99.908% figure independently measured by Hrank, as well as within the bounds of Hostinger's Service Uptime Guarantee – which is exactly 99.9% according to section 7 of their Hosting Agreement.
***
How about speed? This is a bit trickier, since it might depend on many different factors apart from the hosting provider's hardware.
A web page's loading time depends heavily on things such as the total size of images on the page, the number of active WordPress plugins, and other details that are not related to the hosting.
So it makes sense to conside only the response time – which is the average time (in milliseconds) it takes a server to respond to an incoming connection request (i.e. someone trying to access a website on that server).
According to third-party data by Hrank bots which , Hostinger's average response time hovers around 800 ms:
In fact, it can be seen that Hostinger's average response time has been declining (=faster websites) during the recent years, thanks in part to infrastructure upgrades.
Anything below 1000 ms first response time is a good result for a shared hosting provider, and Hostinger fares better than most other large international providers.
Alright, now that we've looked at the facts, let's move from averages to our personal impressions:
Our Impressions from Using Hostinger
As we discussed earlier, Hostinger offers a variety of services for both beginners and professionals.
For the purposes of this review we are going to take a closer look at shared hosting, as it's by far the most popular Hostinger product.
As usual, the first step is to purchase a plan.
When you complete your order, you get access to the hosting admin panel – this is the place where you will manage your hosting account: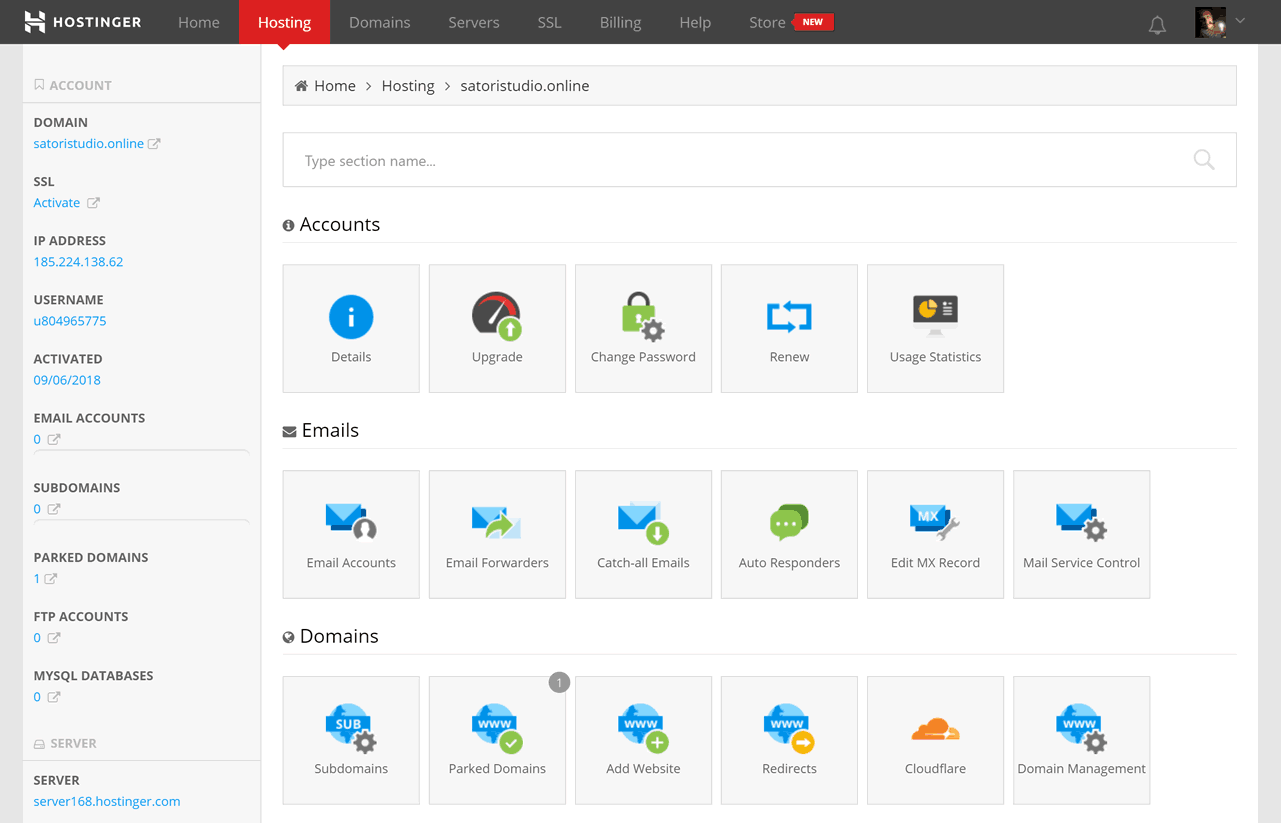 Hostinger offers a custom admin panel, built by the company's internal developers. We found it quite user-friendly and easy to navigate, even when compared with widely used alternatives such as cPanel or Plesk.
Everything you need is represented by tiles with pictures, and organized neatly into groups to help you find services quicker. You can also use the search bar at the top for easier access to desired items.
To create a website, you can either use the Auto Installer to set up a content management system such as WordPress – or use the drag-and-drop website builder from the Hostinger product family called Zyro.
Both options can be accessed from the Website section of the hosting admin panel
By the way, Zyro website builder is an interesting case of how a half-baked product can make a successful comeback.
When we first reviewed Hostinger in 2017, Zyro was a mess – it looked like a cross between a prematurely released startup idea and an abandoned legacy product.
This was the case for a while, but in the early 2020 Zyro saw a complete overhaul: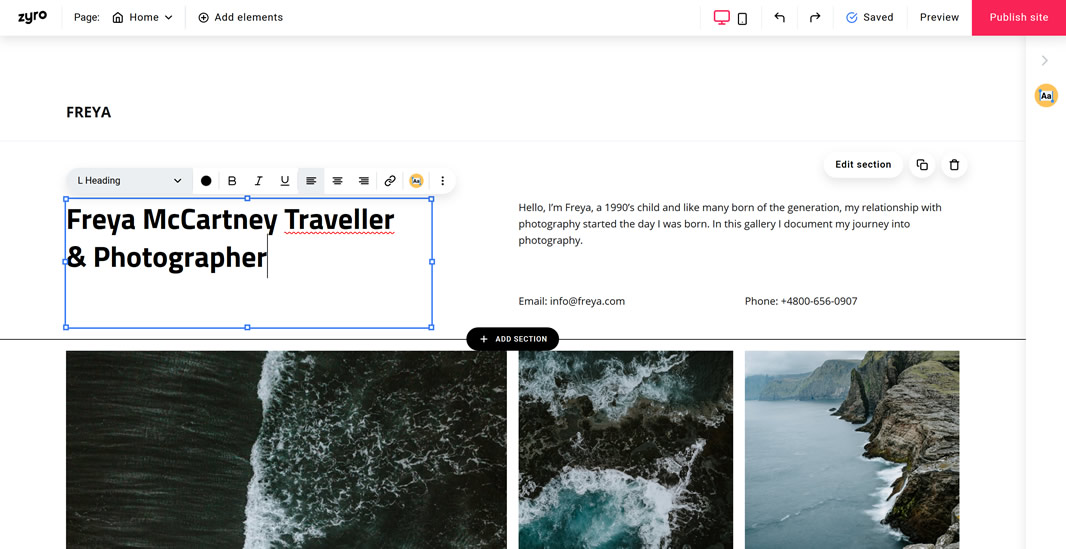 Now that looks more like a modern site builder 😎 The choice of templates is still quite narrow, but at least now the designs look clean and up to date.
In addition to better visuals and a collection of 1M+ images, Zyro now features a couple of intriguing Artificial Intelligence based products:
AI Writer, an automatic system which asks you for a topic and produces several paragraphs of (very human-sounding) text on that topic. It's still not perfect, but it can be a great help for breaking your writer's block.
AI Heatmap Tool, which analyzes your web pages from the point of view of visitor attention and tells you where to place your page's most important elements such as call-to-action buttons.
Almost magic!
Overall, the new iteration of Zyro can be recommended for anyone looking to create a simple website consisting of one or several static pages. For those who need more flexibility and more features, WordPress is still the best choice.
Hostinger Customer Support
If you're already a client, you can ask Hostinger team for help 24/7 via the live chat that is located in the bottom right corner of the hosting admin panel.
To test the quality of support we have asked them questions via the chat: the response time was super-fast (usually just several seconds), and the Hostinger representative was always friendly, polite and helpful.
Silly cat pictures were used to brighten your mood while we waited for them to type the reply 🐈
Apart from live chat, there is a free library of useful articles about all Hostinger products and services. You can find it by clicking the "Help" link in the top menu of the hosting admin panel.
It also contains a list of most frequently asked questions – there's a big chance that your issue can already be fixed there.
…What if you're not a client?
In that case, you can send a message to the Hostinger team via the contact form on their website.
It won't be as fast as the live chat, naturally, but arguably your question won't be that urgent either :) in any case, you'll still get your answer within a couple of hours; the longest response time in our tests was 7 hours.
By the way, did you know that you can ask us questions about Hostinger as well? Check out this form at the bottom of the text!
Overall, Hostinger has managed to exceed our expectations when it comes to quality of support. We've seen much worse even from competing companies with higher prices.
30-Day Money-back and Cancelling a Hostinger Account
If you scroll Hostinger's official home page all the way down to the footer, you'll see a statement offering a refund of your order during the first month (30 days, to be precise) after making the payment.
While a money-back guarantee is a laudable feature for any self-respecting hosting provider, it's worth pointing out some of the fine-print details – making sure you're aware of the consequences of requesting this refund:
New domain name registrations can only be cancelled within 4 days (96 hours) after completing the purchase transaction. Most other large hosting providers do not offer refunds for new domains at all.
Given the previous point, there is still a long list of domains that do not support refunds; those include almost all country-specific and regional extensions, as well as some generic ones like .mobi and .info.
Some other items that are not counted towards the 30-day moneyback guarantee are domain renewals, privacy protection packages, and SEO toolkits.
Finally, you cannot refund any purchase made using cryptocurrencies (yes, Hostinger allows paying for your orders using Bitcoin, Ethereum, Litecoin, and a bunch of other popular coins).
Alright, what if you decide to cancel your account later than 30 days? – for example, you don't need a hosting anymore because you've discontinued the corresponding web project.
You can easily deactivate hosting plans and domains via your hosting control panel, just search for the "Deactivate account" item with a big red stop-sign:

Interestingly enough, while individual services are easily cancelled and removed, Hostinger does not offer a straightforward way of completely deleting one's personal account with the company (citing "security reasons").
While this should not create any real issues once you deactivate all services in that account (you will definitely not get charged anymore), for those who like cleaning thoroughly after themselves there is a strategy that can work: simply ask Hostinger support to delete the account.
If you're in the European Union, you can even throw in words like GDPR to make sure youre request is satisfied; dwellers of other regions will have to rely more on the company's good will.
What Else Does the Internet Want to Know About Hostinger?
Before we go on to summarize the strong and weak points on Hostinger, here's a collection of the most frequent questions we've seen on the web and in our comments:
Is Hostinger really free? Well, not anymore… What do we mean "anymore"? Fun fact – it used to be, as part of its earliest attempts at quickly capturing the various international markets – but nowadays it's a paid hosting, although one with a really aggressive low-cost strategy.
Is Hostinger good for WordPress? Absolutely. We can easily call it one of the best value for money options for a self-hosted WordPress website (check out our ranking of the top "cheapest" hosts around).
Is Hostinger reliable? Short answer – yes, definitely. Longer answer – for a retail hosting solution which costs a fraction of what other large providers would charge you, Hostinger is surprisingly well-equipped to deliver interruption-free hosting with powerful security features built in.
Pros and Cons of Hostinger
Now that we've examined Hostinger's products and services, as well as customer support – let's summarize the positive and negative sides. We'll try to be as objective as possible:
Great value for money: very competitive prices for all hosting packages – as Hostinger puts it, "you only pay for the hosting, not for the marketing"
Flexible offers for any kind of client – from individuals and small businesses (shared hosting) to large companies and professional programmers (VPS and cloud)
99.9% uptime guarantee – in essence, Hostinger promises that your website will be available online all the time. The figure translates into a maximum of 44 minutes of downtime per month, which in practice is close to 0 minutes of downtime according to our tests.
You can get a free domain name with your hosting purchase if you choose at least a 12-month package
You can choose between the popular hosting dashboards like cPanel or use Hostinger's proprietary solution (which is not bad at all)
WordPress (or any other popular site engine) can be installed in just several clicks using the Auto Installer feature from the hosting admin panel
Hostinger's website builder called Zyro has been completely revamped in 2020 and is now a pleasure to use
Large library of educational resources about using Hostinger's products, available for free to all clients
Top-notch support from a friendly, fast, and helpful team that are always ready to solve your problems 24/7
Decent but by any means not outstanding average uptime and server response speed readings
Relatively limited choice of templates in their Zyro website builder
No possibility to get support by phone – you will need to use either live chat, email, or contact form instead
Before we finish this review with a conclusion and a verdict (should you use Hostinger?), here's a step-by-step guide for getting an additional discount off your Hostinger purchase:
Bonus: Hostinger Promo Code
Now, we're not arguing that you should necessarily choose Hostinger – but if you do decide to go with this provider, it's nice to have an option to save even more on your order, right?
With this in mind, here's a step-by-step guide on getting an additional discount at Hostinger using a coupon code:
(since we concluded earlier that the 12-month Premium shared plan is the most reasonable choice for most cases, we will be using it as an example)
Visit the official Hostinger website by clicking the button below (it will open in a new window automatically):
Under the Premium Shared Hosting (i.e. the middle option), click on the large red "Add to cart" button. This will bring you to the configuration page.
Click to choose the 12-month package (this is the cheapest plan which gives you a free domain name, so it's not worth choosing the 1-month plan).
At this point this is how your configuration page should look like:

Now look at the bottom of the page and find the text which says "Have a coupon Code?", right below the total order sum. When you click on the link, at new field will appear in its place. Type in the following code:

special15

After inputting the code, click on the plus icon to the right (it should become violet in color). You will see a message saying that the coupon code has been successfully applied, and a new discount will appear in your order!
Congratulations! You've just saved some additional funds from your Hostinger purchase, making the final price even more attractive.
In case the promo code mentioned above doesn't work in your case, let us know in the comments below – we'll investigate and do our best to make sure you receive a functioning one.
Verdict: Is Hostinger Worth It?
Taking everything into consideration, should you use Hostinger for your next web project?
When it comes to hosting, this brand is the very embodiment of "value for money": you pay a reasonable price for what you get – and what you get is functional, practical, and easy to use. Hostinger just… works ⚡
Create a website on Hostigner ›
For those who do decide to try Hostinger: don't forget to check out our step-by-step guide on how to save extra on your first order.
***
Still having questions about servers, plans, support, etc? Or maybe you are already using Hostinger and would like to share your experience?
In any case, join the discussion in the comments section below, let's help each other make informed decisions!
Affiliate disclosure: if you found this review helpful, please consider supporting our blog by using the links in the text to purchase Hostinger services. This does not affect the price you get on your Hostinger offer, of course.