HostGator has been around for so long that we've all gotten thoroughly used to the friendly blue crocodile with a broad toothy smile.
But is it really safe to be friends with it?
Let's find out! In this in-depth review, we will take a thorough look at HostGator, analyze its background, offers, pricing, support – and come up with an answer to the following question: should you choose HostGator over other hosting providers?
In the course of our journey, you will find out how their mascot Snappy used to look like in 2D, as well as other (arguably more relevant) things you need to know about HostGator:
Who owns HostGator

and why is that important?

Which hosting plan

should you choose, if any?

Is HostGator better

than other large providers?

Can you save money

on your HostGator order?
Regarding that last one – near the end of this review we provide an exclusive discount code that can be used to decrease your bill for certain HostGator products, if you do decide to give it a try.
One small note before we jump in: if you were searching for keywords like host gator or gator host and found this review – this is indeed the same company, so you're in the right place 😉
With that out of the way, let's examine our specimen carefully, from the head to the tip of its tail: grab a magnifying glass and a ruler, and don't forget to keep your hands out of its jaws even when it's sedated – just in case!
The Head: What Is HostGator?
As its name suggests, HostGator is a web hosting company. This means it provides services that enable you to create and manage websites. Here's a fun fact:
According to W3Techs, almost 2% of websites in the world use HostGator as their hosting provider (out of W3T's sample of top 10 million websites).
That's a lot of websites!
In fact, the above data places HostGator firmly in the top-10 of the global hosting industry.
However, any big company must start with a single client; and for 'Gator that happened in 2002, when a university student from Florida named Brent Oxley decided he wanted to become an Internet entrepreneur.
The venture grew aggressively for a decade, until it was sold to another company in 2012. And that company was none other than… the Endurance International Group (EIG)!
Now, why did I introduce it in such a theatric way?
Because Endurance is an active and unique player in the hosting market, and hence a frequent hero of our reviews:
EIG positions itself as an "integrated provider of all things necessary for small and medium businesses to build their web presence". More specifically though, according to their latest annual report more than of 50 its 77 (!) brands offer the same service – web hosting.
In other words, Endurance is a company which specializes on buying up existing web hosts and extracting maximum money from their brands.
Alright, you might say – but does it really affect HostGator clients in any tangible way?
Of course! In fact, in all kinds of good and bad ways:
Stability and reliability: as one of the leading names in the brand portfolio of a large multinational corporation, HostGator has very low risk of closing down abruptly or declaring bankruptcy.
Operational efficiency: everything about HostGator has been optimized and then optimized again, based on the parent company's deep industry experience from its massive portfolio of hosting brands.
Focus on money extraction: EIG buys existing businesses, and it usually pays a LOT in such deals. This means it must focus relentlessly on getting that money back as profits. Anything that doesn't directly lead to higher returns on investment doesn't seem to bother Endurance and its subsidiaries too much.
Conveyor-like approach: since none of the brands in Endurance's portfolio has been grown from scratch, you're not dealing with a founder's vision, a unique idea or value proposition – just one of 50+ very similar brands that present slightly different facades while using the same back-end.
It's of course up to you to decide whether the benefits of being a part of the Endurance Group outweigh the potential disadvantages.
Their business strategy is not "good" or "bad" per se – it's just that, a strategy. However, it is worth keeping in mind the likely implications: for example, that there's no motivation for brands like HostGator to offer exceptional quality – just optimized sales techniques and good-enough infrastructure.
We'll look closer at these and other details of HostGator's offer in the next part of our review:
The Body: Products and Plans
Alright, it's time for the meaty parts!
HostGator's product line consists of a dozen different items, but in this review we are going to focus on their flagship offer: shared hosting, i.e. what they refer to simply as "web hosting" in their main navigation menu.
(at the end of this section, we will still provide a brief overview of other products, as well as explain why they're not worth discussing in detail here)
Before we continue – what's a "shared" hosting, just in case?
As its name suggests, shared hosting implies that the resources of each specialized computer, or server, are divided between several clients.
This means less computing power for your website in particular, but it also means significantly lower costs compared to other types of hosting, while still being provided with sufficient autonomy and performance.
This tradeoff seems worth it for most online projects, because the vast majority of websites on the Internet are using shared hosting nowadays.
When it comes to shared hosting, HostGator clients can choose between three plans (four in some countries):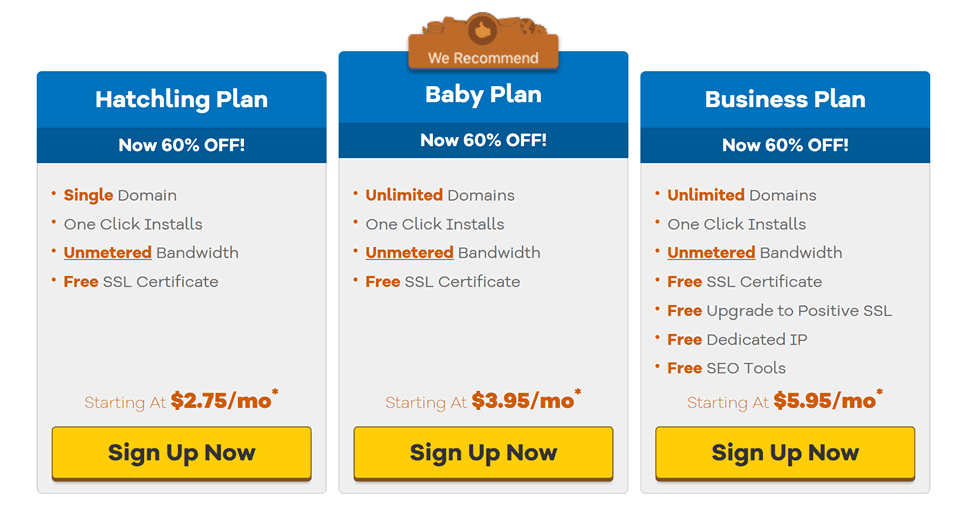 The main difference between the cheapest plan and the medium-priced plan is the ability to set up more than 1 domain, so if you are looking to create a single website, you should go for the cheapest option. You can always upgrade afterwards if you decide to expand your online empire 👑
The more expensive plan(s) don't really offer much value compared to the middle plan, that is – you end up paying 50-90% more for a couple of additional features that aren't really worth it unless you don't care about the budget and just prefer the best stuff whenever you make purchases.
This implies that, in most cases, for those who need several websites the middle plan is the optimal choice. While the difference with the top plan seems small when expressed on a monthly basis, it can compound to a lot of extra costs over the years.
Here are some of the things we appreciated about HostGator's web hosting plans, as well as some of the things we didn't particularly like:
Frequent discounts and special offers make HostGator's shared hosting one of the most affordable on the web, especially if you pay for 2 or 3 years in advance.
Possibility to use a coupon during the checkout is something found in only a few web hosts. In the case of HostGator, you can refer to the last part of our review for just such a code; it's not a big deal in terms of the size of the discount, but if you do end up choosing 'Gator as your provider, it's nice to know there's a chance to save some extra money.
Free SSL certificate included by default; having a secure connection (and a https:// in your web address instead of http://) is considered an absolute must nowadays; among other things, SSL affects your site's rankings by the Google search algorithm.
Free domain for 1 year if you choose any of the annual billing cycles. This is just a nice touch that lets you save a little extra during the purchase. Do keep in mind though that anything you buy at a discount will renew at the regular price. About that:
Renewal prices are higher than the initial price tags, so your next period's hosting bill will be higher by as much as 60%. At least HostGator has the decency to communicate these standard rates clearly on its checkout page, as opposed to some other less scrupulous hosting providers.
Pre-selected extras during the checkout process (in some regions) is a slightly annoying technique which forces you to pay close attention in order not to accidentally pay for something you don't really need, like a "hacker protection" add-on (WordPress has great free security plugins).
What's that? Oh, right, we promised to explain why we skipped other HostGator products!
These include several advanced types of hosting as well as a site builder – and both can be better understood through the context of HostGator's status as a part of the Endurance Group.
Apart from shared hosting, the 'Gator offers cloud, managed WordPress, VPS, dedicated, and even Windows-based hosting packages. They all have one thing in common though:
– none of them is HostGator's focus area or primary expertise.
The vast majority of its clients are on shared hosting, and that's what HostGator was doing from the start, long before it was integrated into Endurance.
Here's a simple rule you might follow:
If you're not sure which type of hosting you need, you probably need shared hosting, and HostGator is a good candidate.
The reverse is also true most of the time:
If you know for sure that you need something other than shared hosting, you probably don't want to use HostGator. E.g. if you need cloud, try Digital Ocean or a similar specialized provider.
As for the "Gator Website Builder", it's simply a rebranded version of another tool from Endurance's portfolio (the creatively named Site Builder).
They use a clever system of varying prices and discounts to make it look even more distinct, but if you do the math both tools will cost you exactly the same in the end.
This means that if you subscribe to the Gator Website Builder you're essentially buying from a completely different brand. Which is not "bad" by itself, but warrants a separate review at the very least (spoiler: there are much better site-building tools than Site Builder, e.g. Weebly).
To sum up…
Products: HostGator is a smart choice if you want to create one or more websites and have no special requirements (like a dedicated server or cloud infrastructure);
Plans: choose between the cheapest and the second-cheapest shared hosting plans, depending on how many websites you need;
Pricing: take advantage of lower prices by opting for longer billing cycles, but don't forget that your next bill will be somewhat higher.
Next, let's look at some of the less obvious but still very important characteristics of HostGator that you might encounter in the long run –
The Tail: Reliability and Support
Websites are usually long-term projects. This means that when you're choosing a hosting company, you're making a choice for many years.
It is thus essential to think beyond the immediate discounts and consider things that may make a difference over time – like service stability and customer support.
The most informative way to gauge the reliability of a given hosting provider (and compare it to others) is to measure two things:
uptime, or the percentage of time an average server is up and running, and hence your website is available to the public;
response time, i.e. how long your visitors have to wait for the first reply for incoming connections.
According to independent data by Hrank, uptime across HostGator's servers was around 99.96% for the past 6 months; this is well inside its 99.9% uptime guarantee limit:
If we look at the daily data, we can spot certain days with less than 99% uptime, i.e. with more than 15 minutes of downtime per day – however, such behaviour is normal as long as the overall figures are good enough.
Average response time for HostGator hovers at around 1100 milliseconds, or 1.1 seconds – which is not particularly impressive for an international hosting provider.
Your website's speed will still depend much more on your choice of WordPress plugins and the size of images you use, but it's worth keeping in mind that the server itself will still add some extra time on top of that.
If you strongly prefer to minimize server response time above all else, you can check out e.g. Hostinger for better server speed in most regions (it has its own weaker points though, so read the review carefully before making a decision!)
***
When it comes to customer support, HostGator offers everything you might need as a hosting user, most importantly 24/7/365 live chat and phone support as well as an extensive library of helpful articles.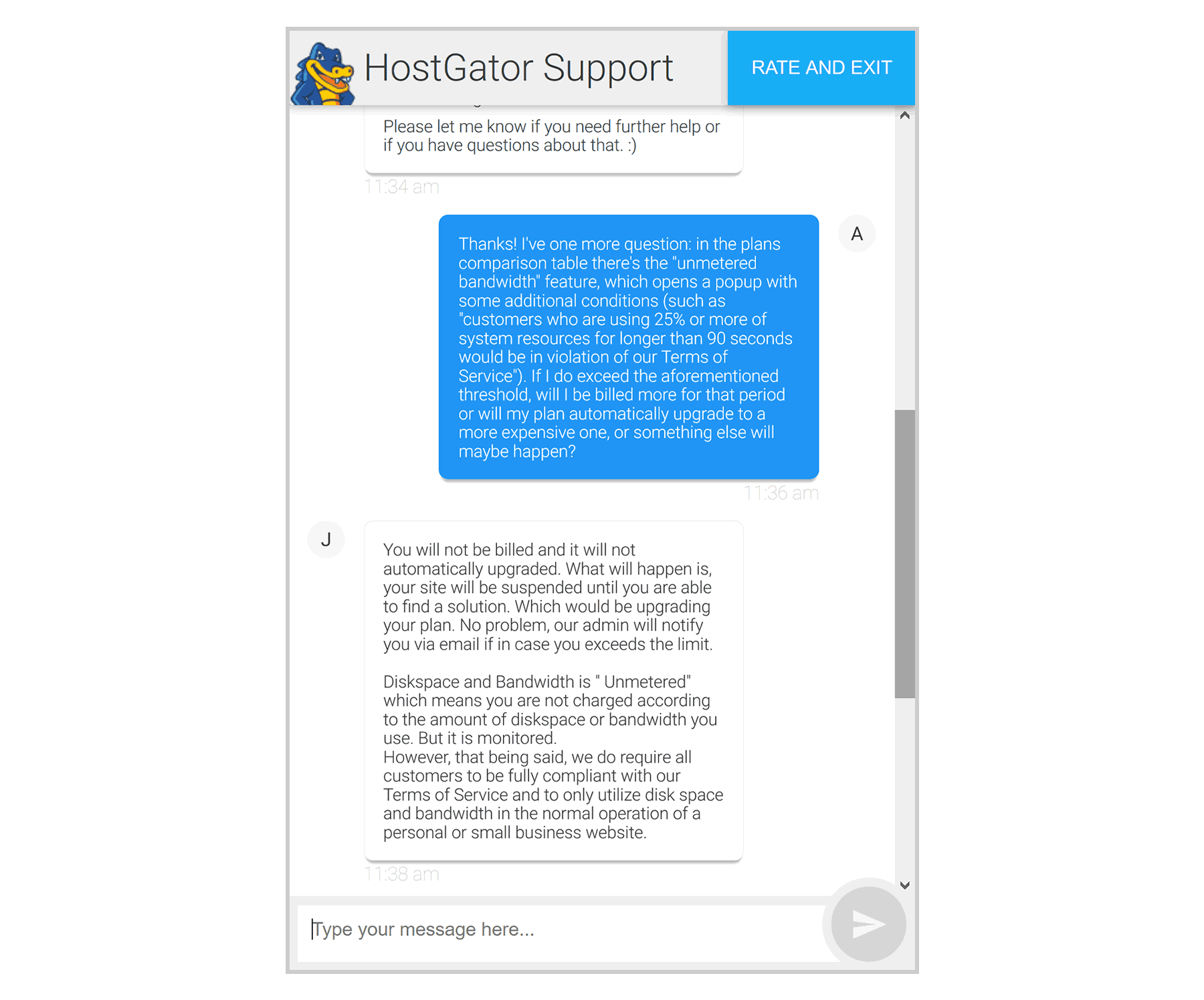 By far the most convenient way of getting in touch with the 'Gator people is via the chat, and after trying it on several occasions we had no complaints:
The support team has a friendly attitude; replies tend to be quick and to the point. Most of our inquiries were solved within minutes from starting a chat.
The answers we got were typically detailed enough to be helpful, while short enough to be readable.
The 24/7 tag is not an empty promise – our chats saw responses within 1-2 minutes even in the middle of the night.
To sum up, HostGator's clients can expect their websites to stay online for >99.9% of the time, while maintaining reasonable (though not exceptional) connection speed.
The support team is significantly more proficient and helpful compared to some of the smaller Endurance brands like PureHost or Netfirms; no negative comments in this area.
***
Now that we've examined the beast from head to tail, we can see clearly that there are both advantages and weak sides in using HostGator.
Which side of the argument is more compelling though?
Pros and Cons of HostGator
To find out, it wouldn't hurt to summarize our findings – this will help us come up with a clear verdict in the final part of our review:
HostGator are specialists in shared web hosting with a lot of experience, resulting from a massive client base and a decades-long track record.
There are few, if any, hosting providers that can match HostGator in terms of pricing; you can be sure to find large discounts and special offers most of the time, especially if you opt for longer billing cycles.
You can get a free domain name with your hosting order; keep in mind that the domain will renew at its normal price after 1 year.
The average server uptime is comfortably over the 99.9% figure mentioned in HostGator's service guarantee. This is a standard level for shared hosting and implies less than an hour of total expected downtime per month.
Since 2012 HostGator is a part of Endurance Group, a large multinational holding, which makes it a much more stable hosting provider than most of its competitors.
You can get 24/7/365 support using HostGator's live chat, both if you have an existing account or just considering to become a client. The support team is knowledgeable and friendly.
In fact, thanks to a large archive of educational and help articles you won't even need to use the chat that often.
The owner of HostGator, the Endurance Group, is focused on extracting cash flows from acquired hosting providers, which might imply less motivation for HostGator to innovate and go that extra mile for its clients.
Server response time, which influences your website's loading speed, is alright but not great for a hosting provider of this magnitude.
When buying HostGator services one should always keep in mind that the special prices listed on their website are valid for the first billing cycle only.
Exclusive HostGator Coupon (Checked in June 2023)
Before we move on to the conclusion, here's a quick way to save some extra money on a HostGator purchase if you choose a short billing cycle (12 months or shorter).
During the checkout, locate section 5. on the page and enter the following code instead of the pre-filled one, then click on "Validate" and check if your final price gets reduced.
Or just click the following link to apply the code automatically to the 12-month shared hosting plan:
The coupon code affects both the hosting package and the extras, providing a discount ranging from 10% to 25% compared to the default code.
SATORI
IMPORTANT! To reiterate, this coupon is only valid for 1, 3, 6, and 12 month billing cycles! For two- or three-year options you are better off with the HostGator's own coupon that is applied by default.
Alright, now for to the conclusion –
Final Verdict: Should You Use HostGator in 2023?
After a closer look at HostGator's background, products, plans, support, and technical characteristics, can we recommend this provider?
For most online projects (probably including yours), shared web hosting from 'Gator is indeed a suitable option, offering great value for money together with reliability and support ensured by one of the largest industry players 😎
In particular:
For a single website, choose the cheapest shared hosting plan, it has everything you'll need.
If you need more than one website, go for the second-cheapest plan and consider longer billing cycles (2 or 3 years) for better prices.
On the other hand, if you're a professional web developer and you know that you specifically need a more advanced type of hosting (like cloud or dedicated), take a look at the specialized providers such as Digital Ocean.
***
Do you still have any questions about HostGator? Or maybe willing to share your first-hand experience? Leave your thoughts in the comments section below, let's help each other make more informed decisions!
Affiliate disclosure: we may receive commission for purchases made after following some of the links in this article. This does not affect the price you pay in any way. In fact, if you found this review helpful please consider using our links to support our project 🌱