If you've been alive for long enough to have witnessed the Internet of the 90s, you'll feel instant nostalgia after opening PureHost's official website.
For this and other reasons that we'll discuss below, we frequently get the same question from our readers: is PureHost worth considering as your hosting provider? Is it even still alive?
In this in-depth review we will examine all available evidence, including hands-on tests of their services, to answer the most popular questions about PureHost:
Is their offer still interesting

in 2023?

How helpful

is PureHost's client support?

Are there any caveats

in their pricing policy?

Who (if anyone) should choose

PureHost as their host?
Of course, we might have just dismissed the entire topic by recommending you to use more modern, less pricey, and much more transparent hosts like e.g. Warpgate:
Get Started in seconds with Warpgate ›
But we are serious about our reviews. If there's even the slightest chance that PureHost turns out to be a hidden gem (like that shabby-looking coffeeshop that turns out to serve amazing V60 drip brews) – we will investigate the case and find out the truth.
So here we go…
The Good: Simplicity and Features
We'll start with the positive sides of PureHost, following the classic western's title. And the one that stuck us most is the refreshingly simple offer.
Forget about five different types of hosting, each with three resource tiers, each with a choice of four billing cycles: PureHost has 1 (that's right, one) package, called PureBusiness, with monthly or annual billing.
That's it! Nice.
PureBusiness contains everything needed to set up a professional website, including site-building tools, a free domain (for 1 year), 200 mailboxes, and even a free SSL certificate (which many hosts offer for an additional fee).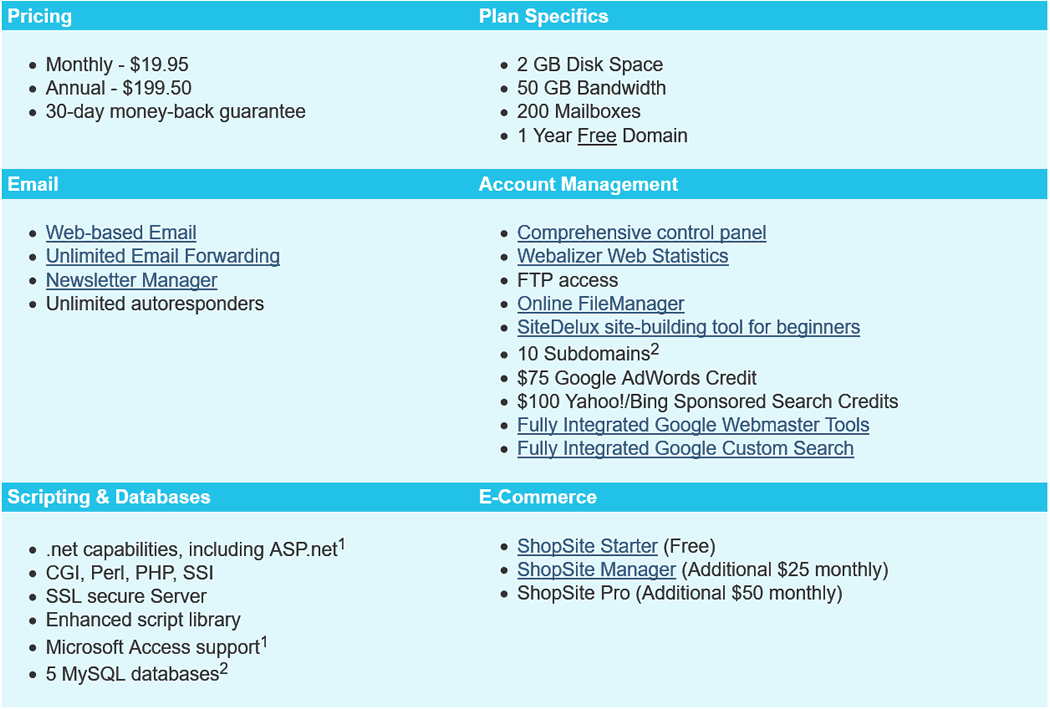 The 2 GB included with the package can't be called too generous, and neither can the 50 Gb per month traffic limit – but for most small and medium websites that is more than enough.
As a bonus, PureBusiness comes with a $75 Google AdWords credit and $100 Bing Ads voucher – yet for the sake of clarity, the former can be received directly from Google, and the latter doesn't even exist in that form anymore.
Technology-wise, the package is available on Unix and Windows machines, supporting all software components for running modern content management systems: php, MySQL, CGI, Perl, ASP.net and so forth.
All this comes at $19.95 per month excluding taxes.
If you're fine with paying for the entire year in advance, you get a 17% discount as the annual billing cycle price per month is $16.62 compared to the $19.95 for monthly billing.
While the pricing is quite steep by market standards, the absence of complex price schemes and multiple alternatives with dubious value-added leaves an overall positive impression.
Speaking of impressions: the above pretty much exhausts the list of things we liked about PureHost – which means that now it's time to move on to the less positive aspects.
The Bad: Outdated Everything and Sluggish Support
Some of you might already be thinking something along the lines of "What do you mean outdated? Maybe it's a conscious design choice, who are you to judge?"
Well, without going into details about how websites do and don't look in 2023, we can offer a really simple test:
– Just open PureHost's official home page on your smartphone:
See any difference from the full-screen version? Not really. Squeezing a full-width web page into a mobile screen means all text is microscopic, and all buttons are impossible to catch with your thumb without pinch-zooming.
What does this imply?
That PureHost's official homepage doesn't have a mobile-friendly version. In 2023. When more than half of web traffic is already mobile.
***
By the way, just to be clear: when we say "outdated" we aren't actually talking about their design here (although the previous statement still holds) –
– we're talking about outdated everything, from the hardware in the servers to the bundled site-building tools.
On their "Who We Are" page PureHost proudly list technologies and components that were officially deprecated by their producers years ago. For example, Cisco Pix reached end-of-sale in 2008, while Cisco 6509 switches were last supplied in 2006!
This can mean one of two things: either PureHost forgot to update their "Who We Are" page with fresh specs – or that your websites would still be running on dinosaur-age tech.
The former would just show negligence, but the latter would really be disconcerting: you don't have to be an IT specialist to imagine what 10+ years of obsolescence means in the world of computer components.
We've also mentioned the website builder earlier?
The one offered by PureHost is called SiteDelux by Dynamic Solutions (their official website is also a treat), and here's how it looks like: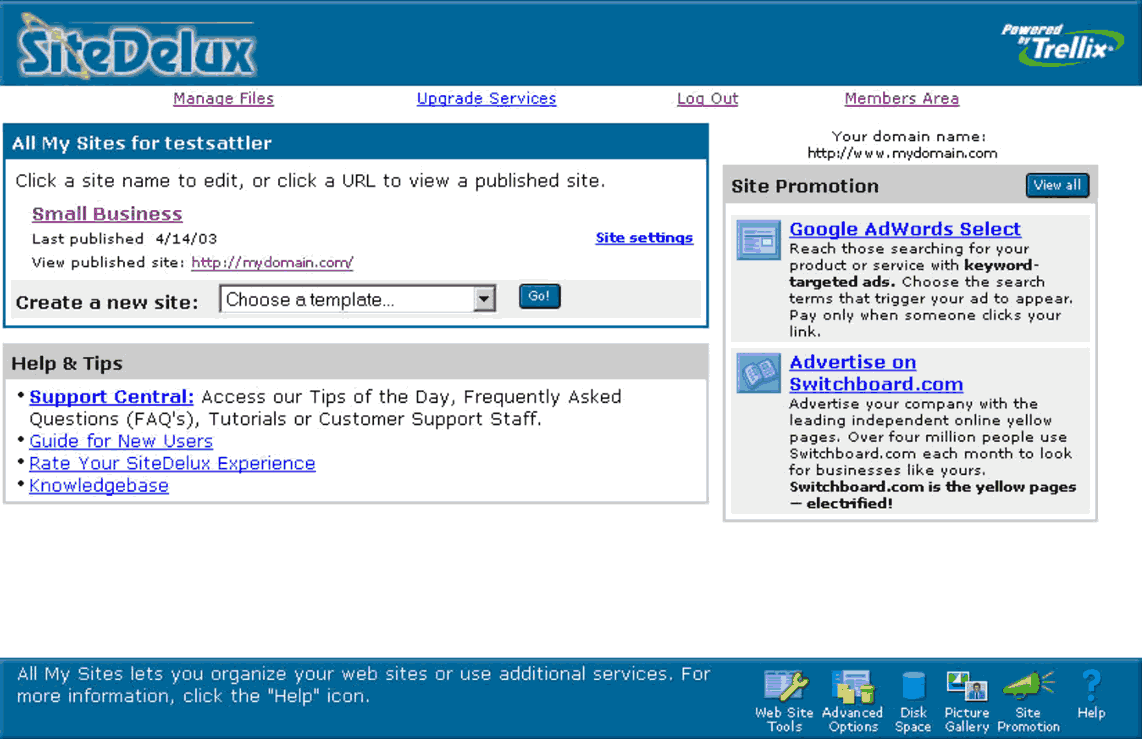 It won't be much of an exaggeration to say: even a person who just recovered from a five-year coma will be surprised that such web tools still even exist.
***
While researching their software and hardware components, we've had an opportunity to interact with PureHost's support – and that's the second thing worth mentioning in the "bad" section of our review.
For the sake of fairness, PureHost does offer most of the items one would expect from a modern web hosting: phone support, a rather detailed knowledgebase, and even a 24/7 live chat.
However, once you actually try to ask them something, things get less rosy.
The most illustrative conversation with PureHost's support took place via a live chat, with a fairly simple question:
do their hosting package prices change after the first billing cycle (as is often the case with even the largest web hosts), and if yes, by how much?
The support team representative to whom we asked this question had to consult with another team to provide even a hint of an answer – which in turn was still grossly inadequate.
If a support team doesn't know the pricing details for their company's single existing service, would you trust them to resolve your issues once you do make a purchase? Not sure, not sure.
By the way, that entire chat was so frustrating that we're including it in full – in the next chapter, as we dive even deeper into the vices of our research object:
The Ugly: Dark Patterns and Pricing Tricks
Let's go back to PureHost's official home page for a second, and pay attention to the small asterisk next to the $19.95 price quote.
We all know what asterisks mean: if you see one, then there's probably a catch*.
(you've probably tensed a bit at the end of the previous sentence – all from seeing a single symbol; this illustrates just how ingrained this association with uncertainty and potential deceit has become in our culture).
Where does that asterisk lead? The fine-print at the bottom of the page, of course: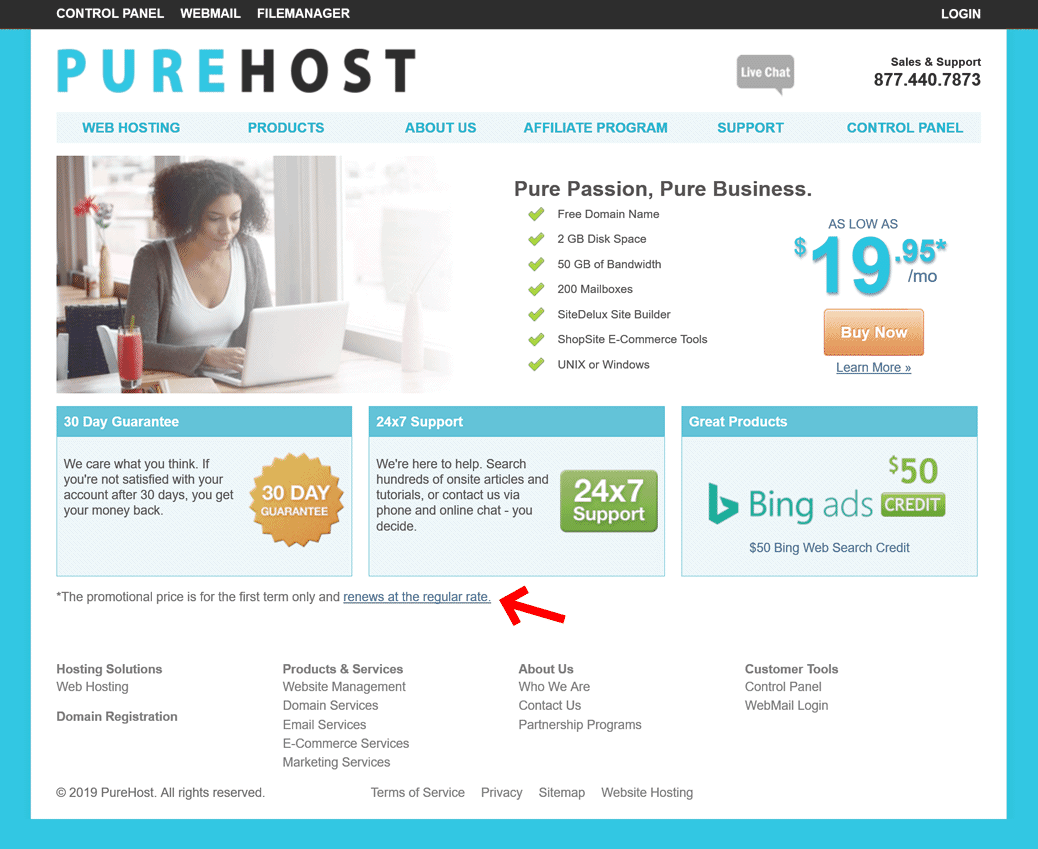 If you click on the link in that phrase you will be taken to a Help Center article with "regular rates" that don't really make sense: they are lower than the promo rates!
Since we've never (yes, not once) seen a web host with renewal prices below the promo offers, this only increased our unease.
So we've turned to PureHost support for explanations.
The entire dialogue was so disturbing that we've decided you should read it in full, apart from shedding some light on the issue at hand it also neatly illustrates the points we've talked about in the previous part of our review:

Let's sum up the key points of this chat:
Yes, $19.95 per month and $199.50 per year are indeed promotional prices which are only valid for the first billing cycle of your PureHost subscription.
The support representative didn't have any knowledge about renewal prices so she had to consult with the billing department (the wait was ca 5 minutes).
It turns out that PureHost subscriptions are renewed at prices which depend on the "resource usages" during the preceding period, so they cannot be known in advance even in principle.
You must excuse us for the last part of the dialogue, it might convey some irritation or frustration, which is not intentional…
But seriously? You don't know your next hosting bill until after you've paid the first one?!
While it might not sound like a bid deal, it should be made clear that this legally gives PureHost the ability to charge you anything they please.
Maybe your next hosting bill will be $21 per month – or maybe $121, there's no way to know in advance, and by buying a plan from them you basically agree to be charged any arbitrary amount next time.
When you realize this, the other PureHost's tricks to seamlessly charge you more start looking quite innocuous in comparison, like these auto-selected extras during the checkout: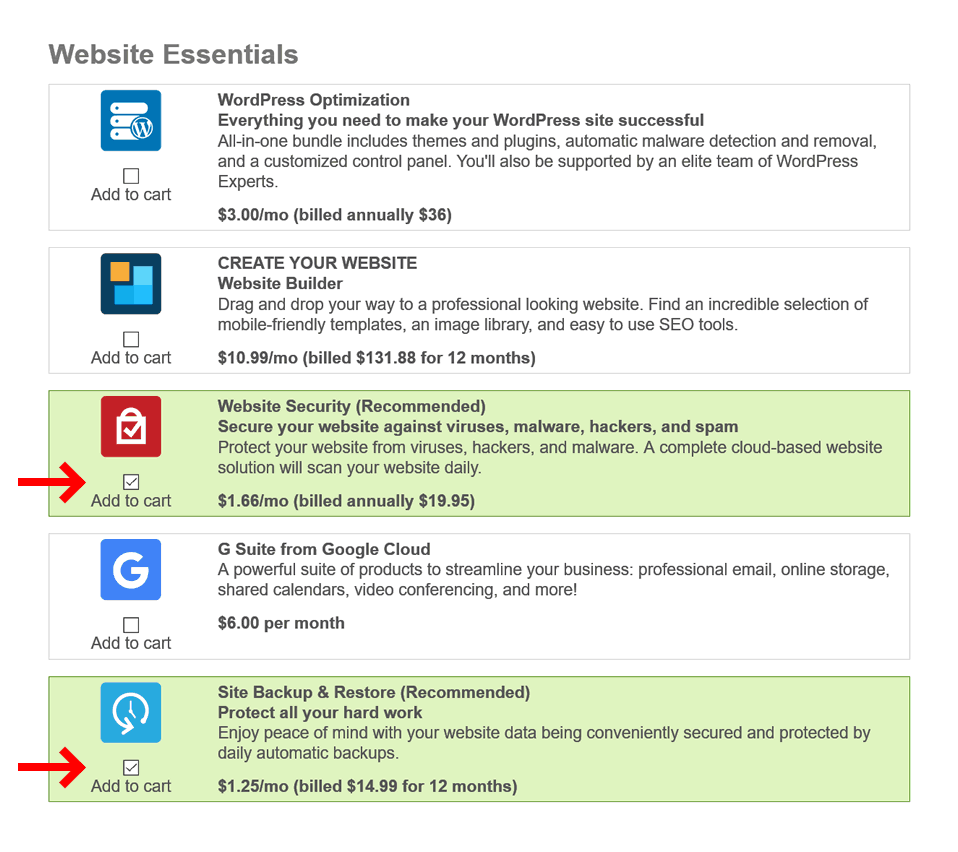 Yes, your annual bill will be higher by $34.96 if you don't pay attention and un-tick those extras – but that doesn't even start to compare with the ambiguity that's introduced by their "resource-based" renewal prices policy.
Pros and Cons of PureHost
Now that we've discussed all aspects of PureHost's offer, it's time to summarize our findings into a neat list so as to simplify the final analysis that will follow in the last section of our review:
The company offers a single hosting package with simple pricing and all necessary features, reducing anxiety and stress from having to choose out of a dozen obscure alternatives.
PureBusiness package comes with a free open-source SSL certificate for added security, as well as a domain name which is free for 1 year.
You can have your hosting account set up on a Unix or a Windows based server, at no additional cost.
You can get a $75 Google AdWords credit directly from PureHost instead of having to apply separately through Google.
There's a 30-day money-back guarantee for all first-time users. Note that it does not apply to domain names and any subscriptions purchased with no-card payments.
24/7 support is available by phone or via live chat. Response times are short, and there's rarely any queue to get help.
Prices are double the current hosting industry averages, which doesn't look like high value for money considering the available features.
The $19.95 indicated on the official website is a promo price. Your hosting renews at a rate which is determined by your consumption in the first period, i.e. cannot be known before you subscribe.
The hardware and software used by PureHost is dismally outdated, to the point where some of the components have been officially deprecated by their vendors more than a decade ago.
During the checkout process several additional paid items of uncertain usefulness are automatically added to your order.
You need to tick a box during the checkout in order NOT to receive marketing communications from PureHost – which is considered a misleading practice on the modern Web.
All parts of the company's user interface, down to how the official website behaves on smartphone screens, feel dated and not well maintained.
There is a monthly bandwidth limit of 50 Gb, which might be a serious hurdle once your website starts getting more than 10-15k visitors per month.
The support team seems not to have ready answers for some of the most obvious questions about their platform.
Should You Use PureHost in 2023? Our Verdict + User Comments
Let's sum up what we've summarized above, shall we?
A hosting provider with the word "pure" in its name, offering a simple yet overpriced solution based on outdated software and hardware, with renewal prices unknown before you actually start using it.
Sounds yummy! Alright then, what should you consider instead?
A modern host, perhaps, with a better value-for-money offer, stable prices, and modern infrastructure. Like Warpgate or Hostinger, for example.
At $3 per month, Warpgate is more than 6 times (!) less expensive than PureHost, while sporting cloud servers with fast SSD storage and latest software.
As an added bonus, you get a free domain name, SSL certificate, and email address for free, forever – no asterisks, no weird pricing policies. Oh, and you don't need to pay anything for the first month of use (i.e. no card required):
Get 30 days free at Warpgate ›
The Internet is marching forward, and new technologies constantly sprout new business models that allow for better value for less money.
PureHost, unfortunately, got stuck in the era when web hosting was expensive, ambiguous, and clunky – but you don't have to.
***
Any experience with PureHost you'd like to share with our readers? We'd love to hear what you think! Join the discussion in the comments section below this text.