Since you're here, you must also be wondering:
…Canva is a fantastic free design tool used by millions worldwide. Does it make sense to pay for the Pro version (aka "Canva for work")?
After reading this review you will know exactly what to expect from Canva Pro; in particular, we will cover the following popular questions:
What is the biggest benefit

of Pro?

How much

does Canva Pro cost?

How does it compare

to alternatives?

Should you upgrade

to Canva Pro?
Before we dig into the differences between the free and the pro versions, it makes sense to take a bird's eye view of the entire product:
What Is Canva? A Brief Overview
At its core, Canva is an online platform which simplifies the process of designing all kinds of visual materials in several key categories:
Social media: this is arguably the most widely used group of templates in Canva – everything for your Facebook, Instagram, YouTube, and Pinterest accounts, including all sorts of graphics for posts (e.g. thumbnails) and profiles (such as background images).
Identity: while it doesn't position itself as a logo maker, Canva has all the means for quickly creating a logo for your brand, with thousands of pre-made images you can use as the starting point.
Business: this includes presentations, invoices, proposals, certificates, resumes, and a myriad other useful templates for every conceivable business-related purpose.
Informational: Canva simplifies the process of creating professional-looking posters and infographics – the templates help you structure and present your message in a clear and comprehensible format.
Printable: apart from digital images, there are ready-made templates for physical items such as invitations, flyers, brochures, menus, etc. The best part? You can actually order the printed materials from inside Canva and have them delivered to your door within a week!
Everyday: Canva is useful outside the office as well, in all those cases you might want to create beautiful designs for yourself and your close ones, such as calendars, postcards, and photo collages.
And yes, all of the above is available in the free version of Canva. What is the point of paying for Canva Pro, then?
Canva Pro vs Canva Free
Let's start with the most obvious things.
While creating a design with Canva, you might have noticed that some of the templates have images covered in diagonal lines –
In order to get rid of those, you need to select the image and click on the "remove watermarks" button in the bottom right corner: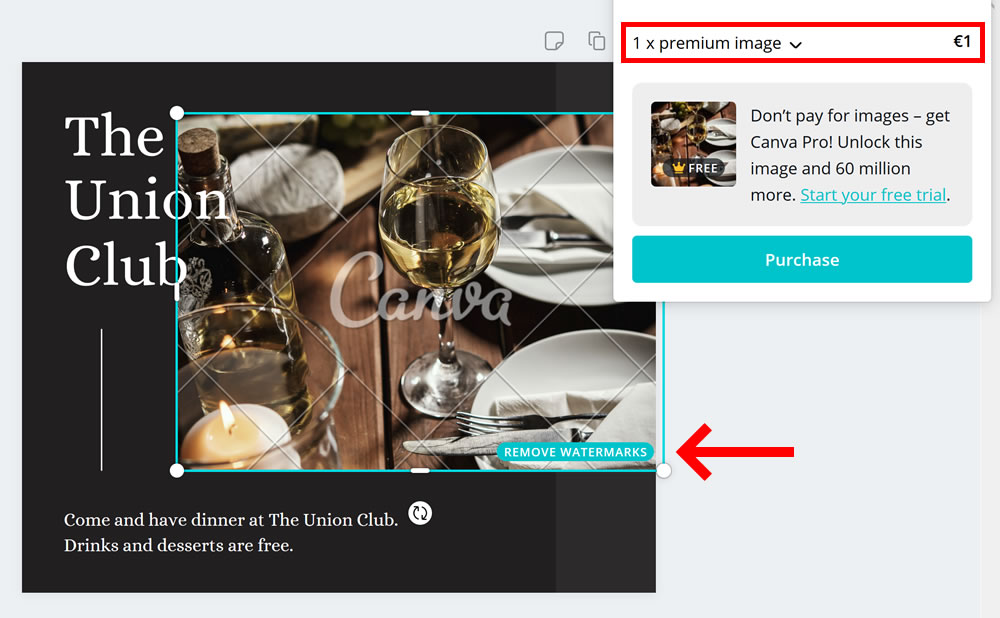 An overlay will appear, showing you how much it will cost to unlock the premium image… which brings us to the first major part of the Canva Pro offer:
For a fixed monthly fee, Canva Pro lets you access the entire library of 60+ million premium images at no additional cost, both inside templates and as stand-alone images.
If you use Canva regularly, this is most probably cheaper (and less of a hassle) than paying a fee each time you need to remove the watermarks.
Of course, this is not the only feature of Canva Pro – just the most obvious.
How about the other perks? First of all,
Apart from images the Pro unlocks all other premium design elements, including illustrations, icons, backgrounds, music, and videos.
Again, very handy, but essentially just more of the same. What really allows Canva Pro to increase your productivity are its branding features:
Using the Brand Kit, you can organize your company's logos, colors, and fonts in a single space, making them automatically available for each new design you create: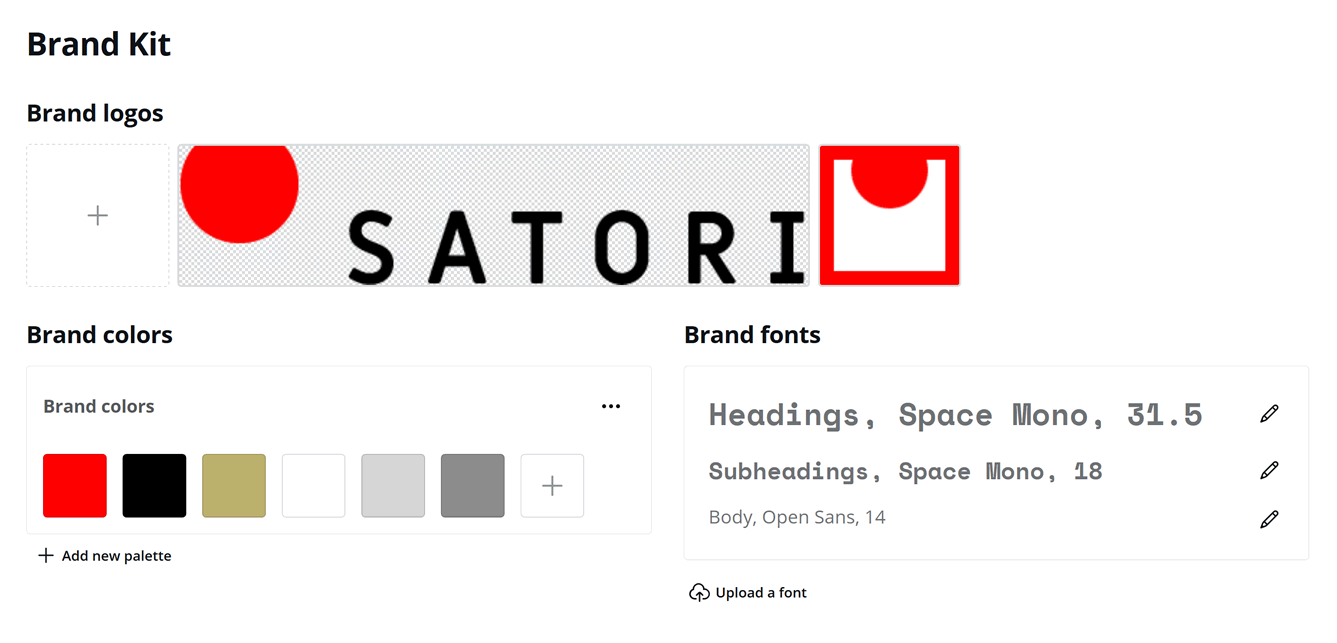 This can become a serious time-saver if you're regularly creating branded posts for one or several social channels – not to mention all the other types of designs we listed in the previous part of this guide.
Unlimited folders (maximum of 2 in the free version) and 100x more space (1Gb in the free version) add even more flexibility to the Brand Kit.
Finally, there's the third group of features in Canva Pro that we could call "magic wands" –
The premium editing tools allow you to automatically animate and resize your images, as well as generate PNG images with transparent backgrounds.
The auto-resizer offers the most tangible utility, but our favorite is the animator, which allows you to instantly turn your images into eye-catching videos or GIFs: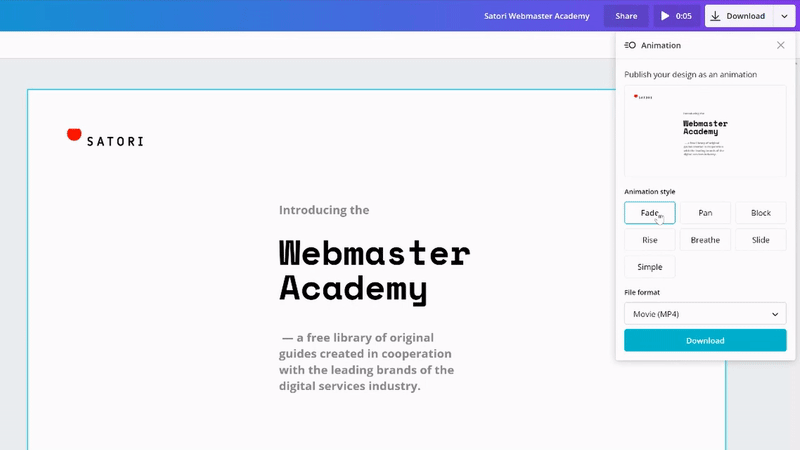 Alright, let's recap –
Canva Pro offers three sets of features that can be broadly categorized as premium design elements, productivity enhancements, and advanced tools.
Most of them are quite helpful (and some are outright awesome), but before we can conclude whether this is a good deal, we need to also look at the other side of the equation –
How Much Is Canva Pro?
You can upgrade to Pro for US$12.95 per month (or US$119.4 per year, which is equivalent to US$9.95 per month with annual billing).
There's a 30-day free trial which requires you to input your card details, but you won't be billed until the free month is over, of course:
Try Canva Pro – free for 30 days ›
Compared to its close alternatives, Canva offers by far the longest trial period, while simultaneously having the lowest monthly payments:
Tool
Pricing
Templates
Photos
Brand kit
Free trial
Canva
$12.95
60000+
60M
yes
30 days
Alternatives
PicMonkey
$12.99
2400+
1M
yes
7 days
Stencil
$15.00
1000+
2M
no
–
Snappa
$15.00
5000+
3M
no
–
Canva clones
Crello
$9.99
30000+
0.5M
no
14 days
Fotor
$8.99
10000+
–
no
–
FotoJet
$6.99
800+
1M
no
7 days
You might notice three brands at the bottom of the table priced well below Canva Pro – those are what we call "Canva clones" –
– an entire group of more recent tools that noticeably imitate Canva's features, and even its interface 🐒
While added to the comparison table for the sake of a fuller picture, they can hardly be considered true substitutes to Canva Pro.
To be fair though, the first three competitors aren't looking too awesome compared to Canva either, for a couple of reasons:
much smaller libraries, i.e. more limited choice of templates, images, videos, and other design components,
fewer features, most notably the absence of a well-defined brand kit and lack of productivity enhancing tools such as auto-animator,
narrower focus, typically on photo editing or social media posting rather than full-scale, multichannel, brand-centric design and collaboration.
At this point, the answer to our original question is already quite clear, supposedly – so let's sum up:
Should You Use Canva Pro?
Instead of a superficial "yes" or "no", in this guide we've taken a more systematic approach and compared Canva Pro both to its free version and to its closest alternatives.
Here's what we've learned:
Canva Pro offers a serious productivity boost compared to the free version, not to mention unlocking the huge collection of premium design elements; together with a 30-day free trial, this makes Canva Pro by far the most attractive option among other similar tools.
However, the final decision to upgrade to Canva Pro will still be based on your specific needs, of course:
If you just need a one-off design, paid subscriptions are definitely not a reasonable move – but, you'll get a much wider choice of images and templates if you activate the free trial; just set a reminder to cancel in time!
For simple and/or infrequent designs on a single media channel, the Pro version is still a bit of an overkill, as the basic Canva toolkit already has almost everything you'd need.
If you create branded designs on a regular basis (e.g. you are a professional designer, social media manager, or small business owner), Canva Pro will save you A LOT of time and effort. It will probably even be plain cheaper than buying individual premium images.
For those who are simultaneously managing several social media sources (e.g. a Facebook page, an Instagram account, and a YouTube channel) the Pro version is also a must-have. The auto-resizer alone can potentially cut your design time in half 🚀
If you work as a team (e.g. a marketing agency, a design collective, or a marketing dept. at a larger corporation), Canva Pro might actually be a bit too simplistic: we recommend trying Canva Enterprise with its additional collaboration tools and dedicated support.
If the above still doesn't help you decide, the easiest way to move forward is to try it for yourself – there's no risk of losing any money if you decide it's not worth it in the end:
Check out Canva Pro – first 30 days free ›
Also, in case you still have questions or would like to share your own experience with Canva Pro, do scroll down to the discussion section below and leave a comment.
Let's help each other make informed choices!