☑︎ This review was last updated in November 2023
Ah, online forms! One of those things you don't know you need – until you need it really badly.
JotForm is one of the most popular solutions for this situation… but since you're reading this, you are probably also wondering:
"Building and managing online forms sounds like a hassle! A great tool should be simple to use but also meet my specific needs and requirements. Should I trust JotForm to do the job?"
Let's find out together. In this detailed review, we will analyze JotForm from every possible angle and cover the most popular questions –
Is JotForm easy to use

for beginners?

Security and privacy

– should you trust JotForm?

Which pricing plan

should you choose?

Is JotForm better

than the alternatives?
Before we discuss the unique features that distinguish JotFrom from alternative services, let's get a quick overview of the service itself:
What Is JotForm?
Forms are everywhere! Every time an organization needs some kind of input from a large number of people – be it customers, employees, supporters, students, etc. – it uses some sort of form to collect this information.
The main idea behind JotForm is to make the entire process as easy as possible: from actually building the forms, to managing the gathered data.
…And it's not just about surveys – the range of possible uses for JotForm also includes the following popular scenarios:
Applying or registering for events, jobs, scholarships, memberships – even loans or housing. Simplicity 🎯 is key here, since there's typically a lot of information to be collected from a single person in such cases.
Giving feedback or evaluation, which also includes filing complaints, leaving reviews or ratings, or voting on a decision. Clarity 🔮 is critically important here, as well as the ability to analyze the data to form insights.
Getting in touch with an organization (or public figure) in order to ask a question, offer cooperation or simply share an idea. Since this type of form is often used by strangers first-time visitors, privacy 👁️‍🗨️ and data protection become additional concerns.
Making a reservation, which can mean anything from booking a table or scheduling an appointment, to hiring various services, to vacation rentals. Getting started with this type of form is much easier via ready-made templates 📑 that include all the necessary fields and interactions.
Obtaining new business prospects, both online and offline; the latter also implies the ability to use the forms on a variety of devices 📱 such as smartphones and tablets.
Ordering a product or service online is one of the use cases you wouldn't typically expect from an online form builder, but JotForm possesses sufficient security 🔑 and payment integrations to build surprisingly efficient checkout forms.
…and we haven't even mentioned niche cases and special requirements, such as collecting sensitive health data from patients! (e.g. under HIPAA in the United States)
JotForm promises to solve each of those challenges – but does it actually deliver? Let's see what's so special about this tool.
Unique Features of JotForm
Of course, JotForm is not the only way to build online forms – so are there any specific advantages to using it?
Actually, there are quite a few:
Conditional logic makes it possible to "teach" your form to react to the user's inputs, automatically adding, removing, hiding, skipping or changing fields in response to specific answers.
You can also use any field the respondent completes as an input for the rest of the form – e.g. to alter the labels or recalculate values of other fields!
This opens up almost limitless possibilities for making your forms even more effective, e.g. easily building highly personalized thank-you pages: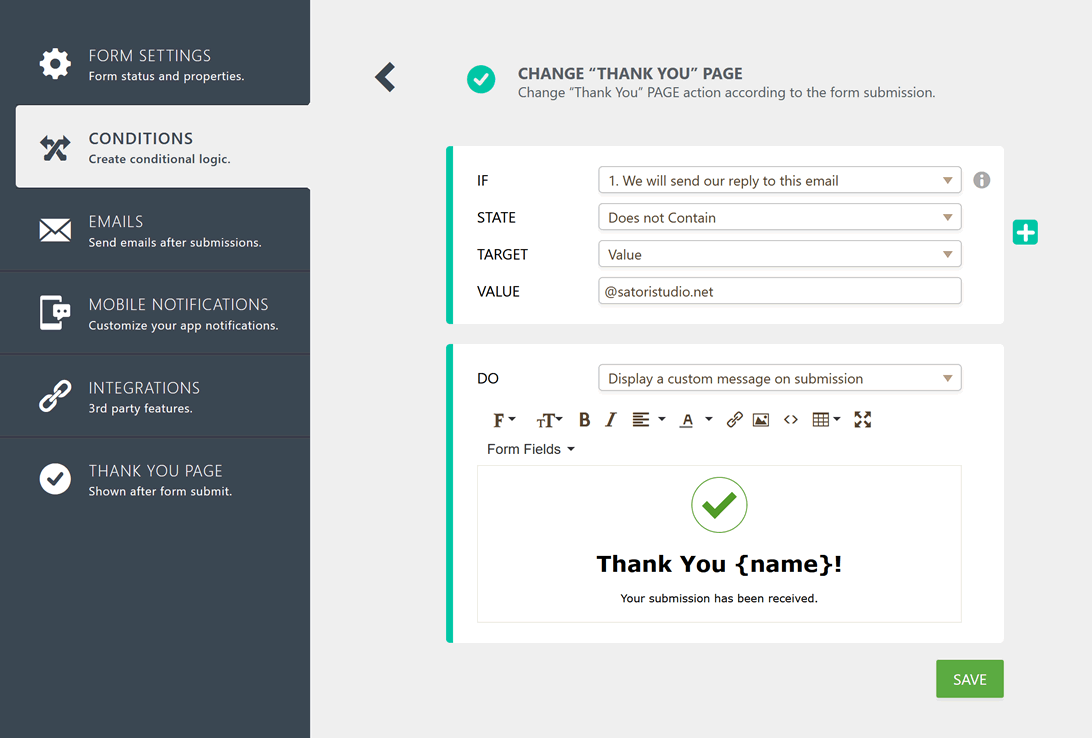 And yes, conditional rules are present (to some extent) in most form builders, even Google Forms – but none comes even close to JotForm in terms of flexibility.
Apps and integrations library is what really makes JotForm exponentially more powerful, by connecting your forms with hundreds of third-party services.
This allows you to add various cool things to your forms (like signatures or additional verification), export form data into your favorite project management or analytics tools, and even securely collect payments without the need for expensive e-commerce solutions!
Speaking of security:
Data protection and privacy features ensure safety both for the creators and the respondents: JotForm uses 256-bit SSL certificates on all forms and lets you decide exactly who can fill in the form and who can see the results.
You can also choose to additionally encrypt all form responses with an RSA-2048 key before they are submitted to you, which acts as a double insurance against anyone trying to intercept your users' data.
In order to enable encryption, you will need to go to your form's settings and click on the brown "Show more options" button.
In addition to these security features, we should mention several abbreviations that might sound familiar to you. Here goes:
JotForm is fully compliant with GDPR (European data protection laws) and PCI (for payment processing) – and if you need to collect health-related information from your respondents, you can upgrade for HIPAA compliance.
Advanced publishing options give you full freedom when it comes to delivering your forms to your audience. Again, JotForm really raises the bar here, compared to other similar tools:
There are numerous ways you can publish a form created in JotForm – as a direct link, a social media post, or even a fillable PDF document –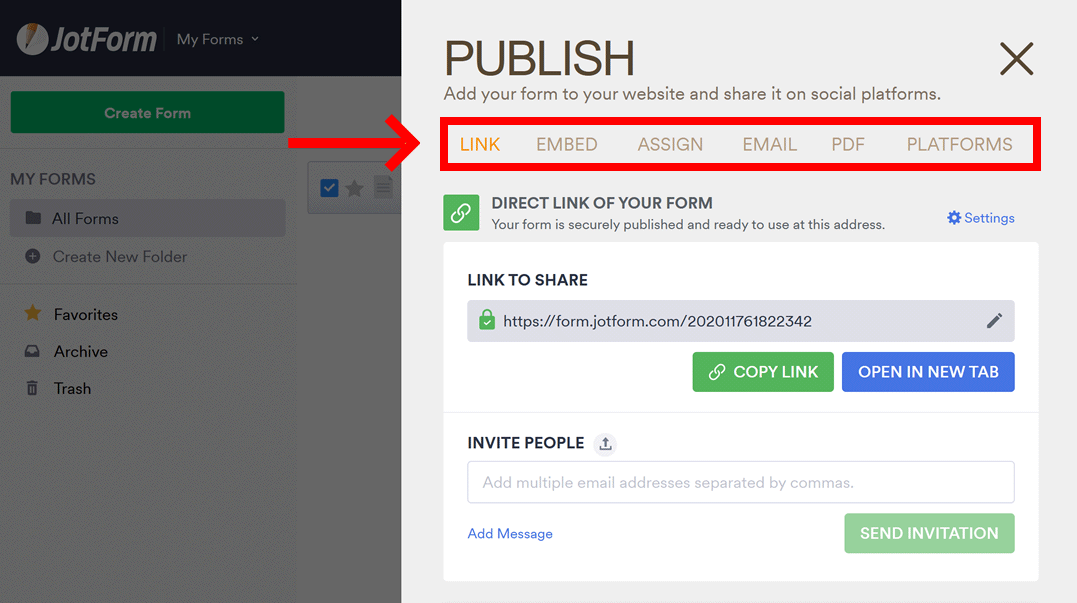 You can also email the form directly to your respondents or embed it into your website – the specific code for each popular web platform like WordPress or Shopify is generated for you automatically.
PDF constructor is another unique feature of JotForm that lets you easily convert form responses into professional-looking PDF documents – ideal for generating invoices, proposals, tickets, certificates, etc.
The best part here is that you don't need to start from scratch: there are hundreds of ready-made PDF templates at your disposal.
…Which brings us to the next aspect of JotForm:
Template library contains thousands of pre-made forms for just about every situation, grouped by type and industry. A huge time-saver!
To better understand the role of templates in JotForm, let's take a closer look at how the form builder itself works:
Form Builder and Templates
Getting started with JotForm is super simple: you can create a new account by filling in your name, email, username, and password – or even faster via the Facebook or Google sign-up:
Create a Free Account at JotForm ›
It takes about 30 seconds in total, and we're ready to begin! Let's click on the big green "Create Form" button and explore our options –
There are 3 ways to create a form: starting from a blank canvas, using a template, or importing an existing one (from a website, your JotForm account, or a PDF document).
In day-to-day situations you will most likely be using templates – they save so much time! – but for the sake of introduction it might be better to start with a clean slate 📖
The form builder has a simple interface that conceals a surprisingly rich array of tools and powerful features: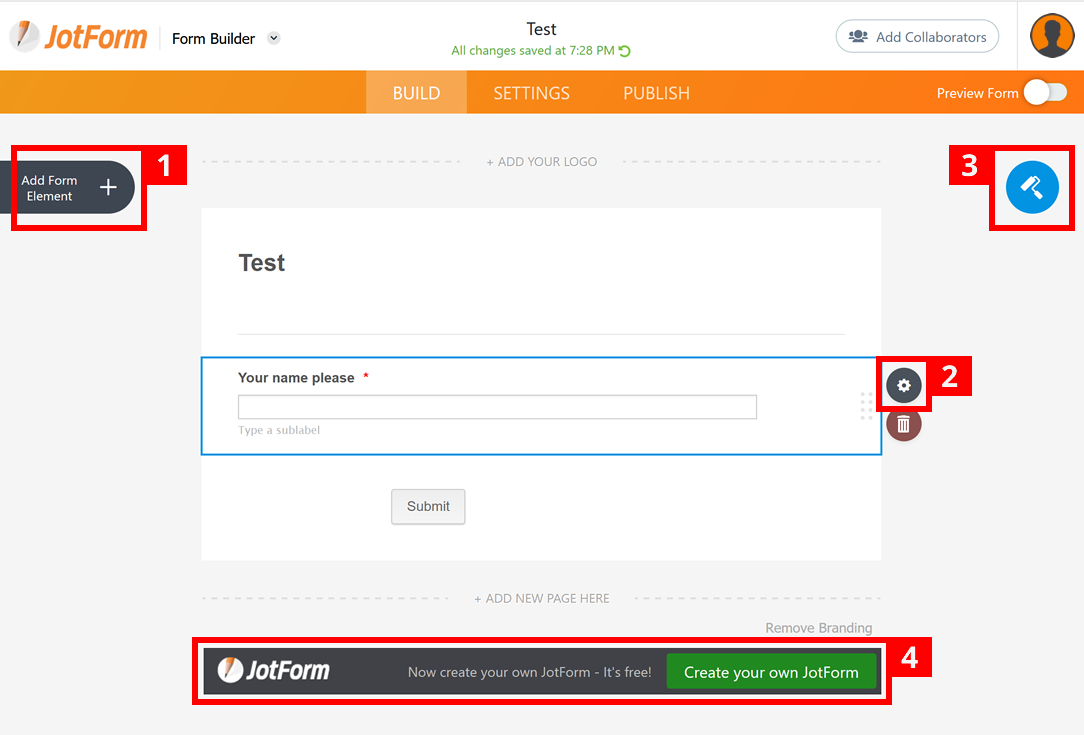 You can add new fields and other elements by clicking on the dark-grey rounded button on the left on the screen [1] which opens an entire panel of various things you can use in your form.
Apart from the basic elements and payment gateways, take note of the third tab which contains a huge number of more advanced blocks, like automatic geolocation or taking a photo of the respondent.
If you click on an existing field, a circular cog button will appear [2] that opens the field settings panel. Here, you can change the label, size, and position of the field, as well as marking it as required.
The third important panel is for the overall form design – it's opened by the blue paint-roll button [3] in the top right corner of the interface.
To be frank, this part of JotForm's builder was the biggest positive surprise for us; the variety of options is far beyond anything we've seen in other form builders:
You can choose colors and backgrounds for every individual part of the form – or click on the button at the bottom to activate the advanced designer interface with a mind-blowing amount of additional granular settings.
You can adjust the form's fonts, size, and position – and even add your own CSS code if you're familiar with web development languages.
OR you can simply choose a ready-made visual template for your form! There are both free and premium themes available in JotForm's store.
…While we're still in the form builder, have you noticed the JotForm banner at the bottom of the screen? [4] It will appear on all forms published using the free account.
In order to remove the banner from your forms, you'll need a subscription. How does it work? And is it worth the money? Here's the gist:
JotForm Pricing
The nice thing about JotForm is that it's a so-called freemium service – in other words, it has both a free and a paid version.
This means you can start building and using your forms without any financial commitments, and later upgrade if JotForm proves to be useful for your project.
What we particularly like about JotForm is that there is absolutely no difference in features between the free and the paid plans: you only need to pay for additional usage limits and for removing the branding below the forms.
With this in mind, the logic behind JotForm's subscription plans is quite straightforward:
| JotForm plan | Free | Bronze | Silver | Gold |
| --- | --- | --- | --- | --- |
| Monthly cost | $0 | $24 | $29 | $79 |
| Form limit | 5 | 25 | 100 | ∞ |
| Responses per month | 100 | 1,000 | 10,000 | 100,000 |
| Available space | 100 MB | 10 GB | 100 GB | 1 TB |
| JotForm banners | yes | no | no | no |
As you can see from our summary table above, JotForm scales together with your needs – while not putting any limits on the functionality.
Another thing worth noting is a 50% discount for registered non-profits and educational institutions, which is something you won't find at other online form providers 🎓
Finally, JotForm offers a 30-day money-back guarantee on any paid plan, which means you can ask for a full refund during the first month, by contacting the support team using the contact form or via email (they reply 24/7).
Neat! By now we pretty much have all the information we need to answer our main question:
Should You Use JotForm?
There's no doubt – JotForm is by far the most advanced form builder service we've laid our hands on (and we at Satori Webmaster Academy have tried them all).
Long-time readers of our blog will know that we especially like products which manage to stay simple and intuitive while packing powerful features that are good enough to satisfy even the most expert users
– JotForm is one such product. Its online builder is easy to use for beginners, but gradually reveals a huge variety of options and capabilities as you get to know it better.
Every single feature is available in the free version of the service, which means you don't have to pay anything until you're really sure JotForm is the right toolkit for your needs:
Start using JotForm for Free ›
We initially expected JotForm to be a complicated tool for the more demanding cases – now we're using it across the board, even for the simplest, text-only forms (bye-bye, Google Forms!)
Regardless of whether you're a solo entrepreneur or a part of a big team, JotForm makes it surprisingly easy to forget that online forms used to be a difficult and tedious task.
***
We hope this review was helpful and answered more questions than it created! Share your thoughts and opinions in the comments section below – let's help each other make a sensible choice 💬