"Oh, another site builder…"
An understandable reaction; in fact, we felt exactly the same when we saw Zyro for the first time.
On the other hand, it's also safe to assume that Zyro's creators have a realistic view on the extremely competitive market for website building tools. And yet they've created this one.
– so what's the deal with Zyro?!
In this detailed review we will determine once and for all whether this tool is worth your time and money; some of the questions we will cover include:
Is Zyro different

from other site builders?

Zyro's AI tools

– are they any good?

What else should you know

before using Zyro?

Which Zyro plan

should you choose, if any?
By the end of this guide you will find out if Zyro is the right tool for your online project and how to use it efficiently.
In addition, at the end of this guide we will tell you how to get a Zyro subscription at a higher discount, using our exclusive coupon code 🤑
First of all, though, let's try to understand the reason for Zyro's existence. In other words – how is it any different from other site-building tools?
Unique Features of Zyro
Turns out, there are some real reasons to choose Zyro over other site builders. Let's highlight some of the areas where it's clearly ahead of the competition:
Artificial Intelligence tools for smart analytics and task automation: e.g. the AI Writer will instantly compose topical texts for your website, and the AI Heatmap tool will help you predict which parts of your page will catch the visitors' attention.

Focus on speed and availability: every website made on Zyro benefits from being powered by the advanced server infrastructure of Hostinger, one of the largest web hosting companies in the world.
Lots of storage and bandwidth compared to other popular site builders – even Zyro's BASIC plan offers much higher resource limits, while the UNLEASHED plan is by far the cheapest option on the market with unlimited traffic and storage.
The already super-low prices for Zyro's paid plans get even lower if you choose two- or three-year billing cycles. Even the Basic plan at Zyro offers a custom domain and removes all ads – which makes it 3-4 times cheaper (!) than the comparable plans on other platforms.
We'll discuss the last point in more detail in this part of our review to help you choose the right Zyro plan; however, right now it feels like a good moment to launch the site builder and see what it can actually do:
Building a Site with Zyro
To get started with your own Zyro website you have to make three clicks: (click #1) the main button on the official homepage leads you to the template library, where you can pick a design (#2) and choose a subscription plan (#3).
What's the first thing you understand when you start using Zyro's editor? – Its main focus is definitely on simplicity:
You can click on any element on the page to edit its contents and/or appearance – no need to write and deploy a single line of code.
Any element can be repositioned by dragging it with a mouse (or with a finger, on mobile) to any location on the page.
New elements and entire new pages can be added with a single click from the top left corner of the editor; new page sections can be inserted by clicking on the boundaries between the existing sections.
In other words, you need zero prior knowledge of web design or web development in order to start using Zyro (this is probably where the brand name comes from, by the way). The entire process is just so visual and intuitive 🐣
***
Notice how dark rectangles appear when you start dragging an element, and then it neatly snaps into place when you let it go?
That's because, from the functional perspective, Zyro is a grid-based site builder: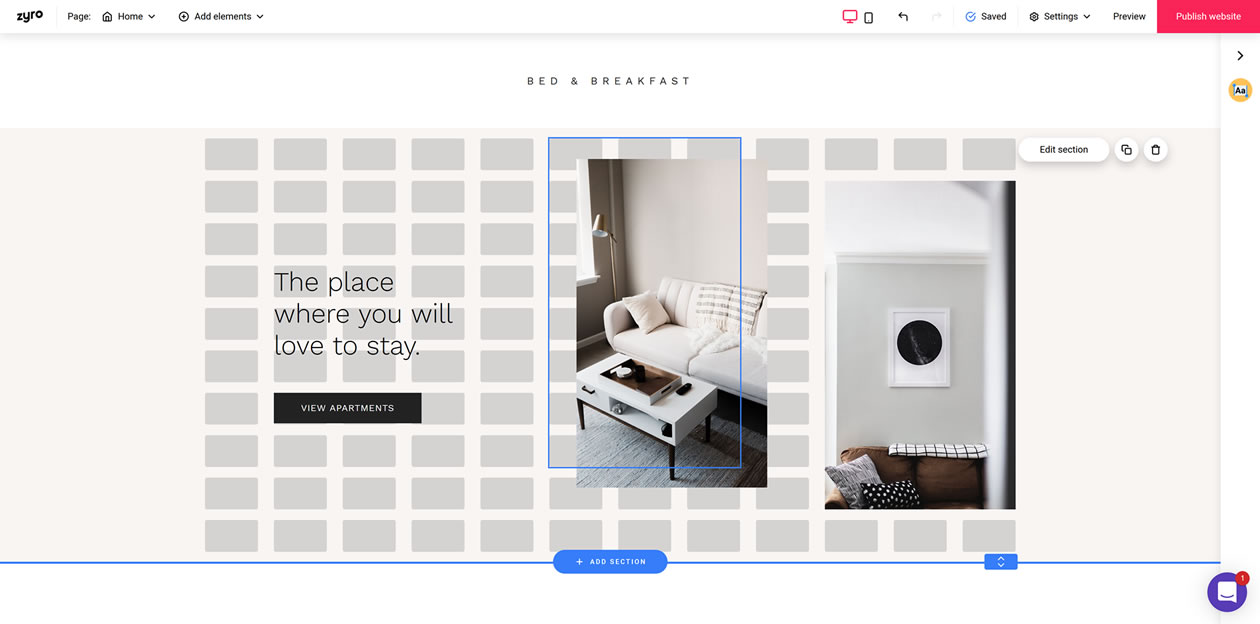 Placing elements on a grid is a common practice in modern web development. In fact, it's so effective that most professional code packages have grid principles built into them on the most fundamental level.
Zyro follows the same path – by constraining element proportions and positions to a flexible grid it ensures that your website looks clean and well-organized without much effort on your part.
And there's another advantage to using grids:
It lets Zyro automatically generate a smartphone version of your website's design without you lifting a finger (alright, you will have to lift your finger once, to click on the mobile view switcher in the top ribbon):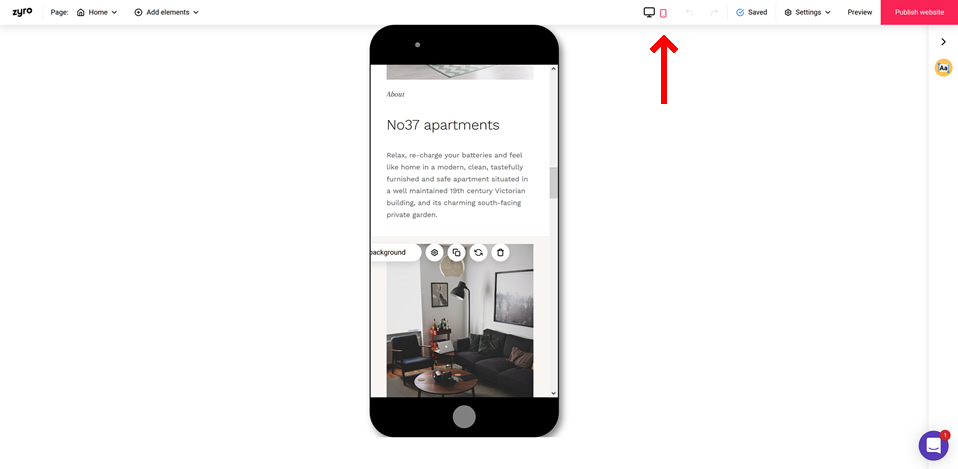 Speaking of automation: remember we mentioned Zyro's AI Writer earlier? Well, now is a great time to observe it "in the wild"!
In the right part of your editor screen, click on the icon which says "Aa" to open the AI Writer panel.
Choose the topic, the category, and the type of text – then click the purple "Generate" button at the bottom.
After a moment the AI Writer will create several fragments of text which you can copy or insert directly into an existing text box.
Each time you run the tool you will get new results, and these are not just copied from somewhere on the Web – each snippet is completely original.
What sorcery is this?!
According to Zyro, their AI Writer runs on GPT-2 (Generative Pre-Trained Transformer), which is a state-of-the-art deep-learning model created by OpenAI, a research institute founded by tech entrepreneur Elon Musk.
However powerful, this tool of course can't create a text that is 100% specific to your situation (because it doesn't have knowledge of your situation, just the general topic).
But this doesn't mean it's useless –
Zyro's AI Writer is ideal for quickly providing the starting point for most of your website's content, which helps you to speed up the entire site-building process and get from zero to Zyro – that is, a fully working website – in less than an hour!
***
When you decide that you're ready to accept visitors, click on the purple "Publish website" button in the top right corner of the editor screen –
the system will let you choose your custom domain name like mywebsite.com and activate your (ad-free) website on that domain.
Let's see what you get with a published Zyro site:
Behind the Scenes
What makes the difference between a good website and a great website?
No doubt, looks are extremely important – however, we mustn't underestimate the role of less obvious factors, such as speed, stability, and security.
The logic is quite straightforward: if your website is slow (or doesn't work at all), most of your visitors won't even be able to appreciate its wonderful design –
Statistics compiled by Google indicate that most web pages are abandoned within just a couple of seconds of load time.
This is especially true for smartphone users, as mobile internet tends to be slower and less reliable than a Wi-Fi connection.
In the case of Zyro, the underlying infrastructure – the servers and other specialized hardware that run your Zyro-made website – is handled by its sister company, Hostinger.
That's good news:
Hostinger has been around for more than a decade and currently serves 30+ million clients worldwide from its 6 global datacenters.
The really good news?
– all this seems to be available at really attractive prices. Sounds almost too good to be true… Let's dig into the topic a bit further:
Plans and Pricing
All major site builders typically offer several pricing plans with progressively more advanced features, for example:
As a rule, the cheapest plan in most site builders just allows connecting your own domain name.
There may be a slightly more expensive plan which also removes the site builder's banners from your website.
An even more expensive ("unlimited") plan typically removes any traffic and storage limits still present in the previous plans.
Sometimes there might be a fourth plan which offers even more features and priority customer support.
Zyro simplifies these choices by offering just two paid options: the BASIC plan with limited storage and bandwidth, as well as the UNLEASHED plan with unlimited traffic and storage, plus additional marketing and analytics features.
Here's a visual to help you understand why we mentioned Zyro's pricing policy as one of its main advantages: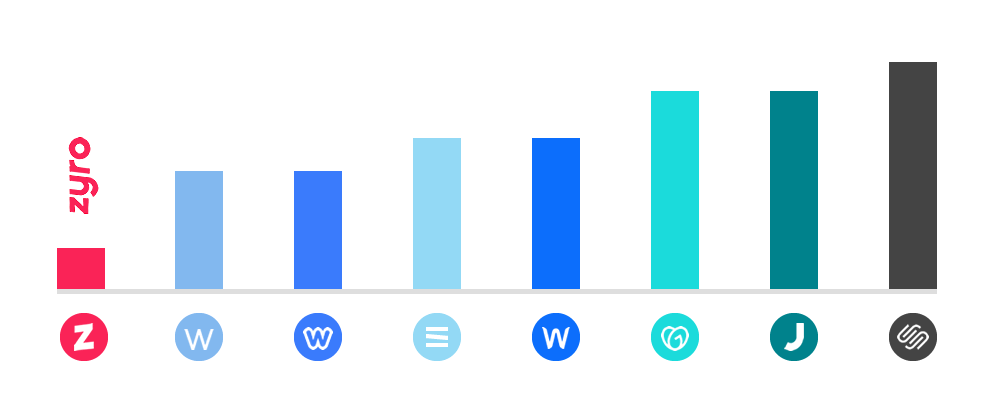 (This graph compares Zyro's BASIC with similar plans at other site builders – in other words, the cheapest plans that include both a domain and an ad-free website.)
It gets better, though:
So far we've looked at the default option of paying for 1 year, but it's worth mentioning that Zyro also offers 2-year and 3-year billing cycles: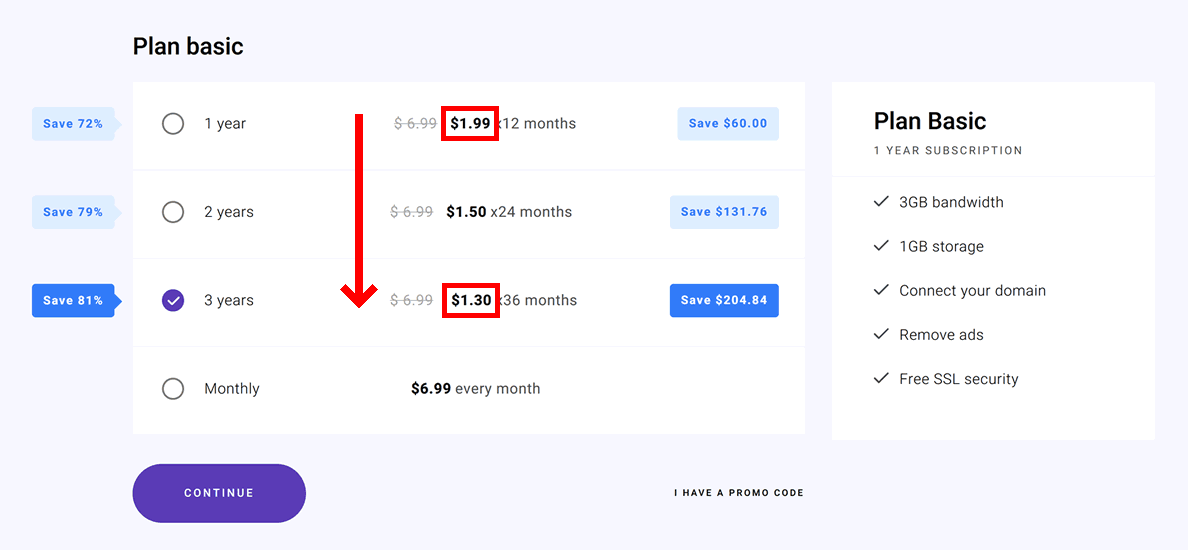 Unlike with most other site builders, opting for a longer billing cycle at Zyro reduces the effective monthly price by another 30-40%!
This means that nothing on the market can currently compete with the Zyro BASIC plan with 3-year payments:
As for the UNLEASHED plan, it is useful for larger websites with a lot of content and high visitor traffic – so at the beginning it just makes more sense to start small and upgrade when necessary.
Zyro eCommerce
If you're planning to sell products or services on your website, this part is for you. In addition to its 2 standard plans, Zyro offers another 2 plans for e-commerce projects:
The aptly named ECOMMERCE plan contains all features from the UNLEASHED plan while adding full online store capability, including inventory management, gift cards, and online payments. The maximum number of products in this plan is 100 per shop.
The extended ECOMMERCE+ plan adds such features as abandoned cart recovery and multiple languages, while removing limitations on the number of products you can create in the shop. This plan also comes with integrations for Instagram, Facebook, and Amazon to maximize your reach.
Based on what we saw in the previous chapter, you're probably expecting by now that Zyro's e-commerce offers are much less expensive than similar plans for other site builders…
– and you're absolutely right:
Zyro stays true to its best-in-market pricing strategy when it comes to e-commerce plans, charging 20-50% below other site builders.
(Again, note that these figures are for the yearly billing cycle – if you choose 2- or 3-year billing you'll get an additional reduction in price by up to 40%)
For a long time, e-commerce plans have been unreasonably expensive for most site builders: with Zyro, this trend might actually be coming to an end.
***
Now that we have a better understanding of Zyro, let's sum up its stronger and weaker sides before we formulate our final verdict:
Pros and Cons of Zyro
Some of the lowest prices on the market, especially given that even the BASIC plan lets you add your own domain and avoid any ad banners – all at a much more lucrative price point that any other large site builder.
Zyro's primary tool is a super-easy grid-based visual editor which automatically generates the mobile version of your site's design on the fly.
The Artificial Intelligence powered content generator actually produces pretty convincing texts that can serve as a basis for your website's content.
You can get full e-commerce functionality for a fraction of the cost of similar offers from other site builders.
More than 1 million free high-quality images on every topic are available to all Zyro users.
Zyro's infrastructure is provided by Hostinger, one of the largest hosting companies on the planet, which implies faster loading and higher stability.
30-day money-back guarantee is available for all Zyro plans.
As a user you are eligible for friendly 24/7 support via email and live chat, regardless of your Zyro plan.
While Zyro's template library has been steadily increasing, the choice is still not as wide as in some other site builders.
At the moment it's not possible to switch an existing website to another template, you can either remove all elements and start from a blank page, or create a new website.
The AI Writer currently provides good results only in English; we've reached out to Zyro for more details, and were told that the team is working hard on training the system in other languages. We will update this guide as soon as more details become available!
BONUS: Zyro Promo Code
Before we move on to the final verdict, here is a quick way to save some extra 💰 on a Zyro order, using our exclusive promo code:
Visit the official Zyro website using the button below; if you haven't done that yet, create an account by providing an email and a password:
Go to the pricing page and pick your preferred plan. The promo code is valid for any plan, including Zyro e-commerce.
On the subscription page, select your preferred billing period (at least 1 year for this promo code):

Below the table, click on the "have a promo code" link and paste the following code into the field:

SATORI

Noticed how the discounts became higher in the table? You can now proceed with your order in the usual way.
That was easy! Regardless of whether you decide to give Zyro a try, it's good to know that you can get a better deal if you do 😉
Now to the final summary:
Verdict: Should You Use Zyro?
Getting back to the question we posed at the very beginning of our review: is Zyro just another unremarkable site builder – or is it worth your time and money?
If you're looking for an all-in-one solution which removes the need to separately look for hosting, domains, content management systems, visual editors, and extensions – Zyro is a noteworthy solution offering the complete package, at a bargain price.
If you want to create an online presence as fast as possible – and you value simplicity, minimalism, and stability – Zyro will get you there quicker than most other site builders.
If, on the other hand, you need full control of the code, a complex site structure with multiple content types, and/or advanced integrations such as Zapier – your best choice would be to try a more developer-oriented platform like Webflow; keep in mind that its plans cost 3-5 times more than Zyro, though.
Since you can switch between plans at any time in Zyro, we recommend starting with the BASIC version while your website is still under construction.
The 3-year billing cycle for the BASIC plan will provide the best value for money on the market and save you heaps of cash over the lifetime of your website 💰
Need more information about Zyro? Or maybe you're already a user and would like to share your experience? Check out the Comments section below!