Today's internet doesn't lack online design tools that promise awesome templates and seamless workflows for small and large design/marketing teams 🦄
Visme is one such tool, allowing its users to easily create, download, and share a wide range of professional designs –
But is it worth your time and money?
In this detailed review, we're going to explore what Visme is and how it can be useful to you and your team. Let's start with the basics:
What is Visme?
To put it simply, Visme is a template-based, all-in-one visual content creation tool that allows you to come up with a wide range of designs, ranging from purely online forms such as presentations, to physical documents such as posters, brochures, and business cards.
Started as a professional infographics creation tool, Visme now empowers designers and non-designers alike to create beautiful visual content for nearly any communication purpose.
Visme is a fully browser based toolkit, which means you don't need to download anything to your computer; the interface is simple and user-friendly, adapting to the specific content type you're creating –
For example, when making a presentation in Visme, you have the ability to add multiple slides to the editor.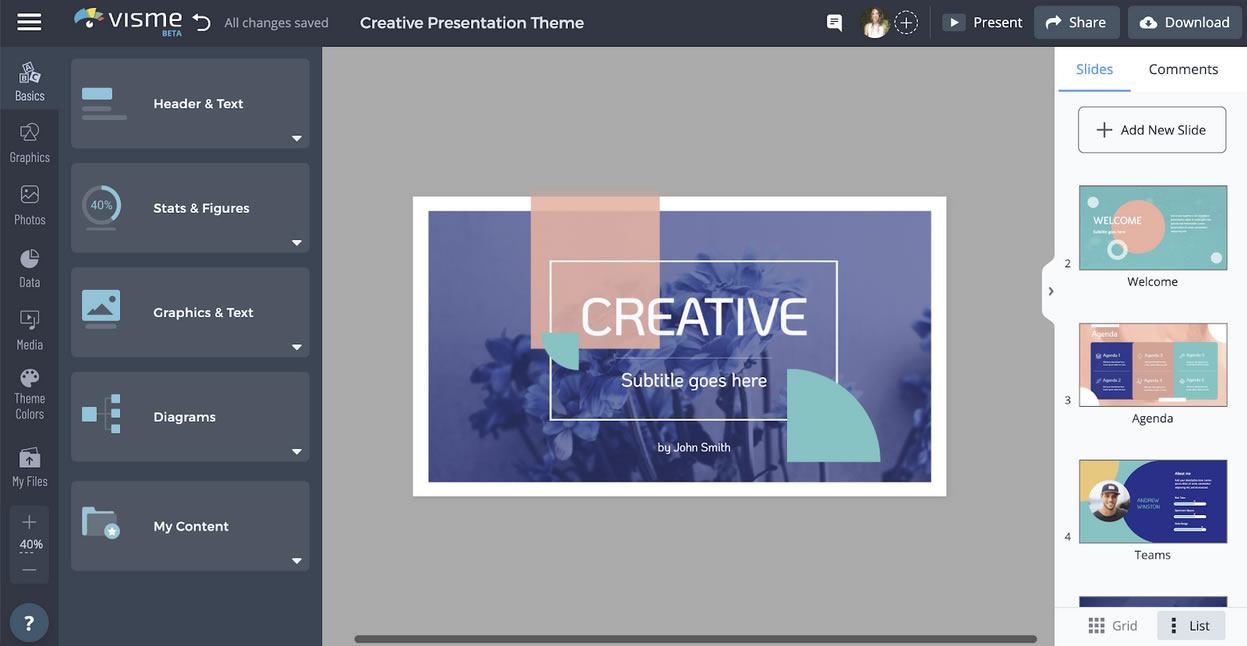 whereas, when creating an infographic, you can easily add content blocks which extend the design rather than create separate pages: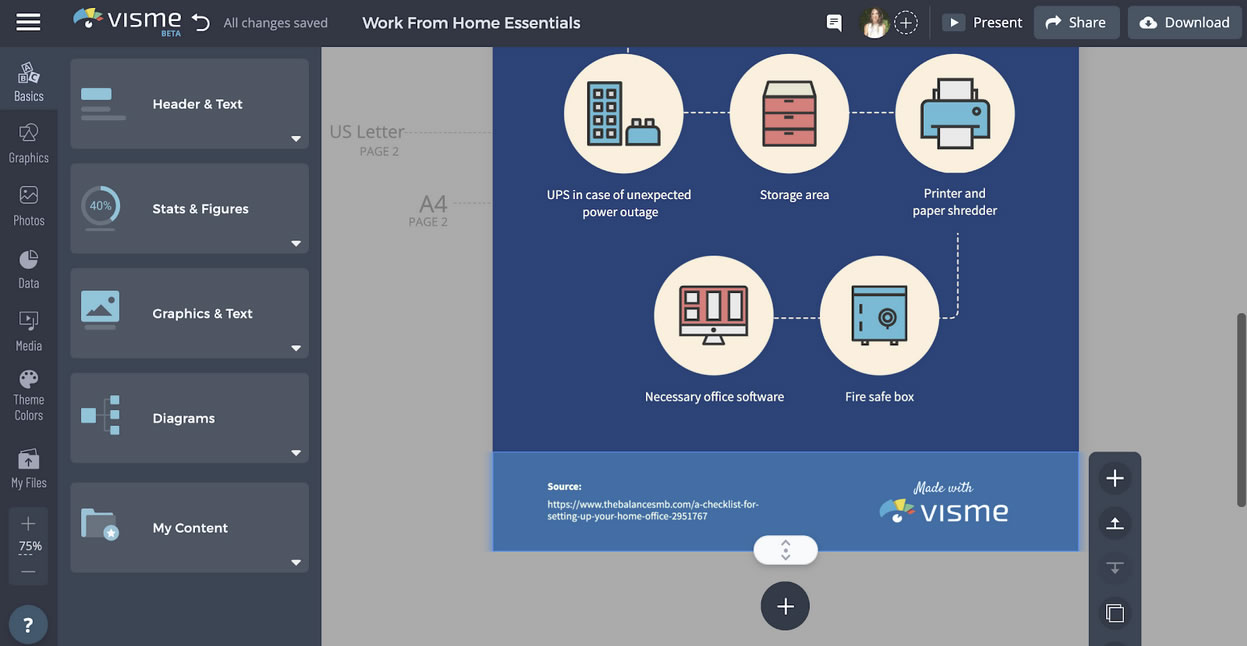 Furthermore, the content blocks available when you're adding new presentation slides are quite different from the content blocks you'd add to your infographic.
Everything you need is in the left hand sidebar, from new layout designs to photos, icons, animated illustrations, and data visualizations.
Speaking of content:
Content Types and Design Elements
The entire idea of Visme is to help create professional-looking designs based on pre-made templates. There are nearly 40 different types of templates for all conceivable business and personal purposes.
This abundance can be loosely categorized into 7 groups: presentations, infographics, charts and maps, documents, printables, website graphics, and social media graphics.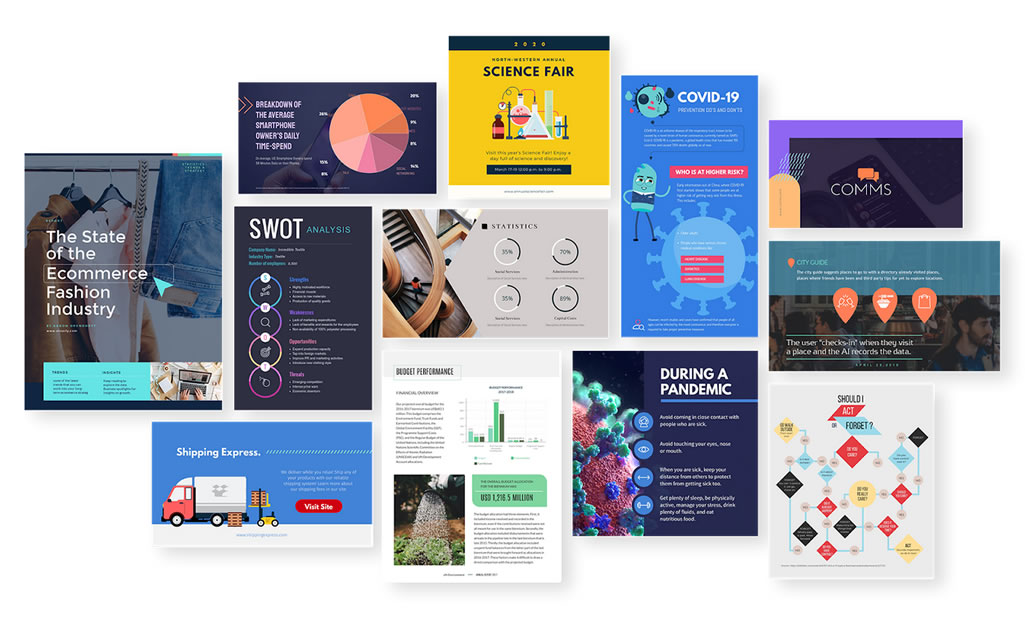 You can add your own elements to the template you chose, such as stock photos, icons, animated graphics and illustrations, audio clips, stock videos and data visualization tools, just to name a few.
Each of the available design elements can be found in the various tabs of the left-hand sidebar we mentioned in the previous part of our review:
Layouts are handy in case you start customizing a template, then realize that another one you saw would have been a better option. You can easily browse through all of the other layouts similar to your content type in this tab: simply scroll through the options until you find the one that suits your needs.
Basics is a set of pre-made content options to help you easily create stunning graphics, documents, printables and more. Here, you can browse through the tabs for Header & Text, Stats & Figures, Graphics & Text, Diagrams and any content blocks you may have saved for future use.
Graphics are available in a huge variety in Visme: you can choose from shapes, arrows, lines, icons, animated icons, animated illustrations, animated characters, and animated gestures. Each of these types of graphics is completely customizable from color to size – and everything in-between.
Photos: there are over a million high-quality stock photos for you to choose from in Visme's design dashboard.
Data: choose from 16 different types of charts and graphs or over 30 different data widgets to help visualize your numbers and statistics. From line charts and bar charts to flowcharts and progress bars, there's a variety of different options to ensure your infographics and other visualizations are easy to understand.
Media: Visme provides a stock video library to help your designs stand out. There is even an audio library and the possibility to record audio on top of your slides. You can also embed external content like podcast episodes, sign up forms, quizzes, polls and more, right into your Visme projects.
Apps allow connecting third-party services to Visme, which opens up an entire new range of possibilities for your visual materials, from embedded YouTube and Vimeo videos to interactive Google Maps and forms from Jotform.
Visme Features
Visme offers a number of cool features that can help bring your designs to life and create stunning pieces of content. In this review, we will only look at the most important features that help Visme stand out among other similar services:
Paid Visme accounts unlock the Brand Kit, which allows you to easily organize your brand colors, fonts and logos for easy placement within your designs. You can also create branded slides, graphics or content blocks and save them in your templates for future use.
Visme offers tons of custom animations to bring your designs to life. You can also animate any element of your designs in order to grasp the attention of your audience! Animated graphics can be downloaded as a GIF or MP4 to share on social media.
With Visme, you can easily add interactive elements to your designs: this allows creating neat things like non-linear presentations, interlinked slides, or pop-ups that appear when users hover over a set element in your project.
One of Visme's newest features centers around team collaboration. You can assign roles and work together on different projects, as well as add and resolve comments on designs. Users are able to share projects with team members or anyone else with a Visme account and give them access comments. Note that this feature is only available in the Team plan – more on that a bit later.
Visme's dashboard provides analytics for published projects, allowing you to see how many people are viewing your designs. Choose your time frame to see how your projects have performed over time:

There is a lead-generation mechanism built in as well! You can choose to limit access to your content in Visme so that people have to sign up or provide their email address before being able to see your infographic, ebook, etc.
In order to use the latter feature, you will need to have any Business plan at Visme – just visit the advanced sharing settings and turn on "Requires Registration" under "Privacy" to start collecting data from your visitors. And yes, you can easily export your leads and add them to your CRM or email marketing platform.
Downloading and Sharing in Visme
Ready with your awesome design?
Now you can download your project in a variety of formats or seamlessly share it online. There are 4 formats from which you can choose:
Choose JPG or PNG formats to generate an image file – don't forget to switch on the high-resolution option if you need maximum quality!
You're also able to download your work as a PDF document, with or without margins for printing.
Some content types, like social media, are available as a animated download – you can choose between a video in MP4 format or an animated GIF image.
Or you could download your Visme presentation slides as an editable PPT document or an HTML5 file to present offline but still keep your animations and transitions.
Apart from file downloads, Visme also provides several options for sharing your content online, including direct sharing on social media, generating a (public or password-protected) live link, or embedding into a webpage.
If you're sharing a slideshow, you will have access the presenter view so that you can see your private notes for each slide, while your audience only sees your presentation.
***
Overall, Visme has plenty of unique features to offer; before we give the final verdict, though, we need to look at another important aspect – how much does this cost?
Visme Pricing
Visme works under the so-called freemium (="free+premium") model, whereby it offers both free and paid options depending on how serious you want to get about your designs.
It's fair to say that Visme's pricing structure is not the simplest one in existence: there are 9 different plans (!) across 3 categories, each targeted to a specific type of user.
Let's start with the Individual plans: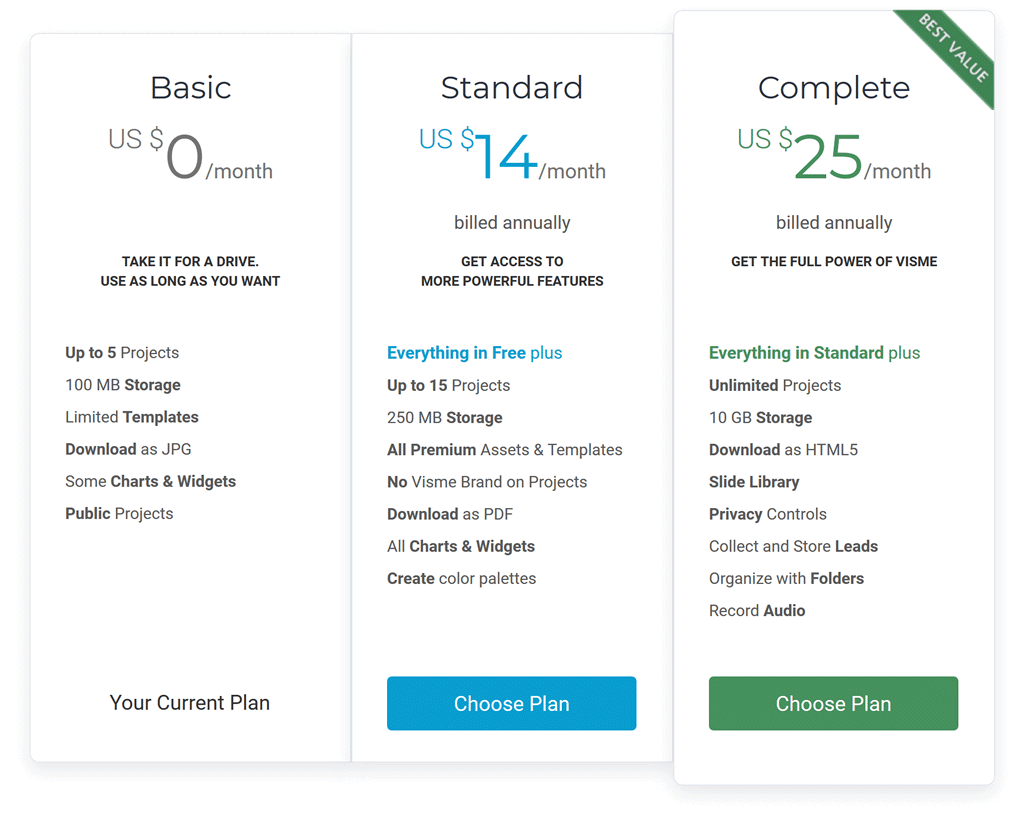 Here, we find the free-forever option (Basic) with limited storage, templates choice, and download options – but with access to any design element available on Visme.
The biggest drawback of the Basic plan is the obligatory Visme branding on every design you create – fine for personal use, but not very professional if you're planning to show it to a large number of people.
The cheapest paid Standard plan ($14 per month) increases the available storage and number of projects, as well as unlocks all premium images and templates – but most importantly, it removed the Visme branding from your works.
The freelancer-targeted Complete plan ($25 per month) removes all limitations on the number of projects you can create, as well as adds several features that are useful for any professional designer, such as privacy controls and lead generation.
***
Things actually get a bit easier with the Business plans: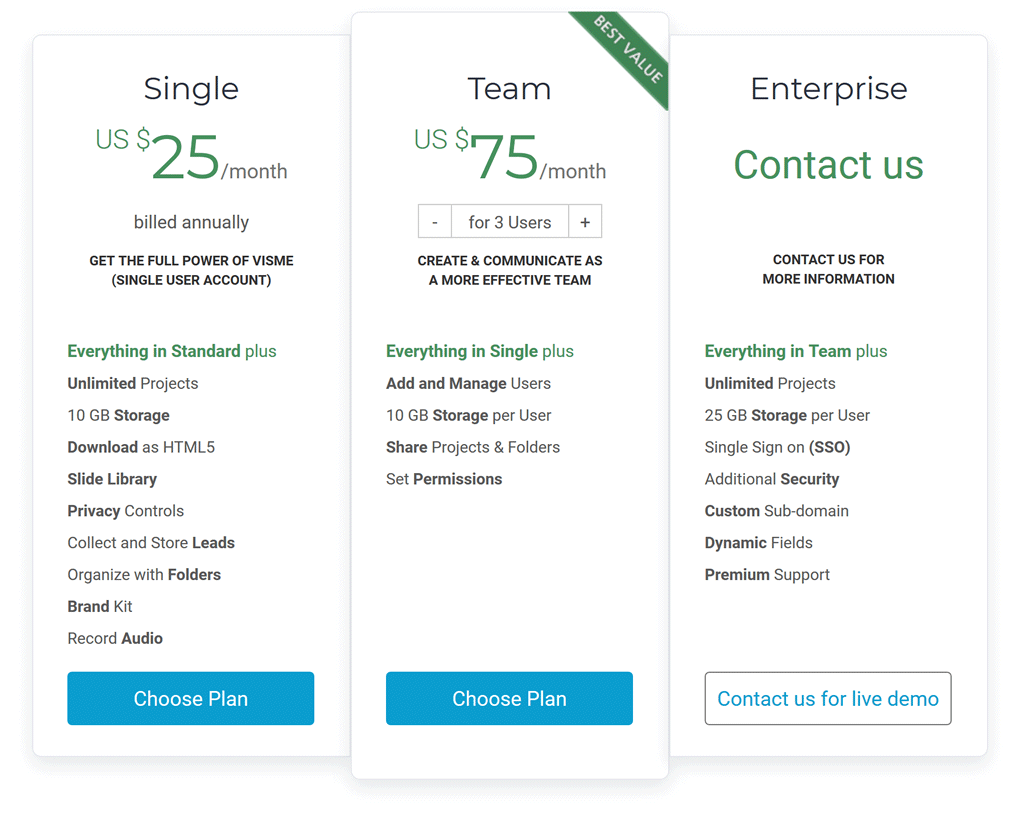 When you look closer, the Single and Team business plans are in fact just the Complete plan with the added Brand Kit – the former is meant for solo designers working for small or medium enterprises, while the latter is great for collaborating in teams. Both cost the same $25 per month.
Larger teams (10 people or more) can benefit from the Enterprise plan, which adds even more collaboration and security features; you'll need to get in touch with Visme for a specific price quote.
***
Finally, there are the Education plans, which are essentially just cheaper versions of the personal plans (Student is the discounted version of Standard, and Educator is equivalent to the Complete plan).
Those are billed per semester, and in order to get one you will need to use an email address that ends with .edu; if your institution has a different domain extension, you'll need to contact Visme support to get the discount.
You can compare all Visme plans on their official pricing page – there is a set of tabs above the pricing table that allows you to switch between the Individual, Business, and Education categories.
Now that we have a deeper understanding of what Visme is and how much it costs, we're ready to answer the final question:
Verdict: Should You Use Visme?
Today, great visuals are an essential part of any solid marketing strategy… in fact, any marketing strategy – whether it's for social media, your blog, or your email newsletter.
Visme is a design tool for those who are serious about marketing – its main advantages are versatility of available templates, advanced data visualization, as well as animations and interactivity.
So, if you are simply looking to create one or two Facebook post images, Visme will still do the job, but its real potential is fully realized through the more demanding formats such as presentations and infographics.
If you need a simple yet powerful design tool geared towards data visualization, Visme is the right choice:
There's no need to purchase a paid subscription right away, thanks to the free plan, but if you regularly create visual content, you will quickly appreciate all the features a tool like Visme has to offer.
***
Have you already tried Visme? Or maybe you still have questions that weren't answered in this review? Hit us in the comments section below, let's discuss!