🚀 Update September 2023:
We've recently discovered Warpgate and instantly fell in love – it's an order of magnitude easier than traditional ways described in the article below.
(and no, there's no need for affiliate disclosure – we aren't getting any commission payments because Warpgate doesn't have an affiliate programme; they claim that all that extra money is passed on as lower prices to the users, and comparing their pricing with other hosts, it does seem to be the case)
You can get your own WordPress website in a couple of clicks and about 30 seconds – way faster and simpler that with oldschool hosting providers.
Because of this, we are already using Warpgate for a dozen side projects.
..And the best thing is – it is free for 30 days, no credit card required – you can focus on building your website and add a domain name later, at a fraction of the cost of other hosting providers.

Please note, if you do decide to use Warpgate, we recommend skipping straight to step 3 of this guide – steps 1 and 2 will be compressed into less than a minute and a couple of clicks for you.
***
Alright, so you've decided you need to make your own website. First of all – congratulations! This means you're actually doing something that the world needs to know about. And by world I mean half of the world, of course, the rest don't have an Internet connection yet (so be thankful you already do!).
Anyways, this guide will walk you through the entire process of building a website in a clear, concise, and most importantly no-BS manner – you'll have your very own squeaky fresh web page ready in under half an hour. And save more than $200 in the process, focusing only on what's really important and making use of some juicy promo offers. In other words,
Yes, we're all anxious to get started, but I'd suggest to go over a couple of things first (no worries, it won't take you more than 5 minutes). However, in case you're already trembling from a site-building craving and want to GET STARTED RIGHT AWAY, just scroll a couple of paragraphs down using this in-page link.
First Things First
Firstly, let's make it clear right from the start: while this guide itself is completely free (duh!), it is not about creating a free website. True, technically it is possible to make one without spending a dime, but then you'd need to resort to using a free hosting (which mostly suck big time) or an unpaid subscription plan for a site builder like Weebly (which will display ads and their branding on your website, yuck). The biggest reason, however, is that you can't get a domain name for free in that case, and piggybacking on someone else's, like "mysite.weebly.com", just doesn't motivate your visitors to take you seriously.
Secondly, for those of you asking "who are you to tell me how to do stuff?!", here's a brief overview slash poorly concealed self-praise: my name's Andrii Shekhirev, I am the founder of the Satori Webmaster Academy (aka this site). In addition to building websites for my own projects and for other people since 2007, I'm an Elite Author (I swear this is how they call it) on ThemeForest, the largest website template marketplace in the world – my products have helped more than 2000 people build their own websites (and no, I won't advertise them here).
Over the years I've tried dozens of ways to make websites, as well as tested countless site builders, hosting providers, and content management systems. The current guide is the gist of what I've learned, and I'm happy to share it with you today.
Whew! Glad that's over. Now, finally, I thought it would be decent to let you know that this guide contains some affiliate links, which means that I will get a fixed commission from the respective vendor if you e.g. purchase a hosting plan through the link in this text.
Here's the beauty of it though: this arrangement does not affect the amount you pay, because the vendor compensates us from their own money – for them it's like re-directing advertising expenses. So yes, if you like this guide, consider buying hosting via our links. Let's make a hulking multinational corporation pay, muahahah!
..Eghm, alright. Back to business. For the final preliminary thing before we get started (bear with me!), here are some of the most widespread myths about building your own website. Dispelling them early on will give you a better understanding of what's what.
Some Misconceptions – Busted!
Myth numero uno: you need to know how to code to make a website. Of course you do. IF YOU LIVE IN 1994! Seriously though – as might be expected, technology has advanced a bit since the early days of the Web, and most parts of the site-building process have long been automated. Including writing the actual code. You just have to choose the most suitable tools and be aware of the few important bits (which is what this guide is about).
Myth number two: building your own website will cost you thousands of money. Only if you want to outsource it completely to an agency – that will most probably proceed with the same steps as described in this guide, anyway (and send you a nice fat bill for that).
Myth number three: making a website requires a shedload of time. Well, sometimes it does, especially if you're new and learning from scratch. But if you're smart about it and focus on the right things, you can have a page up and running in LESS THAN HALF AN HOUR. And the entire purpose of this guide is to help you do just that, so let's get started!
Step 1 of 4: Get a Domain and Hosting
The first thing you need is a place for your website to live. In technical terms, this place is called web hosting – in essence, it's a specialized, always-on computer that stores your website's files and serves them to anyone who types your website's address and hits Enter.
Speaking of which: you'll also need to reserve the address itself (like example.com), which is called a domain name. Gladly, you can do both in a single go, as many hosting providers also offer domains as a bundle.
There are thousands of such companies out there, big and small, but there's usually no sense in choosing the small ones: instead, go for the stable, trusted hostings with a long track record. You want your website to be accessible 24/7/365, and I won't even get started about the tediousness of moving to a new provider if your current one goes out of business. It's a drag, believe me.
Of all the hosting providers I've tried and tested over the years, the most reliable and easy to use is still GoDaddy: it's been around for more than 20 years, it has 17+ million customers worldwide, and it's easy to use for beginners. And it currently offers some interesting discounts on both hosting and domains, which we'll go over in a bit.
To make the ensuing process of ordering your hosting as quick and smooth as possible, I recommend making a pause and coming up with the domain name in advance: you can use GoDaddy's domain search to find a name that doesn't exist yet. If you get seriously stuck, though, here are some quick tips for finding an unclaimed domain name that is simultaneously as close as possible to your desirable keyword or brand:
Consider using one of the newer domain extensions such as .co, .online, .shop or .site instead of the generic (and very crowded) .com.
Look for synonyms to your main keyword using free online tools like Thesaurus.com – each new base word opens up an entire swath of domain name opportunities that might be unclaimed.
Use one of specialized tools for domain name brainstorming. The best I know of (and use quite often myself) is the free Dot-o-Mator, which lets you combine seed words with a bunch of prefixes and suffixes, organized by topics.
Try adding simple universal components that will make your domain name more unique (and therefore less likely to be taken), for example "the" at the beginning of the name or a hyphen to separate two words.
Hyphens and numbers are the last resort, but in some cases they can help find a vacant .com domain in case all of the above fails to work.
Done? Alright, now we're ready to begin. Click on the button below to visit GoDaddy's offer page with special discounts on hosting. Btw, remember that hosting + domain bundle we mentioned earlier? GoDaddy currently offers a FREE domain registration with each hosting plan, which saves you an extra $12 (the normal cost of a .com domain):
Get 43% off GoDaddy hosting + free domain ›
On that page, you will be presented with a choice of four hosting plans: unless you need several websites at once, go for the Economy, as it already includes everything you need to get started.
After adding the plan to your cart, you will need to make several choices to customize your order: first, choose how many months you'd like to pay for in advance. While you can go for a 3-year billing cycle right away, 12 months should be more than enough to test your online endeavor AND get the 43% discount. If you decide to keep your website after a year (which hopefully you do), you won't need to do anything – there's an auto-prolongation mechanism in place (just be aware that the next billing periods will already be priced at the normal rate).
Next, you'll see on the same screen that GoDaddy adds website backups to your order by default; uncheck that option with a light heart, that's not important at the moment (plus, you will be able to configure the same functionality at no additional cost later on, saving you $24 per year).
You won't need the "Essential Security" option either, that's also easy to get for free once you're up and running (ca-ching! Another $83 saved).
Finally, there's the SSL Certificate option: it's the extra encryption layer that makes your website's traffic secure – and, more noticeably for your visitors, displays a reassuring green lock with a "Secure" badge in the browser's address bar. To add to that, Google Chrome has started displaying a clear "Not Secure" badge for non-SSL websites since July 2018, unambiguously letting us know that it just doesn't like non-secure websites: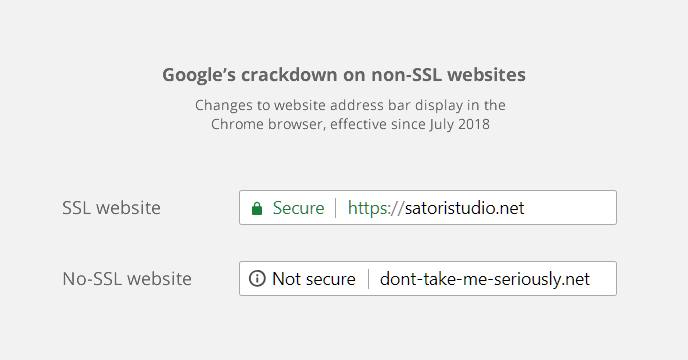 So while your website will be able to function without the SSL, I strongly recommend getting it right away (also because migrating from a non-SSL website to an SSL website is kind of a pain in the rear).
Just to recap, this is how the GoDaddy hosting extras page will look like with all the settings recommended above: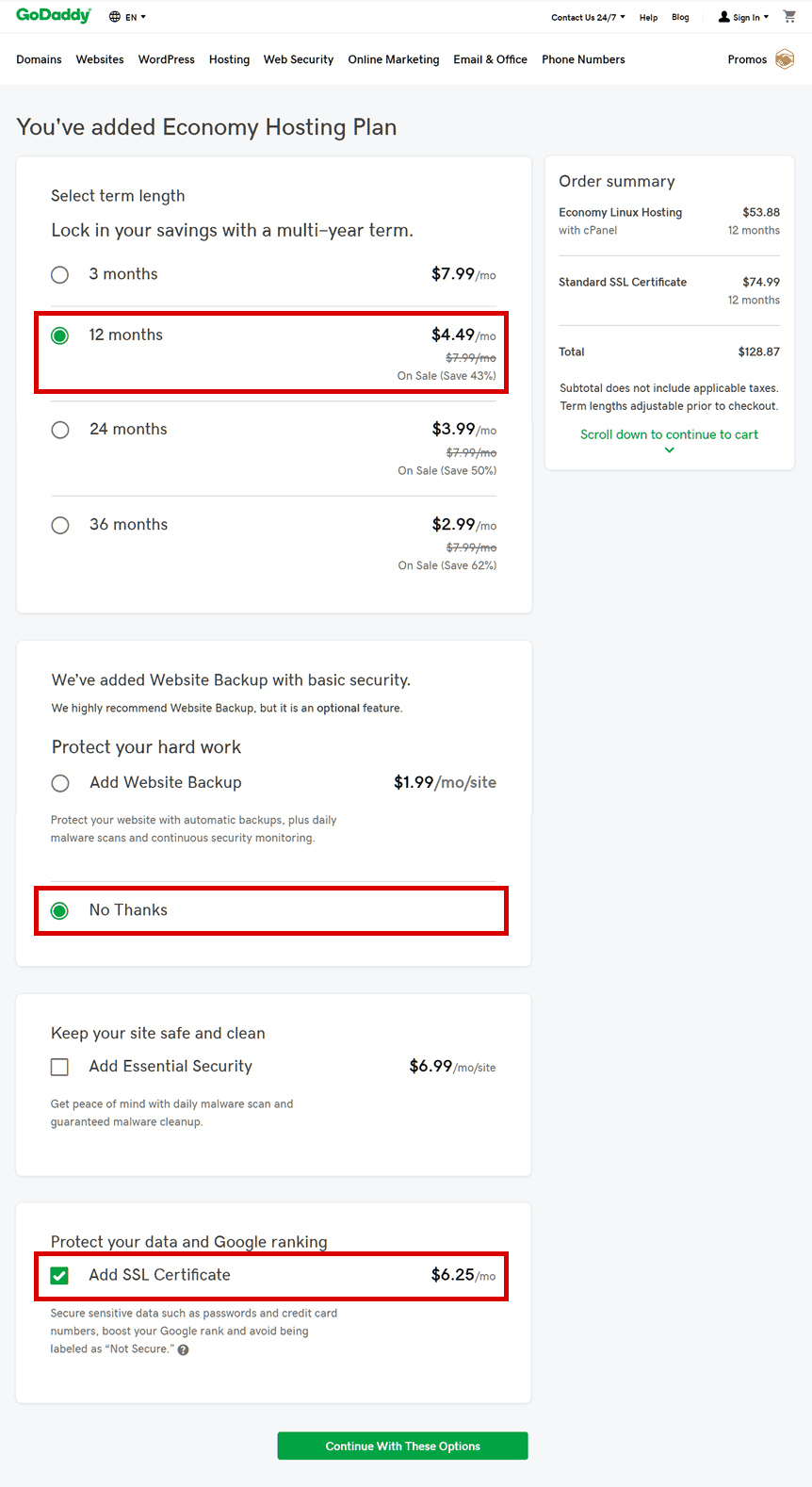 We're ready to move on to the (now free) domain: after clicking on the green "Continue" button, you will see a search bar to input the name you chose earlier. After performing the search, click on the blue "Select and Continue" button next to the domain name, adding it to your cart.
The final stage of our hosting order! I'm secretly excited, since it's one of those "but wait, it gets better" moments: using our promo code, you can shave another 30% off the final price.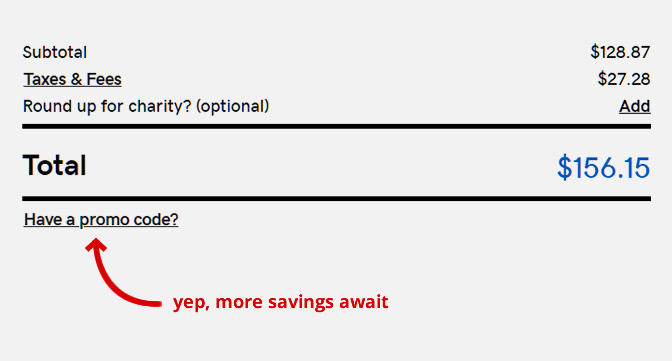 Just click on the "Have a promo code?" link just below the "Total" section in the bottom right corner of the order page (yeah, GoDaddy made it as inconspicuous as possible :) then enter this combination in the pop-up window and click Apply:
GDD1hos
NOW you're ready to proceed with the usual stuff – click on "Create an account" on the left, enter your account and billing information, and finalize the order. Something tells me you've done online shopping before, so I'll skip this part, if you don't mind.
Done? Let's do the math: we've just saved $92 on hosting, as well as $23 + $83 = $106 on non-essential features you can add for free later on. Like that was not enough, some $12 is also saved by getting a domain for free. That's $210 in savings so far. Good, good. You know what's even better? Implementing the rest of this guide will not cost you a dime!
By the way, we're done with step 1, probably the most complicated part of the process – good time now to go stretch and grab a coffee. I'll wait here (because I'm a bunch of text on a page).
..
..
Refreshed? Now for step 2.
Step 2 of 4: Install WordPress
We've got a nice cozy hosting for our upcoming website, so nothing really prevents us from setting up the website itself. Let's do it, shall we?
In case you're wondering, "what the hell is WordPress", a short interlude: WordPress, or WP for short, is what they call a content management system: essentially a piece of software that helps your run your entire website, from its design and content to settings and structure.
Why go with WordPress? Quite simply, because it is the Internet's preferred website engine, powering almost a third of all websites in the world (and that's a lot of websites). It's free to use or modify, easily extendable with thousands of free plugins, and boasts a vast community of users that tend to support each other. Guides, tutorials, and tips on using WP are lying all around the Web, and most of them are also free.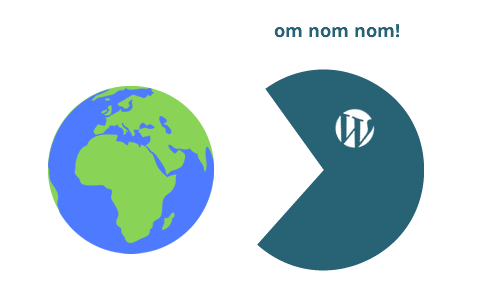 It really does sound like a logical choice for a first-time website owner, so we're going to stick with WordPress throughout our guide. Plus, I've got some extra tips on security and performance after we are finished with this 3-step setup.
Alright, down to business. Log in to your newly created GoDaddy account – you will see a list of your products. Click on the "Web Hosting" row to expand it, then hit the "Manage" button on the right. On the new page, you'll see a big blue button which says "cPanel Admin" – this is what we're looking for! (in other words, go ahead and click it)
You will be redirected to your hosting dashboard – it's an important place which you will no doubt visit many times in the future. But for now let's find "WordPress" under "Web Applications" (it should look like a white "W" in a grey circle, just like the eye of the world-eating Pacman above) and click on it. You will be brought to the installation wizard called..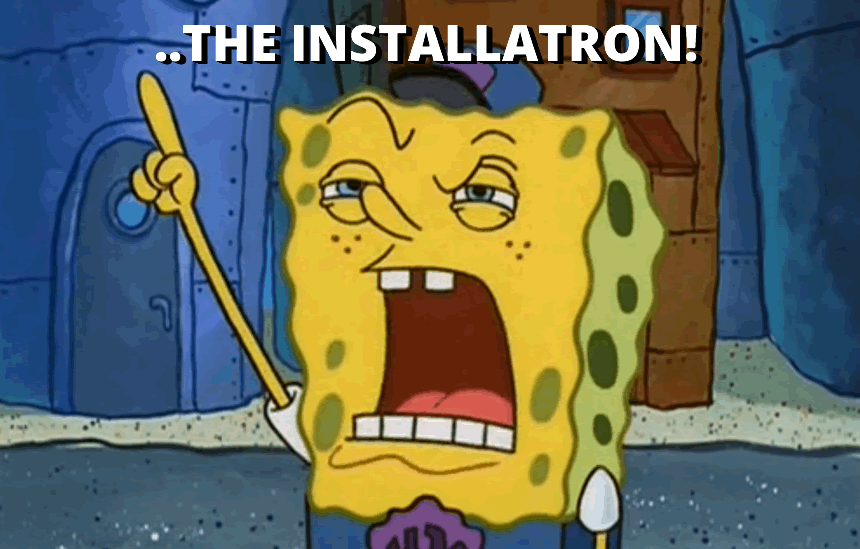 Click on the "+ Install this application" button in the top right corner to get to the important bit: on the installation parameters screen, we'll go ahead and adjust a couple of settings.
In the Domain drop-down, choose the domain name you've purchased, in case it's not chosen by default; using a www versus non-www address is a matter of personal preference, but if you ask me, the non-www version looks more modern and is shorter (which is always a plus with website addresses).
Make sure the Directory field is left blank, so that WordPress is installed as the primary content management system for your new website.
The Version and Language fields can stay as they are, so after the license agreement stuff you'll see a bunch of choices regarding updates: be sure to choose full automatic updates in each one (the last options) and activate automatic update backups in the last one.
This will ensure that your website is always running on the most recent software, which is good for security. Also, it will remove the necessity for you to personally monitor for new versions and perform manual updates.
Just to make sure we're on the right track, the series of choices in this section should go "3-2-2-1", or, to visualize: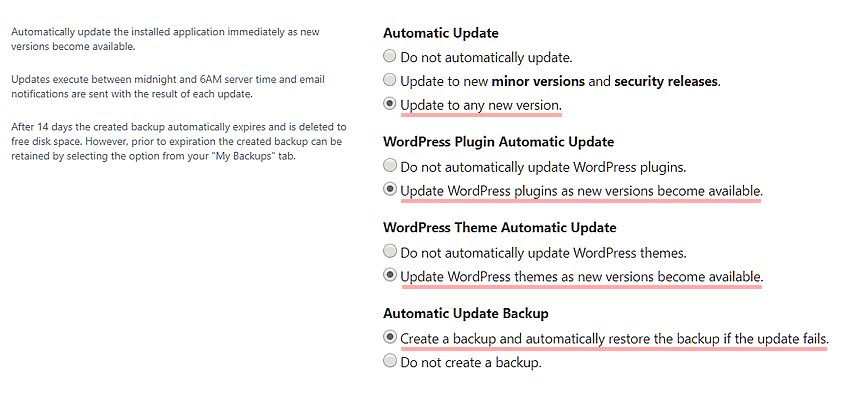 Finally, there's the Settings section where you'll need to fill in the first five fields (leave the last two radio buttons as they are). First, type in the website administrator's username and password. And for goodness sake, don't use the words "admin" and "password" – think of something a little more difficult to guess! Since WP is so popular, there are a lot of hackers around preying on WordPress sites with too-easy admin credentials.
Proceed to enter your email as well as website title and tagline (those last two are not so important right now, you will be able to easily change them at any time via your WP admin dashboard).
We're done here! Click on the + install button at the bottom and wait for the magical fairies to set up WordPress for you. When they're done, you will see three links under your website's name: click on the second link – the one which ends in "wp-admin", this is the standard ending for WordPress admin dashboard for a given website.
A new tab will open, with a WordPress wizard that will ask you a lot of silly questions and install unnecessary plugins, so just click on "No thanks" and head over to your WP admin panel.
..can you smell it? The scent of a fresh website in the morning! Just love that feeling of starting something new.
We're pretty much done, but there are a couple of things you might want to tweak right away, because experience shows that not all default WP settings are the most optimal choices.
Step 3 of 4: Configure WordPress
Before you start adding content to your new website, let's take a quick tour of the system, while adding some improvements for the future.
On the left of the WP admin dashboard you'll see the admin menu against a dark-grey background. Not all items are equally important there, and you'll be using just a couple of them most of the time. You can learn about the rest as you go along.
The most frequently used sections are Posts and Pages, where you can create new content, as well as Comments, where you can moderate the discussions on your posts, in case you decide to enable this feature.
The difference between a page and a post is that the first one is for static content that is not expected to change much over time, like your "About Us" page; on the other hand, posts are for content that you add on a regular basis, like news or blog posts. Here's a brief summary to help you understand the differences between the two:
| Posts | Pages |
| --- | --- |
| Have a publish date | Time-independent content |
| Can have different authors | Author not so important |
| Collected as a blog | Linked in navigation menu |
| Typically same layout | Have various layouts |
| Good for regular, time-sensitive content such as blog posts or news | Good for static content like front page, service/product pages, etc |
There is also a special concept of a "blog page" in WordPress, which is an automatically generated page that displays all your posts. We'll get back to this a bit later. For now – moving along!
Another important section in the WP admin menu is Appearance, where you can install the visual theme for your website (Appearance → Themes). It will prove handy for adding navigation menus (Appearance → Menus) as well as widgets (Appearance → Widgets) – little blocks that perform specific functions like displaying a list of categories or a search bar, typically in a sidebar. The Appearance section also contains the Customizer, which is heavily used by many modern themes to let you, well, customize stuff on your website, like colors and fonts.
And, there's also the Plugins section where you will be able to install and configure various extensions that add more features like security, social buttons, contact forms, etc etc.
Well, this was probably the quickest tour of WP ever! To finalize our setup, let's tweak several settings in the Settings section at the very bottom of the admin menu:
Settings → General: remember I said you can edit the "Site Title" and "Site Tagline" later? Here's where you can do it. Also, make sure that the "Membership", "Timezone", "Date Format", "Time Format" and "Week Starts On" options are set according to your preferences.
Settings → Reading: just take note of this section for now; here you will be able to set your website's front page to display blog posts or a static page (once you decide which of those you want). If you don't set the blog posts page as your front page, you'll be able to choose a different place for it – just create a new empty page in the Pages admin section mentioned earlier. Then, get back here and use it as the non-front blog posts page; that page will automatically start displaying your posts once you save the changes.
Settings → Discussion: if you're willing to allow people to comment on the posts on your website's blog/newsfeed, make sure to tick the "Allow people to post comments on new articles" checkbox as well as "Enable threaded comments" (so that people can reply to each other's comments) and "Comment must be manually approved" (you will get SO MUCH SPAM otherwise). Whatever you do, un-tick the "Allow link notifications from other blogs" option, it's just for allowing lots of spam. Finally, take a quick look at the "Email Me Whenever" section, making sure the options are set according to your personal preferences.
Settings → Permalinks: highly recommended to choose the Post Name option, as it generates the most human-friendly URLs for your pages and posts (I'm not entirely sure why other options in this subsection exist at all, to be frank).
Basically, that's it! You can now play around with your new website and start adding content. There's one more step, though, which is kind of optional but then again more like essential:
Step 4 of 4: Add Theme and Plugins
In principle, you could leave the visual appearance of the website as it is and focus solely on content. However, that would mean your site will not only look very generic, but will in fact look exactly like a bajillion of other websites whose owners were too lazy to change from the default theme.
Plus, there are many WP themes available for free which offer much more in the way of customization and personalization, letting each website look unique.
Here's a shameless plug though: I will go ahead and suggest trying out our own multi-purpose WP theme called Bento (you can see we're into Japan here at Satori :)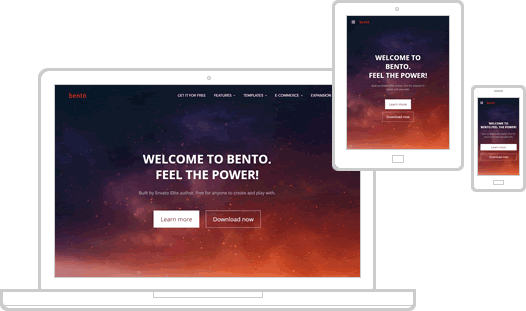 The theme lets you customize the color and appearance of virtually any element on your website, create mobile-friendly grid layouts on any page, as well as heaps of other useful stuff listed here on the official page:
To add to that, Bento is well-documented (which is not a given in the WordPress world) and has dedicated support forums where we answer all questions regarding the theme.
/ end of blatant self-promotion /
As for plugins, there are literally 50,000+ various free ones available at any time, adding various new functionality to your website from translations and popups to forums and communities (and no, we don't build plugins, so don't expect to see a link to a "Sushi" or "Kamikaze" extension).
Instead, I will just list a couple of the most trusted and universally useful plugins which almost any website owner should consider installing – based on my own experience, other people's reviews, as well as objective stats. All of them are free, of course:
So yes, we're now officially done. Enjoy your shiny new website! In case you'd like some more pieces of advice and best practices, continue to the last part of this guide, fittingly titled:
Useful Tips (Optional)
I did not forget about my earlier promises to discuss free methods for improving website security and doing backups, so here they are.
Tip #1: Making your website more secure. While your website is still young and innocent, you might want to focus on other things because nobody really wants to hack it yet. However, there are those really simple things that will take almost none of your time but will reduce the chances of becoming a target of a successful attack by a factor of 10.
First, the obvious recommendations (which 99% do not follow): do not use "admin" for your WP admin panel username, just use any other word. This alone will make your WordPress website a thousand times more difficult to crack. And use a strong password – with capital letters, numbers, symbols and stuff. For extra toughness, use two-factor authentication (an additional code generated by your smartphone during login).
Another obvious-sounding habit that many ignore: keeping your WordPress, as well as plugins and themes up to date. We've already covered that in Step 2 ("Installing WordPress"), but it also makes sense to pay attention to any update notices within your WP admin.
For those of you on the careful side I can recommend installing the free Wordfence plugin – it has tons of extra protection options that will help even the most paranoid webmaster sleep well at night.
Tip #2: Easy automatic backups. Because you don't want to spend time doing it by hand every time. You have better things to do, like creating content for your new website! One word: UpdraftPlus. It's free, it's a breeze to set up, and you can choose to store backups in a variety of places, from your own server (not recommended, though) to cloud storage.
I personally use the Google Drive option in Updraft, which has been made even easier to set up after they introduced their own integration. P.S. the free version has everything you need for a normal website, I've never even tried the Pro version myself despite running multiple online projects of various complexity.
Tip #3: Structuring your website. Once domain, hosting, and WordPress are set up, it's time to think about how your website's content will be organized. As mentioned above, there are two basic content types that WP supports out of the box: news-like posts (regular content) that can be displayed on a blog posts page, as well as pages (static content) which are used to display information that does not change too often. Before creating the pages and the posts, it makes sense to draft the entire structure on a tree-like diagram on a sheet of paper, remembering to mark which elements will appear in the site's navigation menu(s).
Moreover, depending on your website's purpose, you will likely face the need to use additional content types – in most cases this is easily achievable via free WP plugins. For example, if you're a photographer or a designer, the Easy Photography Portfolio will let you create a separate section with photos and showcase them in fancy galleries. If you're planning to sell stuff on your website, WooCommerce will create the "product" content type automatically for you. Just browse the plugin repository, there's an almost 100% probability that what you need has already been built and is available for free.
Do You Even Need a Website?
One more thing, before we wrap it up – ahem.. I don't know how to put it, since we've already gotten this far with our website setup.. but, well, this question has to be considered as well: do you even need a website in the first place?
There are several other options that might serve as decent surrogates, at least in the short term – for example, a social media account. Here are just some of the alternatives to setup described in the step-by-step guide above:
Facebook page can easily act as a full-fledged website, and can be observed as such a substitute for many local businesses. A built-in rating system and easy Google indexing are just some of the perks you get right out of the box.
Instagram account is probably the easiest alternative to having a stand-alone website, especially if your project is highly visual. There are numerous tools nowadays which even allow you to sell products directly from your Instagram feed.
Medium is a free blogging service with a comfortable minimalist writing interface and a possibility to monetize your content if your writing skills are up for the challenge.
Tumblr blog makes a lot of sense if you're just here for the fun of it – setting up a personal feed where you collect cool stuff from the interwebs has never been easier.
WordPress.com setup is somewhere in-between a self-hosted WordPress and the all-in-one site builders; it's arguably faster to start and already includes a hosting, but introduces some limitations (like inability to install plugins until you upgrade to a certain paid plan).
Site builders are created as end-to-end solutions which cover everything from domains and hosting to content and promotion under one roof. Less complexity? Indeed! More freedom? Probably not.
We'd like to take this guide to a new level, so right now, among other additions, we're working on a cool new infographic on this very question of necessity. We'll post it in this section soon, stay tuned!
Meanwhile, feel free to tell us in the comments what you think about this dilemma: when's a good time to say "yes, I do actually need my own website" and start building it. Let's discuss!
Wrapping Up / QA Time
Bazinga! We've just learned how to make websites, saved more than $200 in the process and maybe even had fun.. a little maybe?.. Alright, probably it was more work than pleasure, but it was definitely worth it.
If you liked this guide, how about sharing it on social media (yeah, I know, nobody does that anymore, but still, I had to say it) and maybe even telling your newbie friends about it? Okay, fine, Twitter will also do :/
You're still here? I'm a bit surprised, to be honest. Well, I don't know.. if you have any questions left regarding the things we've talked about in the guide, let me know in the comments section below, I'm checking it from time to time, seriously. And if you'd like to add something to the guide or throw some critique my way, keep it to yourself!! Just kidding, of course it's also very welcome etc etc
Stay curious, reach for the stars, and the best of luck in whatever you were making your website for! Cheers