If you're reading this, you've realized that you have something to say to the world. Or, maybe, your boss has. In any case, what you need is a place to regularly post witty text and other content like images or videos. A place entirely under your control, unlike those faceless, constraining Instagram feeds or Facebook pages, am I right? In other words – a weblog!
(Knock-knock, 1997! We are the cooler generation, we use phones that don't fit into our pockets and shorter versions of words these days! Let's stick to "blog" from now on, alright?)
Soo yes, the next logical question you type into the search engine becomes: how to start a blog? Well, you can close your search results page now, you've come to the right place.
..Go on, close it. Good.
In this detailed yet relaxed guide we will go through all the steps required to make your own blog (there are just 4 of them, in fact). In the end, I will provide tips on how to secure, grow – and monetize your new site. As a result, you will:
learn to create websites

without a single line of code

save tons of money

and days of your precious time

reach anyone in the world

with your awesome content

befriend a unicorn

(alright, maybe not literally)
Before we dive in, there is an important question that should be answered right away in order to better understand what we're dealing with. However, if you're eager to start RIGHT NOW, just skip the next two sections or use this in-text link to scroll directly to Step 1.
Free or Almost Free?
While you can certainly start a blog for free using one of the existing "mass blogging" services, or even social networks like Twitter, it is worth remembering that there are several important drawbacks to any approach that involves free blog services:
Your blog will look like thousands of other blogs because personalization is typically not the strongest side of such platforms. Templates tend to be either non-existent or so outdated/shoddy you'd wish they were non-existent.
Your blog will display somebody else's ads: you won't see any of those ad revenues, however – the platform needs to run computers which host your blog, so they will keep the money to themselves.
You will work under technical limitations, such as the available space to store your blog's files, number of visitors per month, and the size of files you upload.
Your web address will be a subdomain of the blogging platform, like blog.platform.com – instead of a far more serious-looking blog.com
This is not to say that a completely free blog is necessarily a bad idea – in fact, if you're okay with the things listed above, you should probably choose this path. However, if you're serious about your blog and are able to spend half an hour on making it look professional and trustworthy, read on.
To understand why having your own website cannot be completely free (or, equivalently, why any "completely free" blogging service will necessarily want to earn money from your blog via ads or some other hidden fees), we need to understand what a website is and how it works:
Any website (for example a blog) is a collection of files which are recognized by a certain unique identifier – its web address, i.e. the text you input into your browser's address bar to visit a certain website.
Those files need to be accessible 24/7 in order for your website to be truly online – which means they should be stored on a computer that is always on and always plugged into the Internet. Such specialized computer is called a server, and a company which offers servers is called a hosting provider.
The most popular form of web address is a domain name – a human-readable string of text which provides some information about the website it points to. For example, domain name dogs.com is (probably) about dogs and targets US or international visitors.
Here's a revelation (I hope not): operating both a domain name and a hosting service always costs money. Here's why:
In order to become a domain registrar, a company needs to meet a lot of criteria – technical, financial, legal – and pay annual fees (for example, $4000 per year to ICANN for international domains),
In order to provide hosting services, a company needs to buy and maintain a bunch of powerful computers in a safe location, which implies a slew of expenditures. These are both fixed costs (the equipment) and recurring ones (salaries, rent, etc.).
This means that anyone who claims to offer you a domain name and a hosting free of charge are either hardcore philanthropists with very deep pockets – or are planning to earn money off your blog in some other way later on (ads!). Your guess?
Alright, I suppose by now you understand what I'm getting at – no self-respecting blogger will tolerate ads and technical limitations connected to a "free blog"; in other words:
If you want your blog to look professional and plan to grow it in the future (and earn money from it), some expenses are inevitable.
Here's the good news, though: by taking a smart approach and focusing only on the most essential items, we can bring down the cost of setting up a blog to an absolute minimum. This is exactly the goal of this guide.
Oh, yes, and don't forget an exclusive coupon code!
..We will get to that in a minute. Let's start with the first essential step (and the only one which will cost you any money):
Step 1 of 4: Choosing a Domain Name and a Hosting Provider
Alright, down to business! First, we will need a place for our blog to live and a unique address for Internet users to find it. Fortunately, we can do both in one go, as most large hosting providers tend to offer domain name registration as an additional service.
Of all the companies we've worked with over the last 10 years, the one particularly worth recommending is Hostinger: with 30+ million users around the world and a focus on simplicity, it's a logical choice for beginner bloggers.
Hostinger currently offers some intriguing discounts on its "hosting + domain" packages, but we will go even further and save even more money by using our exclusive promo code.
We're now ready to begin: click on the button below to visit the official Hostinger page with discounted prices. In addition to that, it is also possible to get a FREE domain name with certain offers, which we will discuss in a second.
Get 15% off Hostinger + free domain name ›
On the page, you will see three hosting plans: unless you need several blogs at once, go with the Premium option. The Single plan has bandwidth limitations and does not allow applying the free domain offer and our exclusive coupon code, which in total makes it a less attractive alternative.
After you choose the hosting plan you will be taken to a checkout page where you will need to make several choices regarding your order. Let's go through each of them quickly:
First, you'll have a choice of several time periods for your initial order (your hosting account will be auto-prolonged after that to avoid losing your blog – unless you cancel manually, of course). The most sensible value to pick here is one year (12 months), which will both entitle you to all the discounts AND give you enough time to test your blog idea and see if it's working.
After that, you will see several checkboxes, the first being the SSL certificate. That's a security measure that prevents your visitor's data from being exposed on the network, and it gives you a nice trustworthy green padlock sign in the address bar (like the one on this page). SSL has become a universal standard for safe websites around the world, and can even positively affect your search rankings in Google. I recommend activating the SSL option because you'll need it in any case – and Hostinger provides it for a low flat fee instead of an annual payment like almost all other sources.
Next up is the backup add-on, which I recommend turning off because you will be able to replicate it for free later on (I will show you how).
The final checkbox – Cloudflare – can also be left unchecked: while it's a "nice to have" feature for any website, you won't need it for the first 1-2 years until your blog gets really large amounts of visitor traffic.
Finally, there's the free domain offer which we mentioned earlier: just input your desired name and choose the domain zone from the drop-down list and hit the search button. TIP: if your first choice has already been taken, try using other domain zones or altering your name, for example by rephrasing or adding more words.
To recap, here is how the order page should look like when you're done with all of the settings described above: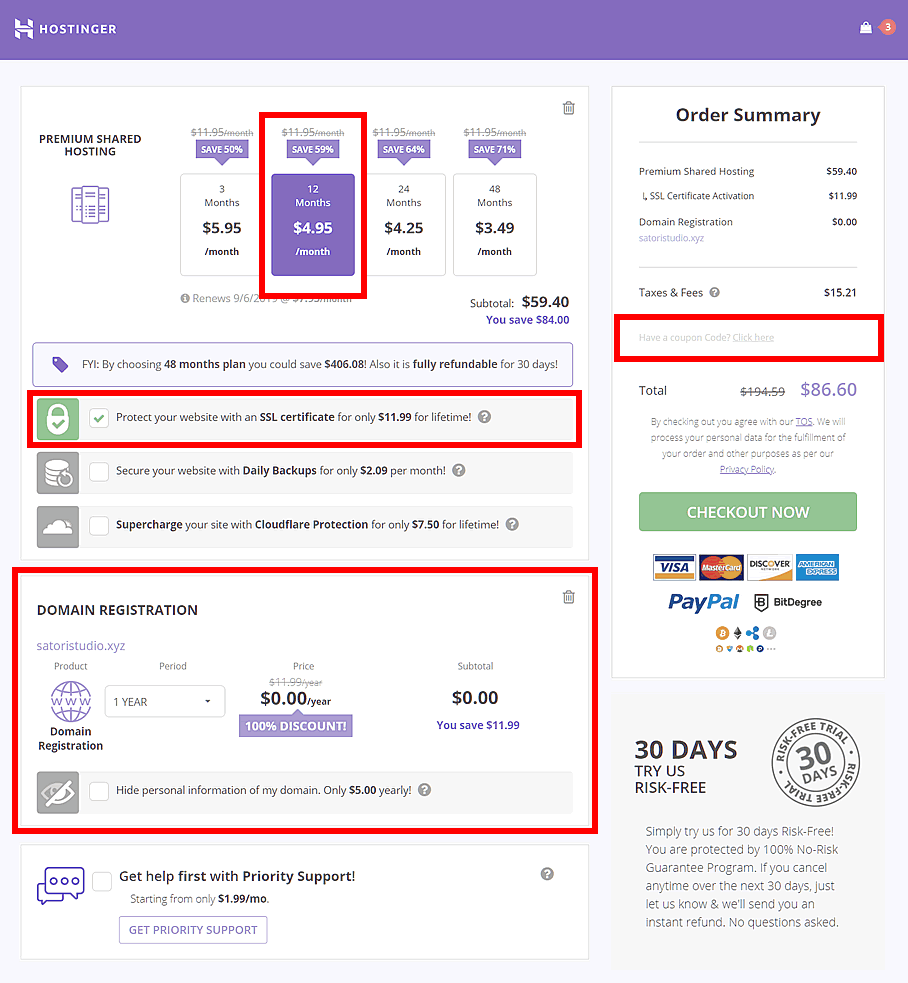 Now we're almost ready – "almost" because there's still the discount code I keep telling you about :) In order to get an additional 15% discount on your (already discounted) order, click on the grey link right after the taxes line in the order summary on the right side of the page. A new input field will appear, where you can copy and paste the code below:
SPECIAL15
NOW you are ready to click the big green checkout button and proceed to the payment. I won't walk you through that one – you know how the online shopping works, you've done that before.
Let's sum up: we just got our hosting and domain from a top provider, for the lowest possible price. No big deal. Wait, actually – a really rather big deal!
You are now free to build and monetize your own blog, and nobody will display any ads or limit your design choices. Your blog will look professional and trustworthy on its very own domain with a friendly green SSL icon.
And yes, we are officially done with the first step of our guide (to remind you, the only one that involves paying for things!). Let's continue:
Step 2 of 4: Installing a Blog Management System
Some of you reading this title might have thought "well, it's probably going to be WordPress".. Of course it's going to be WordPress! With a simple yet powerful interface, enormous number of online help, as well as vast choice of free extensions and visual themes WP is undisputedly the number one choice for anyone starting a blog.
In theory, since you already have your own domain and hosting set up, you are not dependent on any particular content management system. You can choose Drupal or Joomla, for instance, as an alternative to WordPress – they're also free and have many strong points.
However, I'll be sticking to WP in this guide, as it is by far the easiest one to learn for beginners – based on my experience of working with each of them at some point.
..Alright, enough chit-chat, time to roll up our sleeves again. Log in to the Hostinger account we've created in the previous step (you will see a list of products) and click the button to manage your hosting.
This will bring you to your hosting administration panel – the central hub for managing your hosting and domain settings. The panel also contains software which will help us quickly install the blog engine of our choice. To launch the auto-installer, click on the icon that looks like a computer screen with a yellow lightning – it should be located in the "Website" section: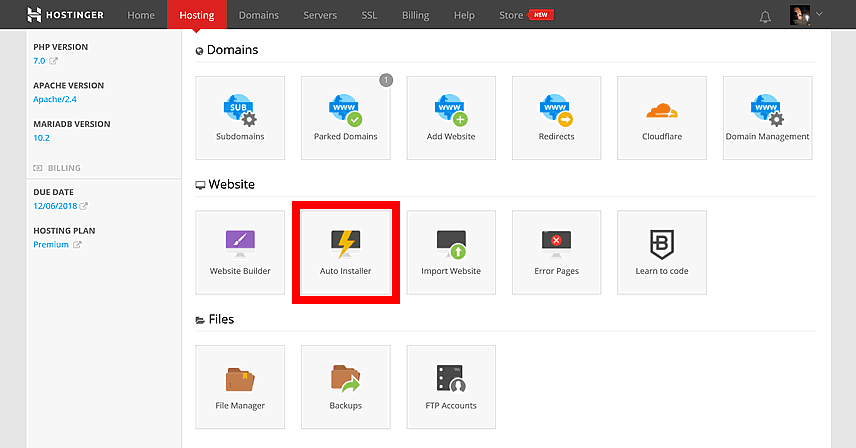 Once inside the auto-installer interface, click on the WordPress logo (the "W") or type "wordpress" into the search field if you don't see it right away.
The application will guide you through three easy steps:
First, you will need to choose the default address of your new WordPress install – just choose your domain, that's what we got it for, remember? This will be your blog's home page.
Second, you will be asked to input the username and password for the blog's administrator account, as well as an email address for cases when you need to restore access. Use your real email and, for the love of Buddha, don't set obvious things like "admin" and "12345" as your username and password! I know you're better than that. There are tons of hackers around just waiting for new blogs with simple passwords, don't let it be yours.
Third, you will be able to set the language of your new blog's admin panel as well as its title. Don't spend too much time here, as you will be able to change any of this very easily later on, from the WordPress admin panel. When you're ready, click on the friendly green "Install" button..
..and watch as the magical fairies work hard to install WordPress for you. When they finish their work, you will be shown a table with relevant information and links for your new blog: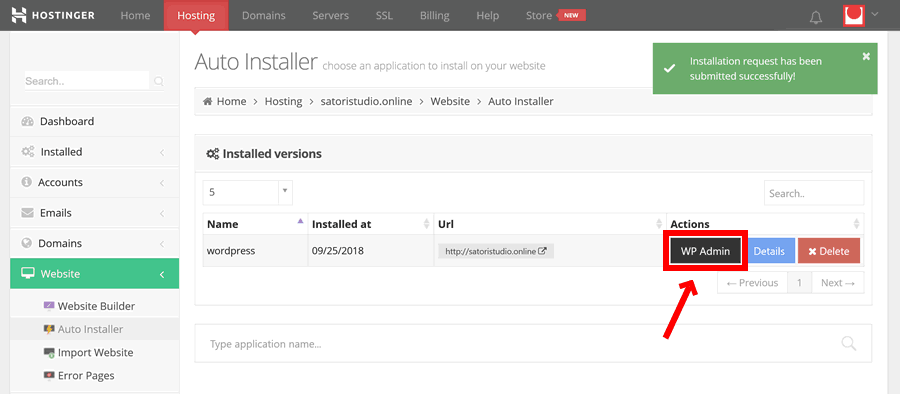 You can click on the black "WP Admin" button to open your WordPress admin panel. Alternatively, you can add "/wp-admin" at the end of your website's domain name (for example, domain.com/wp-admin) in your browser's address bar to enter the admin panel at any time.
That wasn't too hard, was it? You now have a fully functional blog management system ready for your awesome content. Before you start writing, however, it is worth taking a quick tour around WordPress and adjusting some settings right away:
Step 3 of 4: Configuring Your New Blog
When you visit the WordPress administration panel you will see a black menu on the left side of the screen – it contains everything you need to manage your blog. Not all menu sections are equally useful for beginners, so we will be going only through the most important ones: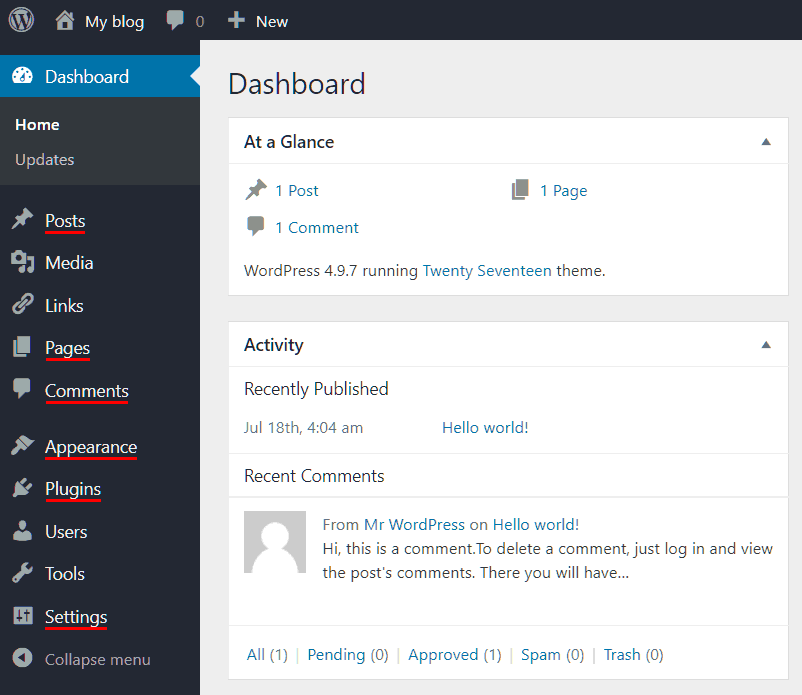 The first two sections we will discuss are Posts and Pages, which are both used for creating the most basic forms of content in the WordPress core. What's the difference, you might ask?
Pages are for content that doesn't tend to change much over time, like a "Contact Us" page, while posts are envisaged for periodic entries, like news, updates, or (yes, you guessed it) blog posts.
WordPress automatically aggregates your posts into a single timeline which is confusingly called the blog posts page. Technically, though, it's more of an archive – not a static page but a collection of posts, usually displayed in a reverse-chronological order (in other words, what people normally envisage when they think about a "blog").
To really bring home the difference between posts and pages in WordPress, here's a little table highlighting some of the important distinguishing points:
| Posts | Pages |
| --- | --- |
| Together comprise the blog archive | Stand-alone content linked via site menu |
| Published on a specific date | Static content |
| Typically have an author | Author is not important |
| Usually allow commenting | Comments are usually disabled |
| Tend to have uniform layout | Layout of each page tends to be unique |
| Used for periodic, time-sensitive content like blog posts, news, and opinions | Used for time-independent content such as "about", "contact", etc. |
Next up in the WP admin menu is the Comments section, which is quite self-explanatory: it contains all comments which visitors leave on your blog posts. It also lets you moderate them – to edit, approve, remove or mark as spam any new or old comment.
The following two admin menu sections highlighted in the picture above – Appearance and Plugins – deal with the visual and functional aspects of the website, respectively. We will talk more about those two in the next step of our guide, when we choose the blog's template as well as install some useful extensions.
Finally, there's the Settings section, which (surprise!) contains all the high-level settings that affect your entire blog. There are four sub-sections here that are worth visiting right away and making sure all options are set according to your preferences. Here are some quick tips:
Settings → General: this sub-section collects the most basic settings, like your blog's language and time format, as well as the site title field we skipped over in the final step of the auto-installer earlier in this guide.
Settings → Reading: here you can control how your blog is displayed and how many items it should show per page. This group of settings is an important one, as it determines whether your website's front page will display the blog (i.e. the posts archive) or a static page (for example, information about yourself and an intro to the blog).
Settings → Discussion: while this sub-section might look frustratingly complicated, most options here are good as defaults. The only item which I definitely recommend revising is the "Before a comment appears" checkbox: make sure the "Comment must be manually approved" is active, because otherwise you will quickly start getting an unmanageable amount of comment spam.
Settings → Permalinks: nothing much here, just make sure the URL structure is set to anything other than the first option so that your visitors can use human-friendly addresses for your posts and pages, like blog.com/post-name instead of blog.com/?p=42. I personally usually go for the "post name" (the penultimate option) because it results in the cleanest URLs.
And that's it for the WordPress introduction tour! You will no doubt find and adjust more settings as you go along, but what you've read above is the bare minimum that allows you to get started without scratching your head too much.
Step 4 of 4: Choosing a Theme and Installing Plugins
Remember I was all exultant about how WordPress offers tons of extensions and customization options? Here are some figures to back this up: there are to date more than 50,000 (that's fifty. thousand.) free plugins in the official WP repository, as well as some 3000+ themes.
Just take a second for that to sink in. If you started testing one WordPress plugin per day, you still wouldn't be finished after 135 years! And these are only the free ones from the wordpress.org repository – apart from that there are thousands of premium plugins out there on marketplaces like Envato.
Given the ludicrous number of options, people tend to encounter choice overload when it comes to looking for the right WP themes and plugins. That's why we will only mention one (multi-functional) theme and just a couple of the most universally useful plugins. The rest will be up to you to explore!
While we're on the subject, why not shamelessly promote my own creation :P the theme is called Bento (version 2.0 now available), and its main goal is to be as flexible as possible, accommodating any personal preferences of the owner of a particular blog.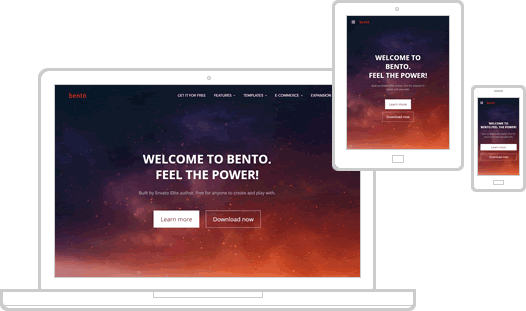 The theme allows adjusting every imaginable parameter of your website, from the colors of each element to layouts that are automatically mobile-friendly. And it's free and open-source! Here's the official page (it's on the same domain as this article):
Bento is a result of more than 10 years of working with WordPress and building premium templates for clients. It has clean, future-proof code, detailed documentation as well as five-star support on dedicated forums.
/ end of self-promotion /
Moving on to plugins, below I've collected the essential ones that can be helpful for the majority of beginner bloggers:
And now we are done for real! There is much to explore when it comes to the WordPress ecosystem, and you will no doubt make many exciting discoveries for yourself – but the toolkit provided in these four steps is really all you need to just start blogging.
Before we wrap things up, here are some follow-up recommendations based on collective experience. None of these is a must, strictly speaking, but all of them are essential for your website's long-term well-being:
Step 4.5 of 4: Some Useful Tips
Remember back in Step 1 we skipped the paid backup and security features while buying a hosting account? Well, I do! And here's where we are going to look at FREE alternatives that are at least just as good (probably even better):
Useful tip #1: automatic backups. You know how it usually works: until a website owner is forced to re-create their blog from scratch due to a malfunction or a hack, they rarely stop to think about backups.
Now that we've made it more obvious, I am sure you won't wait for a disaster to happen – in this case all you need is one of free WordPress plugins that do automatic backups, for example UpdraftPlus. Its interface is quite intuitive, and it allows saving copies of your entire website on your server or in remote storage such as Google Drive (the latter is recommended because cloud storage is much more resilient than individual servers).
Useful tip #2: website security. While this is a vast topic all in itself, here I will just state two things that tend to be the reason behind some 80-90% of all website security breaches: software versions and the login procedure. The recommendations below cover both and will help you achieve maximum security with minimum effort.
To make sure your themes and plugins, as well as WordPress core itself, do not have any vulnerabilities that can be exploited by malicious agents, just make sure you are using the latest version of everything. As simple as that! You can check your admin panel for updates once a week ("Dashboard → Updates") or set up automatic updates for everything if you feel you can handle some code – either way a fully up to date blog is a much more secure blog.
As for the login procedure, ensuring your username and password are complicated enough is the obvious first step. As an additional precaution, I recommend installing a two-factor authentication plugin such as this one – it will require an additional temporary code generated by your smartphone each time you login, which will make the entire idea of guessing your username and password quite meaningless for any hacker.
Making Money With Your Blog
People start blogs for various reasons, and earning income is just one of them – however, I've still decided to give it a separate chapter because a) it's arguably the most difficult part and b) because it still potentially applies to every blogger.
In other words: even if monetization is not your priority, why not keep it in mind right from the start? After all who doesn't like some extra cash? Especially passive income?
So in this part of the guide I will provide an overview of the most feasible ways of making money with your blog (all of which I've tried at some point, and some are still my major income sources):
Advertising: putting up image or text or video ads on your blog. This is probably the most "automatable" way of monetizing a blog – just insert a code snippet and watch your visitor traffic convert into cash. The catch? Ad conversions tend to be relatively low on the Internet: this means that you need a lot of incoming visitors for your ad earnings to amount to any sizeable sum each month. Some of the best platforms for bloggers who wish to start earning ad revenue are AdSense by Google and BuySellAds.
Affiliations: mentioning or even actively recommending certain third-party products on your blog, while earning commissions from each sale you refer via your tracking links. The key word in modern affiliate marketing is: quality. The more trustworthy and useful your blog, the more likely your readers are to follow your advice. There is a stand-alone guide on affiliation in our Webmaster Academy, so I will just refer you to it for in-depth information and tips.
E-commerce: aka selling stuff online. In some sense it is a more advanced version of affiliate marketing, because now you're offering the goods and services directly on your website, instead of promoting somebody else's. This means more things to worry about like inventory management, logistics, and taxation, but once you manage to get it going it can be a much more stable source of (recurring) income than any other method.
The Most Important Secret / Wrapping Up / Discussion
Half an hour ago you were just playing with the idea of starting a blog, and now here you are, a blog owner! This wasn't that hard, was it? If you found this guide useful, I'll go ahead and recommend sharing it on all your Google+ accounts as well as recommending it to anyone who wants to become a blogger. If you feel there's something missing from the guide or you simply have a question, be sure to scroll down to the comments section and join the discussion.
Pardon? The important secret? Oh, that.. Well, nobody reads conclusion sections unless they have catchy titles like this.. But! I do have one universal piece of advice I would gladly give to my past self if I had the chance: creating an awesome blog takes time – not weeks, but months and months of work. Be patient and tenacious – the point when you want to stop is usually also the point when your efforts are most likely to bear fruit.
So keep reaching for the stars, and see you again on Satori Webmaster Blog!