On-demand video is eating the Internet! The global subscription streaming revenue has skyrocketed x20-fold over the last decade, and is predicted to double again in the following years: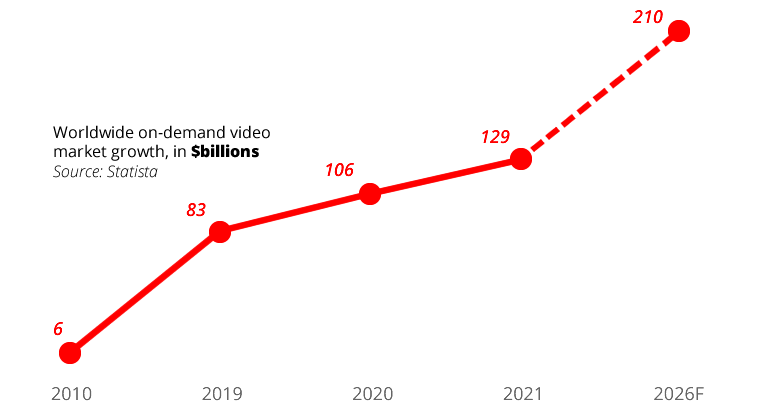 Up until recently, this market used to be reserved for the giants like Netflix and Prime Video, but things are changing rapidly –
With platforms like Uscreen, literally anyone can now monetize their video content, without writing a single line of code.
In this in-depth review, we will focus on the most important insights to help you determine whether Uscreen is right for you:
What are the key features

of Uscreen?

How is Uscreen different

from its alternatives?

How much is Uscreen

and is the pricing reasonable?

Who should use

Uscreen and why?
Before we dive into details, it's worth taking a minute to ensure we're on the same page (or frame?):
What Exactly Is Uscreen?
First of all, let's get one thing out of the way: the Uscreen we're talking about here has nothing to do with a drug screening kit which accidentally has the same name 🙄
In our case Uscreen (where "screen" refers to a TV/gadget screen) is an online service that allows creating your own video subscriptions. In other words:
It's designed to be a one-stop-shop for anyone looking to sell on-demand OTT video streaming services – in some sense, becoming a little Netflix in their own right!
Wait, can you hear that? Yes, it's the abbreviations alarm! The relevant ones you need to know right now are:
OTT, or "over-the-top" platform, is a solution that brings video content directly to viewers over the Internet, bypassing cable or satellite TV (i.e. a platform like Uscreen)
SVOD, AVOD, and TVOD are the three most popular video monetization methods, which stand for Subscription (pay per period), Ad (pay with ads), and Transactional (pay per video) Video On Demand, respectively.
With Uscreen, you're free to set your own prices for the videos you sell, and you can monetize using the SVOD and TVOD methods.
So is there anything that makes this platform special? Let's look at some of the notable features:
Unique Features of Uscreen
Given the explosive rise of the video-on-demand market we mentioned earlier, it would be weird if Uscreen was the only available option…
So in order to help you make a more informed choice, we're going to discuss what sets it apart from the alternative solutions like Muvi, Zype, or Vimeo:
The smoothest user experience when setting up your video subscription service: unlike with most other OTT platforms,
The initial setup is beginner-friendly and carefully guides you through only the necessary steps, while leaving room of ample customization down the road.
In other words, it's obvious from a single glance that Uscreen takes usability seriously 😎
Customizable themes for your video channel and apps offer a drag-and-drop visual editor that doesn't require any coding.
If you've had some experience with WordPress, you will immediately feel at home in Uscreen's intuitive interface which lets you individually edit each element of each page: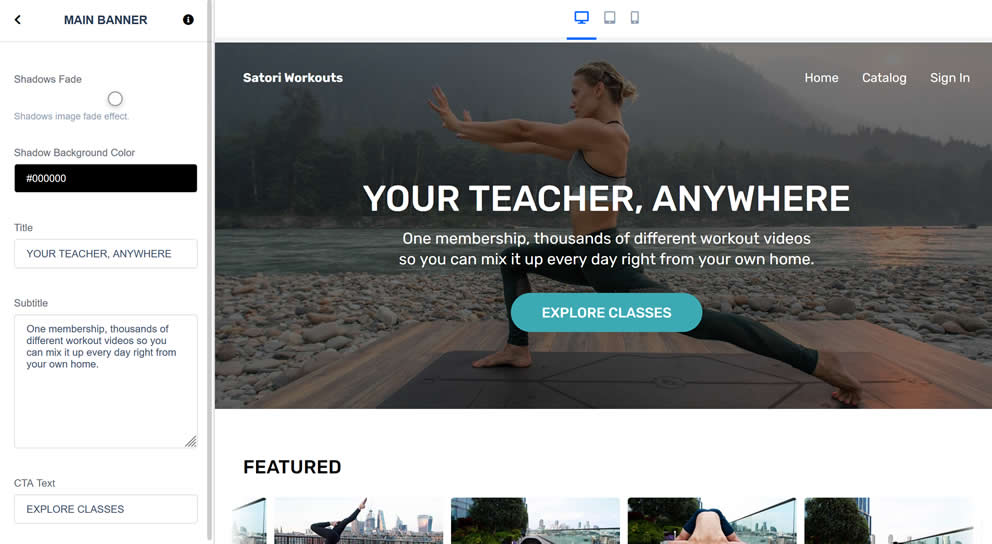 By the way, this doesn't mean that you can't also customize the code of the template if you have the necessary skills!
Marketing tools are one of our favourite parts of the Uscreen kit – a set of simple yet powerful add-ons to help you maximize your channel profits.
One unique tool worth noting here is the Leadzen: a step-by-step form that lets you create full-fledged marketing funnels right inside the Uscreen platform.
This means that you can set special pricing terms 💳 and automated email follow-ups 📧 for users coming from specific content / lead magnets 🧲 on your website. In the days of yore you'd need a whole bunch of separate tools for that!
Super-flexible pricing: when it comes to affordability, Uscreen is hard to beat. In the next section we will look closer at its subscription plans –
Uscreen Pricing Explained
In the spirit of user friendliness, Uscreen only has 3 simple plans which don't really overlap in terms of target audience (i.e. choosing the right one for you is a no-brainer):
The Basic plan ($49/mo with yearly billing) is for first-time streamers and includes everything you need to kickstart an OTT channel – from a content management system to payment gateways and marketing tools.
The Amplify plan ($399/mo) implies you already have a certain user base and helps you grow your OTT business with additional features such as live streaming and chat, affiliate tracking, as well as 1000+ third-party integrations.
Finally, the Enterprise plan is meant for established streamers with at least 500-1000 existing subscribers, and includes native mobile and TV apps to widen your reach, as well as API access and personalized support.
You'll need to contact Uscreen for a custom quote on the Enterprise plan, but as a ballpark expect to pay ~$500 per app.
Getting back to the Basic and Amplify, there are two things to keep in mind: first, annual billing cycles are heavily discounted vs monthly billing: e.g. the Basic plan costs 50% less if you pay for a year!
Secondly, there's an additional variable component of $0.50 per subscriber, regardless of your Uscreen plan.
To make the pricing more visual, here's what your total monthly expenses will look like as your audience grows: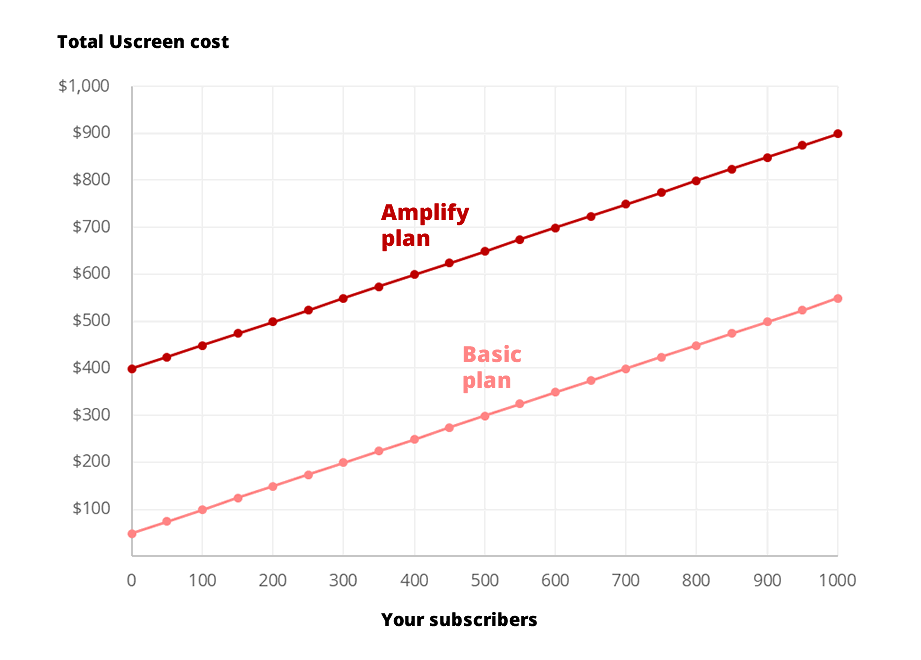 The key takeaway is this: Uscreen charges a predictable fee based on a flat component plus a fixed half a dollar per subscriber –
Compared with other OTT platforms, this is a really simple and affordable scheme: no extra bandwidth, storage, or encoding fees, and the lowest per-subscriber fee on the market.
As a cherry on top 🍒 there's a 14-day free trial for Basic and Amplify plans (you'll still need to leave your card details), as well as a 30-day money-back guarantee.
Pros and Cons of Uscreen
Alright, before we move on to the final verdict, let's sum up Uscreen's strengths and weaknesses in a single giant list:
Uscreen is an easy to use all-in-one platform with all the tools you need to start or grow your streaming business
The Basic plan is a truly affordable offer for new video-on-demand entrepreneurs, with some of the lowest costs in the industry
No hidden fees: Uscreen offers predictable pricing consisting of a flat fee plus a fixed per-subscriber component
Customizable themes allow you to style your channel to match your brand – no coding required (although possible, if you're into it)
A set of powerful marketing tools, from coupons and abandoned cart recovery to automated lead funnels, is what really makes Uscreen a 360° solution
Diverse integrated payments gateway based on Stripe, Authorize.net, PayPal, as well as Uscreen's proprietary solution allows you to accept payments from nearly any country in the world
Branded OTT apps for mobile and TV platforms, available in the Enterprise plan (you need to contact Uscreen sales for a custom quote)
Over 1000 integrations with third-party services like Mailchimp or Salesforce are available on the Amplify and Enterprise plans
Friendly support over the phone and 24/7 online support on any Uscreen plan
No YouTube-style AVOD (ad-based) monetization option is offered on the Uscreen platform, only SVOD and TVOD [say what?!]
In order to cancel a Uscreen account or trial you need to contact support or type "cancel account" in the live chat – a more obvious cancellation button in the billing area would make more sense
Affiliate payouts are not available directly on the platform – you can track referrals in your Uscreen dashboard, but you'll need to set up your own payment schedule
Alright, we're ready to answer our initial question – whether it's worth using Uscreen and who should use it.
Verdict: Should You Use Uscreen?
A picture is worth a ton of typing, so we've made a little something for you to really visualize the decision space when it comes to choosing a video platform. You can click 🖱️ on the image to view it full-size: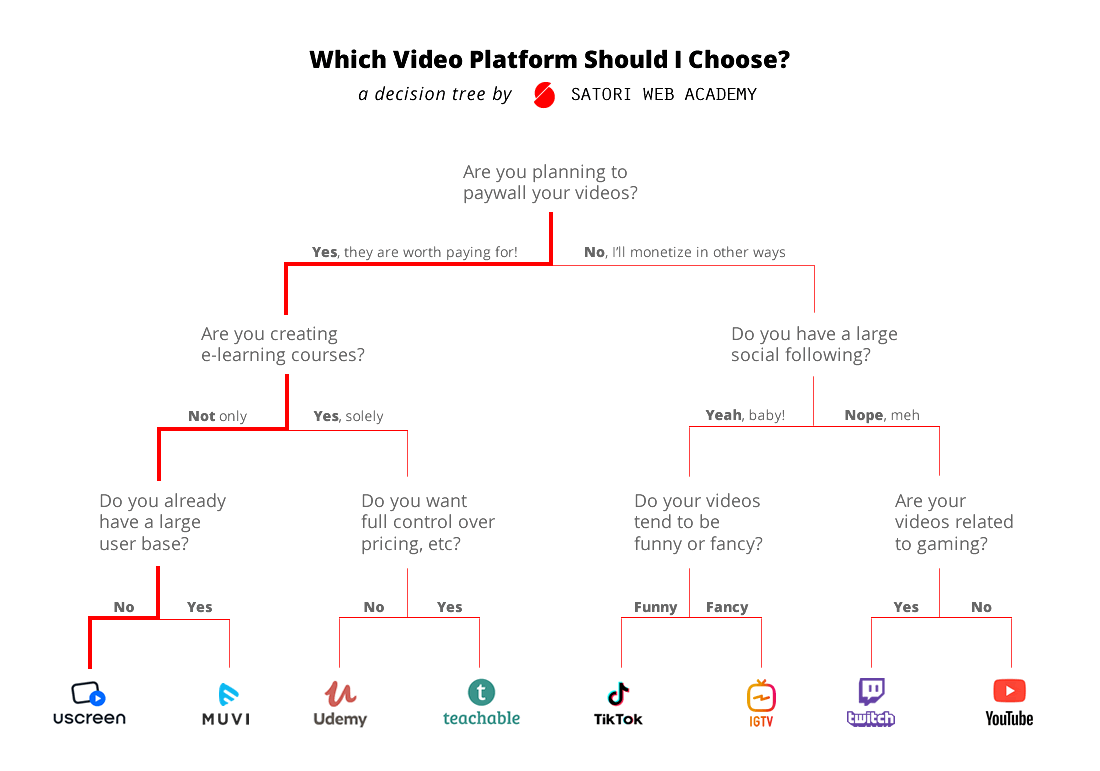 …Let's spell it out as well, shall we? If you don't think people will be willing to pay to watch your videos, Uscreen is not for you – try AVOD based monetization platforms instead.
If you're looking for a way to earn money from your videos by creating paid, members-only streaming subscriptions or pay-per-video channels for a broad range of topics, Uscreen is the way to go:
Compared to other similar OTT platforms, Uscreen is especially user-friendly and easy on your wallet, so its Basic plan is a perfect fit for beginner streamers.
Meanwhile, the Amplify and Enterprise plans ensure there's plenty of room to grow and scale your video-on-demand business.
Any questions left unanswered? Hit us in the comments section below or share your own experience with Uscreen!
Disclaimer: some of the links in this review have affiliate tags, so if you liked this guide and decide to give Uscreen a try, consider doing so via our links – this does not affect the price you get at Uscreen. Thanks!