Contents
TL;DR – Website Builder Wizard
For those who don't have time for our in-depth review and comparative analysis of the most popular website builders, we've created a simple interactive wizard which can help choose the right tool in a couple of seconds:
In case you'd like to learn more about the similarities and differences between the most popular brands, as well as compare particular products side by side, continue below for more site builder goodness:
Why Does the Choice Matter?
You need to create a website, and you need it now. Instead of spending days to understand DIY-style content management systems like WordPress or Drupal, which do not include many important bits like hosting or domains and require getting used to, you've (understandably) decided to go for a more all-in-one solution: a website builder suite.
The benefits are obvious: in a single account, you get everything you need to start a full-sledged online project – from a domain name to a built-in visual content composer to integrated ecommerce capabilities. You're also happy to know that they offer dedicated support, in contrast to peer-driven public forums which are not always helpful and to the point.
However, once you set your sights on the site builder option, you quickly realize that now you're facing a problem of choice: out of the numerous available brands, how to pick the one that's right for you? Here's where this guide comes in: we've conducted a comprehensive analysis of the largest and most popular website building services along various important dimensions, such as ease of use, reliability, versatility, pricing structure, and many more. The analysis is based on observations from using real accounts in each of the services, to avoid superficial guesswork.
We'll first present our results in a condensed format, as a table of the most important comparative features, then discuss each of the brands in more details, and finally provide practical recommendations for making the actual choice based on your project's needs and resources. Let's get started!
Comparison Table
The table below contains all important features of each of the four most popular website building services; we intentionally did not include such items as "presence of an ad-free version" or "possibility to add your own domain name" because those have been industry standards for quite a while now and are naturally offered by all major site builder brands.
Website Builder
Wix
Squarespace
Weebly
Year founded
2006
2004
2006
Free version
yes
no
yes
Storage space (free)
500 MB
N/A
500 MB
Extensions
yes
no
yes
Backups
yes
no
yes
Capabilities:
templates
yes
yes
yes
start from scratch
yes
no
no
analytics
yes
yes
yes
SEO tools
yes
yes
yes
e-commerce
yes
yes
yes
multilingual
yes
yes
via an app
email
yes
yes
yes
Cheapest plan with:
adding own domains
$5
$12
$8
ad-free website
$10
$12
$8
online shop
$17
$26
$8
Google Ads credit
$10
$18
$8
While evaluating the dimensions which cannot be directly expressed as numbers or yes/no answers, such as "SEO toolbox" or "choice of templates", we've aimed at being as objective as possible and using hard data where appropriate; still, those measures should be viewed as a relative scale used only to simplify comparison between the brands.
Now let's dive deeper and look at each of the website builders separately, critically evaluating its pros and cons with respect to competition:
Wix: the Veteran That Still Got It
The most popular website builder (based on self-claimed usage figures), Wix has been around for more than a decade, which, in the fast-paced website creation market, is a lot. Surely enough to prove that their product is worth something. From its humble beginnings as a brainchild of three friends on the Israeli seaside, the company has grown to serve millions of users in 190+ countries and get listed on the NASDAQ stock exchange.
Wix is a classic example of a website builder that uses a freemium service model: the basic features, like the visual "what you see is what you get" editor, as well as access to the template library and the app market, are free for anyone. For those wishing to test their online presence this is perfectly sufficient for a full-fledged website, with zero coding or design skills required – however, if you want to use the features which are essential for any self-respecting web project, such as linking your own custom domain instead of using a subdomain of wix.com and removing the ads, you'll need to purchase one of the paid plans.
There are five premium plans, ranging from the basic ""Connect Domain" ($5 per month with yearly subscription), which essentially only allows connecting a proper domain name like example.com instead of the awkward username.wixsite.com/sitename, to the feature-packed "VIP" ($25 per month). More useful and value-for-money, however, is the "Combo" plan ($10 per month), which allows both linking a domain AND removing the ads – the two minimum ingredients to make your website stop looking unprofessional.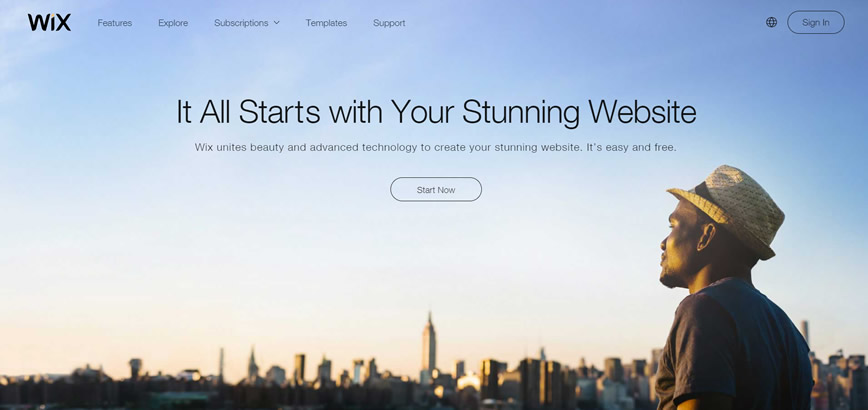 "Combo" is a good place to start if you're serious about your online endeavour, yet if it gains traction, sooner or later you'll most probably need to upgrade to the mid-priced "Unlimited" plan ($14 per month), to remove the visitor traffic limitation: the 2 Gb included in the former will only enable a couple thousand visits per month, based on the average web page size today. On the positive side, at the time when you're in that situation your website will be well worth the upgrade.
It seems that Wix realizes that, being one of the older website builders, it needs to keep pace with the ever-advancing state of the art in website design and management – one example of this is the WIX ADI, or Artificial Design Intelligence. If you look closely, it's just a more user-friendly and slightly stripped-down wizard which takes your data and mixes it into a template (which, of course, you can easily do with the standard Wix editor as well) – but it's still arguably a step in the right direction and an indication that the company is not afraid to experiment and take on new challenges.
It will still be some time before Wix (or any other "AI web builder") is able to create a ready-to-use website for you without you even taking part in the process, but even the current state of the primary Wix product is as close as it gets to an easy and seamless website-building experience.
Create a free website with Wix ›
Advantages of Wix:
The widest choice of visual templates on the site builder market
Own domain plan competitively priced
Large extensions market with both free and premium addons
Machine learning powered helper for quick prototyping
The free plan never expires
Weaker sides:
Not possible to switch to another template after you choose one
Squarespace: Minimalist to the Core
As one of the oldest website builders that are still thriving up to this day, Squarespace seems to know the secret to satisfying website owners around the world – be it sleek design, simplicity, or easy-to-understand pricing. Founded in 2004, this service has been steadily growing its user base (and fandom) ever since, having received numerous accolades as well as making it at #8 in last year's Forbes Cloud 100 List.
Anyone signing up with Squarespace will get a full toolkit for creating and managing their website: from a free domain name and hosting, to a publishing engine and analytics suite. Most of these might not be as feature-rich or advanced as you might get by seeking services from separate, specialized providers – but the genius of Squarespace is exactly in stripping all that is less necessary and leaving in only the essentials, thereby making your entire website-building experience as smooth and seamless as possible. Less cognitive strain, more minimalism – that could be the motto of Squarespace.
Unlike most other website builders, this one does not offer a free version: you can try the service for 2 weeks (without entering your card details), but after that it's pay to play. You can choose between two pricing plans: Personal, which will set you back $12 per month if billed annually ($16 for monthly billing) – and Business, which costs $18 per month ($26 with monthly billing). Most small online projects will do just fine with the Personal plan, as the only significant difference compared to the Business version are limitations on the number of static pages (20) and contributors (2), as well as a Gmail-powered branded email account (which in principle you can set up on your own).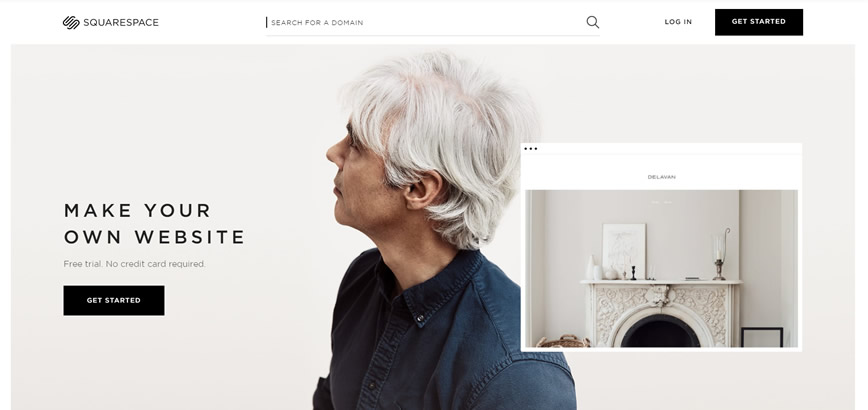 The recently added e-commerce options are seen widely as a response to the growing number of competitive offers with built-in e-commerce capabilities; the Basic plan is priced at $26 per month ($30 with monthly billing) and includes everything from the above-mentioned Business plan, as well as all essentials for running an online store: order and inventory management, taxes, accounting, etc. The Advanced e-commerce plan ($40 per month or $46 with monthly billing) offers some nifty features, such as abandoned cart auto-recovery, checkouts on your own domain, as well as automatic discounts. Since all of these features are potentially significant money or time savers, it is sensible to switch to the Advanced plan as soon as you see at least some sales.
Squarespace is an example of a closed-ecosystem site builder – there is no extension community or an app marketplace; everything you need is built into the system, removing the need to search for, install and configure additional modules. While that is good news for the usability aspect, it also means that anyone requiring a specific new feature will need to rely solely on the discretion of the site builder itself to implement it.
Squarespace can be called a design-centric CMS: while other web builders have arrived at the importance of clean, streamlined, clutter-free visuals in the process of their evolution, Squarespace has taken those as its guiding principles from day one. And at that time, it really, really did help stand out from the competition.
Nowadays, as the largest competitors have caught up with the design part and sometimes outstripped Squarespace in the features dimension, there's not that much left to justify its premium pricing policy. Nevertheless, it's still a beautiful website builder with timely minimalist templates and a wonderfully simple user interface – and as a creative type, do you really need anything else?
Create a website with Squarespace ›
Advantages of Squarespace:
Beautifully designed, minimalist templates
Advanced Style Editor with a vast choice of options
Weaker sides:
Advanced Style Editor with a vast choice of options
Free trial expires after 14 days
No extensions or apps
Only available in two languages
Higher transaction fees for the e-commerce
Weebly: Simplicity and Value for Money
Founded as a Silicon Valley startup by three university students, Weebly has managed to grow into one of the most popular website builders in the world during its 10-year history. Over the years, the tool has changed almost constantly to keep up with the developing standards and trends, both in terms of design and features. One of the primary distinguishing traits of Weebly is its more intense focus on marketing, giving users an all-round solution to their website needs (creating – managing – promoting).
After creating an account by filling three simple fields (quite an onboarding!), Weebly asks you right away whether you need an online store or just a website – this will affect how the builder's functionality is presented, but you can of course always activate the online store features afterwards. Still, this is a rather noteworthy detail since it hints that Weebly puts a significant focus on e-commerce compared with competing tools.
Indeed, their online shop plans start from $8 per month, which can be considered an aggressive pricing policy compared to other site builders: it's twice as low as the cheapest Wix plan with e-commerce, and three (!) times less expensive than the Squarespace offer. For this price, you're getting full online store capability, including specialized templates, inventory tracking, secure checkout, coupons, abandoned cart retargeting, and many more features. The choice of payment methods is also a pleasant surprise – Weebly currently allows you to accept transactions via Square, Stripe, PayPal, and Authorize.net, which is significantly better than e.g. Squarespace.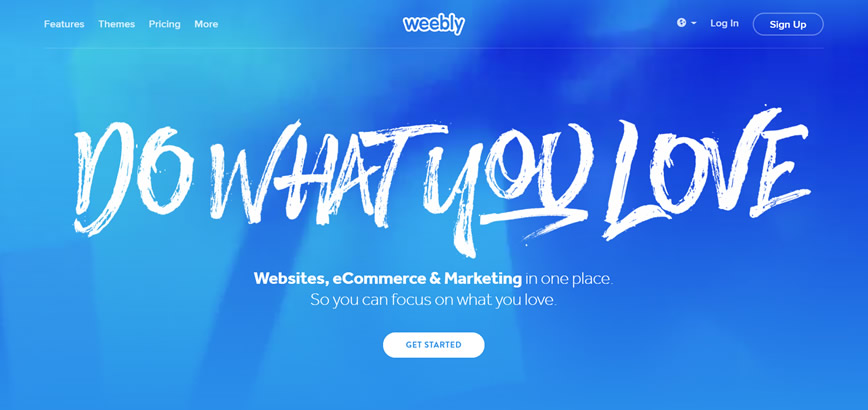 The built-in marketing suite mentioned earlier is another example of Weebly taking a more diversified approach to the site builder experience: not only can you create email campaigns for the email lists captured with your website's forms, you can also segment your audience, manage the acquired leads, and even create Facebook ads right inside the same interface after connecting your Facebook account.
Price-wise, Weebly can be considered one of the most affordable solutions among the market leaders: its cheapest plan that includes a custom domain costs $8 per month (with annual billing), which is more than the comparable Wix plan, until you consider that the former also includes $100 AdWords credit and removes all Weebly branding and ads – and you'll have to upgrade to a $10 per month Wix plan to match those.
In summary, Weebly offers a great toolkit for anyone who values ease of use and doesn't like to overpay (which is, supposedly, most of the people?) and at the same time those who dig the idea of having their website and most of their online marketing on the same convenient platform. The e-commerce solution is also worth considering, not only as a competitor of Wix or Squarespace, but also, more generally, as a worthy competitor even to such specialized suites as Shopify.
Create a free website with Weebly ›
Advantages of Weebly:
Competitive pricing for all categories of users
App market for additional functionality
Wide choice of payment options for online stores
Can change theme after creating the website
The free plan never expires
Integrated marketing capabilities
Weaker sides:
Template styling capabilities are rather basic
Now that we've had a closer look at each of the website builders, it's time to compare them one on one to better make sense of the available choices. Let the best win!

Wix vs Weebly
While being both very powerful toolkits, Weebly and Wix have their individual differentiating points which can help choose among the two.
While Weebly's focus on simplicity ensures a steep learning curve for any user of its drag-and-drop website editor, Wix offers more freedom for design-oriented users though more granular controls for each website element (fonts, colours, etc), while also allowing to start from a blank template and work your way up to a fully fleshed out website all by yourself if you don't feel like using a pre-made template.
Wix also has a slight advantage in terms of the variety of templates and apps it offers, yet Weebly is very close with just marginally less choice in each of these categories. Given the sheer number of available alternatives in each cases (200+ apps and dozens of templates), the differences do not have a significant effect on the user experience or website's capabilities whether you're using Wix or Weebly.
Weebly, on the other hand, can boast a more comprehensive marketing toolkit built right into the platform: apart from emails and leads, at also allows segmenting your audience and creating targeted social media ads.
Both e-commerce solutions are quite potent and integrate beautifully into your website, while third-party apps and marketing tools can help boost sales and recover abandoning customers. It's safe to say that this aspect is a close tie for Wix and Weebly.
In terms of price points, Weebly is slightly more competitive in this pair, since it offers a cheaper ad-free plan and more affordable advanced plans. There's also the $100 Google AdWords credit bonus if you sign up for any of Weebly's paid plans – Wix gives away the same coupon only starting with its second premium plan.
Winner: TIE (more details below)
Weebly vs Squarespace
As one of the more experienced market players, Squarespace has had plenty of time to perfect its design and layout engine, and it shows: the site-building part of the experience is superb, and can be said to surpass that of Weebly, which focuses more on simplicity and affordability.
The latter does win in terms of template variety, though – Weebly users can choose from hundreds of pre-designed layouts, and can switch between the themes after adding content to the website, which is not possible in Squarespace.
Weebly's focus on marketing means more options for promoting your website right from the interface of your site builder, while Squarespace tends to concentrate on design and visuals.
In addition to that, Weebly has a free version with no expiry date, and is priced considerably more affordably for almost any comparable feature set. The price advantage is especially evident for the e-commerce solutions, with Weebly's being three times less expensive than the one from Squarespace.
Winner: WEEBLY
Wix vs Squarespace
If there's one area where Squarespace can be considered almost unbeatable, it's style and design: both the templates and the interface are sleek, minimalist, and well thought-though. It can be ideal for those who are planning to place a heavy emphasis on graphics and imagery, since most templates devote a significant part of their layout to photos. The pitfall here, though, is that your finished website won't look nearly as sleek as the template demos if you don't have access to extremely high-quality photography, or if you aren't used to matching colours and shades.
Wix, on the other hand, wins in terms of template variety (almost twice as many available) as well as the editing capabilities: the sole fact that you can start from a blank canvas in Wix makes it a more flexible tool for a lot of potential users.
Another feature which is offered by Wix and is not currently present in Squarespace is site backups, which usually tends to stay underrated until one experiences a blackout or loses their website for one or another reason.
There's also the App Market in Wix, an integrated extension marketplace allowing users to get free and paid plugins developed both in-house and by third parties. This creates an entire ecosystem around the core website builder, expanding the range of things your Wix-built website can do. While Squarespace does offer several pluggable modules with additional features, it's nowhere near the diversity offered by Wix's App Market.
Price-wise, Wix has the upper hand, both because all of its plans are less expensive than the comparable Squarespace plans, and because its free version, despite containing ads, does not expire after two weeks – there's no time pressure to get everything ready for launch, and you can even stay on the free plan with Wix indefinitely, if you're okay with the ads.
Winner: WIX
Which One Should You Choose?
As we've seen above, each of the website builders has both stronger and weaker sides, and is able to carve out a niche on the market for itself thanks to specific features that appeal to certain user groups. This is therefore also a good starting point for deciding which site builder will best suit your needs: if you're looking for a quick test of your idea and don't care if the website will display ads, Weebly is the recommended solution – it allows you to go online very rapidly and change templates at the click of a button. If you have a very specific design in mind and would like granular control over every visual element of the website, go for Wix. If you'd like to start designing your website from a blank canvas, Wix is again your go-to solution. If you're planning to sell products online, then Weebly might offer some of the best combination of pricing and features.
Share Your Thoughts!
Got hands-on experience with any of the mentioned website builders that you'd like to share? Still have doubts about which one to choose? Want to recommend additions and improvements to this analysis? Don't hesitate to drop us a line in the comments section below: