When people hear "Avast", the first thing that typically comes to mind is "antivirus". True, this cybersecurity company is the creator of the second-largest virus removal software in the world…
– yet in this in-depth review we will focus specifically on their Virtual Private Network: the Avast Secureline VPN.
So, prepare to have all your questions answered! Here are the most important things about Avast VPN we'll cover in our analysis:
Is there anything special

about Avast VPN?

How secure

is Avast VPN?

Can it slow down

your Internet?

Should you choose

Avast Secureline VPN?
At the end of the guide we also provide the best possible deal for Avast Secureline, in case you do decide to give it a try; but right now, let's start with the basics –
What's Unique About Avast VPN?
There are dozens of Virtual Private Network brands out there, so it's not easy to stand out; Avast Secureline seems to have no trouble with that:
7-day free trial allows you to try Avast VPN without leaving your payment details
Free test periods used to be more common among VPNs, but nowadays, with higher competition on the market, almost nobody can afford to offer this perk – Avast is a notable exception:
Try Avast Secureline for free ›
You can download the software by following the link above to the official homepage and clicking on the "Start free trial" button in the right-most box.
Important! Keep in mind that you won't be able to use any discounts if you later purchase a subscription inside the Avast VPN application – we recommend using an activation code to circumvent this limitation and get the best possible deal; check out this section for details.
In addition to letting its users try the software for free, Avast has recently introduced a unique VPN mode that might be interesting to a large proportion of VPN users:
Smart VPN automatically optimizes your Internet speed and removes the need to actively manage your VPN connection.
In this mode Avast Secureline detects the cases when VPN is a necessity, like browsing via a public Wi-Fi or doing online banking, and automatically secures your connection.
It will also choose the fastest servers for you when streaming or torrenting – no manual adjustments required 🙌
Finally, in case your VPN connection drops unexpectedly, Smart VPN mode will automatically pause your Internet and resume once your connection is secure again.
Avast Group, the creator of Avast Secureline VPN, is a large, respectable company with a >30 year history of successful business.
This means high-quality support, guaranteed uninterrupted service, and less hassle with refunds and cancellations.
Here's a test: pick a VPN provider and try finding a photo of its headquarters… In most cases, it's an impossible task – but not for Avast: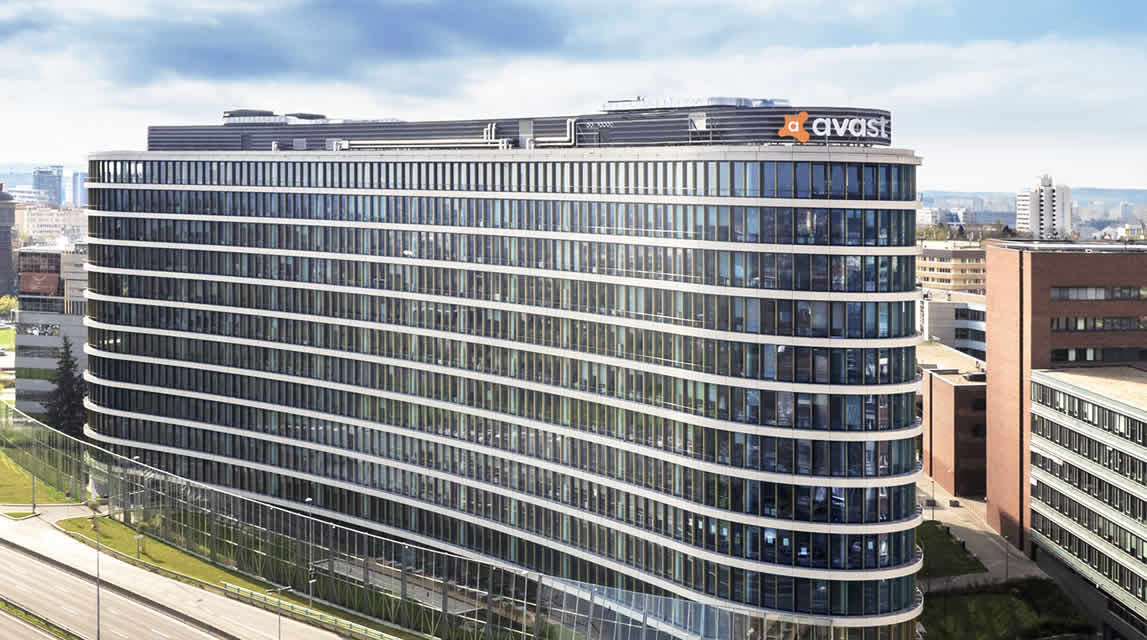 In contrast with most other Virtual Private Networks, which tend to be run by opaque legal entities registered in offshore jurisdictions, Avast is a multinational company which cares about its reputation and therefore needs to offer top-notch service.
Speaking of which:
Security and Privacy
When you have the word "secure" in your name, it is supposed to mean something, right? Let's see how Avast Secureline VPN lives up to this implied promise:
The product is built on OpenVPN and OpenSSL standards; is this good or bad? Mostly depends on who you ask, but proponents of the open source concept will tell you that using publicly auditable protocols ensures that no "home-made" code is being added by the VPN itself to mess with your private data.
Avast uses 256-bit AES encryption to protect your traffic from prying eyes; this is important, but not something out of the ordinary – almost all modern VPNs, as well as banks and other secure applications, use the toughest (256-bit) version of the AES cypher, so moving along:
Secureline offers built-in DNS leak protection, which prevents your internet service provider from watching your incoming and outgoing traffic (yes, they do that all the time). We've manually checked for DNS leaks on Avast servers, and haven't gotten a single negative result – but again, a rather standard security and privacy feature for any serious VPN. So far so good!
What about protecting your data on the server level? If we dig deep into Avast Secureline's privacy policy, we will find a statement of their no-logs principle, which means that no IPs or other traffic data being recorded or stored on their VPN servers.
That last one is arguably the most important part of the list –
– even if Avast VPN receives a governmental request to disclose the data it possesses, there won't be much to disclose, and definitely none of the personally identifiable information that could be traced back to individual VPN users.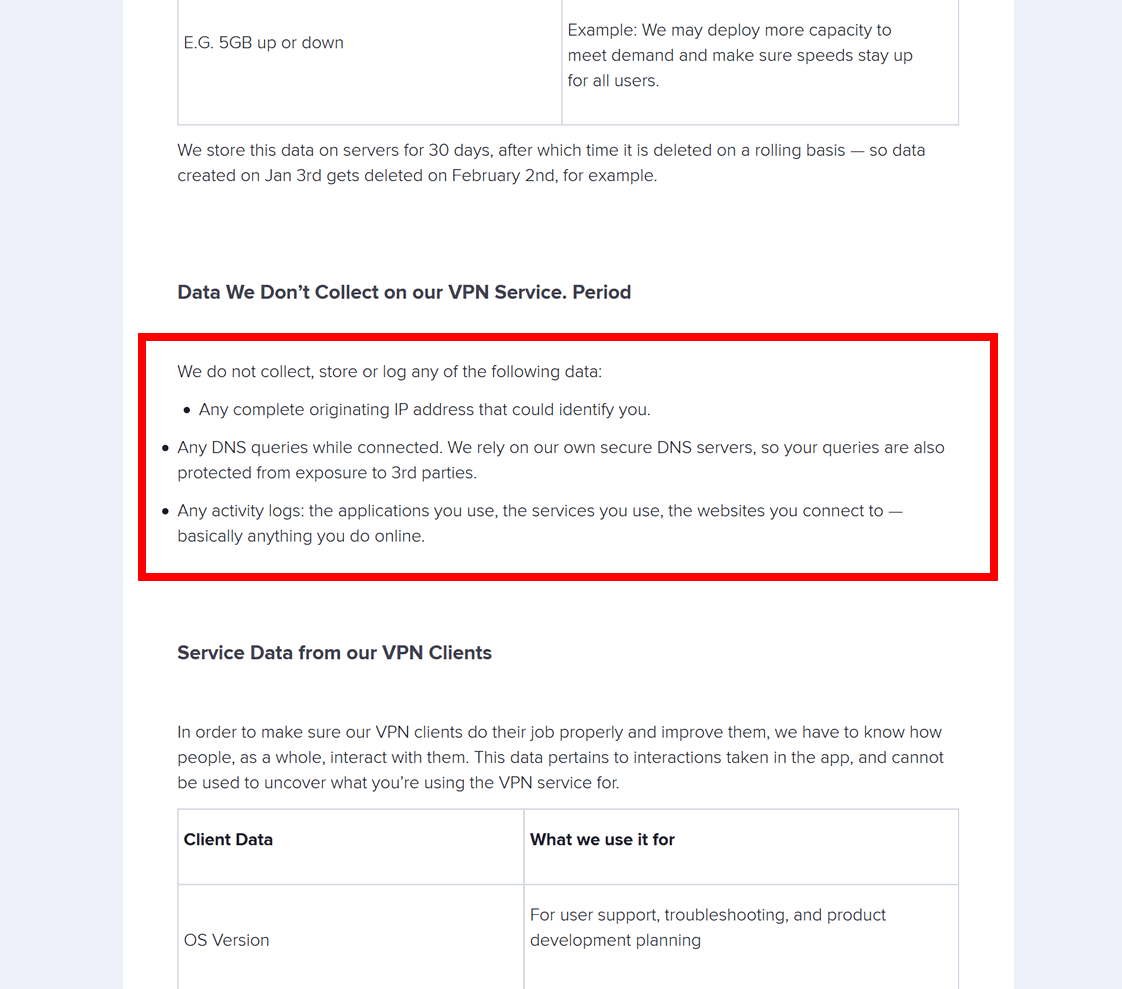 To sum up, Avast ticks all the necessary boxes when it comes to privacy and security ✔️ Next, we will look at two other important aspects for any VPN:
Speed and Unblocking
"You shouldn't notice a good VPN", say the experts – which means that an efficient Virtual Private Network must enable Internet speeds as close to your baseline connection as possible.
(in other words, a VPN obviously cannot make your connection faster than it already is, but it shouldn't slow you down enough to notice)
So, how fast is Avast Secureline? 🐆
In order to collect a representative data sample, we've run multiple tests in each of the available regions, at several times during the day.
We used Speedtest and Fast.com for speed testing, averaging results from 2-3 independent measurements for each location. Here's a summary of our results: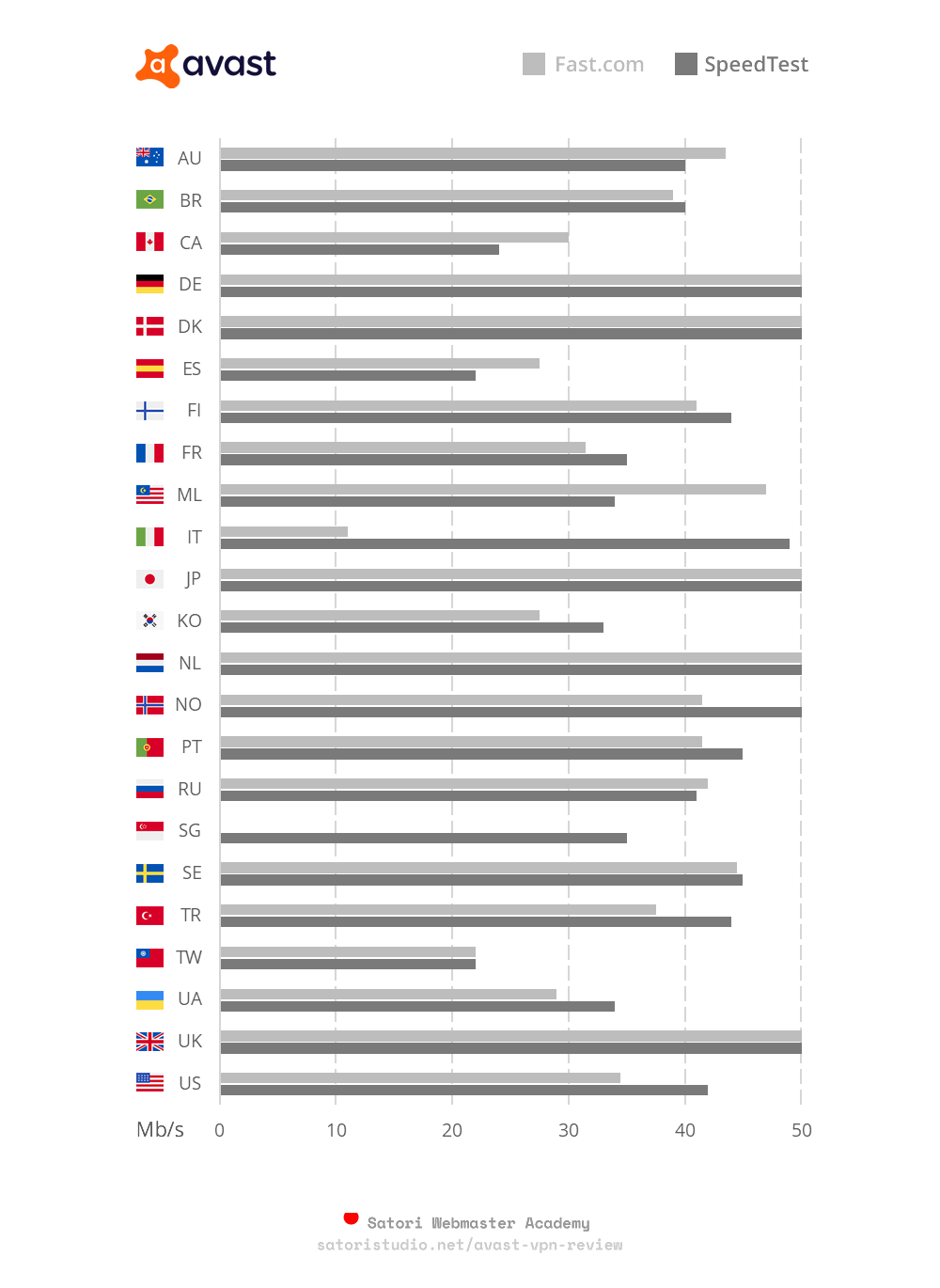 Across all regions, Avast Secureline VPN provides a very decent 35-40 Mb/s average download speed, with the most popular regions displaying results closer to 50 Mb/s.
As is common with VPNs, our tests also indicate that speed may vary depending on time of day; this is one of the main reasons for using the earlier mentioned Smart VPN mode, which automatically connects to the fastest server at the current moment.
Streaming services like Netflix are unblocked in all key regions – including the United States, of course – which is a great result for any VPN.
Speaking of that, there are several specialized servers for streaming as well as torrents (P2P), so if you are a hardcore movie fan or a peer-to-peer enthusiast, use those for the best performance.
Overall, Avast Secureline VPN offers something close to that ideal experience, when you don't notice a VPN is even there – protecting you silently in the background.
The good news?
– You don't have to take our word for it:
Pricing and Free Trial
As we mentioned earlier, Avast Secureline is one of the very few VPNs that offers a free trial of its product.
No need to add a bank card, and you aren't obliged to purchase at the end of the term – a pure, old-school, no-strings-attached free trial!
Use the link below to visit the official Avast website and click on the right-most option to download the software:
Try Avast Secureline for free ›
If you wish to continue using the VPN after the trial expires, you get to choose from three subscription options with different billing cycles –
Avast doesn't use any of those typical psychological tricks 🔮 such as offering a monthly subscription plan which is artificially 5x more expensive than the annual option (to make the latter look cheaper)…
Instead, there are 1, 2, and 3-year plans, and longer subscriptions have better prices. You can use Avast VPN on up to 5 devices with any of the plans.
As promised, here's the best deal we're aware of:
BONUS: 60% Off Avast VPN
Yes, the discounts you'll see on Secureline's default pricing page are already something, but it is possible to get an even better price…
…and no, there's no coupon or promo code involved – simply visit their special offer page and proceed with the purchase from there –
Get 60% Off Avast Secureline ›
After that, you can either use the activation code or simply log into your account to add your subscription to the apps.
Sweet! 🤑
Alright, before we wrap up, let's summarize what we've found out during our investigation of Avast Secureline:
Avast VPN Pros and Cons
This is one of the very few Virtual Private Networks that offers a completely free test period (7 days, no card required)
Smart VPN mode automatically picks the best server and switches your VPN on and off depending on whether you need it at the moment
Every connection uses state-of-the-art encryption (AES-256) and benefits from DNS leak protection
Avast maintains a strict no-logs policy which implies that they are not recording your IP address or internet usage statistics
35-40 Mb/s average download speed means Secureline is unlikely to slow down your Internet connection
Avast Group is one of the largest cybersecurity companies in the world with a history going back to 1988, which implies uninterrupted service as well as easier refunds and cancellations.
While Avast offers 700+ servers in 30+ countries, VPN geeks might find this somewhat underwhelming compared to some other providers
To add to the previous point, the number of specialized servers for streaming and P2P is quite low at the moment
Avast VPN currently doesn't offer specialized apps for routers; Linux lovers will also have to look elsewhere
Should You Use Avast VPN?
Now that we know so much more about Secureline, it's time for the final verdict! As usual, there's no categorical "yes" or "no" answer (did you expect one? 🙄 sorry!)
What we do have are recommendations for specific needs and use cases, based on our in-depth analysis.
Let's start with the negatives; Avast Secureline is probably NOT for you if:
you are a hardcore anonymity enthusiast and you only entrust your data to entities that are registered in offshore territories,
you are a power user who likes to maximize every possible parameter and use VPNs on every possible device, from Linux PCs to Amazon fire.
On the other hand, you should probably give Secureline a try if any of the following is true:
you like simplicity and need a reasonably priced, trustworthy VPN for home use or as a small business,
you prefer products from large, established companies with an international presence and a long track record,
or if you are already using Avast's other products, in which case managing all your security software from one place might be a good productivity decision.
If you're still unsure about whether this is the right VPN for you, keep in mind that there's a risk-free way to find out:
Try Avast VPN, No Card Required ›
Apart from that, you can turn to the collective wisdom and experience by asking a question in the discussion area below!