That's one intriguing title, isn't it.. Well, it's not only for capturing your attention: there are indeed some important facts about 000Webhost (and free hosting in general) that any webmaster needs to keep in mind.
In this review we will dig a bit deeper than just saying that "000Webhost is free, and what price can be better than 0?!" by rephrasing our question as follows:
If 000Webhost is free, and most other hosting providers are not, where is the catch? In other words, what do you have to give up compared to paid hosting services?
In order to find the answer, we will examine 000Webhost's offer as well as its history and business model.
🔍 By the end of this detailed review you will find out whether it is worth using 000Webhost for your new website – and in which situations.
…By the way, as with many other brand names, the Internet has been creative with all kinds of misspellings for 000Webhost – so if you're here as a result of using search queries such as 00Webhost (two zeroes instead of three) or ooowebhost (letter o's instead of zeros) – rest assured you're in the right place!
For those seeking a TL;DR summary of this article: 000Webhost can act as a convenient testing ground for personal and other small-scale web projects, yet its limitations and safety issues make it almost unthinkable for hosting any serious website. For the latter, we recommend using value-for-money hosting providers such as Hostinger:
The more serious alternative to 000Webhost ›
Before we go on to poke mercilessly at the subject of our review, let's first try to understand how hosting works – and see if any hosting can ever be truly for free:
How (Free) Hosting Works
Whenever you visit a website on the Internet or use an app on your mobile device, you are effectively sending a request (for example, your clicks) and getting some response (for example, a new page being loaded).
And you expect the website or app to give you a response regardless of the time of day or season of the year – in other words, we've all grown accustomed to the fact that the Web just works at all times.
This means that in order to be accessible 24/7/365, a website (which is basically just a collection of files) needs to run on a computer that is constantly turned on, and has an uninterrupted Internet connection.
This is a tough task for your typical laptop, so websites use specialized, powerful computers called servers instead.
Servers are not cheap – prices can range anywhere between $500 – $5000 and upwards. Moreover, since they are working non-stop, servers consume a decent amount of electricity, not to mention the fact that they require regular maintenance by qualified specialists: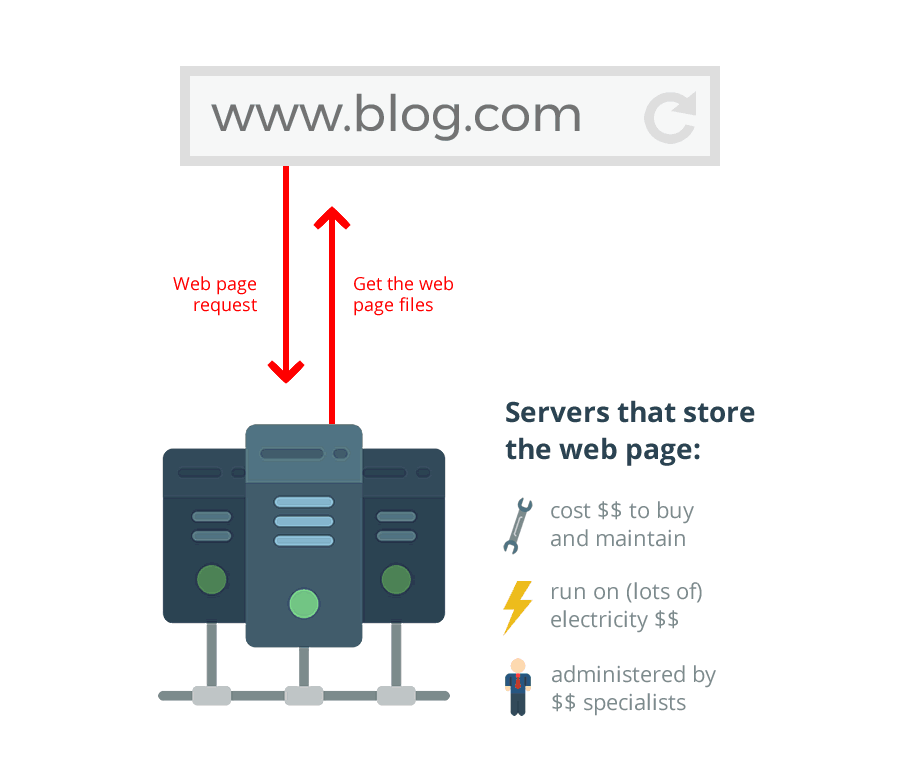 See where this is going?
If a server costs money, and its operation costs money, and its maintenance costs money – anyone offering to host your website for free is either a charity with very deep pockets or has other sources of income to cover its expenses…
There are two popular ways to do that:
Placing ads on the hosted websites: those can be either promotions for the hosting company itself or third-party banners that recoup the costs of running the servers
Offering paid upgrades and extra services, while severely restricting the range of features available to the free users.
If we think about it, the hosting company is actually interested in applying maximum possible limitations in both scenarios 🚧 – in the first case, this reduces their operating expenses – and in the second it serves as a motivator for more people to upgrade.
Which limitations are we talking here?
For starters, there's the monthly bandwidth cap, which means there is a maximum amount of data traffic your website can use. This quickly puts a ceiling on your audience growth as well as the type of content you can use – i.e. you can forget about videos and high-quality images.
Next, there's the lower availability, which means the hosting provider does not guarantee that its servers will work 24/7/365, but more like 23/7/365. In other words, up to 5% of the time your website will be down. In the case of 000Webhost, you can check this by scrolling all the way down to the bottom of their status page and looking at the "last 30 days" figure.
Your website will not be fast; according to our measurements, it will actually be quite slow by any standard, sometimes frustratingly slow. This makes sense because there's no incentive for the hosting provider to allocate too much of a server's resources (memory and computing power) to free accounts.
Finally, free hosting does not allow using any custom address for your website (like website.com) – only a sub-address of a specific domain name fixed by your hosting provider (for example website.000webhostapp.com).
That's exactly what 000Webhost does – its business model relies on everything we've mentioned above.
So, if you're planning to start a free website on 000Webhost, it makes sense to be aware of these limitations.
What about the paid upgrades we mentioned earlier?
This is where things get interesting, because that's what allows 000Webhost to pay for all those expensive web servers. Let's see if their paid plans are worth considering:
Free and Paid Plans at 000Webhost
From their official website you can see that there are actually four hosting plans at 000Webhost, only one of which is completely free to use. The other three offer more features and lift some of the restrictions of the free version: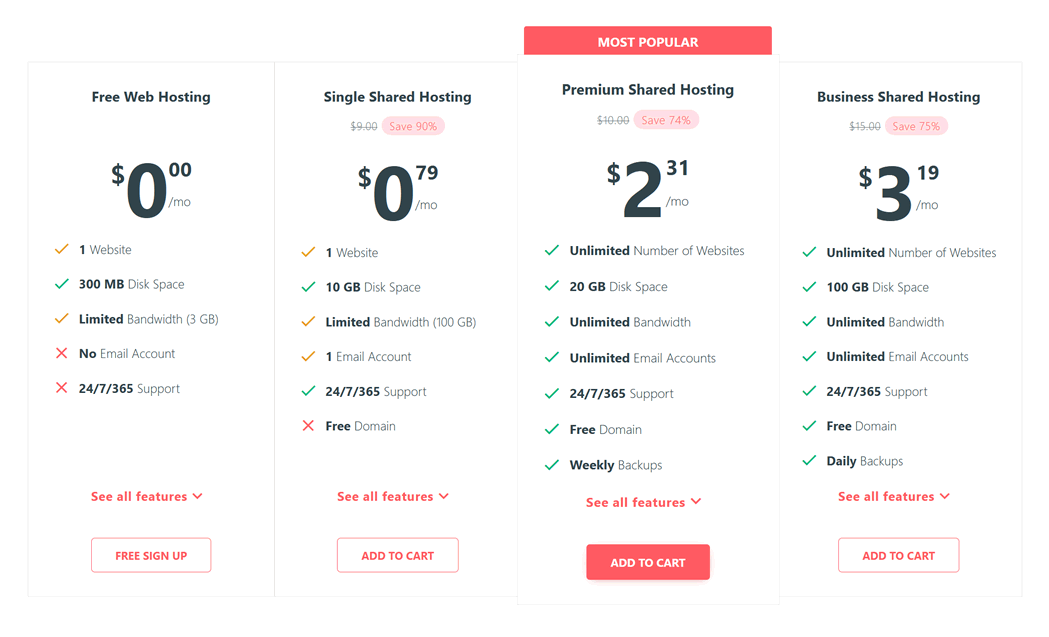 As you can see from the left column, apart from the limitations we pointed out earlier there are several other significant caveats to the Free plan –
You don't get any dedicated support apart from a public forum where confused users of free accounts post questions and other confused users try to answer them.
There are no email accounts, so forget about communicating with your website's visitors or your potential business partners using a professional-looking email address. Gmail if fine, right?
You don't get access to the Auto-Installer which lets you set up a website management system in a couple of clicks. The only piece of software you can install automatically on the free plan is WordPress, but that's usually enough for most beginners.
There's also the absence of automatic backups and the fact that your disk space is limited to 1 gigabyte, but these are not as serious as the ones listed above plus the other four (bandwidth, speed, availability, and domains) we discussed in the previous chapter.
The paid hosting plans lift some or all of these limitations, while also introducing a 30-day money back guarantee. The Single plan offers more server resources, a personal email account, live support, as well as a 99.9% uptime guarantee, so as to prevent situations like these from affecting your website: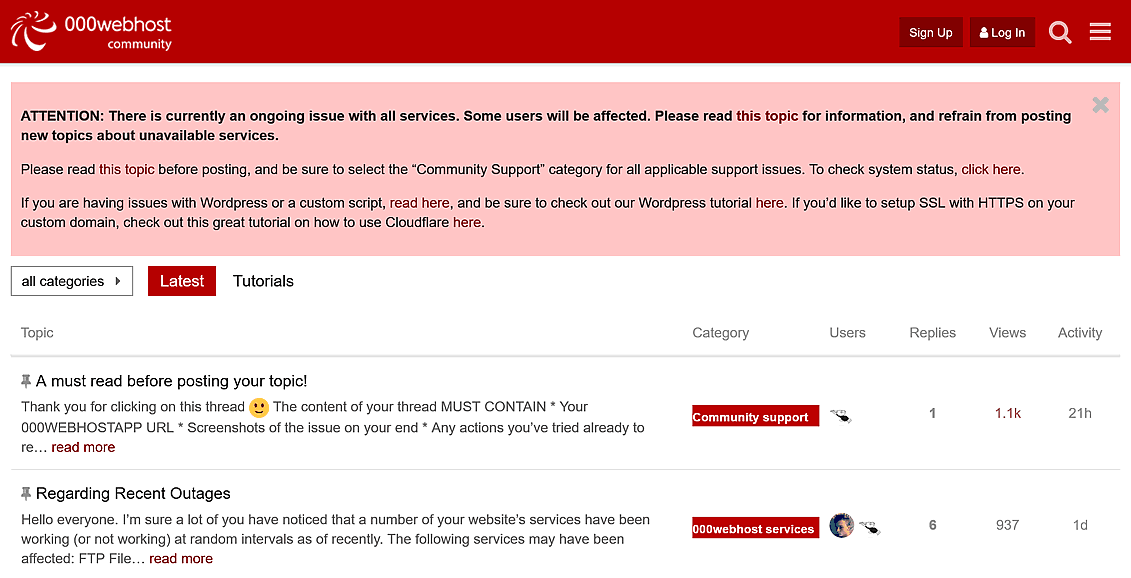 On the Premium plan, even more resources are allocated to your account, making your website load faster. Plus, you can register your own custom domain name for free – so instead of website.000webhostapp.com your visitors will be able to type website.com into the browser's address bar and visit your website.
There's one important thing to know about 000Webhost's paid plans: they are actually provided by another entity. Hostinger, a professional hosting provider that belongs to the same business group, is where you get an account once you upgrade to a paid plan at 000Webhost. Why is it important to known this? Because of –
The 2015 Security Breach
Personal records of nearly 13.5 million 000Webhost clients have been exposed in March 2015, as hackers gained access to the hosting provider's databases via a code vulnerability. Names, account details, IP addresses, as well as passwords have been compromised, and became available via black-market forums.
There's a nifty little web resource called "Have I Been Pwned?" which collects data about security breaches around the web. You can input your own email into the box and check if any online service you're using it for has ever been compromised.
Ironically, "Have I Been Pwned?" showed me that my primary personal email address has actually been exposed in the 000Webhost breach, along with millions other website owners: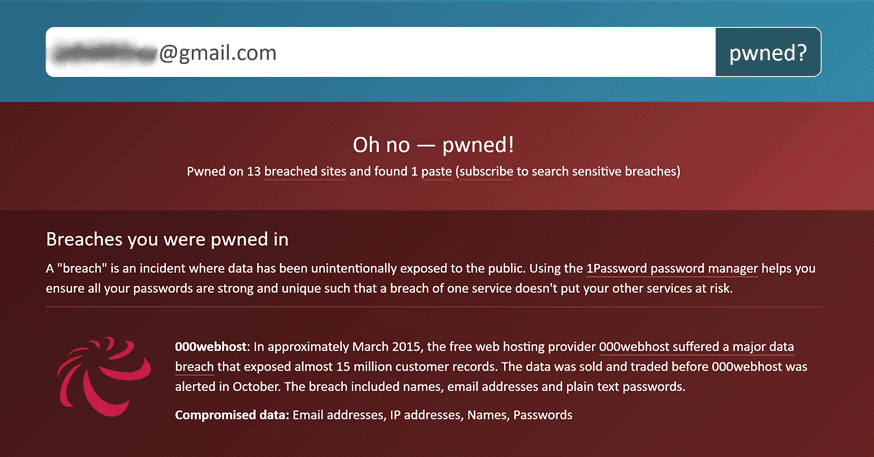 Further research and analysis by security specialists after the event have revealed multiple instances of potentially unsafe practices by 000Webhost, including:
Using a non-encrypted connection for the client login page, which meant anyone with sufficient skills could intercept vital user data.
Running its support forums on an old version of vBulletin software (3.8.2), which was 6 years out of date by 2015! The stable version at that time was 5.1.9.
Not using email validation, which meant that anyone could register an account with any email, even one that does not belong to them.
Of course, 000Webhost apologized and took measures. In fact, it has fixed all of the above issues quite quickly, so we could argue that 000Webhost is actually much safer now than they were several years ago, specifically because of that breach.
However, it's worth keeping in mind that there's still not much motivation for a free hosting provider to be as secure as possible – after all, if you're getting something for free, you can't really complain if it doesn't work or does something bad. To put it bluntly, no-one owes you anything if you haven't paid anything :)
Does it also automatically imply that paid hosting providers are more secure?
Usually yes: by the same logic as above, if you take someone's money for a service, you need to ensure sufficient quality – otherwise your existing clients will leave, and your deteriorating reputation won't let you get new ones 🤷
So, there's no "law of nature" that prevents free hosting providers from offering secure, high-quality services, but there's also rational economic reasoning that strongly motivates them not to do that. In this uncertain situation, the only sure way of finding out whether a free host is any good is to test yourself.
Which we did here at Satori Webmaster Academy.
Quite extensively, in fact.
In the next part of this guide we will tell you about our personal impressions from using 000Webhost; this will provide a foundation for the final verdict: whether or not you should choose 000Webhost for your online project.
000Webhost: Our Impressions
In order to get the fullest picture of 000Webhost's client offer, we've registered an account with the username "satoristudio", which means the address the system has allocated for our test website is satoristudio.000webhostapp.com – unfortunately the website itself isn't available anymore, since 000Webhost took it down last year, for unknown reasons.
The first thing that must be said about 000Webhost is that it's very easy to use. The entire process of creating an account and installing WordPress took us just a couple of clicks and 2 minutes at most. It also felt so much smoother than a similar procedure in, say, GoDaddy.
You do get a lot of banners and messages prompting to upgrade to a more powerful hosting plan, but so far nothing is really suggesting that you should be doing it (apart from the fact that your site's web address looks quite ugly).
The speed of a 000Webhost website is far from awesome: for a fresh WordPress install with our lightweight Bento theme, the speed test showed a load time of over 6 seconds, which is twice a high as Google's recommended value – but hey, don't forget you're getting this for free!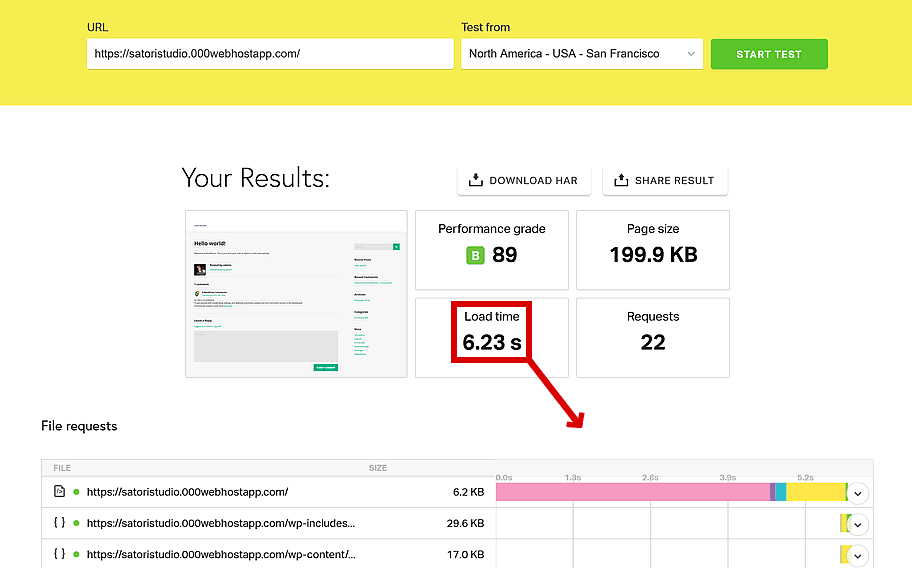 Another reminder of that fact is a 000Webhost ad in the bottom part of your website. Not only does it overlay a part of your footer – it also sometimes fails to load the banner image, thus displaying a rather dingy-looking text link accompanied by a "no image can be loaded" placeholder: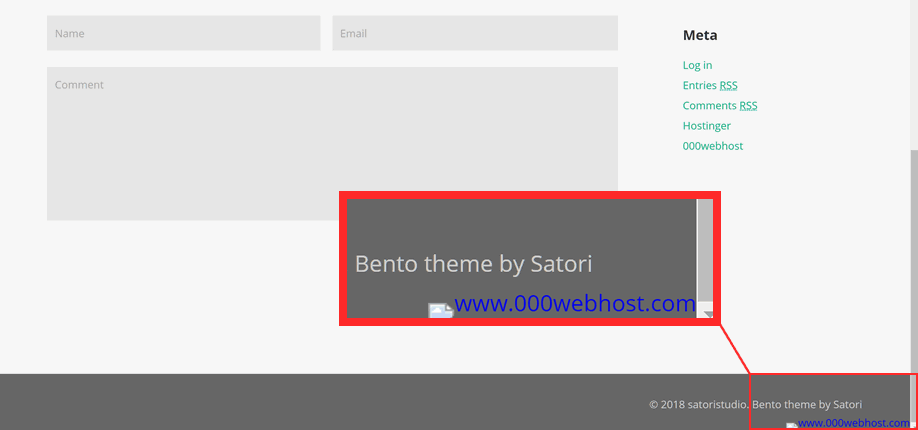 Where you really start feeling you're on a free hosting, though, is the web traffic restriction. Each account has a limit of 500 requests per minute, which shouldn't be confused with visitors per minute: a request is just a single interaction (like accessing a file) in the process of loading a web page, so a single page typically needs between 30 and 100 requests.
This means that when a visitor comes to your website and looks at three pages, around 150 requests will be made – so the limit we mentioned above is really only 5-10 page views per minute.
We were able to overload the requests-per-minute restriction quite easily by just opening the website on several devices at the same time. Once you approach and surpass the "danger zone", the website starts loading slower and slower, to the point when it becomes too annoying to continue using.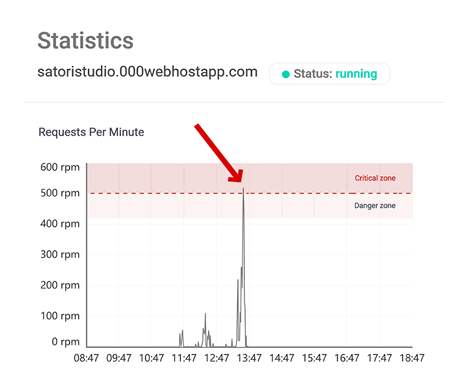 While we're on the topic of limitations, there is one more parameter that should be noted here: the maximum allowed number of inodes. This roughly corresponds to the number of files and directories on a disk.
On 000Webhost, each new WordPress plugin you install and each new image you upload will count towards your inode limit.
This might sound like gibberish, but it's worth considering the fact that even WordPress core (i.e. a fresh installation with no plugins at all) takes up around 20% of your allotted inodes at 000Webhost.
You will need to install more than one WP plugin to exhaust the 20,000 inode limit, but it's quite doable; for the sake of comparison, consider that even the cheapest hosting plans at paid providers allow up to 250,000 inodes.
Finally, there's the matter of your website switching off from time to time: 000Webhost is open about the fact that their services do not have the typical uptime figures you would expect from a hosting provider (i.e. 99.9% or higher).
According to 000Webhost's service status page, the average 30-day statistic is around 99%: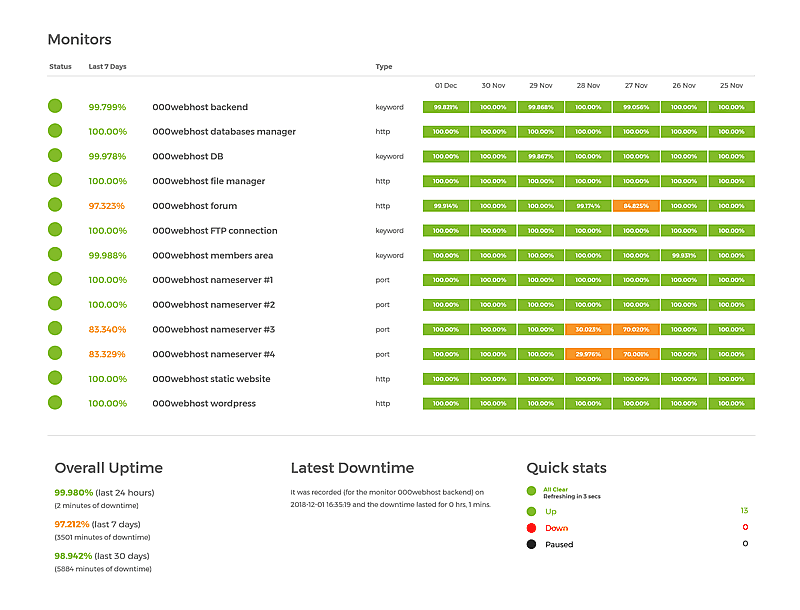 While a difference of 0.9% might not sound like much, on a monthly basis this means an increase in offline time from 40 minutes – to 7 hours!
This is not a big deal if you're still just working on your website (part of those outages will happen at night anyway), but repeated breakdowns are not something that makes your visitors like (or trust) your website.
If you do experience a glitch, there's no dedicated customer support available at 000Webhost – which is understandable, because support staff requires salaries, something that a free product can't really cover.
Still, there is a forum where users can ask questions and get help, mostly from other 000Webhost users. Reply times can vary, but on average don't expect your problem to be resolved within less than a week ⏳
The good news is that all previous forum threads are freely available to the public, so if you need a solution quicker and you suspect your problem might be a standard one, you might want to browse older discussions.
Pros and Cons of 000Webhost
Now that we've looked at 000Webhost from all angles, let's summarize its strong points and weaknesses in order to arrive at the final assessment:
It's free to use for anyone; you can even create more than one account if you have several email addresses (just don't be too surprised if some years later you start getting more spam in those mailboxes).
The sign-up process is really easy and fast, you can set up your first WordPress website in just a couple of minutes thanks to the built-in automatic installer.
There is a very decent hosting control panel, and although it's hardly a professional one, most of the things you need are there, including file and database managers, as well as other settings such as redirects, email boxes, and basic security features.
Page load speed is not something to be proud of, but in fact it's quite alright, especially for a hosting which does not cost money. As long as you don't have more than 50-100 visitors per day, you shouldn't worry about overloading your traffic capacity.
Oh, and did we mention it's free?!
Your only option in terms of your website's address is a sub-domain which looks like https://site.000webhostapp.com – hardly trustworthy or easy to memorise for your visitors. You can of course buy a domain elsewhere and attach it to your 000Webhost account, but that would get you the "worst of both worlds": neither a completely free website nor a free domain. Check the next section for a more sensible solution instead ;)
There will be 000Webhost ads at the bottom of your website, which will occasionally malfunction and display a "broken image" icon.
The ceiling of 500 requests per minute effectively limits your website's simultaneous audience to just 2-3 people. When it is exceeded the page load speed will deteriorate, and the website might even become inaccessible for a while.
According to the average uptime figures, your website is expected to be offline for several hours every week; if you're lucky some of them will be at night.
It's quite easy to exhaust the maximum allowed number of files in your storage, even just with a WordPress website and a couple of popular WP plugins such as Jetpack.
The only customer support option is a forum where you can post your question and wait for other 000Webhost users to help you. Email, phone, or live chat support is not available on the free plan.
Our Verdict: Is 000Webhost Worth Using?
You're probably noticed that the number of pluses and minuses is roughly the same in the previous section. Which means there's no straightforward answer to our question, is that what we're trying to tell you?
Well, no, actually we think there clearly is a case when using 000Webhost might be a good idea – and that's when you are just starting to work on your first website. It's hard to deny that paying a large sum of money upfront, to just test your idea, doesn't make much sense.
So instead of buying a paid hosting you might just as well start with a free plan at 000Webhost, take your time to build your website and show it to your first visitors, see how it goes:
When you've finally validated your idea and gotten serious about your online project, though – upgrade to a paid plan and get yourself a unique, professional-looking domain name. Your visitors won't take you seriously with an address like something.000webhostapp.com and ads displaying in your website's footer.
The good news is, high-quality web hosting isn't necessarily expensive. If you choose the most basic upgrade at 000Webhost (which corresponds to the Single plan at Hostinger, its paid hosting partner), you will get all the benefits of a professional hosting provider with none of the disadvantages of the free 000Webhost plan.
You can even choose to get billed every three months instead of annually, which will make your upfront costs quite negligible.
If you ever decide to upgrade or are interested in trying Hostinger right away, be sure to check out our guide on getting an additional 15% discount on its (already inexpensive) hosting packages:
Get a 15% Discount at Hostinger
Have you already tried 000Webhost? Or maybe you're still having a hard time deciding whether you should choose it for your web idea? You can talk this over with other 000Webhost users and ask for advice in the comments section below – let's discuss!
Affiliate disclosure: we think it is only fair to let our visitors know that some of the links we use on this page (and throughout our website) are affiliate links, which means we receive a small commission for purchases made through those links. This does not affect the price you pay as a client, so if you found this guide useful, please support our project by using our partner links. Thank you!