Windscribe is one of the few Virtual Private Networks that has a free version – not a time-limited free trial, not a money-back guarantee –
…yes, "free", as in "costing zero money", forever!
So, what's the reason you're even reading this at all instead of enjoying the hell out of Windscribe? Well, there's more than one candidate:
Can I trust

the free version of Windscribe?

Are data limits enough

for everyday internet use?

Does it make sense

to get a paid subscription?
Tough questions! In this detailed guide, we will find the answer to each one, after reviewing all available factual information as well as our personal experience with Windscribe.
Before we dive in, here's a quick verdict for those who prefer reading the summary first; use the dashed links to scroll to the detailed chapters:
Quick Verdict
Windscribe offers one of the best free VPN plans on the market, with up to 10 GB/month of bandwidth, unlimited devices, decent speed, and several available servers.
But when it comes to something free, there's always a catch…
Given today's internet data consumption trends, Windscribe is not so much a free VPN, but rather an ordinary paid VPN with a generous free trial.
And when you consider the truly important aspects like features, privacy, and support – it's a pretty unspectacular VPN. Moreover,
Once you (inevitably) hit the data limits and consider Windscribe Pro, you'll discover that it's far from being cheap when compared to most other major VPNs.
So if you're planning to use a VPN on a regular basis and want real value for money, check out our evidence-based guide on choosing the best Virtual Private Network:
Top-3 best value for money VPNs ›
Alright, how did we come to these conclusions, you might ask? Let's start by looking at what makes Windscribe stand out from the VPN crowd:
Key Features
When talking about Windscribe, we cannot skip the free version, of course. In fact, it's easily the most distinguishing feature of this VPN:
You can start using Windscribe without creating an account or leaving your payment details: 2 gigabytes of traffic per month are completely free.
The simplest way to try Windscribe is to install one of its browser extensions – a couple of clicks and you're behind an active VPN!
This might well be the easiest welcome process for any VPN we've ever used 🚀
The free data limit can be increased to 10 GB/month if you create an account and verify your email – which is significantly higher than most other free VPNs.
(with the exception of the unlimited free plan at ProtonVPN, probably).
It's a great way of testing Windscribe without worrying about time limitations, but the monthly data allowance runs out pretty quickly with normal internet use.
…speaking of browsing:
According to their privacy policy, Windscribe doesn't keep any logs of your browsing activity – neither your IP, nor the websites being visited.
Can this statement be trusted? For a deeper discussion of Windscribe's privacy and security options, check out this part of our review.
Finally, there's this guy:
ROBERT is a customizable tool that helps you block unwanted websites, remove ads, prevent infections – and hence browse the internet safer and faster.
It's quite simple to use: there are several pre-made blocklists you can turn on and off for different types of potentially harmful online content –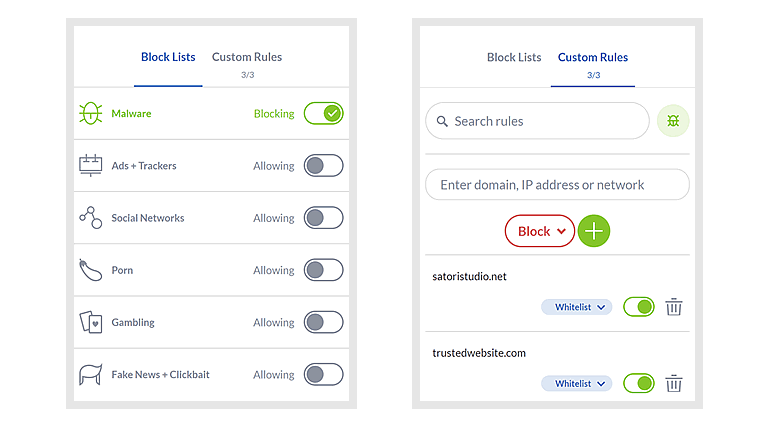 It also gives you the option to create custom access rules to block/unblock specific sites or IP addresses.
Note that ROBERT doesn't work in browser extensions, so you'll need to download a Windows or Mac package to use it on your computer.
Since we're already on the topic of privacy and security, let's take a closer look:
Privacy and Security
The first thing you need to check about a VPN is whether they keep any logs of your online activity. That's the entire point, after all! As we've already mentioned earlier,
Windscribe does not keep records of your online activity, including the sites you visit and the services you use.
This means that even if the authorities do make requests for user information (and they do, on a regular basis), there's not much Windscribe can provide – they simply don't have any:
However, there's one thing about Windscribe that makes this VPN somewhat less attractive for privacy-conscious users –
It's based in Canada.
…wait, why are we saying this like it's something bad?
True, Canada isn't exactly a totalitarian state that's bent on recording everything about everyone – but it's also far from being the most privacy-friendly jurisdiction on the planet.
To add to that, Canada is an active member of the so-called Fourteen Eyes Alliance 👁️‍🗨️ (a creepy name, isn't it?)
The Alliance also includes the US, UK, Australia, Germany, France, and most other Western European countries; its purpose is to share surveillance information between its members, which includes online data.
…and yes, there are 14 members, so each member country is like a one-eyed cyclops or something? But we digress!
In any case, while there's nothing bad per se about using a VPN that's based out of the country of maple syrup, there are definitely much more suitable jurisdictions out there.
Customer Support
We had very low expectations about Windscribe's client support – after all, most freemium VPNs use this as an additional tool to nudge their users towards buying the paid version.
In this case, we weren't disappointed (which almost counts as a positive surprise):
If you prefer self-help, there's a comprehensive library of setup guides for all conceivable devices, as well as a knowledge base
The semi-intelligent option is to talk to Garry, the AI assistant which can guide you to a likely answer to your question faster (well, not by a lot, but it's sometimes fun)
As for talking to a person, you can ask a question on Reddit or submit a ticket on Windscribe's website here.
We've tested the latter method, and got a reply by email within 8 hours – not bad considering we're on a free plan 👍
However, given that most large VPNs offer a live chat option, which lets you resolve your issue in real time – Windscribe's support can't be characterized as anything beyond "okay".
Does the situation change when you're on the Pro plan?
Windscribe Pricing
Windscribe offers 5 different usage options, making it one of the most flexible VPNs on the market. Let's see which of those makes the most sense (if any):
We've already mentioned the fact that you can use 2 gigabytes per month at Windscribe without even creating an account,
Next, there's the Free plan: if you add your email and create an account your limit will be increased to 10GB/month,
The premium Pro plan (which is of course what pays for all the free users) comes with either monthly or yearly billing cycle; there's no difference in terms of features, just the price;
Finally, you can create your own plan by choosing one or more server locations (each adds 10GB/month to your data limit), with an option to add unlimited data for an extra $1/month.
The only significant differences between the free and the paid Windscribe options are the monthly data limits 🚧 and the number of available locations 🌎
In addition, ROBERT is available to free users as well, but they only get two block lists and three access rules. There are no limits for the paid users.
Here's the same information in a more digestible table format:
| Feature | No account | Free account | Pro monthly | Pro yearly |
| --- | --- | --- | --- | --- |
| Data limit | 2GB/month | 10GB/month | Unlimited | Unlimited |
| Locations | 10 | 10 | 63 | 63 |
| ROBERT | Basic | Basic | Full | Full |
| Monthly price | $0.00 | $0.00 | $9.00 | $4.08 |
$4 per month sounds like a really good deal (<50% below the monthly plan!), but that's actually not that cheap. In fact, if you take a look at almost any large VPN on the market, you can find 2- or 3- year plans that make Windscribe seem expensive: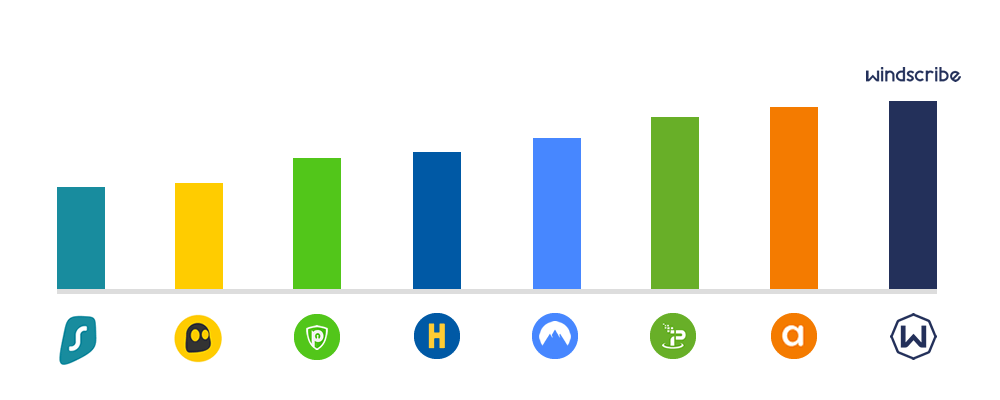 On top of that, most companies from the chart above (e.g. Surfshark or NordVPN) offer 10x more servers, way better speeds, and live support!
Conclusion?
It looks like Windscribe Pro doesn't really make much sense if you've already decided to get serious about privacy and security – there are tons of better options out there.
– "Well, I'll just stay on the free plan forever, what's the big deal?"
Hmm, this does sound better than spending any money at all… But let's do some calculations to put things into perspective:
Is 10GB/Month Enough?
Well, this question isn't really helpful if we're trying to reach an objective conclusion. All we can do is answer it with another question:
…enough for what exactly?
True, everyone has their own internet habits – so the only meaningful way we can approach this is to look at trends and average numbers:
By far the highest rate of data consumption is for video streaming like YouTube and Netflix: at least 3GB/hour for a decent picture quality.
Next, there are things like music streaming (~150Mb/hour) and torrents (anywhere from 500Mb to >10GB per movie).
Finally, there's all the rest, including online games, video calls, file storage – as well as ordinary browsing. It's hard to come up with a single number here, but depending on the type of activity it can be anywhere from 50Mb/hour to 500Mb/hour.
According to Decision Data, an average US household consumes ~350GB/month of bandwidth – and this figure just keeps growing every year.
This might differ from country to country, but even if we take half of that number, we run out of Windscribe data pretty quickly: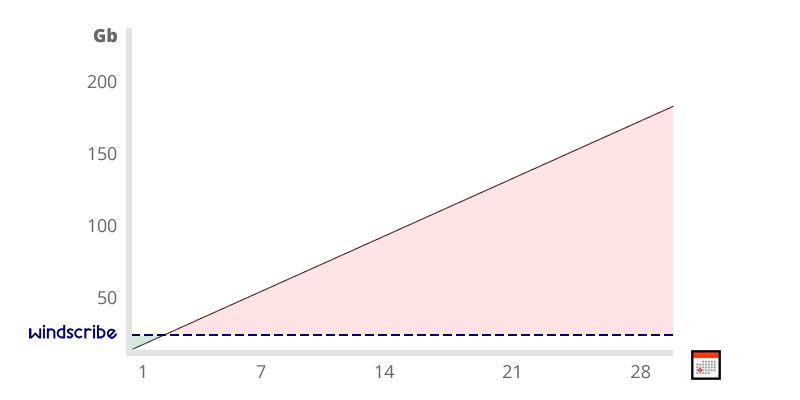 Remember what we said earlier about Windscribe being a paid VPN with a generous free trial? This is why.
It's time to sum up what we've learned:
Should You Use Windscribe?
The best thing about Windscribe is its forever-free plan – so if you only need a VPN a couple times per month (e.g. watching several videos or downloading 2-3 torrents) – go for it!
Other than that, it's hardly value for money – you can easily get a better VPN for a much lower price.
So, if you're seriously planning on using a VPN to protect your entire home network plus mobile devices, it's worth looking elsewhere:
And of course, if you have more questions about Windscribe or would like to share your experience with this VPN, join the discussion below!