Akin to the world-famous sportswear brand, Just Host seems to be telling you with its very brand name: "just do it, host your website with us".
Should you listen?
In this in-depth analysis, we will go beyond a superficial listing of JustHost's features: our aim here is to find out whether Just Host is worth your time and money.
TL;DR – it isn't: behind the façade of simplicity hides a plethora of dark patterns designed to extract as much money from you as possible. For those seeking real value hosts, we recommend Warpgate.
While we dig deeper into this topic, we will also seek out answers to the most pressing questions about this hosting provider:
Why is it so hard

to find out who owns JustHost?

How much do their products

really cost?

Any caveats and tricks

to make you pay more?

Should you use JustHost

or better stay away?
Where do we start? Well, in our analyses we usually begin by looking into the company's provenance to better understand its current state and future prospects…
…but in the case of Just Host, this seemingly simple task turned out to be a rather peculiar challenge:
The Curious Origins of JustHost
Any corporate website typically includes an "About us" page which details its story and current standing.
We dare you to find any such section on JustHost's official site.
It's not an easy task – mainly because that section simply doesn't exist. In fact, the only mention of any legal entity behind Just Host is found deep in the Help section of their website: in a couple of places inside the Privacy Policy and Terms & Conditions.
That legal entity is called Endurance Group – who might be familiar to you from our other reviews, e.g. PureHost.
Endurance specializes in web-based services, primarily hosting and domains. At the moment the group owns more than 80 brands (!) through its international corporate structure.
Most of these brands are very similar-looking hosting providers you've probably never heard of, but there are also some big names, like BlueHost and HostGator (yes, they belong to the same legal entity).
Curiously, though, while BlueHost and HostGator are mentioned prominently on Endurance's official website, you will find no mention of Just Host.
The only way to see that Endurance and Just Host are connected is to employ some advanced Google search patterns, like looking for full-phrase match within a specific website:
"just host" site:endurance.com and
"justhost" site:endurance.com
If you do that, you'll see just a couple results: a link to the Privacy Policy page we've already seen on JustHost's website, as well as several annual reports in MS Excel format.
At this point a (perfectly) reasonable question that might form in your mind is something like this:
…is Endurance somehow embarrassed of JustHost?
To understand what's going on, we need to look closer at Endurance itself. You see, it is not just a collection of spontaneously developed hosting brands: it specializes in buying up hosting providers.
How would that create any value? Simple –
you acquire medium-sized hosting companies and preserve their brands while moving the underlying infrastructure to larger server farms in less costly countries such as India. Support and tech teams can also be outsourced to regions with cheaper labour, naturally.
Voila! You get a hosting asset that keeps seeing some demand from the users who still recognize its brand, while cutting the costs of hardware and staff. Good business!
Well, it depends. According to the Group's official SEC filings, it hasn't seen a single profitable year since 2010, apart from a negligible nominal profit in 2018 resulting solely from negative taxes.
Wait, so Endurance is a publicly traded company? Shouldn't a company's stock be reflecting its financial performance? Oh yes, it should: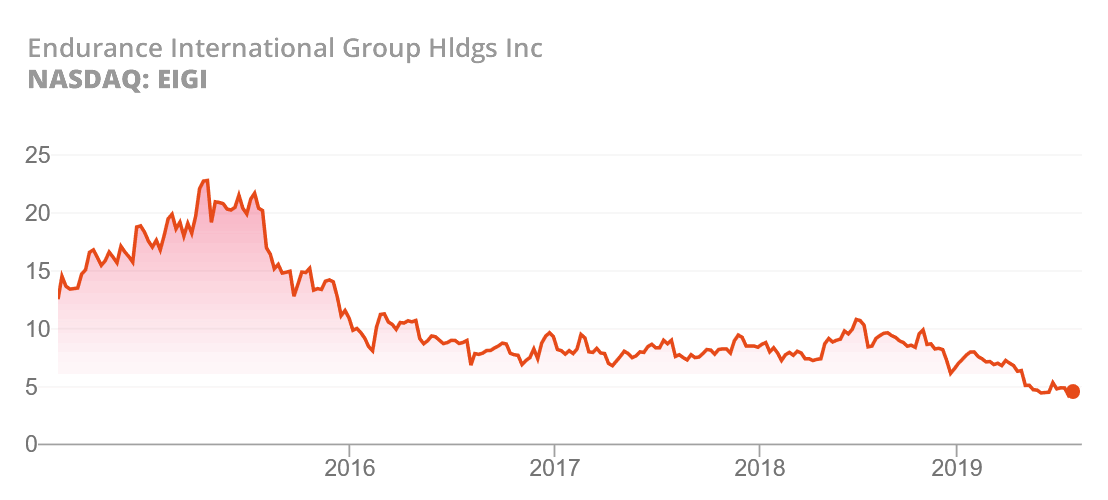 Combining everything we've just learned, the situation with JustHost's seeming reluctance to display its origins and corporate identity becomes clearer:
Just Host is just another random brand in Endurance Group's vast (but still unprofitable) portfolio. The Group isn't really interested in developing Just Host as a separate entity, it merely wants to capitalize on its existing users while cutting costs as much as possible.
Oh, yes, and the entire "buy-and-exploit" scheme allows Endurance to keep paying millions of dollars in salaries and stock bonuses to its top management.
Well, this was fun…
Now that we understand how JustHost's parent company works, let's set that aside for a time and focus on what it actually has to offer to its clients:
JustHost's Services and Support
For a brand with the word "just" in its name, the product offer actually looks quite complex if you start digging into it.
From the home page of JustHost one might get an impression that they offer a single, "all-inclusive" hosting plan: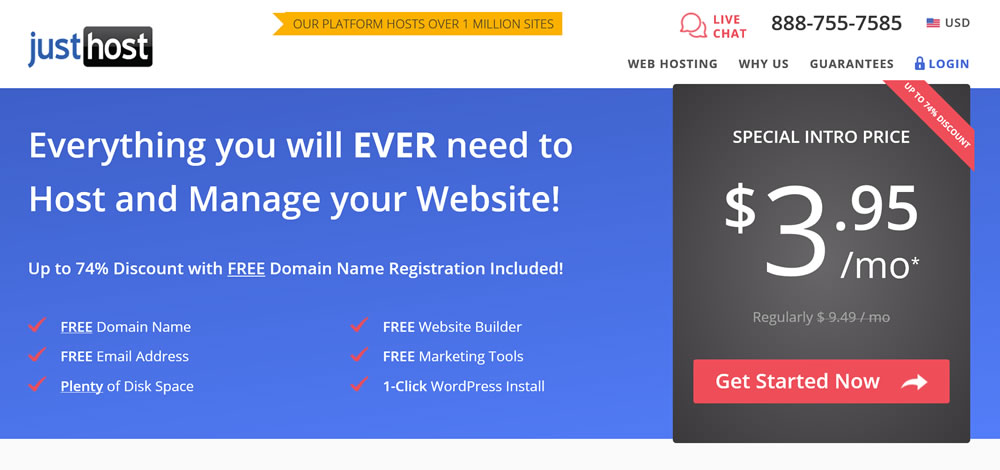 But that's far from all.
There are 3 types of hosting you can choose from: standard shared hosting, VPS hosting, and dedicated hosting (the last two can be located only via the website's footer).
Depending on the amount of computing resources and other features, you can choose between 4 different plans for Shared and VPS hosting; dedicated servers come in 3 varieties.
Each of the 11 plans can be purchased in 4-6 different billing cycles, from payments every 1 month to every 3 years.
The good news is – we can disregard the VPS and dedicated hosting for now, which leaves us with the shared hosting.
Why so?
Firstly, it doesn't look like Just Host is too eager to show us its more advanced options: the only place on its official front page where you can see mentions of VPS and dedicated is in the footer at the very bottom of the page, next to the boring stuff like Terms & Conditions.
Secondly, even if you do manage to find the pages describing VPS and dedicated hosting services, you will likely find them quite… similar. To the point where they look like a single template with just minor differences in content.
Even if those hints are not sufficient to persuade you that everything else outside of shared hosting is by far not the focus of Just Host, here's one more consideration:
If you're not quite sure what VPS and dedicated means, there's an overwhelming probability that you don't need them.
The reverse also holds: professional developers in search for advanced features should not even consider JustHost; there are plenty of specialized providers out there, like Digital Ocean, which do not treat them as an afterthought.
Alright, so we're down to shared hosting, with its 4 plans: Basic, Plus, Choice Plus, and Pro. The main differentiation points are:
Number of websites you can create with your plan, ranging from 1 on Basic to unlimited on Choice Plus and Pro.
Available resources such as disk space; even the cheapest Basic offers 50 Gb, which is more than enough for a small/medium website.
Included extras such as backups or privacy, which you would have to purchase separately for the less expensive plans. The extras deserve a separate mention, so we'll get back to them when we discuss the dark patterns that nudge you to pay more.
Marketing offers such as Google AdWords credit. Note that you can get those by yourself, directly from Google.
Dedicated IP address, which is basically the only discernible difference of the much more expensive Pro plan.
As you might have noticed, there are asterisks next to the prices of Just Host's packages. This typically means there's some sort of special condition or, in simpler terms, a catch.
Since we've dealt with Endurance-owned hosting providers in the past, our first reaction was to ask the support for real prices. Here's how it went down: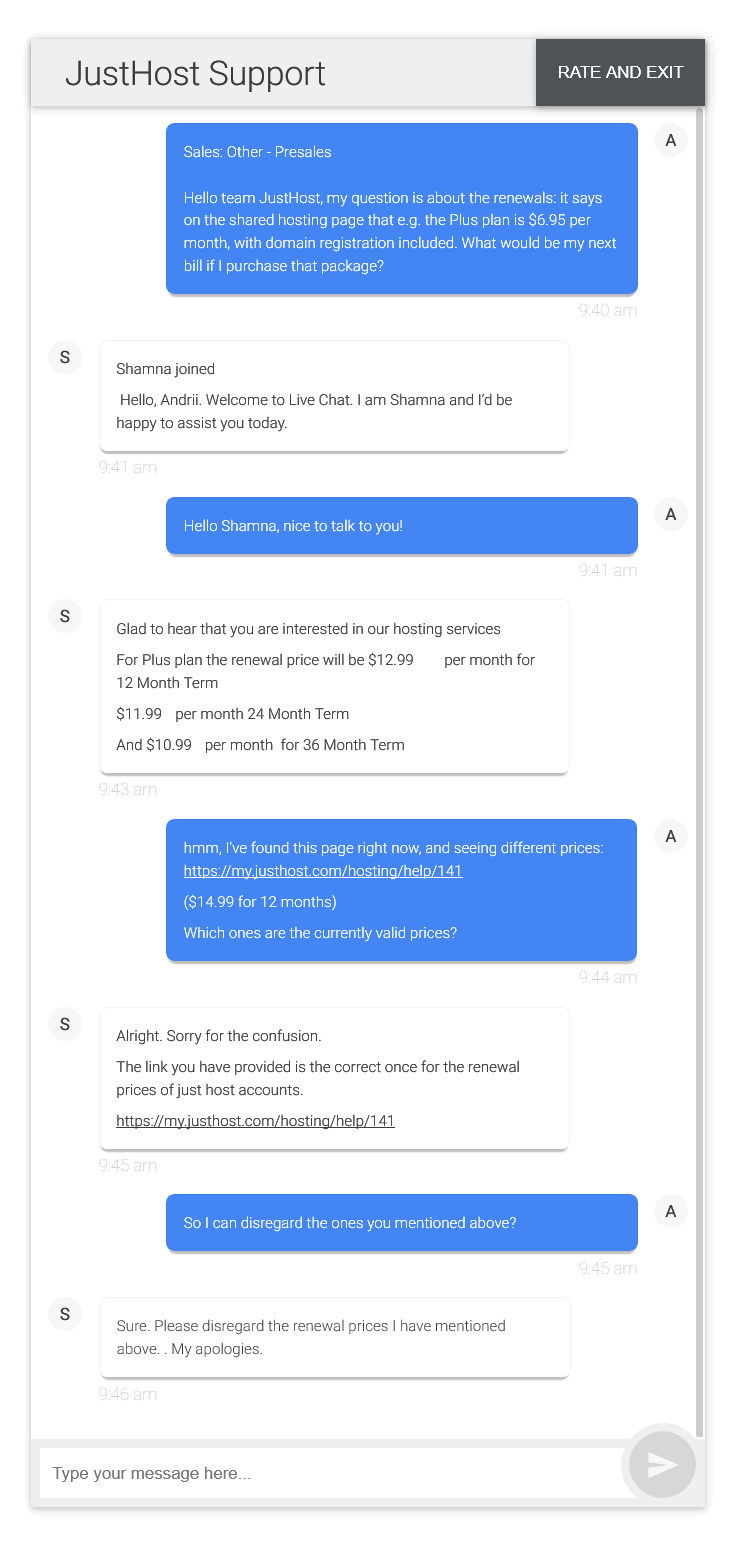 They gave us the wrong prices! And they admitted it!
And, hopefully by pure coincidence, those prices were lower than the actual renewal prices mentioned on deep inside their Help Center documents.
So, how much does JustHost really cost? Let's examine the pricing schemes to arrive at a more realistic assessment of this provider's price levels:
The Real Cost of JustHost
To recap what we've found out in the previous section: the prices indicated on JustHost's home page and shared hosting plans page are promo prices, which means that your hosting account will renew at the standard rates which are significantly higher.
If you want to find out what those rates are, the best way is to search for the footnote corresponding to those asterisks we mentioned earlier –
– otherwise, good luck finding the needed page from the website's navigation menus or directly through the Help Center.
See if you can find the footnote on the shared hosting page… Right there, at the very bottom, in the smallest legally acceptable font: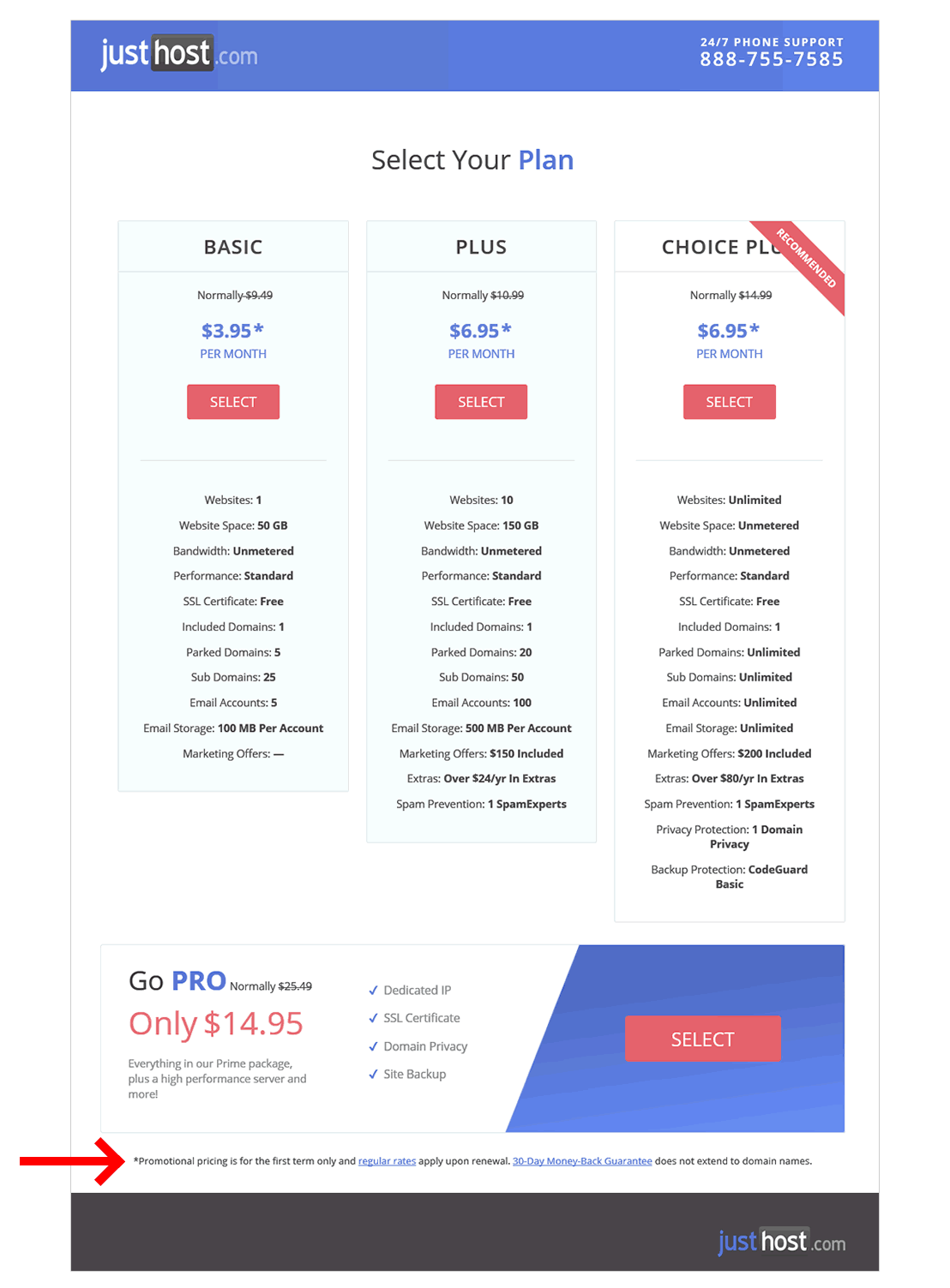 In that footnote we find the link to the actual prices – here they are for the cheapest Basic plan, for our convenience:
| Billing cycle | Promo / mo | Normal / mo | Increase |
| --- | --- | --- | --- |
| Monthly (1 mo) | $7.99 | $11.99 | 50% |
| Annual (12 mo) | $5.95 | $10.99 | 85% |
| Bi-annual (24 mo) | $4.95 | $9.99 | 101% |
| Tri-annual (36 mo) | $3.95 | $9.49 | 140% |
Yes, you understood correctly: even with the monthly billing cycle your second (and all subsequent) hosting bills will be 50% higher.
These price hikes get borderline silly pretty quickly – so that the buyers of the longest, 3-year plan should expect their subsequent bills to be 140% more expensive.
And no, the issue is not the price increase per se: after all Just Host is free to choose whatever pricing structure it deems appropriate.
No, it's in the way those prices are presented to you, the client.
This is where things really start to smell – but it's not the only way JustHost makes sure you leave as much money as possible on the table.
It's time to untangle this elaborate web:
Tricks to Make You Pay More
When it comes to the so-called dark patterns, JustHost seems to be employing every trick in the book to ensure you don't underpay.
Dark pattern is a term from user experience design: it describes dubious psychological methods that influence your behavior, most importantly – your willingness to pay.
In other words – it's the closest thing to deceit that's still nominally legal. Dark patterns actively shift the blame of mistakes (like overpaying) from the creators of a web page to its users:
"It's your fault you didn't notice that asterisk! Yes, we're sorry you forgot to un-tick that checkbox, but it was there on the page, wasn't it?" etc, etc.
It starts right on top of the official home page:
As we mentioned earlier, the number in the huge font size on the dark-grey background is a promo price. That's not a bad thing per se, but, unless you follow the asterisk, there's no other explicit indication that it's a promo price that's only valid for the first period, not a permanent discount.
On the left, you see a bunch of selling points with the word "FREE" sprinkled all over them in all-caps. Unless you click on the underlined ones, you have no way of knowing that e.g. FREE domains are actually only free for 1 year, and later renew at an additional $18 per year.
Moving on to the page which displays the shared hosting plans (i.e. assuming we click on the big read "Get Started Now" button on the front page):
Again, no indication that you're dealing with promo prices instead of discounts, apart from the small asterisks.
Notice anything funny with the Plus and Choice Plus plans? Yes, they cost the same, while the latter obviously has more features! If we assume we haven't yet realized that the standard/renewal prices might be higher for Choice Plus (they are, in fact) – the situation looks a lot like trying to nudge us towards the more expensive option.
That last point can be better understood with a simplified example. Imagine you're presented with three options: a bag of broccoli for $10, the same bag of strawberries for $15, or two bags of strawberries for $15.

Disregarding the fact that you might actually be a big fan of broccoli, this is a no-brainer: of course, you'd choose the option where you get more of something valuable, for the same price!
At least this is how JustHost apparently wants us to see this situation.
Except that it's not: as we mentioned above, the Choice Plus renews at a 20% higher rate than the Plus plan which has the same promo price.
So, not only do the quoted prices mislead you about your future payments – the pricing structure itself is designed in such a way that it becomes even more confusing!
But we're not done yet.
Let's go through with the order by choosing the Basic plan, confirming a random domain name on the next step, and arriving at the final checkout screen.
First of all, note that there's still no mention whatsoever that your hosting and your domain name will renew at much higher rates. But that's old story at this point, right?
Here comes our favorite bit: the "Package Extras" section offers various additional services to improve your hosting account. Never mind the fact that all of them can be replicated by free WordPress plugins – some are pre-selected by default!
And quite at random, it seems – JustHost simply decided that you just can't go without security and backups, but don't really need to improve your search engine rankings.
In total, this little section quietly adds $11.96 per month worth of extras to your account – that's more than your entire hosting bill!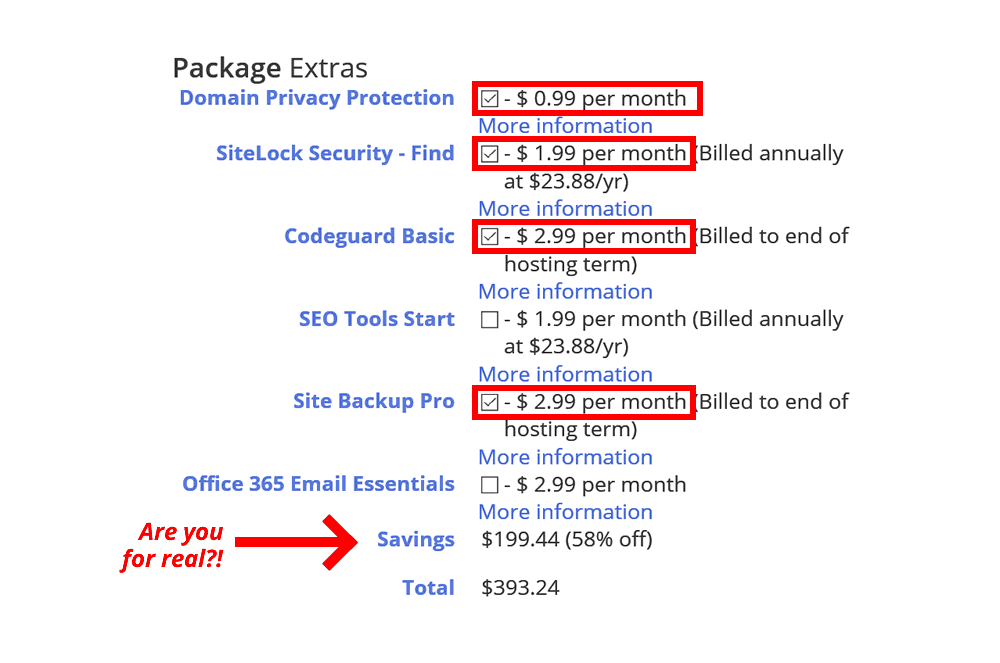 That's $143 per year if you scroll too fast and fail to notice the faint checkboxes in the "Package Extras".
At this point we're not even mad anymore, just amused. But JustHost goes the extra mile to exceed our expectations from an extractive host:
It actually has the audacity to include a separate line called "savings" under all those pre-selected extras! Right after our hosting bill has just been doubled without our consent. Bravo.
We won't even mention the separate checkbox you need to click later on if you DO NOT want to receive their special offers into your mailbox –
– indeed, that's nothing compared to the panopticon of dark patterns we've witnessed 'just' while trying to purchase a hosting plan from JustHost…
It feels that we've seen enough to form the final opinion – let's wrap up, shall we?
Pros and Cons of JustHost
Before we present our verdict, let's take a helicopter-view look at Just Host one more time. In this section we've summarized the strong and no-so-strong sides of our review subject:
Wide choice of hosting services, from relatively inexpensive shared hosting plans to VPS and dedicated hosting.
JustHost offers significant discounts for any of the hosting plans if you opt for multi-year billing. It's worth keeping in mind they are only valid for the first billing cycle, though.
Free domain name registration with any hosting purchase. This doesn't mean the domains are free forever, though: renewals after the first year occur at regular prices.
Tons of extras with more expensive plans, including ad credit, site design tools, and security extensions.
30-day money back guarantee which extends on all hosting plans as well as hosting extras.
Fast 24/7 support by phone or via live chart on their website. Our average wait in the support queue was less than 10 seconds.
JustHost is a part of a large multinational holding which is listed on the NASDAQ stock exchange, adding more pressure for transparency at least in its financial statements.
The official website never mentions explicitly that the quoted prices are promotional offers, i.e. will increase by up to 140% after your first billing cycle. Instead, promo prices are presented as permanent discounts.
Standard prices at which your package will renew can only be found by following the fine-print footnotes from the asterisks.
Several paid add-ons are automatically selected without your consent during the last step of the checkout process. This sums up to almost $12 in additional monthly fees.
The Plus and Choice Plus hosting promo pricing is identical, enticing the users to choose the better-equipped Choice Plus which renews at a 20% higher rate.
Unstructured, chaotic-looking Help Center with multiple links to articles that don't even exist anymore.
The parent company of JustHost specializes in buying up existing hosting providers, cutting costs and running them as quasi-independent brands. After 5+ years as a publicly listed company, it's still unprofitable.
Support staff has provided us with incorrect (and lower) prices in reply to our request for standard rates on their most popular hosting plan.
Our Verdict + User Reviews
Like the other properties of Endurance Group, JustHost is built to look minimalist and value-for-money at first glance.
It's also carefully designed to seamlessly extract as much money from you as possible, in ways that are nominally legal but disregard any notion of transparency and respect for the customers.
So, if you asked us whether you should go for a JustHost account, our answer would be:
Just… don't…
Those looking for a transparently priced, value-for-money hosting might take a look at the likes of Warpgate:
it's completely free for 30 days and never increases prices on its single $3 per month or $30 per year plan:
Get 30 days free at Warpgate ›
What do you think of JustHost? Do you think there's something important that could be added to our review? Share your thoughts in the comments below!
P.S. there's a yellow ribbon on top of JustHost's official website which mentions over 1 million clients. We would advise taking this claim with a grain of salt, as Endurance Group has a history of overstating its user counts.
Affiliate disclosure: we always strive to be as objective as possible, but also believe it is fair to our readers to mention that some of the links in this review are affiliate links. The price of services through those links is not affected by the fact that we may get a one-time referral commission. Our opinions do not depend on whoever pays/pays more affiliate fees – in fact, if you liked this review, such links are a way of supporting our independent investigations – ad-free for everyone.