Using Wix and looking to upgrade to one of the premium plans? Why not save some additional money and get it for a lower price using a promo code, right! Dozens of websites around the web are claiming to offer a Wix coupon or even a selection of various discount offers, yet does any of them really work? We've hand-checked all publicly available codes using a real Wix account – read below for the results.
There are two types of websites allegedly offering Wix discount codes – the so-called coupon aggregators and blogs. The former allow submissions from anyone, so the only way to check the coupon validity is to try every single code yourself. We did just that, with all codes from the websites in top-20 of the Google results for "wix promo code". Were there any that worked? Sadly, there were none. Success stats collected by the coupon aggregators themselves by using visitor votes offer a statistical view on this: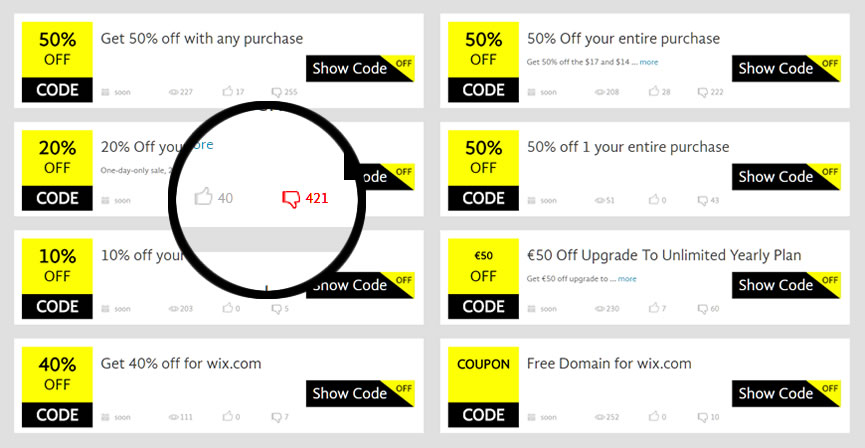 What about blogs? There are only two legit webmaster blogs that offer Wix coupons: one simply doesn't work (you can try it yourself), and the other was written back in 2013 when Wix did offer coupons. Here is a more recent comment from that same post that sums it up neatly:

So, there's no point in wasting your precious time on endlessly trying out every single "promo code" for one good reason: Wix doesn't use promo codes anymore. As simple as that! Instead, you can look for the current running offers by searching the official Wix support centre – this is the only place they actually do announce special offers. Click here to search for current special offers:
Visit the official Wix Help Center ›
Once on the official Help Center page, enter "Promotions" into the search bar in the middle of the page. In case the link brings you to a non-existing page, simply click on the blue "Go to Knowledgebase Homepage" button.
What Else Can I Do?
In case searching the Wix Help Center reveals that there are no current official promos, there are two other ways you can save money while using your Wix account:
Choose a longer billing period when upgrading: Wix gives you a massive discount when you upgrade to a yearly or 2-year plan rather than going for monthly payments. The savings can be as high as 50%! After all, you didn't spend all that time building a website just to abandon it a couple of weeks later.
Receive vouchers from Wix itself after upgrading: After you upgrade to a premium plan Wix will send you exclusive vouchers, depending on your chosen plan and location. The most useful of these is free advertizing credit for Google AdWords or Bing Ads.
About Wix
One of the first and most reputable website builders, Wix has been helping webmasters create web presence for over a decade. What started as a small enterprise back in 2006 is now listed on the NASDAQ stock exchange and serves 50 million people around the world.
This is also what makes Wix unique, and the closest competitor to WordPress among website builder products: its vast user base enables the company to invest heavily in further development, implying the most bug-free and diverse platform with myriads of extensions and timely user support.
In essence, Wix is a hybrid of a site-building platform, a hosting provider, an ecommerce system, and an analytics suite – a truly all-in-one solution for anyone looking to create their own website, be it for business or personal projects.
Wix employs the so-called freemium service model: the basic elements, such as a website builder and a place to host the new site, are available to anyone at zero cost, while additional customization requires a premium subscription. The latter is offered in several varieties, or plans, with progressively more diverse (and hence higher priced) bundle; each of the premium plans includes the possibility to connect an external domain, free hosting, extended storage capacity, and faster support.
Most of the Wix users who intend to actively maintain and promote their websites eventually move to a premium plan since it allows using a good-looking domain name without the "wix" prefix and removing the automatic ads, both of which make any project look less professional.
Tell Us What You Think
Also having problems with Wix promo codes? Found a coupon code that does work? Want to know more about Wix? Tell us more in the comments section below: