Email marketing is one of the most powerful ways of turning strangers into customers – how do you choose the right platform for your needs?
In this detailed review, we will look at Sendinblue in particular, seeking answers to the following questions:
unique benefits

of Sendinblue?
What are the

pricing

compare to its competitors?
How does

pros and cons

of this platform?
What are the

really for you?

Is this email marketing service
Before we go into details about what makes Sendinblue special, let's quickly go over the basics, just in case:
Sendinblue is a marketing automation platform that helps small and medium-sized businesses grow their customer base and profits.
Far from being just an email sending service, Sendiblue includes tools for SMS marketing, live chatting, and social media marketing.
To top that off, a built-in customer relationship management system allows organizing your contacts and leads as you guide them through the conversion funnel.
What's Unique About Sendinblue?
Let's face it – common features like drag-and-drop email design builder, mobile-friendly email formats or contact segmentation won't help you decide whether or not Sendinblue is the right fit for your needs.
With that in mind, we'll only look at the features that differentiate this platform from its competitors:
Affordable pricing is probably the most notable thing about Sendinblue – the service manages to stay below market prices, while offering comparable quality.
Sendinblue is by far the cheapest service when it comes to bulk emailing, which is the biggest contributor to the price you pay for using such a platform (see the comparison section for more details).
Free transactional emails is another feature that's hard to find elsewhere: at Sendinblue, you get a free quota of up to 100 such emails per hour with any plan, including the free one!
To clarify – those are automated customized emails that can be used for things like order confirmations, shipping notifications, delivery confirmations or password resets.
Oh, and since we're on the subject on free stuff, it's worth mentioning one more feature that makes Sendinblue stand out:
Unlimited contacts for any plan mean there's no upper limit for the number of clients you can store in your account.
As you can see, Sendinblue's strategy is to more or less beat everyone else when it comes to value for money 💸
In the following sections we'll look at the pricing plans in more detail and then make a visual comparison of Sendinblue with its main alternatives:
Sendinblue's Plans and Pricing
No doubt about that –Sendinbluestrives to price its packages with a clear vision of meeting the needs of small and medium-sized businesses.
There are 3 plans available for this niche, and then there's the custom Enterprise plan for larger businesses, as well as a Lite+ addon which we'll count as a separate plan for the sake of clarity:
| Plan | Base price | Key Feature | Email limit |
| --- | --- | --- | --- |
| Free | Free! | Costs zero money | 300 per day |
| Lite | $25/month | No daily limit | 10K-100K per month |
| Lite+ | $37/month | Custom branding | 10K-100K per month |
| Premium | $65/month | >1 account users | 20K-1M per month |
| Enterprise | Upon demand | More of everything | As many as needed |
Note that the "base price" means how much a plan costs with the minimum available email limit – for example 10K per month for the Lite plan.
Let's take a closer look at each plan:
The Free plan is most suited for entrepreneurs with a smaller list of contacts, allowing them to send a maximum of 300 emails per day.
On the Lite plan there's no daily limit – instead, you pay a base price for the package of 10,000 emails per month, which can be increased at additional price if you need more.
The Lite+ addon costs $12 on top of the Lite plan and unlocks advanced statistics, A/B testing, and – most importantly – allows you to replace the Sendinblue logo with your own.
The Premium plan provides a set of additional tools including a Facebook Ads manager and a landing page builder; moreover, it allows adding up to 10 account users – a must-have for larger marketing teams.
Finally, the Enterprise plan is a personalized solution for larger companies with pre-existing mailing lists and specific needs. You also get a personal manager at Sendinblue to help you optimize your marketing campaigns.
In all plans (including the free one), you get a powerful 📧 email automation platform with unlimited contacts, easy-to-install 💬 live chat for your customers, and 📊 real-time analytics.
So, which one should you choose?
– unless you need any of the specific features like your own logo in the email or more than one account user, the decision depends on the size of your contacts list and the number of emails you need to send per day/month. As simple as that!
How about other similar platforms? Is it worth considering Sendinblue over its competitors? To answer that, we'll need some graphs:
Sendinblue Versus Alternatives
It's not so easy to compare marketing automation platforms, not least because the pricing varies wildly depending on parameters like number of contacts and/or emails sent per month.
(Sometimes it feels like they do that on purpose 🤐 but that's a topic for a different discussion.)
The closest we can get to a meaningful comparison is by looking at the cost of regularly emailing a certain sized contact list.
Since Sendinblue is the only service that offers unlimited contacts at no cost, we have to take into account the possibility to send at least 1 email to each of those contacts per month.
Is it even worth the time?!
You'll be surprised…
To make life easier for you, we've built the following visualization based on the publicly available price calculators for Sendinblue and two of its direct competitors: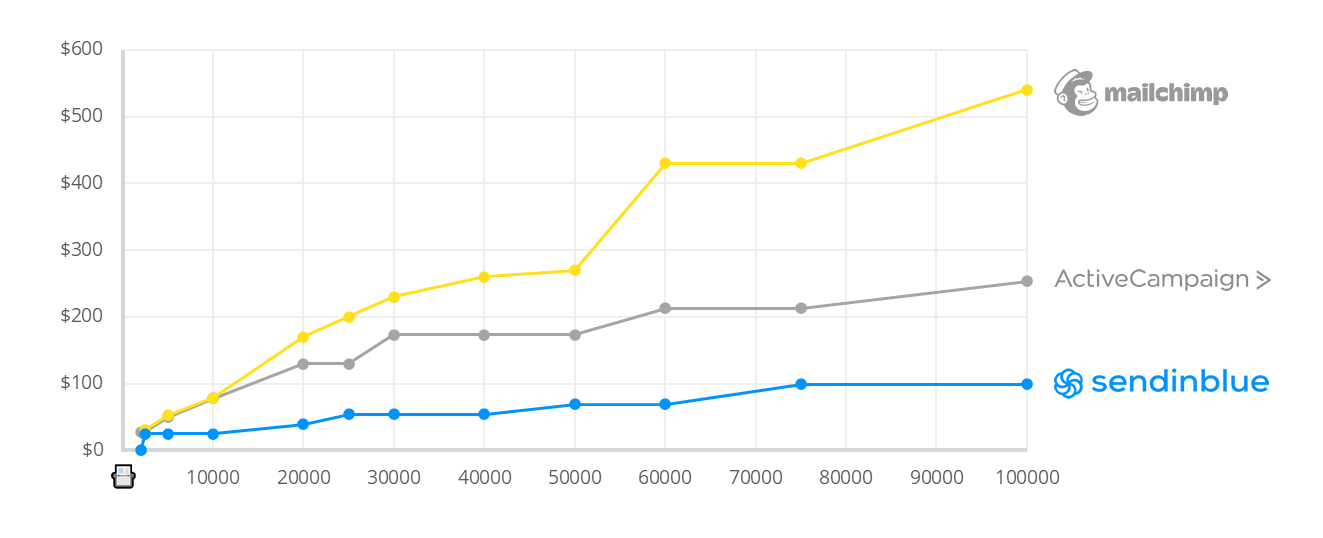 On the horizontal axis we have the number of contacts and on the vertical axis we have the monthly price.
We can make at least three important conclusions from this graph:
With smaller contact lists (below 500 contacts) Sendinblue doesn't offer any significant advantages since most other services are also free at this point.
As your contact list (and emailing needs) grows, Sendinblue quickly becomes the most affordable alternative – already at 5,000 contacts it's more than 2x cheaper than the closest competitor!
With larger audiences (over 50,000 contacts/emails) you can save hundreds of dollars each month on Sendinblue.
Given that Sendinblue offers many other, normally premium tools for free – like advanced segmentation, transactional emails, and live chat – the choice seems quite obvious.
Pros and Cons of Sendinblue
Before we move on to the final verdict, let's take a step back and summarize the advantages and weaker points of Sendinblue:
Being much more than an emailing service, Sendinblue lets you take your marketing to the next level with the help of complementary tools like live chat, SMS, and Facebook ads.
When it comes to email automation, it's difficult to find a more affordable solution – serious savings guaranteed, regardless of the size of your contact list.
You can store unlimited contacts regardless of your plan (even on Free!), which means you only pay for what you send.
The heat map feature is really useful for analyzing click patterns and optimizing your emails (available in the Premium plan).
There are more than 60 different email templates available for all Sendinblue users at no cost – considerably more than other platforms offer on their free plans.
Being the only platform that grew out of Europe, Sendinblue takes data protection seriously: all tools are designed in alignment with the latest data protection principles (GDPR).
Transactional emails (great for automated notifications) are included free of charge with any Sendinblue plan.
Landing pages are offered only starting from the (second-most expensive) Premium plan. The only plan that offers unlimited Landing Pages is Enterprise.
The platform currently only enables users to create ad campaigns for Facebook (and Instagram). You can't use Sendinblue to target audiences from other channels such as Google or Twitter.
The choice of third-party integrations, while constantly growing, is still not as extensive as with some other marketing platforms.
Should You Use Sendinblue?
As we've seen above, Sendinblue is quite unique among marketing automation platforms, with its relentless focus on affordability and value for money.
With that in mind, here are some cases when it's definitely worth trying Sendinblue:
New projects – you are just starting to grow your audience and want a powerful free marketing tool that can grow with your business.
Pay for what you send – you don't want to be charged for the size of your contact list, especially if you're not emailing all of them all the time.
Cost conscious – you want to minimize your emailing expenses, while still having access to a diverse set of marketing and analytics tools.
In any case, it's very easy to test the platform by starting with the Free plan, which can accommodate any number of contacts and has a 300 emails/day allowance:
On the other hand, Sendinblue may not be the right email marketing solution for you if one of the following is true:
Exotic integrations – you are actively using services for which Sendinblue doesn't offer integrations.
Maximum tools – you prefer to have access to as many advanced reporting and audience management tools as possible.
Website and ecommerce – you are looking for a marketing automation solution that lets you build a basic website or online store on the same platform.
Still unsure whether Sendinblue is right for you? Or maybe you've already tried it and want to share your impressions? In any case, leave a comment down below – let's help each other make the most informed decision!