Are you in search of an easy tool that can help you create professional-looking logos, promo videos, animations, and slideshows? Didn't even know such tools existed?
In any case, if you're considering or already managing a website, there's no way you can avoid the need of producing brand-related images and videos for your project.
So, today we're going to review a popular online media editing platform called Renderforest. The tool is getting positive reviews on Trustpilot, as well as social networks – which means it's high time we figured out:
Can you use Renderforest

if you have no prior experience?

Which RF tools

offer the best value for online projects?

How does their site builder compare

to established brands?

Which pricing plan

should you choose at Renderforest?

What do the 10 million existing clients

like about RF?
This review will examine the various features of Renderforest to arrive at the final verdict: whether it's worth using RF for your next online project.
First things first though –
What Is Renderforest?
As you're probably guessed by this point, RF is an all-in-one tool that lets you create videos, logos, intro videos, slideshows, infographics, and animations.
And it all happens on a single platform – fully browser-based and requiring no subscriptions to start.
The whole idea of Renderforest is empowering anyone to create quality media for their business quickly and rather effortlessly (or at least with a much shallower learning curve than Photoshop or Pinnacle).
The tool has a pretty simple user-interface, making even novices capable of using it without any prior training.
Another thing that makes this tool unique from its competitors is the sheer choice of templates, meaning you can start immediately, working up from the existing samples.

Moreover, as the platform is cloud-based, the entire editing process is performed online. Neat, but not too exciting in our day and age.
To understand what makes Renderforest stand out from alternative tools, let's analyze the parts of its toolkit one by one:
The Logo Wizardry
A logo is not merely an image; beyond this, it is a unique identity of your brand that helps you get recognition. A well-crafted logo makes a strong first impression and draws the attention of your potential customers.
In other words, a good logo conveys a slew of messages: your brand is trustworthy, professional, and offers quality services.
And yes, nowadays there are plenty of tools available online to create an eye-pleasing logo. However, not all tools are equal in terms of quality and user-friendliness.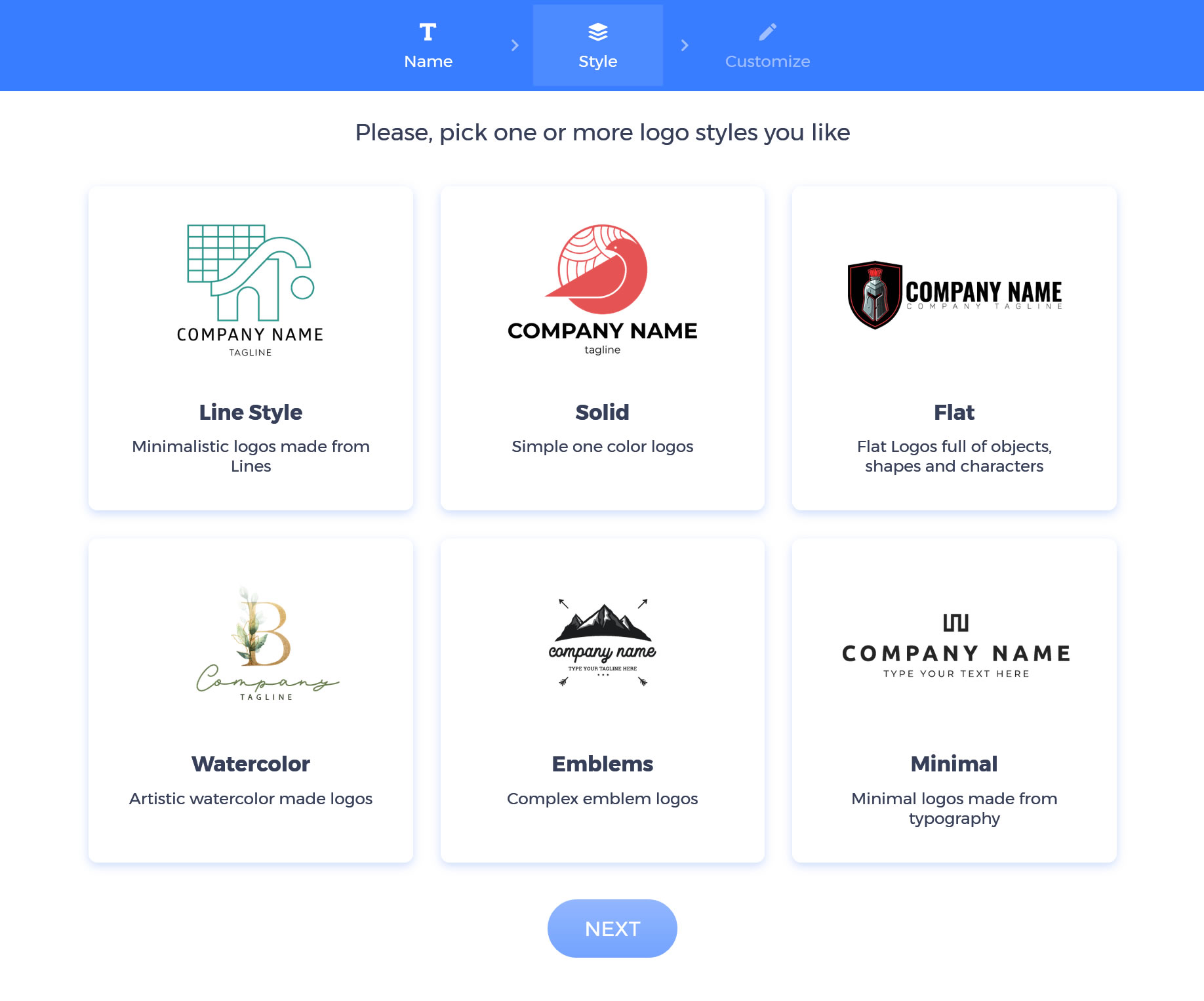 Speaking of Renderforest, the tool claims to help you create a professional looking logo within a few minutes. The company says they use Machine learning algorithms that help them deliver the best design options to users (to be frank, we didn't see anything that a purely algorithmic tool like LogoDesign.net could not do).
Let's see how it goes.
The few simple steps to create a logo with Renderforest are quite straightforward:
Go to their Logo Maker, and write down the name of your brand and then hit the "Create My Logo" button.
The next step will ask you for a few lines about your brand – this does not influence your results, but will help generate more lifelike imagery and mockups.
Next, you can select among six general stylistic directions for your logo, like "minimalist", "flat", or "watercolor".
Now you can edit the different elements of your logo, including the font, the icon, and the layout. If you don't like what you see, you may click on "Create from blank" option to do it yourself.
The last step will let you choose the download option – the free version is low-quality, but still works perfectly fine for a pitch or team discussion. For production logos, a plan with high-definition rendering is of course recommended.
Voila! It's so smooth it almost looks like wizardry (and technically it is, because it's a logo-making wizard, get it?).
Does it use machine learning? Unlikely, since we've gotten the same suggestions from using very different.
Does it mean it's no good? Au contraire, the tool is definitely a great help for those who don't own an expensive Adobe subscription or want to pay hefty sums to graphic designers.
Is their video maker up to the standard?
Creating Videos with Renderforest
Yes, at RF you can easily create a high-quality video without knowing a thing about (or paying for) professional editing software.
To start with, there are free video templates that help you create intro videos and product explainer videos.
If you want to give your video marketing a unique touch, you may use their 3D explainer video toolkit that has over a thousand of animated scenes. You may sort these scenes by options like "Most Popular", "Trending," or "Newest."
Similar to logo creation, the steps to video creation are quite simple. You need to choose a template, edit your project online, download it, and hit the publish button. Your video is now ready to use!
Renderforest has a stock gallery of commercial videos that you can easily remix and edit without going through any complicated interfaces.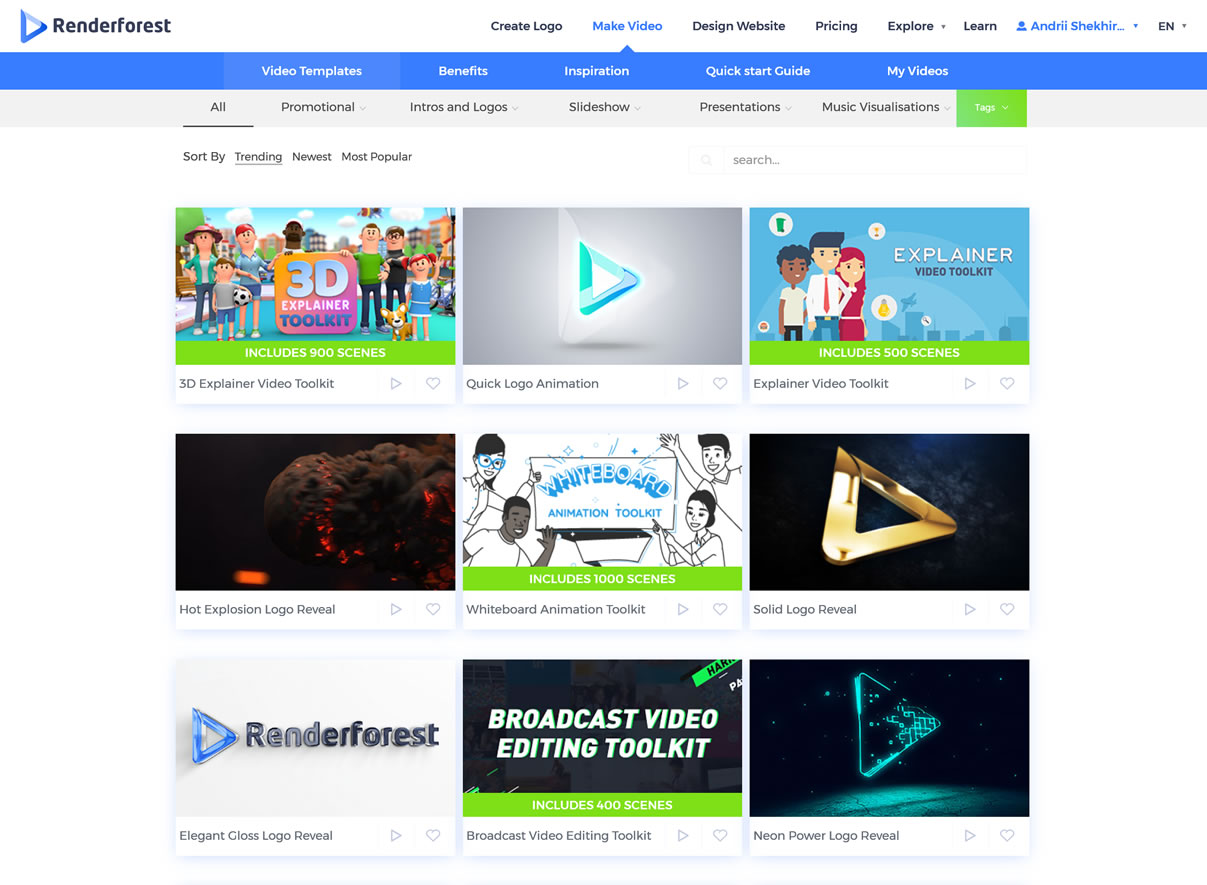 Apart from this, they have more 195.000 high definition royalty-free stock footage that you can use to make your video more professional and appealing.
And of course don't forget a sound library for those finishing touches to your new video – btw this option allows you to upload your own music as well.
Renderforest as a Site Builder
Alright, you've got your cool new logos and videos, now for something to use then on…
Along with the media, Renderforest enables you to design a full-fledged website with the help of their page builder.
The tool is mostly geared towards landing pages, but you can also use it to construct an entire website if you wish – directly in your browser without any coding skills:
Renderforest has more than 100 ready-to-use templates for every conceivable purpose, from business and marketing to beauty and photography.
The visual editor is simple and minimalist, letting you focus on the essentials. You can make your site live within a few hours without any professional assistance.
Not sure this needs to be mentioned nowadays, but the templates are of course fully responsive, that means your website will function properly on all mobile devices, laptops, and desktops.
You can create multiple pages and bind them into a navigation menu for a full-blown website. The CMS/structure features are quite basic at Renderforest, so if you really need different content types and all such, WordPress is the preferred option.
Once you're done, you can publish the website onto an RF subdomain for free or choose the paid plan for a custom domain name, branded email, more storage, and no ads (which is the only option you should consider for live websites that wish to look anything close to professional).
Sounds easy? Because it is! Nothing terribly advanced, so if you're a professional web developer/designer, you shouldn't be reading this :)
For everyone else, Renderforest offers a refreshingly simple and stripped-down (in a good sense) version of a visual site builder that lets you get online fast – and finally have somewhere to put that new fancy logo we generated earlier!
Plans and Pricing
Since RenderForest offers several different products, you are able to choose between a bundled option and individual tools. The respective toggle can be found on top of their official pricing page.
The former is suitable for those who intend to use the service on a regular basis: the Free plan offers unlimited low-quality videos and logos, while the progressively more pricey Amateur, Pro, and Popular plans unlock access to HQ media as well as the website builder.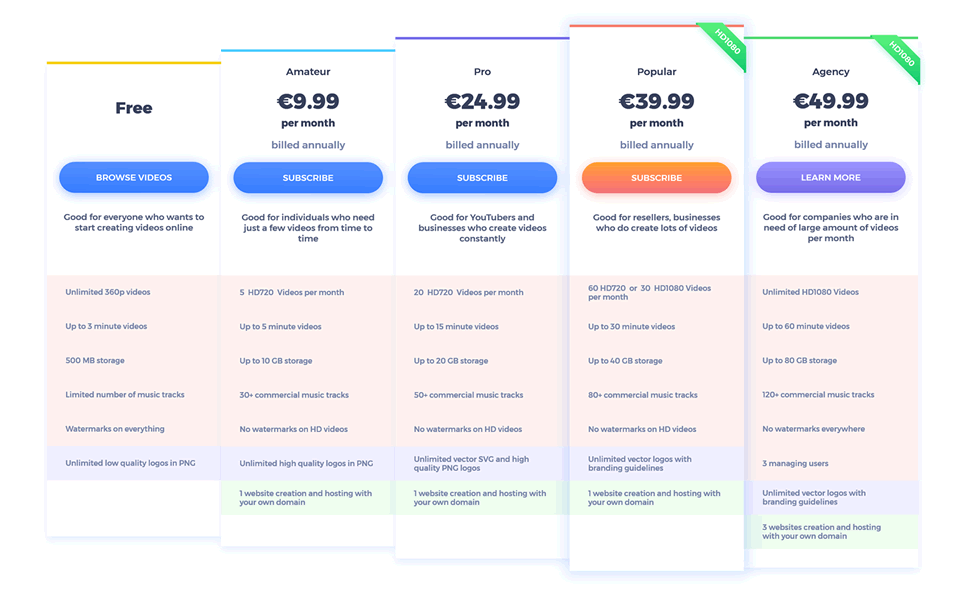 The per-product plans are made for those who wish to use RF only once or twice – otherwise it becomes more lucrative to use the abovementioned subscription option.
The logo and video creation tools each has 4 plans, with the free version leaving a watermark on your video or rendering a low-fidelity PNG logo. The paid options allow you to remove the watermark and increase the quality of the render per your desired parameters.
The Website Maker is also a freemium model, with the paid plan giving you more storage and allowing to publish your site on a custom domain instead of the Renderforest subdomain.
User Satisfaction and Support
What about support, though? After all, regardless of the number of neat features, users will be looking for software that fulfils their needs, and that includes getting help and solving issues when they arise.
Support is available via the phone, by email, or using the contact form on the official RF website. There's no live chat at the moment, but all the mentioned options are typically more than enough for most of your support needs.
Response time is short, and the team does their best to be as helpful and friendly as possible. In any case, with the tools that are that simple, you are unlikely to encounter too many questions or issues while using the product.
Having helped create over 10 million videos and logos, Renderforest can now boast being a part of G2's list of the World's top 100 software companies.
G2 is a global ranking platform that uses proprietary algorithms to assign scores to tech companies based on various customer satisfaction metrics from user reviews, social networks, and other online sources.
Being present on their top-100 list is an indicator of persistently high user opinions about the company and their products.
Should You Use Renderforest?
Time for the final verdict: who should use Renderforest, and is it worth opening your wallet for the paid features?
To recap, RF is a freemium online tool that lets users create videos for YouTube audiences, music visualizations, presentations, corporate slideshows, and other branded media.
The main advantages of Renderforest are definitely simplicity and cost savings: it gives you the freedom to create without asking for hours of training or subscription fees.
Big-budget online projects and advanced webmasters who know how to use tools like Figma and Resolve are unlikely to find anything they haven't seen before.
For the rest of us bootstrappers and daredevils, Renderforest is a convenient all-in-one platform for fast, easy, and inexpensive media prototyping that definitely deserves a try.
***
Have you already used Renderforest? Any thoughts or questions? Hit us in the comments section below, let's discuss!