Influencer marketing may have been last year's internet buzzword, but the strategy is here to stay. According to a recent survey, 63% of marketers increased their influencer marketing budgets in 2017, so it looks like early adopters have already realized the benefits of influencer marketing and doubled down. If there's ever a time for your brand to start taking advantage of this relatively novel marketing strategy, it's now.
For the uninitiated, here's a beginner's guide to influencer marketing: what it is, why it works, and how you can start using it to meet your marketing goals.
What Is Influencer Marketing?
Probably the most common misconception about influencer marketing is that it's essentially a celebrity brand endorsement. You used to see them in TV ads and now they're all over celebrity social profiles. And yes, celebrity endorsement is a thousand-year-old marketing tactic – still, influencer marketing is different. When Shaq endorses a sleep apnea mask, consumers are well aware that he's being paid to promote it and, more importantly, likely haven't actually even tried the product at all. With influencer marketing, endorsements don't go from celebrity to consumer, they go from consumer to consumer.
So, instead of paying Oprah or Shaq millions to endorse your product, you instead turn to more down-to-earth social media users or bloggers who have an audience interested in your business niche. Fashion blogger and Instagram personality Kimberley Pavao is a great example of this. Brands pay her to share her opinion of their products on her blog and social accounts: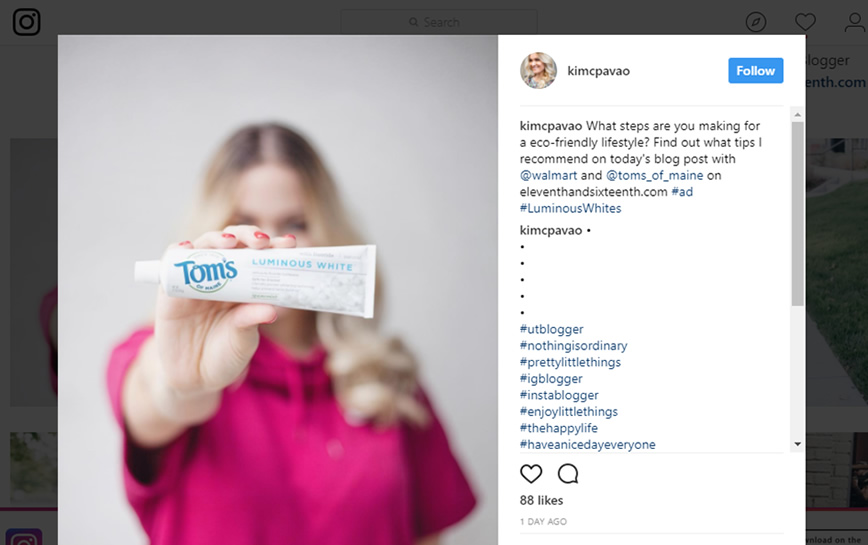 Why Does Your Business Need It?
Influencer marketing is still a fairly new tactic, but there's already plenty of evidence that it's effective, and will only become more important for businesses. Here are a few figures to illustrate how:
47% of consumers (and counting) use ad blocking technology when browsing (In other words, it's getting harder to reach your audience through traditional advertising channels).
71% of social media users are more prone to make purchasing decisions on social media recommendations rather than other signals, and this trend is not going on a decline any time soon.
According to some measurements, influencer marketing content delivers up to 11X higher ROI (return on investment) than more "traditional" forms of digital marketing.
It seems that people don't really want to see banners, popups, or even endorsements by celebrities with whom they feel nothing in common. They want to hear the opinions and recommendations of their peers.
How to Get Started With Influencer Marketing
Now that we've clarified what influencer marketing is and why your brand might need it, here are the steps you can take to get started.
First, as pretty much in any marketing campaign, it's useful to define your goals. Here's the first question you need to answer: what do I hope to achieve with the help of influencers?  There are aspects along the entire conversion funnel that are well-suited as key performance indicators for influencer marketing efforts: from improving brand awareness, increasing social media reach and generating new leads – to growing sales and improving customer retention. Your goals will determine what kind of influencers you pick, what tools you use to manage them, and the kind of content you create with them.
Next, you will need to find the right influencers that can help drive the goals you've set in step 1. Finding and vetting potential influencers is easier than you think if you use the right tools, which will be discussed in the next section of this guide. There are 4 main factors you should consider when searching for a potential influencer (in order of importance):

Relevance – the most valuable trait an influencer can have is an audience that is interested in what your business has to offer;

Engagement rate – just because a blogger has a lot of followers it doesn't automatically mean their audience is actually paying attention;

Sentiment – when you associate your business with an influencer, you're also implicitly associating it with every other opinion this person makes online, so pay attention to any negative statements or controversial content and how their existing audience have reacted to it in the past;

Reach – make sure your influencer has enough of an audience to make working together worthwhile. That said, don't be fooled into thinking that small, audiences aren't valuable – in fact, a recent Experticity study found that micro-influencers (i.e. those with 1,000-10,000 followers) have 20+ times more meaningful conversations than typical users.

Once you've identified influencers that fit with your brand and your marketing goals, you can reach out to them to start building a relationship. If you found them through an influencer marketplace (see below), you'll probably be able to skip a lot of this preamble, but if you found your potential influencer through social listening, it's up to you to make contact, build a relationship, and propose working together.

Start by engaging with them on their preferred media platforms: share their content and comment on their posts. If you want to really stand out, try mentioning them in your own blog or social media channels. Include them in a round-up post or reach out for a quote.

After you've built some rapport, you can contact them directly about becoming an influencer. If they have their own brand to promote, this could even be a mutually beneficial relationship with no payment involved. For example, online marketers team up all the time to create guides, podcasts, and other content that widens reach and engages new audiences for everyone involved.

If this is not an option in your particular case, you can always follow the more classical path of paying your influencer to share your content on social media, create a branded video, or feature your brand on their blog.

Now it's time for content creation! If you use a specialized marketplace, it's up to influencers to come up with content ideas for you as part of their proposal to work together. You only need to select the one(s) you like and then start working together.

A setup like this makes it easy to maximize your influencer's creativity skills, because for maximum results their endorsements should be as unique and authentic as possible. When you set too much restrictions for their content, that's rarely the case. So even if you're working with an influencer one-on-one (outside of a marketplace), make sure you give them freedom to develop their own ideas.

Influencer marketing is an investment of time and money, so just like any other marketing strategy it requires tracking and analysis to deliver high results. What metrics you use will depend on your goals set at the very beginning, but here are some indicators that might be especially relevant:

Click-through rate (CTR), i.e. how many people click through to your site from your influencer's content. Use Google Analytics UTM tags or a link-tracking tool like Bit.ly to know where your clicks come from.

Social metrics – these are new followers, likes and comments from influencer content. Each major social platform has its own suite of analytics that can greatly enhance your ability to track everything that's going on with your pages, posts, and other social media assets.

Sales or conversions – use custom coupon codes or Google Analytics goal tracking to monitor conversions driven by influencer content. Apart from that, it's actually possible to create and track unique coupon codes for each of your influencers to share.

Use these and other KPIs to identify the most and least valuable influencers and adjust your strategy accordingly to improve returns on your marketing investment.
Tools to Help with Influencer Outreach
While rolling up your sleeves and manually searching for influencers is a viable strategy, there are numerous specialized tools that take most of the tedious bits out of this process, letting you automate practically every step of the way:
Firstly, we just can't skip BuzzSumo, which is a potent tool for finding both blogging and social media influencers. You can simply type a keyword into its search bar and the system will return the most shared content related to the keyword, as well as which platforms are already creating content related to your niche. If you use BuzzSumo's paid features, you are able to see the most powerful social profiles that shared the content as well.
Naturally, social platforms like Twitter, Instagram, LinkedIn, and Facebook are where influencers hang out. In order to automate the process of looking for the most relevant influencers, you can use a tool like Keyhole or Hootsuite to monitor hashtags related to your niche.
Finally, there are specialized influencer platforms that are designed to help you connect with online personalities that want to help brands promote their business. Here are a few popular ones: Klear, HYPR, Famebit, Revfluence, Octoly, and Influenster. Te best part about them is that their built-in tools can help you analyze an influencer's audience demographics, engagement, and reach – using all the data, you will be able to make much more informed decisions as to which people to work with for promoting your brand.
Over to You!
In this beginner's guide to influencer marketing, we've discussed the basics of what you need to know to get started with the strategy. Once you're set your goals and done the groundwork, specialized marketplaces and tools will make it quite easy to find and collaborate influencers that have a relevant audience ready to engage with your brand. Just take the time to find the right influencers, let them get creative, and track the results and you might soon see how much more powerful influencer marketing can be compared to the traditional advertising methods.