When it comes to discovering, producing and disseminating high-quality content, marketers have abundant choices of tools. These options typically come in the form of platforms which allow the user to analyze the impact of content campaigns both on social media and beyond.
One of the more well-known kits for content marketers is BuzzSumo, which provides social listening, content research, link research and influencer sourcing all in one place. Some, however, might find its influencer search tools a bit superficial, or its pricing a tad too steep – that's where competitive solutions come in!
In this article, we've compiled a list of alternative tools you might want to try as a replacement for BuzzSumo or at least some of its features. Some of the software listed below might not replace all the features of BuzzSumo completely, but each is an efficient, and often a lower-priced (or even free) solution worth considering.
Socialbee
SocialBee is a powerful social media management tool that helps businesses share content across multiple social media platforms from one place: Facebook, LinkedIn, Twitter, Instagram, Pinterest, and Google my Business.
You can easily set up your posting schedule and add your content to SocialBee – not having to worry about consistency on your social feeds. The best part is that you can customize the posts for each platform and even create variations for the same piece of content: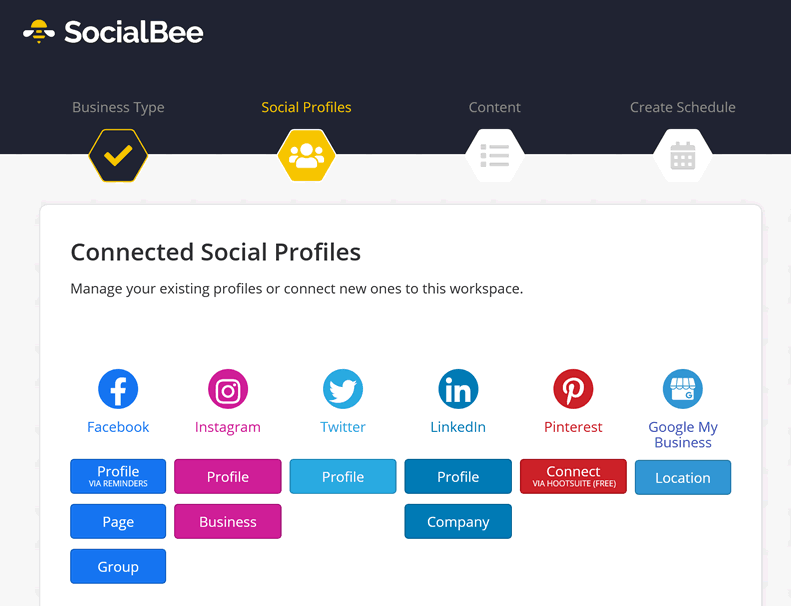 More than that, you have available advanced scheduling options that allow you to expire or recycle your posts, depending on your campaigns' timeframe and your types of content (evergreen VS time-sensitive). The best part is in the multiple integrations that SocialBee offers, such as Canva, Bitly, JOTurl, or Pocket.
So, if you're looking for an integrated solution for your social media presence, start a 14-day free trial and see if SocialBee is a good match for you.
Social Animal
Social Animal is another alternative worth considering. It is actually more affordable than Buzzsumo while containing most of the features that Buzzsumo possesses. It also has additional features like Deep Keyword Search that allows searching within article body (in contrast to only title search offered by Buzzsumo).
This tool also contains valuable content insights like the optimal title length to use for a specific keyword, optimal content length, recommendations on when to publish your article and which social media platform would work best.
It also lets you look for influencers and see the articles shared by them for any given keyword. There's a "Facebook Search" tool, a useful feature that lets you monitor competitors, their posts and engagement on Facebook providing you an analysis of their pages thereby helping you create a working Facebook marketing strategy.
Also, on the plus side, you don't have to search for articles and influencers manually every day as Social Animal's proactive personalized reporting features like Daily Digest Emails and the Dashboard always keeps you in the know.
PRnews
On the other end of the spectrum is PRnews.io – a content marketing platform that positions itself as an online store for sponsored content.
Creating an account is free, and each user gets to set up and customize their own virtual pressroom; article prices are fixed, and you can supplement your placements with various extras, from additional text to targeted traffic through the link.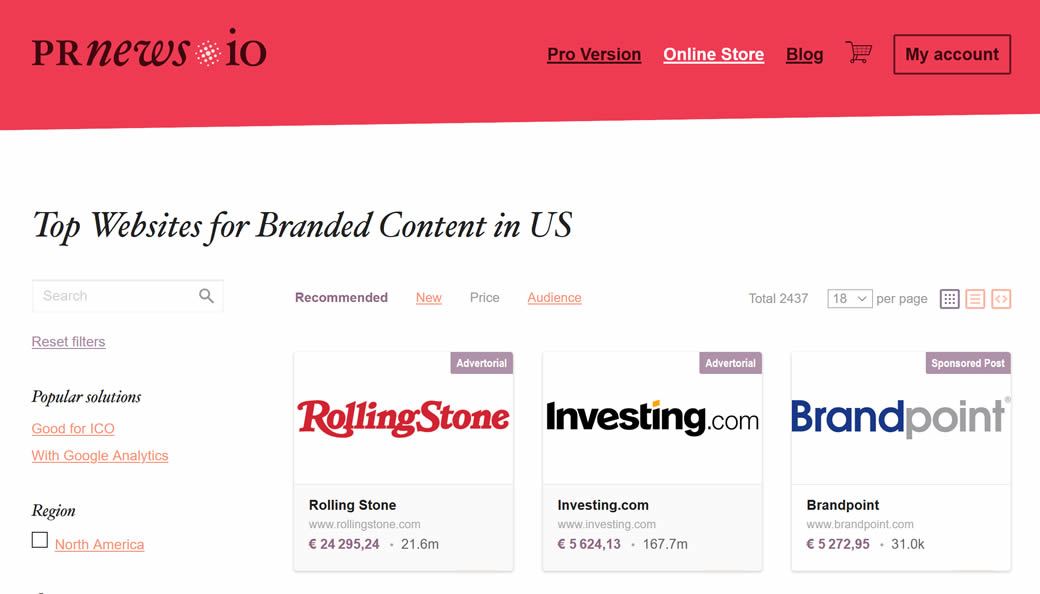 One of the huge advantages of the platform is its multilingual strategy: you can find web assets in almost any imaginable language on PRnews, with English providing the widest choice, of course.
The best part about PRnews.io is their support team – you typically get answers within minutes and your personal manager makes sure all questions get resolved in the shortest possible time.
ShareIt
ShareIt by SocialPilot is an easy and powerful tool for content curation. Just enter a keyword and it provides you with a curated list of content in multiple formats such as blogs and videos. ShareIt also lets you know what is trending and which piece of content is being shared the most across the social media platforms.
With its social media management features, you can schedule content on multiple social accounts. For marketers involved in content marketing, ShareIt makes for an efficient tool that helps them at every stage – right from brainstorming ideas to posting content on social.
If you are a marketer who isn't looking for heavy arsenal, Buzzsumo's features, functionality and price might seem a bit overwhelming to you. Quite like Buzzsumo, ShareIt helps you filter your content list on the basis of the content's relevance and its 'publish' date. ShareIt also suggests you relevant influencers whenever you enter a keyword. Hence, ShareIt's easy-to-use platform will fulfill your content needs – for free.
Oktopost
Another platform with impressive ratings on independent review services, Oktopost is designed specifically for social media managers and marketers in the B2B sector. Apart from the content discovery formats, the user can connect to RSS feeds to track the most valuable sources of new content. It also houses an automation feature which helps streamline content sharing through scheduling posts on different social platforms and services.
Since Oktopost focuses primarily on business-to-business niches, it directly integrates website analytics into their platform to help marketers calculate the impact of their content. It also merges easily with existing CRMs and platforms for marketing automation such as HubSpot, Marketo, and SalesForce.
Feedly
This nifty tool helps marketers with the task of filtering text from blogs, feeds and online magazines according to the specified publications and topics. Feedly is handy if you're searching for relevant third-party content to share or just want to read more from your niche on a regular basis.
Although Feedly is built around the RSS (Rich Site Summary) format, its functions go way beyond with suggestions, sharing, and over 200 application integrations. It strips down every piece of content to its basic constituents (i.e. text and media) and filters out advertisement noise which makes reading on Feedly easy and comfortable.
Sprout Social
This social media-focused tool can boast an almost perfect score from user reviews on FinancesOnline. As the name suggests, Sprout Social is a content curation and sharing tool for marketers that focus on social media channels. Thanks to its reporting features and analytics, the platform allows showing measurable results to stakeholders and proving the success of their social media campaigns.
Another strength of this tool is its customer-focused integrations. It routes direct messages from social channels to the dashboard, where authorized users can respond without the need to switch to different accounts. Sprout Social also has a built-in Monitoring feature which allows the user to follow mentions with a sales focus.
Ahrefs
This is the closest you can get to an 'essential' tool if you're a serious SEO specialist or content marketer. Ahrefs covers the primary areas of SEO which includes keyword planning, content discovery, backlink analysis, and competitor research. Its strongest point is an in-depth SEO database updated every 15 minutes to keep you up to date on the latest changes on the web. For example, Ahrefs' Content Explorer discovers 5 million new topics daily.
Unlike Buzzsumo, Ahrefs lets you explore trending content by traffic, not just backlinks and social shares. For each piece of content, you can see detailed stats on referring domains, backlinks, anchors, and organic keywords with all the crucial metrics and traffic estimates. And you can track how these stats change over time. Content Explorer is also great for tracking backlink opportunities, i.e. sites that never linked to yours but have mentioned your business or referenced your content. When there's a new opportunity, you can learn about it by email if you set up Ahrefs Alerts.
Scoop.it
Scoop.it is a powerful and user-friendly tool for content creation. It functions by crawling millions of web pages on a daily basis and then organizing their content according to the most relevant topics. The tool makes it easy for the users to edit, filter and share relevant content.
Scoop.it is an interesting efficiency-boosting option for content marketers, thought-leaders, and other specialists who curate content for various purposes. It comes with a complete set of functionality which allows to produce and sustain brand awareness, as well as distribute and discover information across the web. As a cherry on top – it's priced much lower than BuzzSumo as well.
ContentStudio
ContentStudio is a powerful content discovery, curation and social media management platform and a worthy alternative to Buzzsumo. You can easily setup topics of your interest and it will keep you updated with trending, relevant and engaging content. And the best part is, you can discover content not only from the web but Facebook, Twitter, Youtube and other sources too.
Its social media management features are equally impressive because it gives you the ability to plan, compose and schedule content on all of the social media channels. Moreover, you can also publish content to your WordPress, Medium or Tumblr blogs. So, it is a feature-packed solution for marketers looking for a single tool to manage all of their content marketing activities.
NinjaOutreach
NinjaOutreach is another tool to add into your arsenal of BuzzSumo alternatives. It's an all-in-one influencer marketing outreach tool that has all you need to complete a comprehensive outreach campaign from start to finish.
NinjaOutreach makes it extremely easy to find prospects and leads with their Segmented Searches feature. It breaks your search down to its specific segments so you can find not just most shared contents but also influencers, email addresses, and more. To top it all off, NinjaOutreach has a built-in CRM software that provides customisable templates and automated campaigns and follow-ups.
Over to You!
For small and medium businesses, it can be a real challenge to find a robust content marketing solution that will not only meet your requirements but also be budget-friendly. The tools described above might help you obtain a decent alternative to the pricier market players like BuzzSumo.
Have you seen any of the mentioned platforms in action? Do you know of other tools that might make the list more complete? Let us know in the comments below!