If you're considering 34SP as your hosting provider, you're most probably based in/around the home city of UK's most famous football club:
"A Manchester-founded hosting provider with a Manchester-based support team, and Manchester datacentre"
– that's a rough summary from 34SP.com's official website.
Apart from purely "patriotic" value, are there any real benefits from preferring a hosting company that's based in a specific city? Let's take a look from all possible angles and find out! Along the way, we will also answer the following questions about 34SP:
How do 34SP's hosting plans stack up

against competition?

Which, if any, of the plans

offers the highest value for money?

How good is client support

at 34SP Hosting?
For starters, we will skip the company's backstory, which can be found in sufficient detail on their website, and instead focus on their actual offer:
34SP Hosting Plans – A Comparative Analysis
There are 4 options when it comes to hosting your website with 34SP, ranging from a beginner-friendly site builder, to multi-purpose accounts which can be customized to suit the more discerning users.
There's also the reseller hosting option, which can arguably be viewed as the fifth plan, but for the purposes of this review we'll not be looking at this option in detail. It is less relevant as it's geared towards agencies with their own clients, not those who need websites for their own projects.
With that in mind, let's go over each of the four user-oriented hosting plans and find out who's the target audience and how it compares to competition:

Website Builder is the least expensive plan at 34SP, and is essentially just a white-label version of the popular Weebly site builder. Weebly itself has several pricing tiers, and the one offered by 34SP is called "Connect" – i.e. the most basic of all Weebly's plans that allow using your own domain name.
If you get it directly from Weebly, it costs £3.00 per month, while 34SP re-packages it with a price tag of £2.95 per month (plus the yearly cost of your domain). A gain of 5 pence is still a gain, but does it justify choosing a reseller over the original? Probably only for the most hardcore value-seekers out there.
Professional Hosting, as the next plan is called, is a more universal solution – a full-fledged shared hosting account with a pre-configured software stack that can run most modern content management systems.
The most useful features compared to the previous plan are definitely the automatic backups and the possibility to set up email accounts – essential items for any self-respecting website owner.
For £7.95 a month, you can choose between a clean stack or a pre-installed instance of WordPress, Joomla, or Weebly (hello again!).
WordPress Hosting is clearly the most promoted plan at 34SP – just look at the way it's presented in their plans table. As its name suggests, it is geared towards running WP, and WP only. This makes a lot of sense, given that WordPress is by far the most popular site engine in existence today.
The WP Hosting plan is priced quite close to the Professional Hosting mentioned above, and at £9.95 per month it offers the following noteworthy additions to the latter's feature set:
Automatic daily backups as well as the option to take manual snapshots of your website's current state at any time. Auto-backups are quite easy to replicate with a free WP plugin like UpdraftPlus, so this is by no means a unique feature, but the fact that it's built into the hosting itself can be a time-saver.
Fast SSD storage for your website's files which can really have a positive effect on the page load speeds. For some reason this is not included in the Professional plan.
Free migration from a third-party hosting, performed by 34SP specialists. Useful if you don't want to bother, but not something that can't be done with a little help from a free WP plugin like this one.
A simple staging feature enables you to create a temporary copy of your website in one click. This is useful for testing themes and plugins, but isn't something that can't be done in WordPress itself.
Apart from the above, the WordPress plan is essentially identical to the previous one, and, as we've mentioned, most of the additional perks can be easily replicated with free WP plugins.
The only feature that is truly useful here is the fact that the servers use SSD hard drives – the component which can have a measurable effect on your website's speed.
Universal Hosting is the fourth and final retail plan at 34SP. Upon closer inspection it looks like the Professional plan with more juice and some additional features from the WordPress plan. The primary difference, though, is the fact that you get guaranteed resources allocated to your account – in other words, it's a VPS (Virtual Private Server) rather than shared hosting.
With increased autonomy come higher prices: the least expensive Universal sub-plan is £19.95 per month. This is actually cheaper than most comparable VPS hosting offers from large hosting providers in the UK, but here's the thing:
– if you know you need a VPS, you most probably possess certain experience in web development and/or server administration. In which case you'd be better off getting the same package from, say, Digital Ocean, for just a fraction of the cost (at the time of writing their 2GB RAM, UK-based droplets cost $10 per month and offer 3 times more hard-disk space).
How's the Operating Company Doing?
It might seem hardly relevant to look at corporate financials in a hosting service review, but there are two reasons why we'll do it anyway. Firstly, knowing the operating company's state of affairs can provide useful information about their strategic direction and even the possible future quality of services.
This is especially true in case of small enterprises (and SP34 is by any standard a small hosting provider): being less capitalized and therefore less stable than their larger counterparts, SMEs can respond to internal or external crises by simply going out of business. Not a happy prospect for a hosting client.
Secondly, it's the United Kingdom, so financial filings are freely available online on the Companies House website – so why not use the extra information?!
Armed with those arguments, we've sifted through the last decade of filings submitted by 34SP.COM Limited. Instead of boring you with xerox-copies, scanned papers or even Excel tables, we've compiled just a couple of graphs that might produce an interesting summary of the company's current state.
We'll start with the most important metric: total earnings. Below you can see 34SP's net profits and losses for the last eight accounting years (it should be noted that since their accounting year ends in spring, a bar e.g. for "2018" on the graph implies the period of 30th of April 2017 through 30th of April, 2018).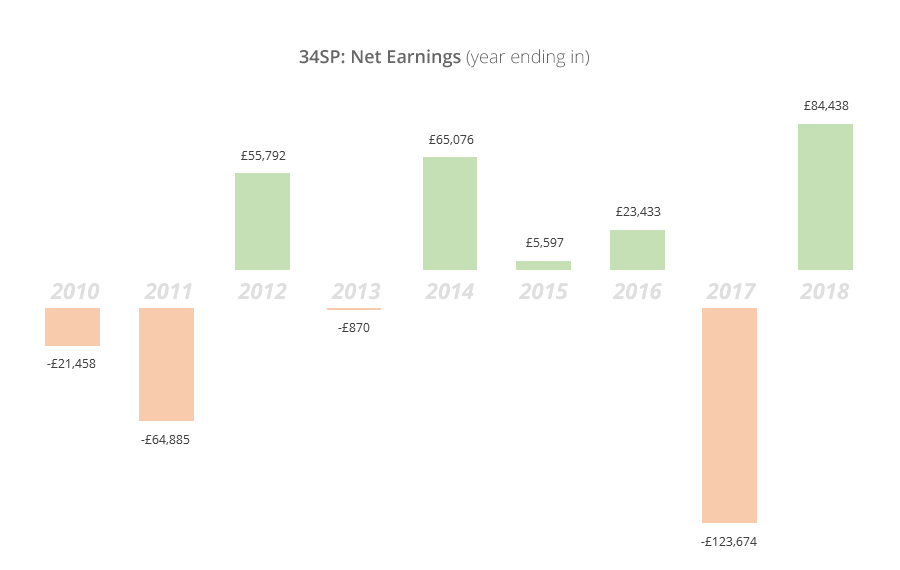 There doesn't seem to be any stable growth trend in the company's earnings – during the entire period depicted on the graph 34SP.COM Ltd. has barely made more money than it lost.
Another useful indicator of a company's state is the evolution of its total assets over time, i.e. all equipment, real estate, and other property belonging to the firm. The respective graph for 34SP reinforces the feeling of stagnation one gets when looking at the earnings stats:
One of the primary assets a hosting provider must possess are its servers – specialized powerful computers that store customers' websites. Servers are the core of any hosting technology stack, and if a hosting company is growing, its server count typically goes up, which implies higher investment into new machines.
You don't see that on the 34SP assets graph – what it shows is that over the last decade they've been merely maintaining the existing levels, replacing older equipment but never consistently increasing their server count.
The final graph we'll show here doesn't come from the Companies House, because it's the evolution of the number of domain names held by 34SP's clients over the recent years: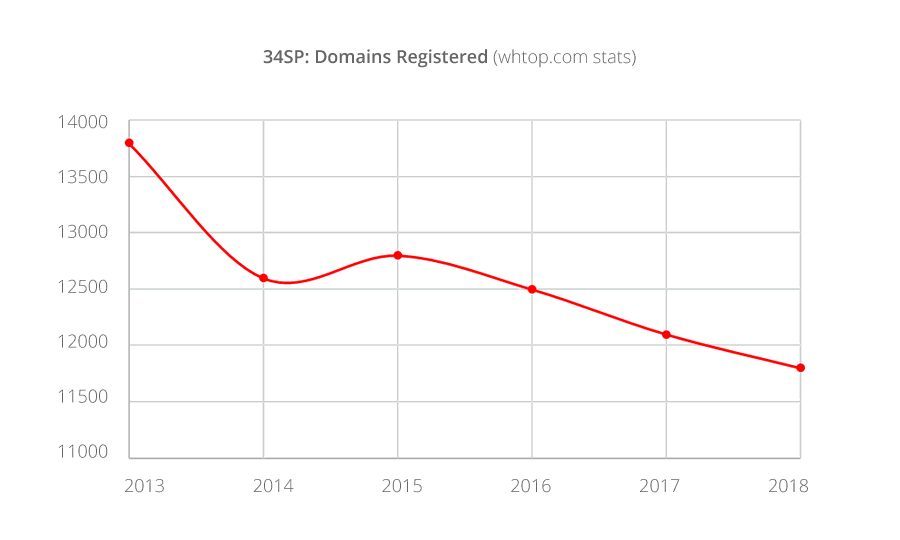 It's not difficult to see the downward trend. Why is this significant? Since the vast majority of websites use their own domains, such stats can serve as a proxy for the number of active clients of a hosting company.
The steady decline (down 16% since 2013) can either mean that 34SP client base is shrinking, or that the company is slowly refocusing to serve larger clients. In reality, it's most probably a combination of the two.
To sum up our findings from the operating company's financial indicators, 34SP seems to have stayed stagnant over the last several years, while registered domain data even hints at declines in the client base.
What does this mean for you as a potential client – if anything?
We will discuss this in the final part of our review; before we do that, we'll share some impressions from our interactions with the support team:
The Quality of 34SP Support
The company's support team is located in the UK and is open for queries 7 days per week, during working hours. Superior customer service quality is one of the most-emphasized "selling points" to be found on 34SP's website, so naturally we wanted some direct experience.
In order to be able to say anything about the much-vaunted 34SP support, we've compiled several questions about their hosting plans, with the back-story of being in the process of choosing the most suitable offer; here they are:
As far as I understand, the "Website Builder" plan is based on Weebly: if that's correct, which Weebly plan is it? – the main concern is essentially whether the website will display Weebly ads in the footer.
In case I run out of, say, RAM on your "Managed WordPress" single-site plan, would it be possible to add more without having to purchase a 5-site or 10-site container?
I already have a domain, purchased at GoDaddy – can I order a hosting package at 34SP without buying a domain here?
The response came after about 3 hours (not bad but also not stellar for a hosting with several thousand clients) – and it left us somewhat perplexed: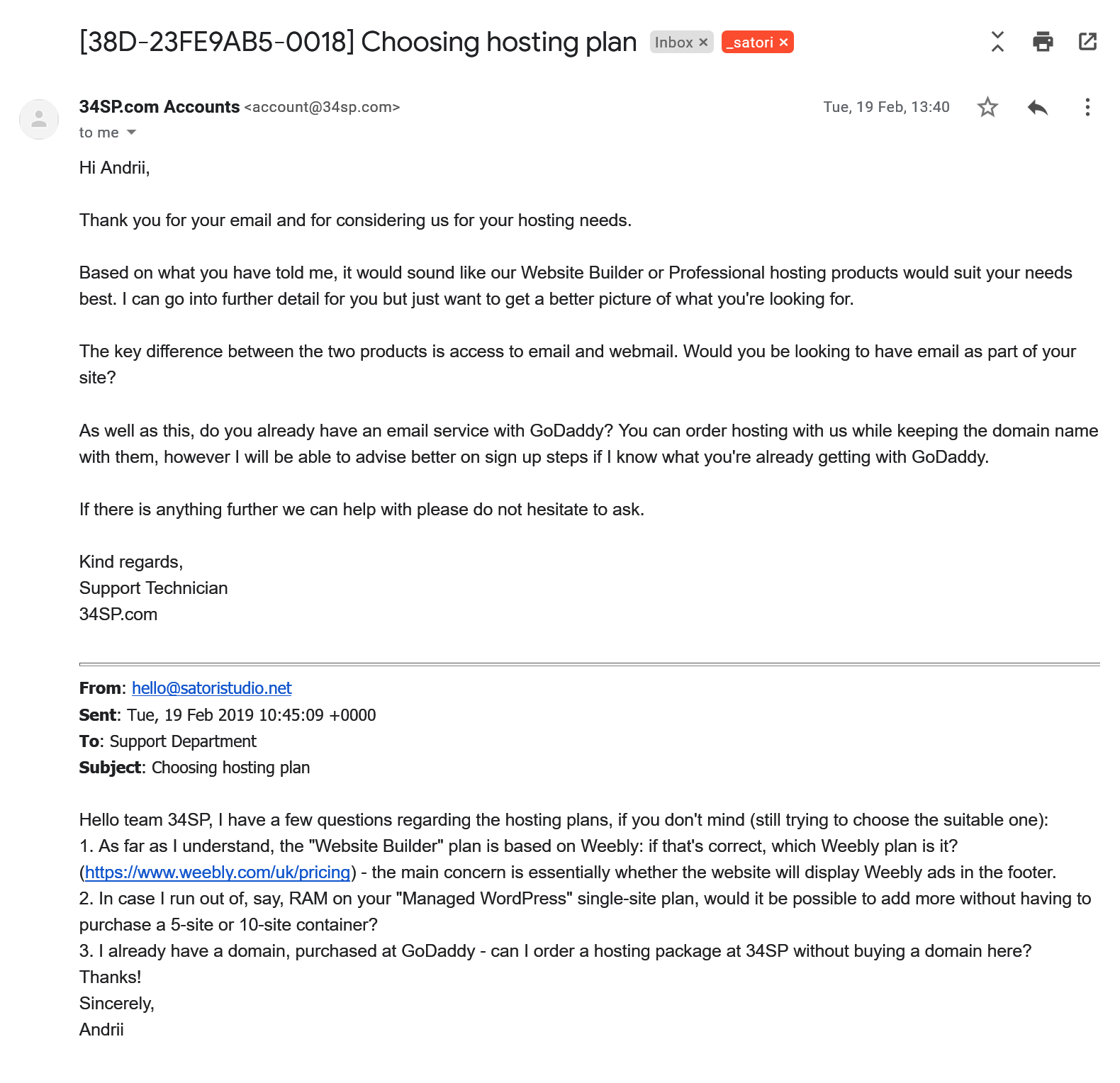 We were offered advice as to which 34SP hosting plan to go for, and even received several clarifying questions – all without ANY of our own initial questions being answered even partially.
Since this was just a test email our own reaction to the support team's reply is not so important, but anyone actually trying to choose between 34SP's many hosting plans could easily have interpreted it as follows:
for example, something like "Don't overload your little head with the details, here's the plan you need, now let's get on with it and close the deal!"
To be fair, this does not imply that the reply was bad per se – one can surely find a logic in how it was structured. Still, answering customer questions is arguably an important (if not the primary) point of customer support, at least on par with trying to sell.
Our questions did eventually get answered, but not before explicitly bringing them up again to the 34SP support specialist.
So much for "open, honest, and transparent", the motto used on the company's website more than on one occasion…
Pros and Cons of 34SP
Having discussed 34SP from several possible angles, in this section of our review we summarize the positive and not-so-positive results, before proceeding to our final verdict below:
You won't get charged more for your hosting after your initial billing cycle, unlike with most other hosting companies.
Friendly local support team situated in the same time zone as you (i.e. they don't outsource their support services to other countries).
The prices quoted on their website already include VAT, which is a nice touch compared to many competing providers which prefer to add taxes during checkout.
There is a 30-day money-back guarantee on most hosting plans, excluding "Website Builder" plan and dedicated servers; domain registrations are also non-refundable.
Most hosting plans at 34SP are more expensive than comparable hosting services with UK-located data centres.
The support team's working hours are from 8 am to 6 pm, which means that you won't be able to get any help if your website breaks in the evening or at night.
Our conversations with the support service couldn't always be called productive, as some of our explicit questions were simply omitted until we repeatedly asked for answers.
The minimum registration term for .com, .org and .me domains is two years, i.e. you aren't given a choice of any shorter billing cycle.
The company hasn't seen any significant growth over the last 10 years, according to their financial statements. Domain stats might even hint at declining interest in 34SP's services.
Our Verdict: Is 34SP Worth Your Money?
In all fairness, 34SP doesn't look like the worst choice one could make when looking for a hosting provider. However, an in-depth review like this one is all about discovering the details, not praising mediocre performers –
– which means we won't be recommending 34SP to most readers: with 34SP's non-remarkable hosting plans and less-than-outstanding support, there's better value for money to be had elsewhere. One example is Hostinger, which offers UK-based servers at much more competitive prices (and a special discount available to our visitors):
Get a 15% discount at Hostinger
To add to things, the financial state of the operating company shows little signs of active growth in the last years, while their domain registration data might actually even hint at a decline in customer interest.
Thanks for bearing with us, if you've any questions left about how 34SP compares to competition – or would like to share your own experiences with the company – be sure to leave a comment in the discussion below.