PREMIUM-GRADE DESIGN
The front-end of Bento has been carefully crafted to embody modern best practices in web design and user experience.
MOBILE-FRIENDLY + RETINA
Your website will look good on any device - from large HD monitors to smartphones. Resize browser window to get a taste.
BUILT FOR SPEED AND SEO
Bento has been optimized to be as lean as possible, so that your website loads faster and is loved by search engines.
Some examples of what Bento can do —
The theme comes with a flexible layout system which allows combining various modes such as grids and sidebars, with menu configurations and Content Builder templates. Check out below for some examples, more in the menu above.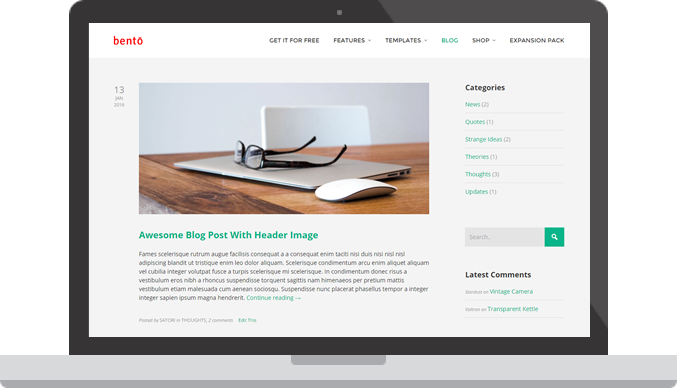 The last WP theme you'll ever need.
We had a vision of creating a truly multi-purpose theme that would be free for everyone to download and customize. And thus we've built Bento, which combines in it most of the capabilities and features of expensive premium themes - yet comes with an "use-as-you-wish" licence. Explore some of Bento's exciting features on this demo website - or install the theme itself on your own website from the official
WordPress.org repository
and see for yourself.
Dozens of useful goodies: